Fall Birding at Montrose Provides 1 (or 2) Lifers
We made a trip down to Montrose Point on Labor Day to try and see some warblers – yes we did see some, but to our delight we also got a Lifer (or 2).  As you may recall Montrose is one of very few green spaces on the coast of Lake Michigan in the city of Chicago.  In the fall, migrant birds make their way down the coast of Lake Michigan and stopover at Montrose to refuel before continuing their journey south.  We always try to get down their a couple of times each fall and Labor Day had a great weather forecast and because of the holiday, traffic to downtown would be far less than on other weekdays.  We zipped down in record time and started toward the beach before 7 AM!
Why the beach?  First of all, shorebirds can often be found there before all the bathers and picnickers show up.  Secondly, a Franklin's Gull had been reported (via eBird) there recently.  As we crossed the beach toward the shore we met another birder and asked him if he had seen the Franklin's – he pointed out the spot he last saw it and we walked down the beach in that direction, enjoying the cool morning and the beautiful sky, lake, and shoreline.
We were with Birding Buddy Mark and he was the first to spot it on the beach.  Much smaller than a Ring-billed Gull, the Franklin's was easy to recognize with a dark brown back, a black hood, and a white eye-ring.  This was a Lifer for Mark, so he was excited about starting the day that way.  Karen and I had seen one at Dixon a couple of years ago and it was far away from us using a scope, but this was 30 yards away so we really got good looks at it.  Here are a couple of pics of the rare Franklin's Gull.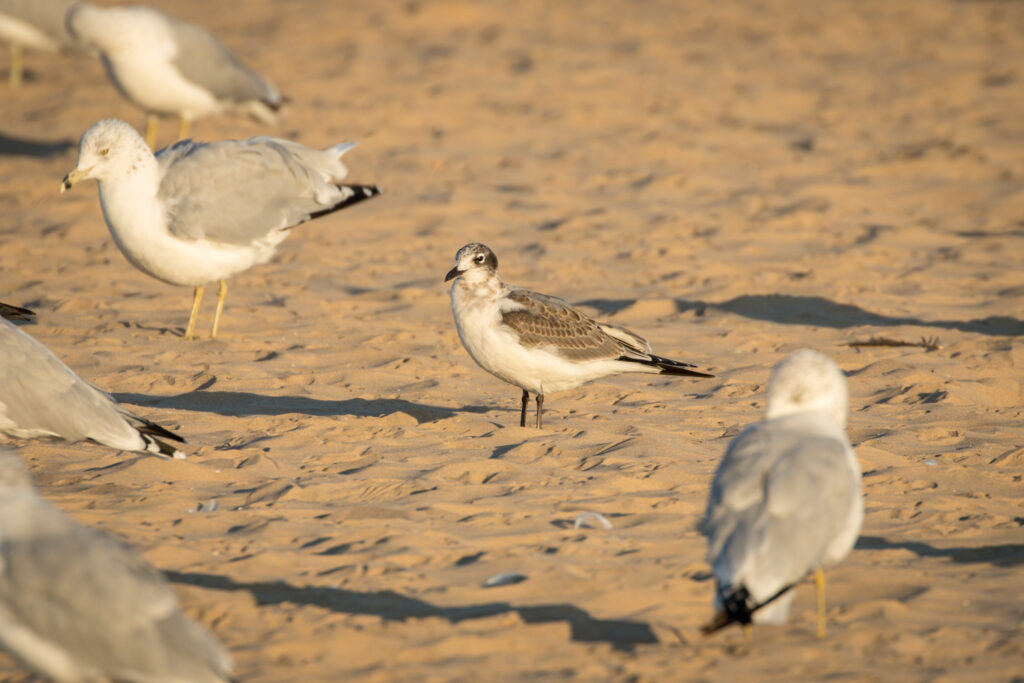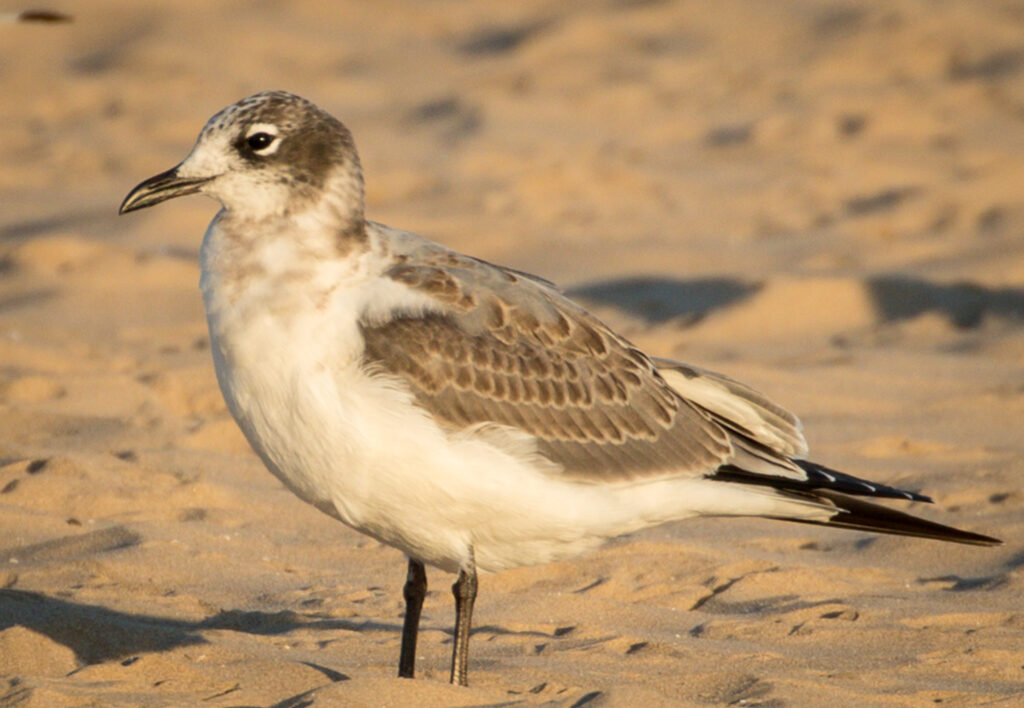 Eventually we moved from the beach to the woods where the warblers were and it was pretty birdy there.  I'll come back to that another day, but we were also on the lookout for another Lifer (for all three of us) – an African Collared-Dove.   It is usually found in northern Africa, but it was introduced to Puerto Rica a number of years ago and since then it has found its way (some with the help of humans) to the U.S. mainland.  It had been reported around the beach pavilion and restrooms and we looked around to no avail.  Later we went back for one last try in the same area and did a more thorough job of searching but still no luck.  We were heading back to our car through the woods when I got a phone call from Birding Buddy Jayne telling me that she had located it! We quickly reversed course and found Jayne right by the restaurant; she pointed up and we saw this big puff of white feathers perched above her.  Pictures and fist-bumps ensued with the addition of another Lifer (thanks again, Jayne!)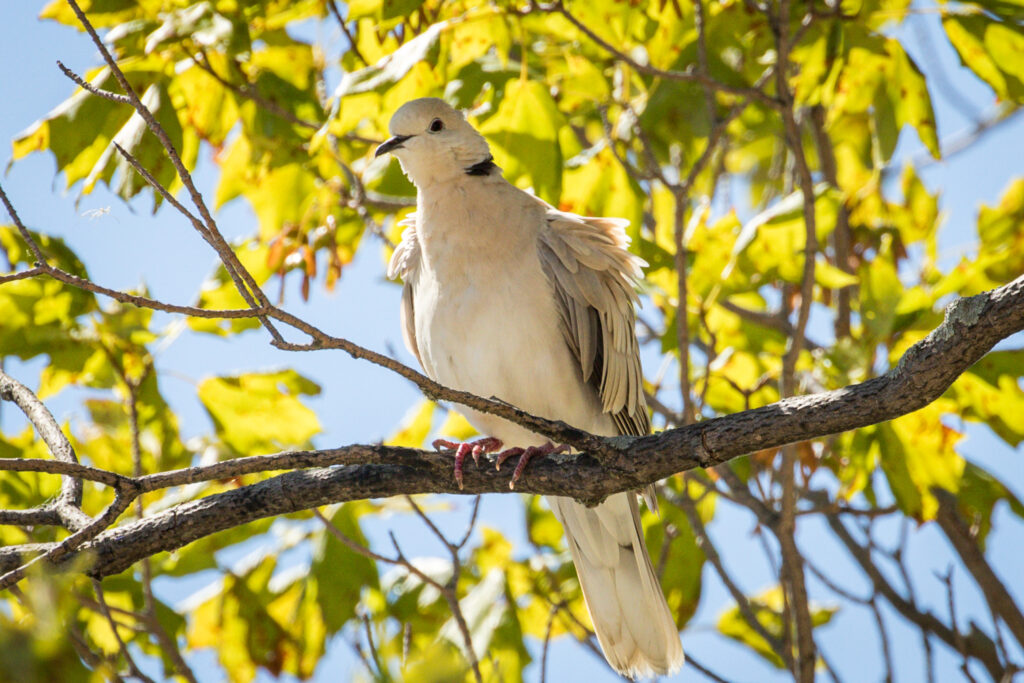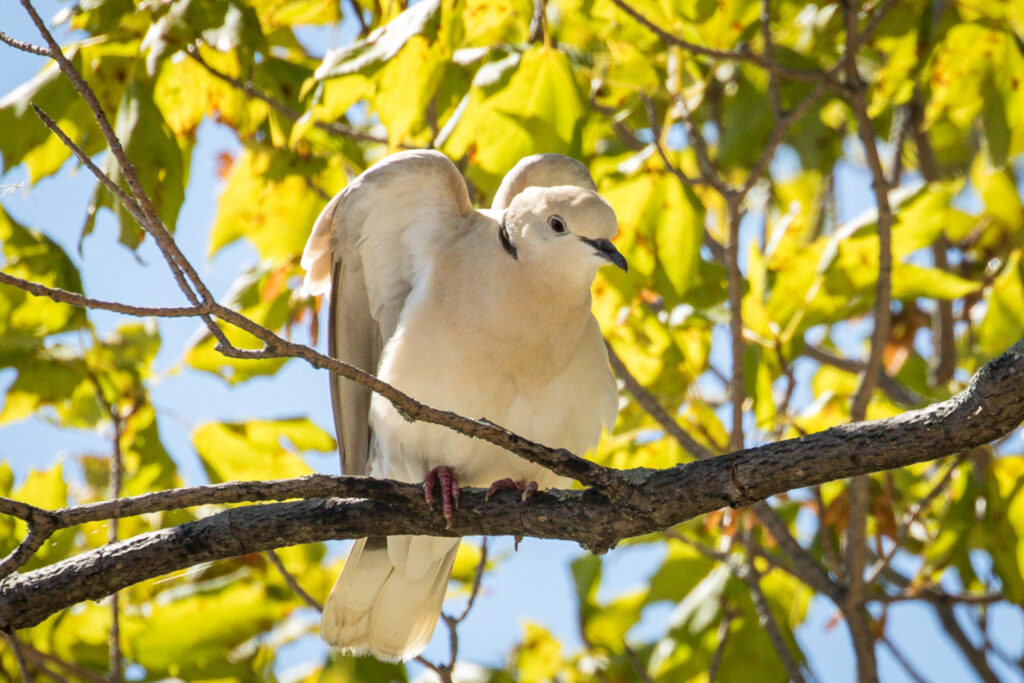 Diners in the beach restaurant watched us observe the bird and taking pictures so they were curious about the bird and we were happy to share with them (this is very close to where the famous Monty and Rose Piping Plovers nest so Chicagoans are more attuned to rare birds there).
We stopped for lunch right there and reviewed our checklist for the day.  After more than five hours of birding we had a pretty good list with over 51 species, which included 1 (or 2) Lifers!
Stay Safe.  Go Birding.  Take Pics. Share Here.  Repeat.
Mike
---
If you would like to learn more about GreatBirdPics.com CLICK HERE. Members can share their Great Bird Pics, communicate with other members, and receive regular emails about bird photography.