Good Morning GreatBird Pics Members!
We were debating about what to do on our way home from Sax-Zim Bog over dinner.  One choice was to head straight home, but where's the fun in that?  We had bumped into a nice couple at the Welcome Center both at the start of the day and in the afternoon;  Dave and Julie were very friendly and had come up from the Minneapolis area to bird The Bog.  I invited them to check out GreatBirdPics and they told us about a blog they follow, written by a photographer in their area, called 365daysofbirds.   We checked out his great blog and found out that in the post he published he wrote earlier that same day he had found a large flock of Bohemian Waxwings in an old crabapple orchard just outside of Two Harbors, MN.  Get a Lifer for all three of us on the way home?  Decision made!
We first went to an area that an eBird user reported seeing 350 Bohemian Waxwings the previous day.  Indeed we did see a large flock of birds flying over the countryside but alas they didn't land – they just disappeared into the gray sky.  After 15 minutes or so we decided to check out the old crabapple orchard as mentioned in the blog.  Did I mention that it was cold – bitter cold?  In fact at 8 AM it was -3°.  So we sat in the car and waited.  Fortunately for us the wait didn't take too long.  All of a sudden there was an explosion of birds in the crabapple trees – probably 100 of them were feeding on the frozen berries.  Not being particularly smart I had been sitting in the car with my gloves off and unzipped jacket.  I jumped out with my camera and started snapping pictures – my fingers soon began to ache from the cold (one person, who will remain nameless, didn't get out of the car and viewed the waxwings from the warmth of her heated seat).  The birds didn't stay very long, perhaps 5 minutes, and I was almost relieved when they left so I could climb back into the warm car and defrost my fingers.  Here are a couple of shots I got (I'll blame my shivering fingers if the pics are a little soft).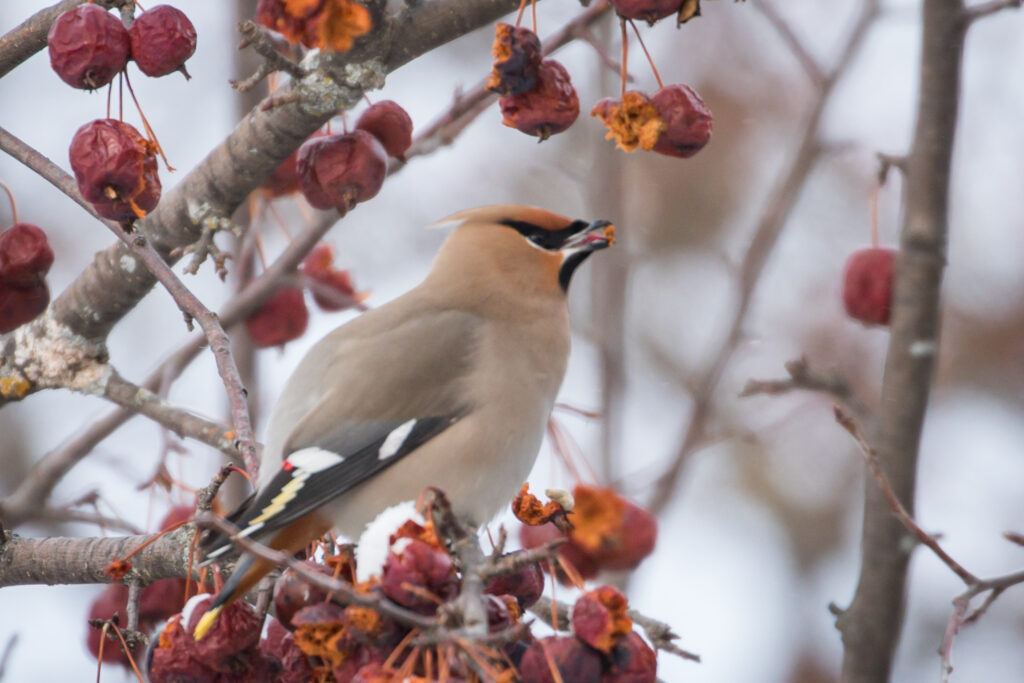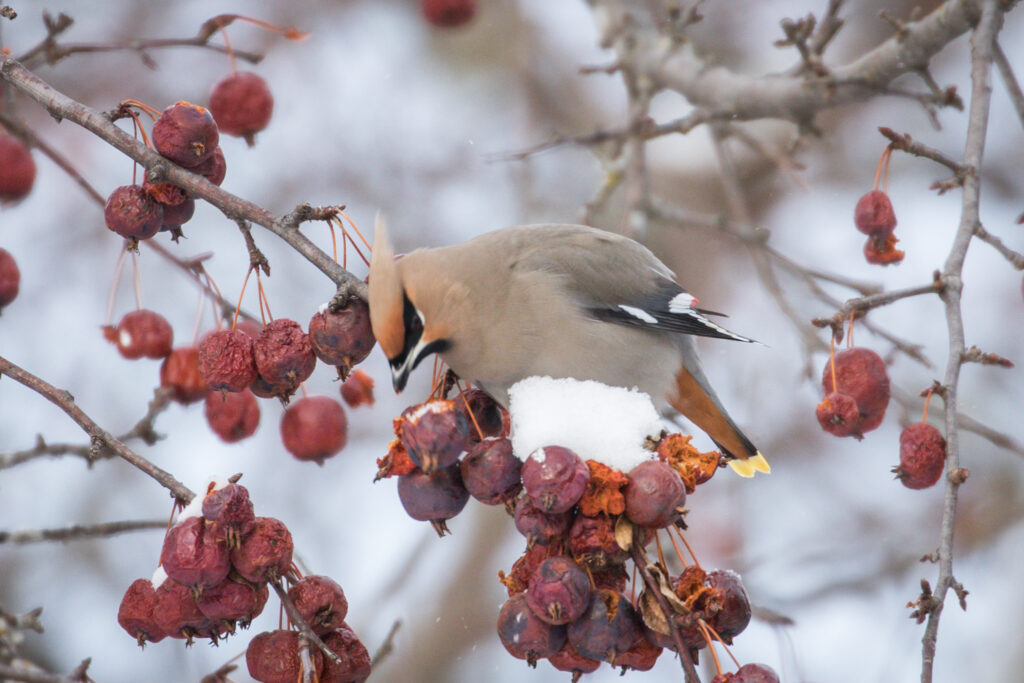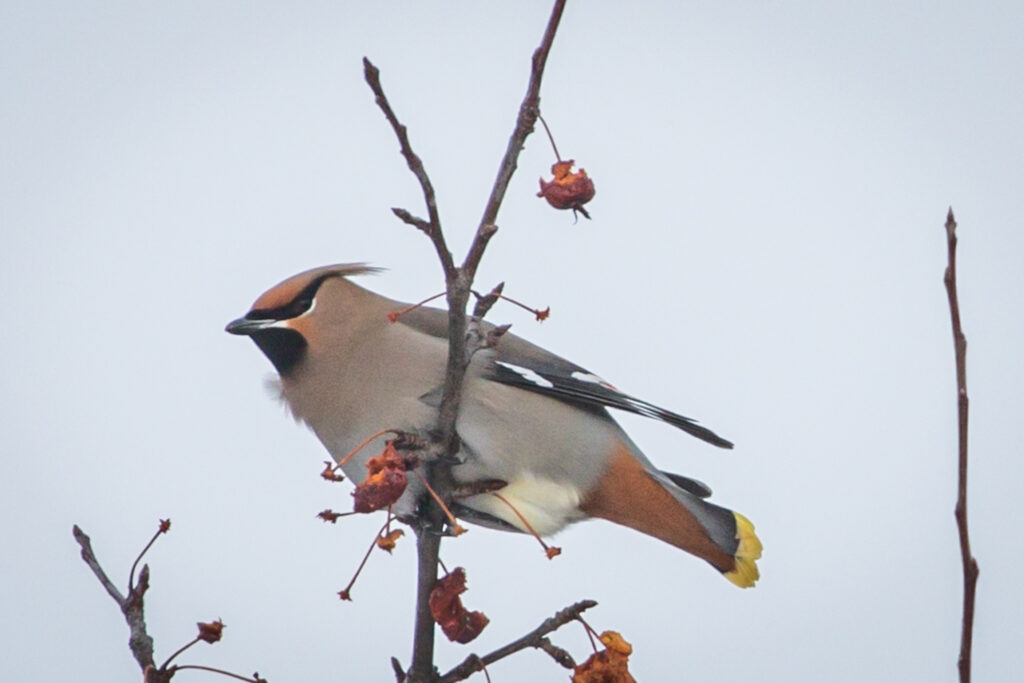 We get flocks of Cedar Waxwings here in the U.S. midwest but the Bohemian Waxwings are much rarer.  Take a close look at the pictures above and you can see the long crown, rust-colored undertail, and white streaks on the wings which differentiate it from the Cedars. All-in-all a striking bird.
The old crabapple trees attracted other birds as well on this wintery day.  A pair of Pine Grosbeaks enjoyed a fruity breakfast.  Female first, then the male.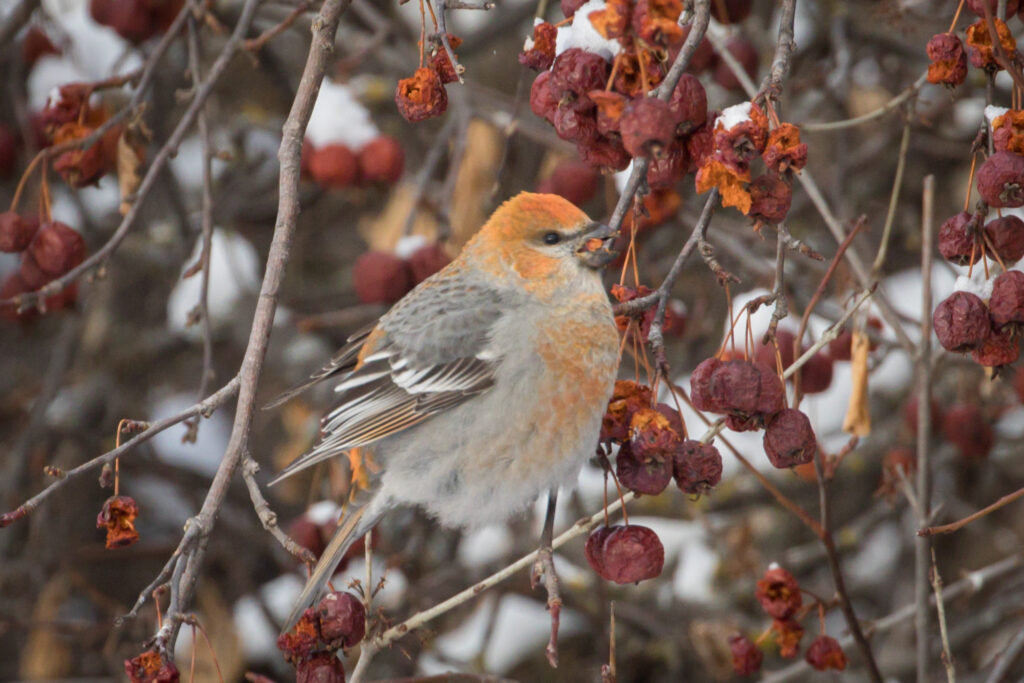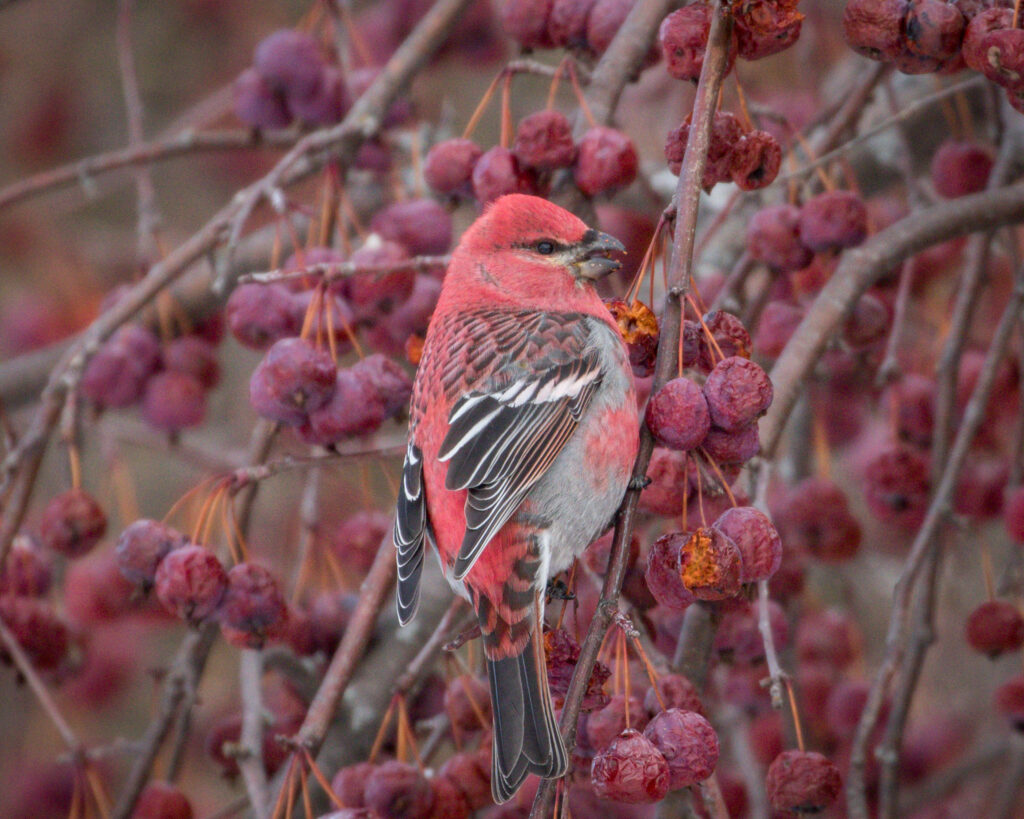 Although traveling to the Two Harbors area extended our trip home, it was well worth it for the Lifer.  As a result we ended up with six Lifers on this trip to Sax-Zim Bog – not bad for winter birding!
That's it for now.  Lots more beautiful bird pictures in the Latest Pics section.
Stay Safe.  Go Birding.  Take Pics.  Post Here.  Repeat.
Mike
PS  If you like beautiful bird pictures and want to see thousands more or even post your own on GreatBirdPics click HERE to learn about our site.  If you would like to become a member of GreatBirdPics click HERE.