A Long Sought Lifer
When Karen and I visit other areas we do some research on birds seen there, often focusing on Lifer or seldom seen birds.  A year ago we tried several times to find the rare Red-cockaded Woodpecker in Florida but didn't have any luck.  This year we stopped in Walterboro, SC on our drive down because this elusive bird had recently been spotted near the town in the Donnelly Wildlife Management Area (WMA).
We arrived at Donnelly in the afternoon and found that it was a huge forested area (8,048 acres) and is devoted to preserving the flora and fauna of the area.  Our first stop in the park was the Check Station, which is where hunters go to have their "harvest" inspected.  Donnelly WMA has several hunting seasons throughout the year and hunters harvest deer, doves, and other small game birds.  All are brought to the Check Station so the wildlife managers can take measurements of the game animals to gain an idea of the overall health of the wildlife within the area.  It was a revelation to me when I read Kenn Kaufman's book Season in the Wind: Inside the World of Spring Migration that there is a symbiotic relationship between birders and hunters.   Both groups have a vested interest in maintaining habitat for wildlife (although they "shoot' the wildlife with different devices).  But I digress…
We had no idea where to go in this huge WMA and being a holiday no one was at the Check Station.  There were plenty of birds in the recently harvested fields surrounding it (grains are grown in the fields to attract deer and birds).  As we were about to take off and wander the miles of roads through Donnelly a spry little old lady with binoculars showed up – a fellow birder!  She knew the area well and told us just where to go to see the Red-cockaded Woodpeckers; in fact she said we were at the perfect time, near sunset, to see them.  She directed us down a dirt road and take the first left and then look for trees with white rings painted around them.  Here's a picture of one of those trees: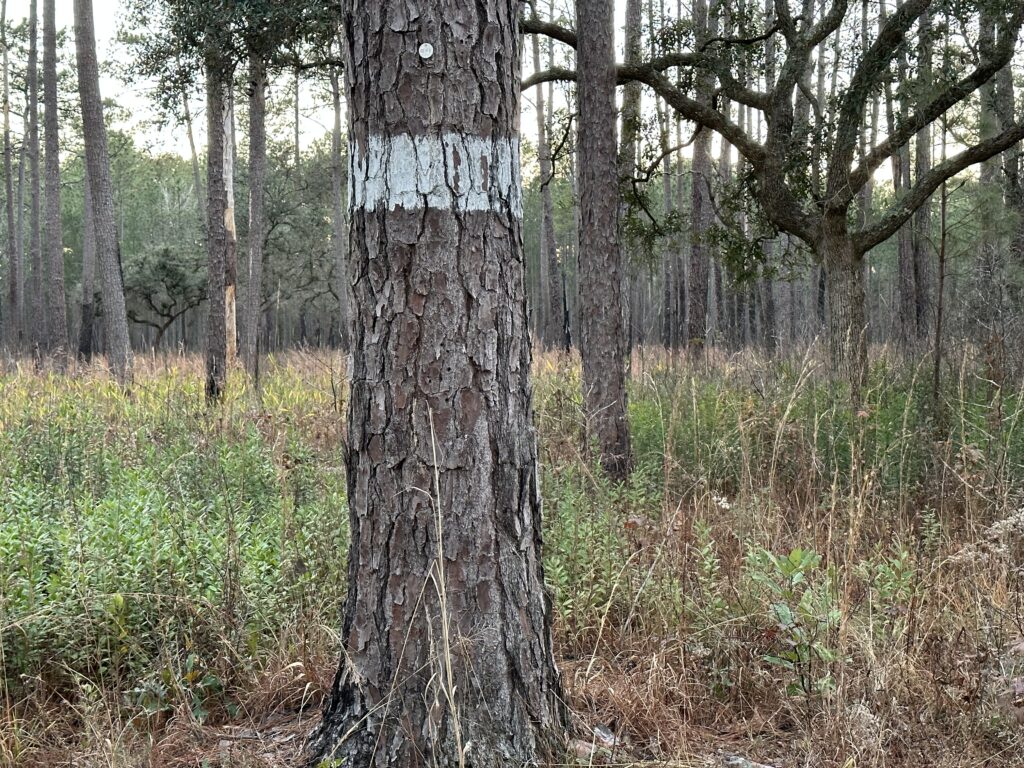 These white rings are painted by the wildlife managers to mark the trees in which the Red-cockaded Woodpeckers live.  The trees themselves are key to the survival of these rare and endangered birds as they prefer to nest in Long-leafed Pines that are about 100 years old.  As you might guess, these trees would be prime targets for loggers, which is probably why the Red-cockaded Woodpeckers population has declined so much in the past.  Luckily the Wildlife Management Areas protect these ancient trees and the woodpeckers' habitat.  We stopped the car on the dirt road and we were surrounded by about a dozen trees marked with white rings, so we knew we were in the right location.
Soon enough we spotted a black and white woodpecker on the side of a tree.  Early excitement turned to disappointment when the bird turned out to be a Red-bellied Sapsucker (a common bird down here).  As we continued our search the sun started to dip down toward the horizon and we began to fear that we would never see these rare birds.  Then we heard a series of short trills, answered by another bird using the same short trills.  Soon enough the Red-cockaded Woodpeckers arrived home for the night!  They would fly in to one of the marked trees and cling to the bark and make a few pecks.  Here's our first look – note the white cheeks: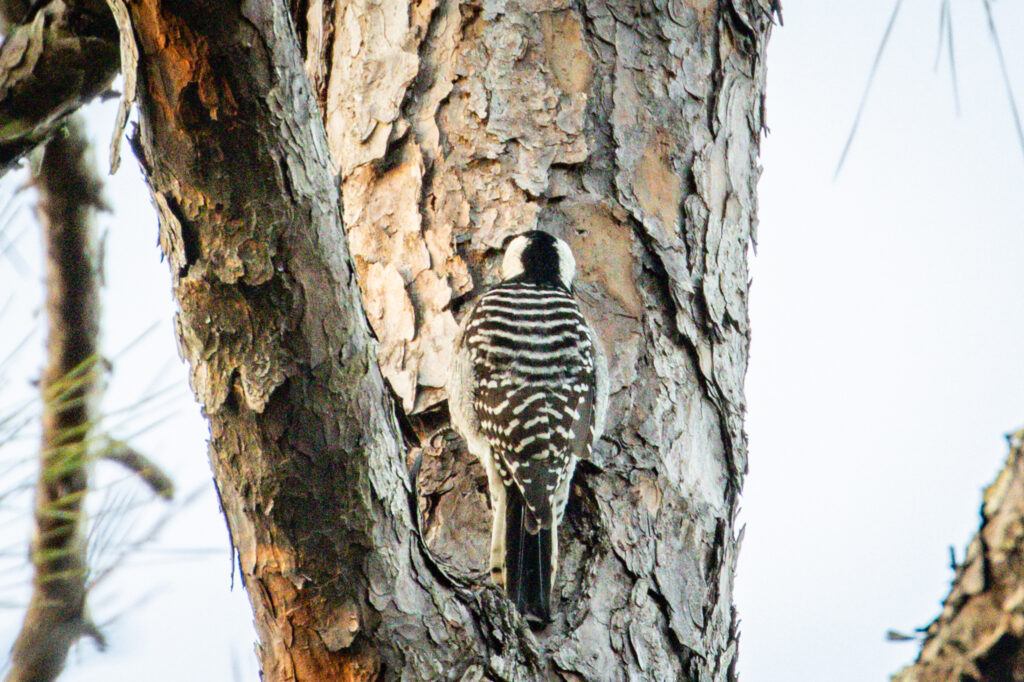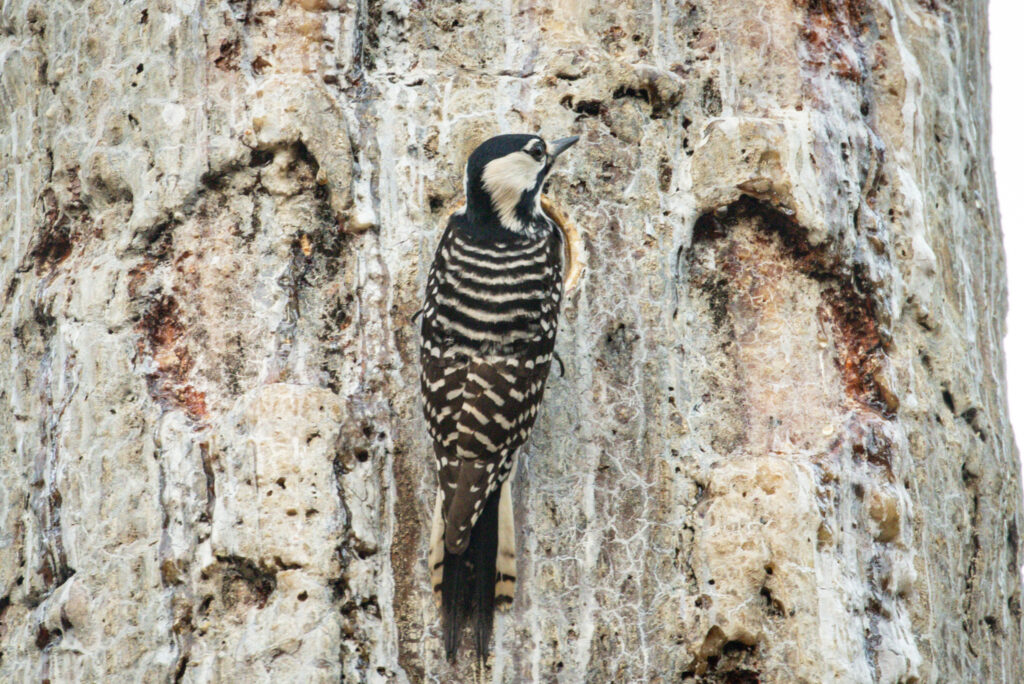 We saw two of them and perhaps heard a third.  One of them approached a hole in a tree about 20 feet up that appeared man-made (I assume the wildlife managers were helping the birds find a home there).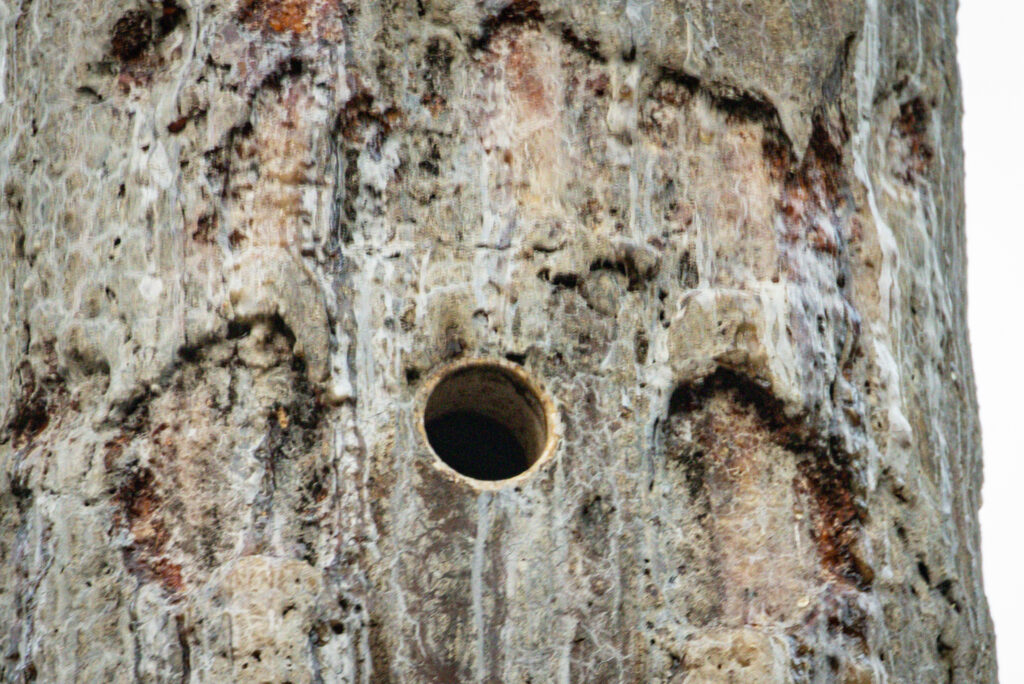 One of the birds approached its nest and paused before entering.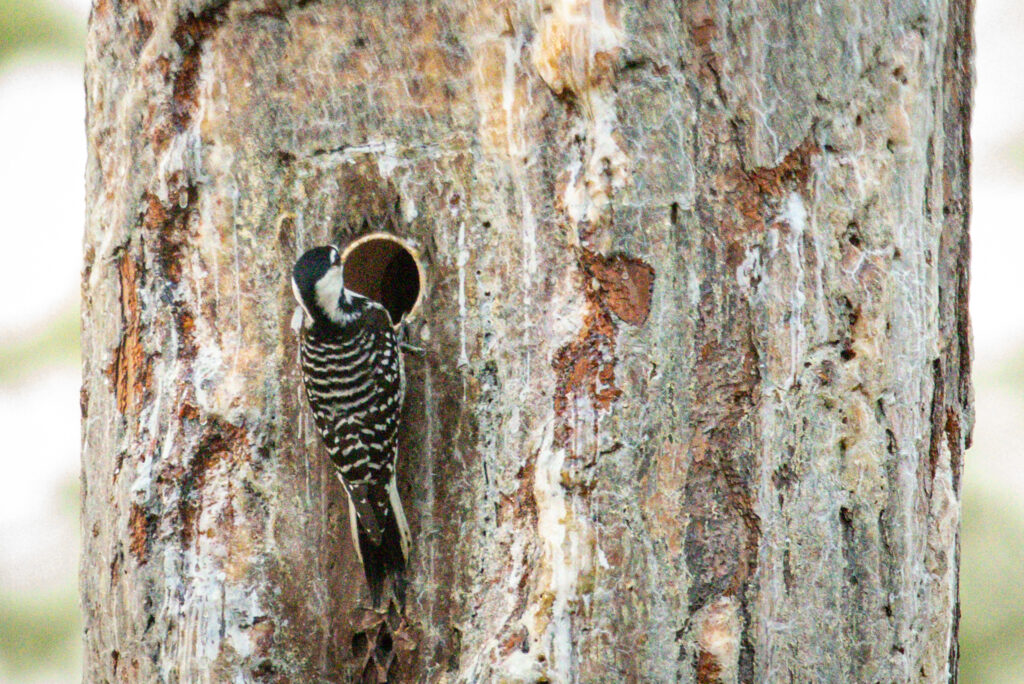 High-fives were exchanged as we finally got this elusive Lifer!  Thanks to the wildlife managers who are helping this endangered species survive.
---
Click Here if you would like to learn more about GreatBirdPics.  Membership is free; members can post their own great bird pics,  create an online gallery of their works, and receive emails about bird photography and birding.