Owl Be Darned
While visiting the southwest Miami area recently we saw an eBird Alert reporting Burrowing Owls at the Miami Executive Airport.  We've seen Burrowing Owls in Aruba but not in the U.S. so we made plans to search from them, which was easier said than done.  Even though it was an "executive" airport it was huge – over 3200 acres of property to search.  We had heard that the owls' underground burrows were marked with orange cones so we slowly drove down a busy road bordering the airport property and found plenty of cones but it was impossible to stop in the traffic to actually look for an owl.  There was a pull-off at the end of the airport property so we parked the car and walked along a canal that bordered the airport's fence line.
We couldn't see any of the cones from this vantage point but there were quite a few birds in this area.  Here's a female Blue Grosbeak we spotted: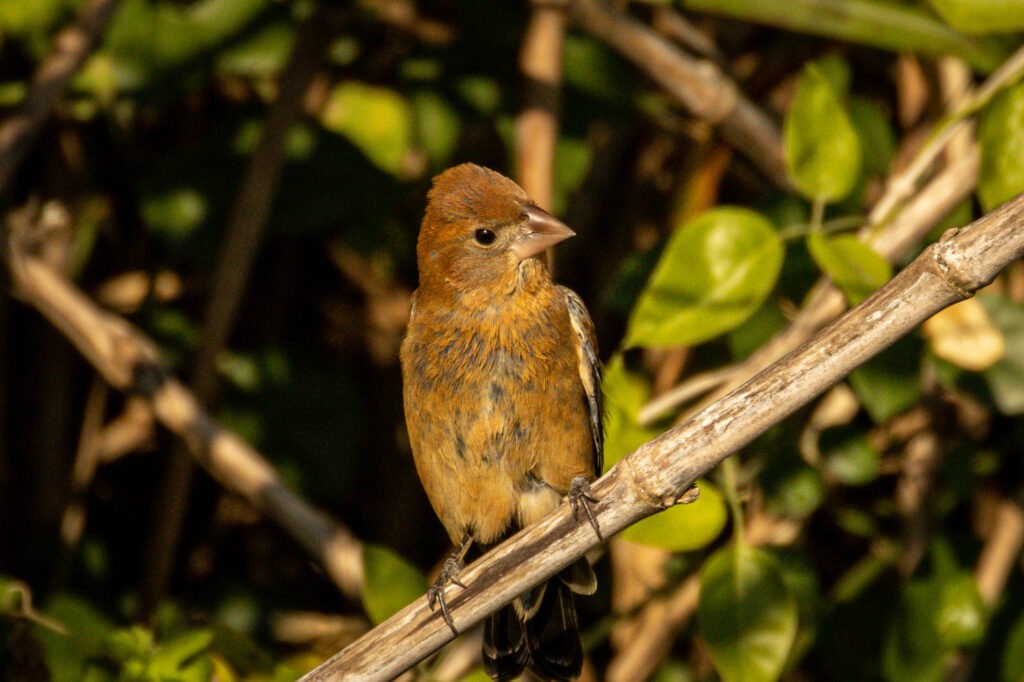 More importantly, we bumped into a fellow birder there.  He was from Pennsylvania and had five weeks off and asked his wife if he could go birding in the Miami area for a week – she said take 10 days (I didn't pursue that but one could surmise that after been off a couple of weeks his wife was ready to get him out of the house for awhile).  But I digress…  He told us that the Burrowing Owls could be found inside of the airport property right off the main entrance road.  He gave us a phone number to call to alert security we would be coming in (they told us we were welcome as long as we didn't photograph the planes).  He also told us to look for a sign marking one of the owl burrows.  We drove in the main entrance and about 1/4 mile in we saw the sign: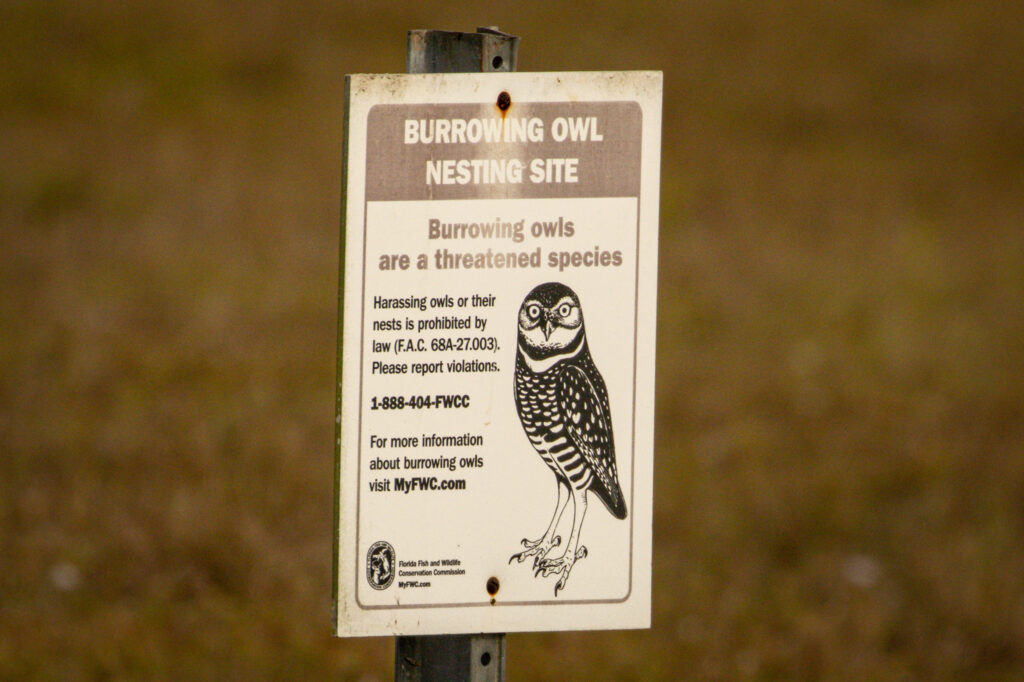 It was planted right in front of what appeared to be ground that was dug up to form and owl's burrow, but alas no owl.  We stayed there for 10 minutes and then decided to drive onward and look for more cones/burrows.  We spotted several likely spots for the Burrowing Owls but none were spotted.  We did see a Loggerhead Shrike perched atop an old siren.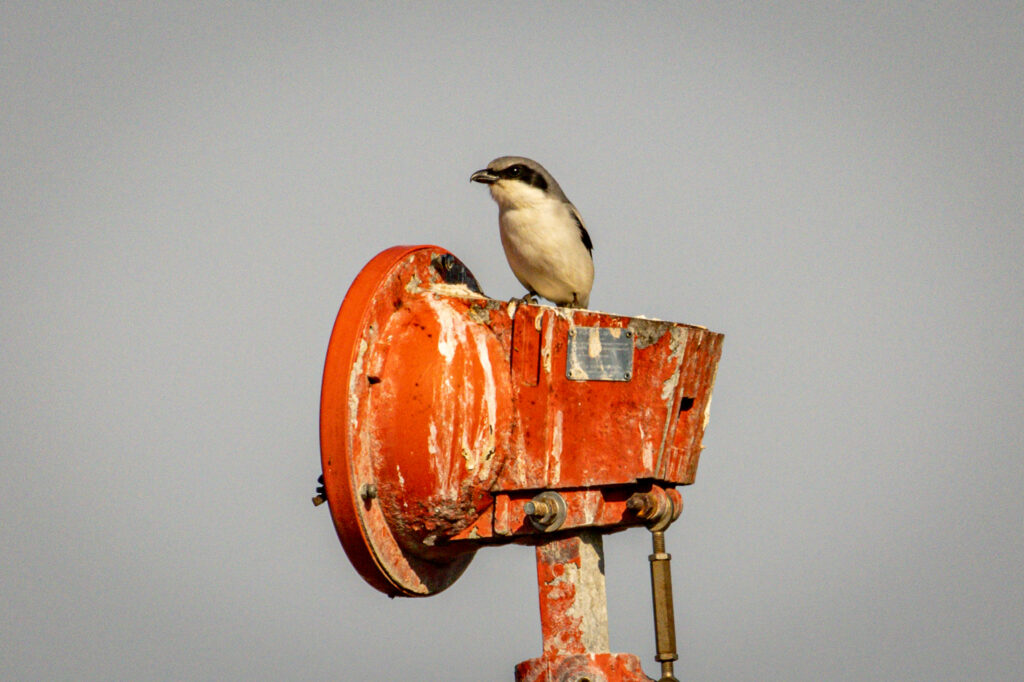 After driving around the hangers and multiple flight schools (there was also an old plane on display that was used in the Bay of Pigs battle) we headed back to the sign and lo and behold one of the Burrowing Owls popped up a minute later to take in the sun.  It was about the size of a football and sat motionless except for it swiveling head.  Success!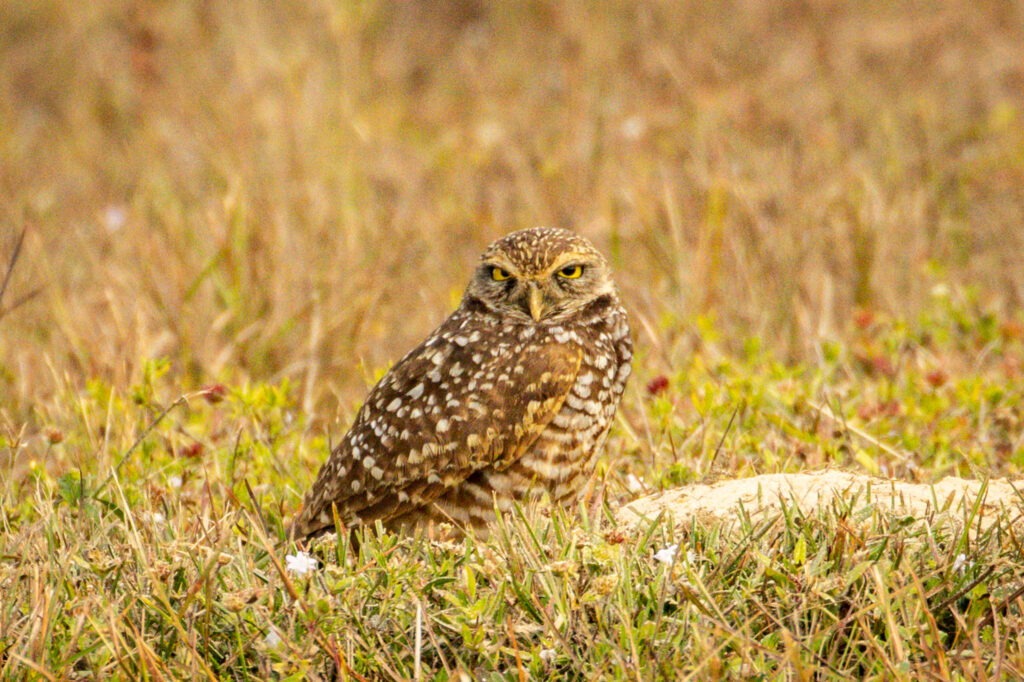 ---
if you enjoy seeing beautiful pictures of birds from around the world and like reading about them Click Here to sign up to be on our mailing list.  Many of our posts are also on how to improve your bird photography skills.  Members can post their own GreatBirdPics on the site and create an online gallery of their images.