Good Morning GreatBirdPics members!  
Yesterday birding buddy Mark and I set out to a new spot about 40 minutes south of us.  Goose Lake Prairie State Natural Area is a large state-managed park devoted to preserving what is left of Illinois' prairie.  At one time there were over 22 million acres of pristine prairie in Illinois; now about 2,500 acres remain.  We went there because legendary birder Al Stokie had been there recently and found a White Ibis and Glossy Ibis (both rare – no we didn't find them).
As we drove in toward the Visitors Center we pulled off because a lot of birds were flitting around the few trees along the road.  In short order we observed 15 species of birds.  I was snapping away at them and after I got home I found out that we had misidentified a couple of them.  See how you do on the pictures below.
There were a lot of Goldfinches flying around the area we were observing so when this one landed near me I just thought it was one of those Goldfinch. When I saw it on the computer at I home I wasn't so sure so I took a picture of the screen and had the Merlin App analyze it.  What do you think it said (see below)?
The next one I'm still not sure about – we thought it was a Scarlet Tanager.  Merlin disagreed.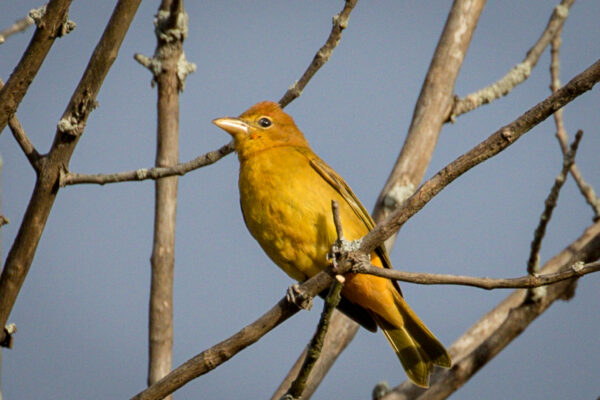 We pressed on to a small pond where Al had seen the Ibis.  Right next to us were a couple of shorebirds.  They weren't Yellowlegs and for some reason I thought they were Stilt Sandpipers.  I think Merlin was right – what's your guess?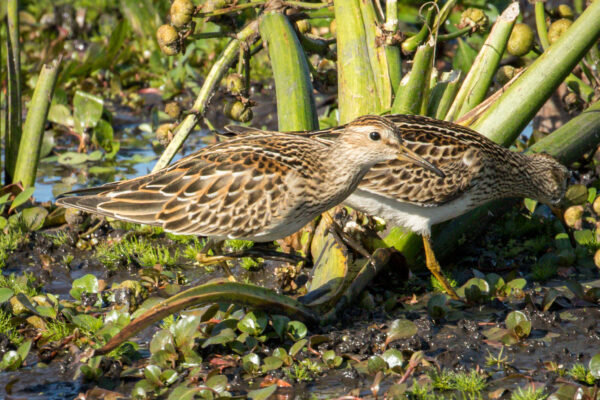 Finally, the couple of ducks on the pond were not Mallards.  I thought they were American Black Ducks.  I should have known better as Karen and I saw these exact same birds a couple of days previously.  What do you think?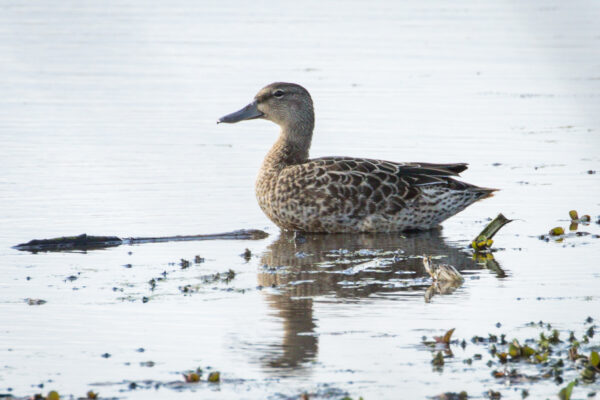 Somehow when I got into a completely new environment I had difficulty identifying birds that should have been obvious.  How did you do?  Here's what Merlin came back with:
Indigo Bunting – The females are very plain like this one.  There is a tiny blue dot on the shoulder.
Summer Tanager – We thought it was a Scarlet Tanager.  It's hard to see the wings, which would have been black on the Scarlet.  Also the bill is larger on the Summer Tanager and this one looks pretty big.  Merlin could be wrong – if you think it is a Scarlet Tanager let me know and why.
Pectoral Sandpiper – For some reason I never really took a close look at these as they foraged on the ground.  Note the fine streaking coming down from the throat and then abruptly ending low on the breast?  That is a classic discriminator for the Pectoral Sandpiper.
Blue-winged Teal – The black bill and the smudge of white behind the bill are the two main points of reference here.  Also the lighter butt.  If it is a male that white smudge will turn into the typical white crest across the front of the face.
Well how did you do?  Hope you got 100% right.  I sure didn't, but that's birding.  I get a little better at IDing birds every time I go out.  Speaking of getting out, I hope you do this weekend.  Happy Birding!
Mike