Random Stuff
Little bits come to me and I set them aside until later.  Later has come – here are unrelated items that I've been meaning to share with you.
GreatBirdPics member JamesD shared his Calendar-maker preference: I have been doing a train calendar for about 15 years.  I use Printing Center USA in Great Falls, MT (website: printingcenterusa.com).  I had 25 calendars made this year and it cost me about $280 (including shipping) even with the more expensive spiral binding.  The key was to order in August when I could get an early bird (the best kind of bird!) discount.  If you do find any printing problems, they will send you replacements for free and a discount on your next order.  I give some of my calendars away and sell others.  I try to sell enough to cover the printing cost.  I sell them for $15 each.  Mostly, I sell them in person, but I also sell a few on eBay where I only net about $11.  Here is the current listing for the 2023 train calendar: https://www.ebay.com/itm/175450146490
Bar-tailed Godwit Report via Rebecca Bowater:  Rebecca forwarded the report below about the travels of a banded Bar-tailed Godwit #4BWWR –
The young godwit 4BWWR finally arrived in New Zealand after a non-stop flight from Alaska. She touched down at Big Sand Island in the middle of the Kaipara Harbour at about 04:00 on 23 September NZ time. Her flight time was around 210 hours and she flew at least 12,200km and so averaged about 58kph. Even after knowing for many years now that tens of thousands of godwits make this journey every year it is still hard for me to imagine any bird being able to undertake such non-stop journeys. What unassuming but amazing birds they are!
Here's a picture Rebecca took of some godwits as they arrived in New Zealand after their amazing flight:

One more from Ireland:  Yesterday I wondered, before I start with Jamaica bird pics, if I had shared all the pics I wanted to from Ireland so I checked and there are more.  Here's a good one I took of a Rook sitting atop a sign directing pedestrians to the #1 tourist sight in Ireland, the Cliffs of Moher. These impressive cliffs drop straight down into the North Sea.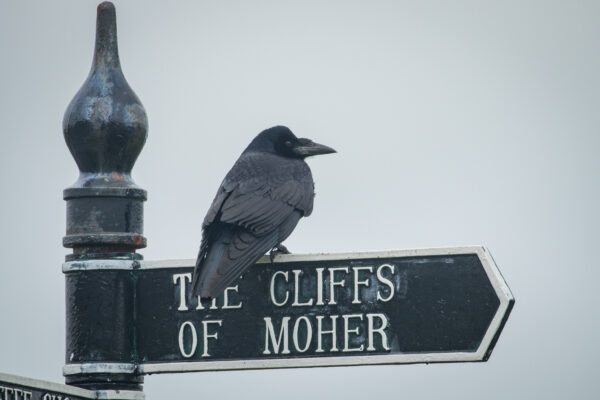 ---
Click Here if you would like to learn more about GreatBirdPics.  Membership is free; members can post their own great bird pics,  create an online gallery of their works, and receive emails about bird photography and birding.