Greetings from Iceland! or Please Let Me Go Home!
I am currently (Saturday afternoon) sitting in a hotel lobby in Reykjavik, Iceland after a a week-long trip around Iceland.  Our flight home today was cancelled due to high winds.  How high?  Karen and I had to walk arm-in-arm around town this morning or we would have been blown over – the winds are gusting up to 60 MPH!  They actually closed Reykjavik airport which is a rare event (according to our Icelandic guide Gudlaug.
We came to see the Northern Lights, but we were lucky to see the sun!  Cloud cover 90% of the time prevented any hopes of seeing the Northern Lights; we had one sunny day out of seven but it was overcast by afternoon and into the evening.  Every Icelander we asked had a different opinion as to which month was the best one to see the Northern Lights.  The countryside was fascinating; mountains, lava flows, sheer cliffs, quaint towns, and glaciers were common sights.  I'll share some pictures of these later after I download them from my phone.  Yes, I use my iPhone to take most landscape and sightseeing pics because it's a pain to switch my bird lens (100-400mm zoom) and my landscape lens (18-35 mm) on my Canon R7.
We arrived in Reykjavik a day early so we had some time to rest up after the overnight flight from Chicago.  This afforded us the opportunity to go birding!  Our hotel was situated three blocks from the harbor and three blocks from The Pond (freshwater park).  After it was light out (9:30 AM) we wandered along the harbor in search of birds.  It was quite windy then as well so I had to take care to stay away from the edge or risk being blown in (I also removed my camera's sun hood because the wind would have vibrated it, shaking the camera).  We were excited to find many birds in the harbor, but upon closer inspection only 8 species were present.
The first birds we saw and able to ID were Common Eiders, a relatively common duck found along northern shorelines in North America and Europe.  Although we had previously ID'd one in the sea off of St. Andrews, Scotland this was a much better look at them.  The males were striking with their black head, long sloping bill, black underbody and a touch of green on the nape of their neck.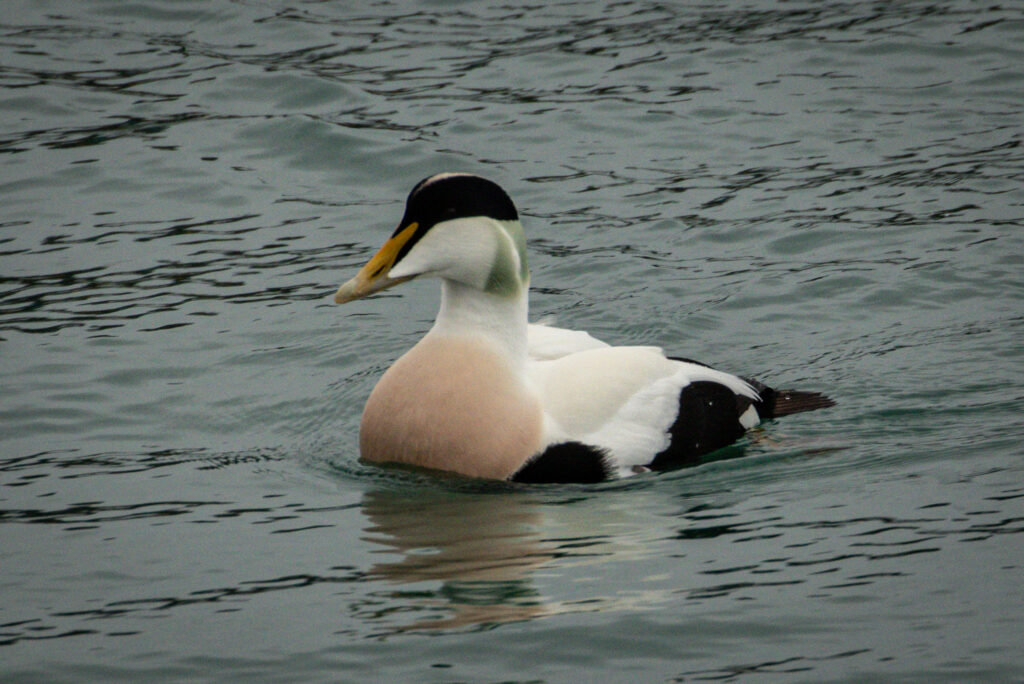 At first glance the female Common Eider isn't much to look at, but upon closer examination the beautiful brown and black patterns of the female make it an equally striking bird.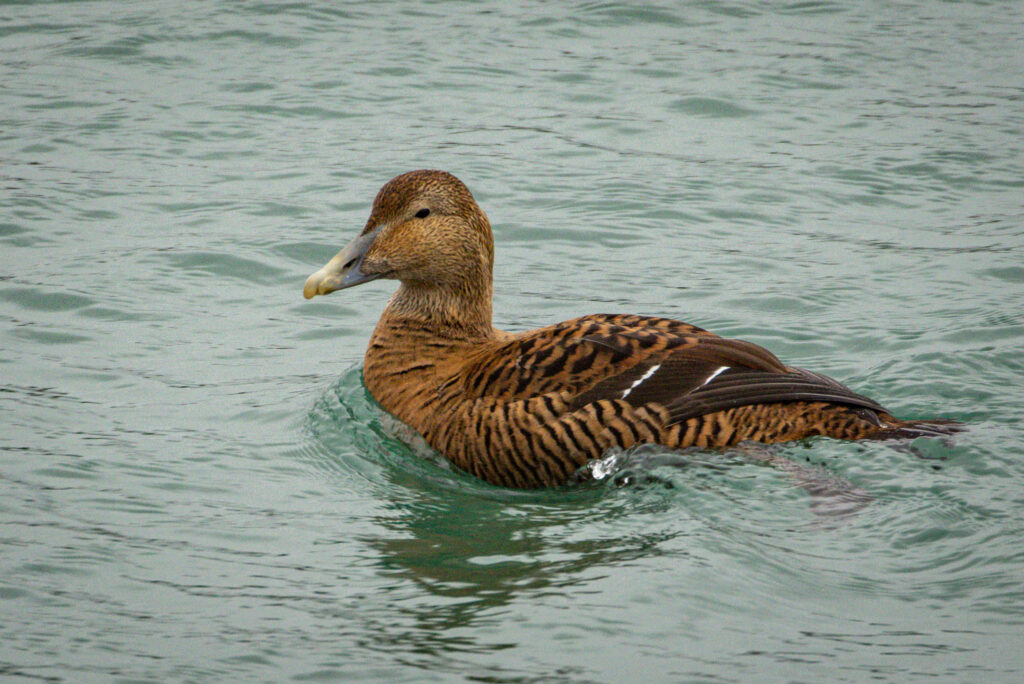 We usually saw the Common Eiders in groups of mixed males and females paddling around the ships in the harbor.  In all we saw about 100 of them within the large harbor.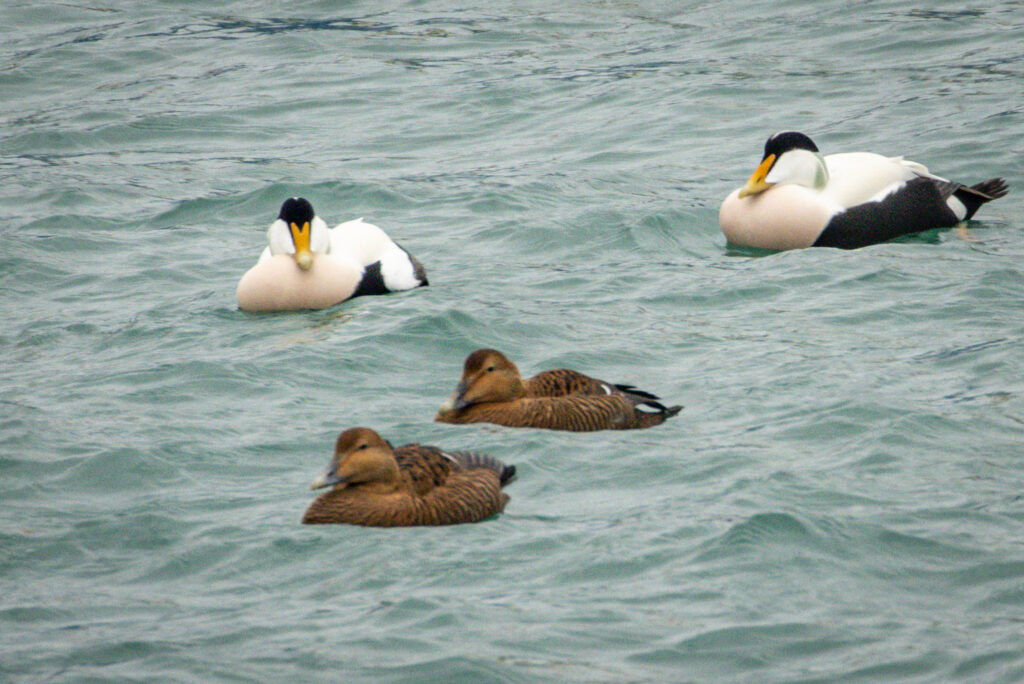 Our first Lifer of the trip was a Black Guillemot, a small seabird that has a similar range as the Common Eider.  In its breeding plumage it is jet black with a patch of white on the wings; the three we saw had lost the black feathers and were now more white than black (note the bright-red feet underwater).  High fives ensued for our latest Lifer!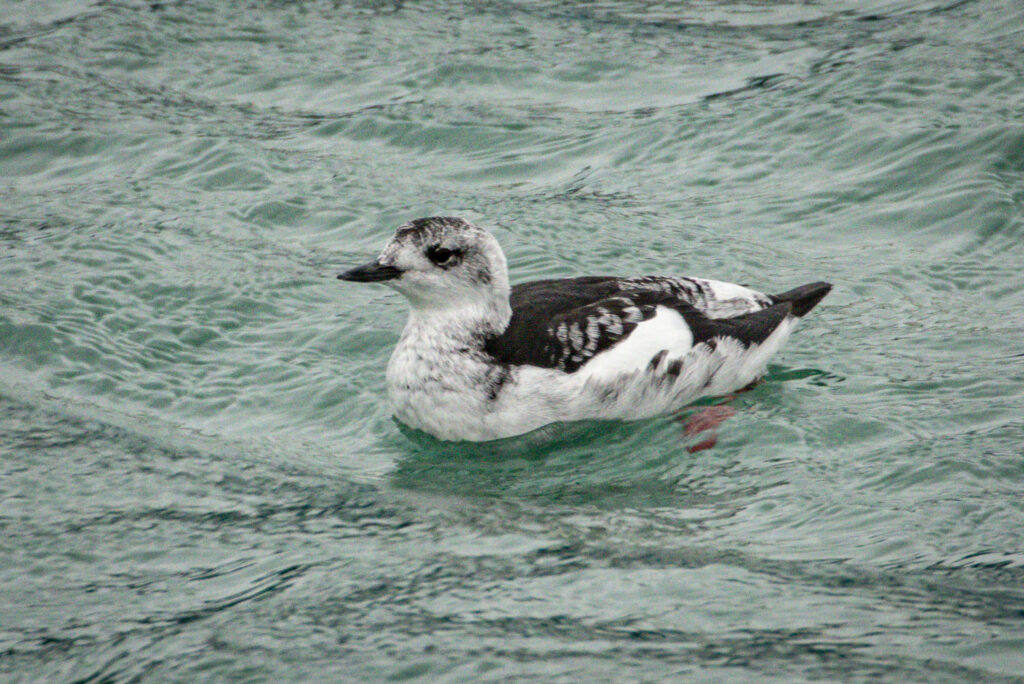 Another bird we spotted in the Reykjavik harbor was the Great Cormorant.  A common bird throughout the world except South America (only found on the east cost in North America) many Great Cormorants were floating and flying around.  Not a lifer but neat to see them in large numbers here (sorry about the poor quality of the pic – its was dark and far away).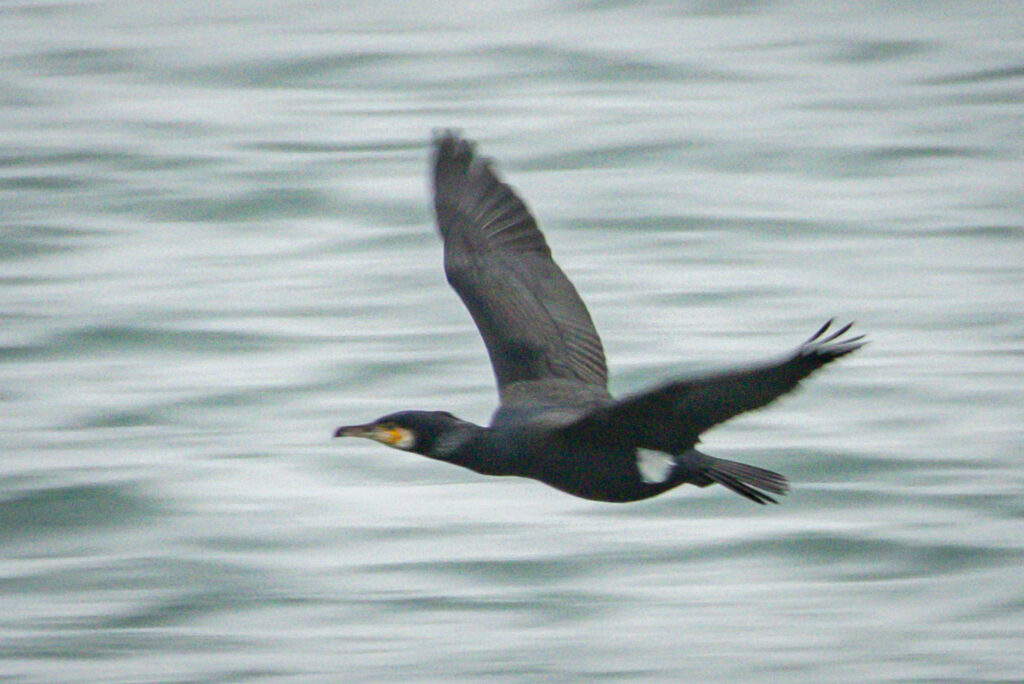 Some other birds we saw in the harbor included Red-breasted Mergansers, Common Loons, and gulls.  Lots of gulls.  You would think we could find an Iceland Gull in Iceland but so far we don't think we have (more pictures to examine).  We did ID a couple of Herring Gull and Great Black-backed Gulls – flew all the way to Iceland to see birds we can find on Chicago's lakefront!
A couple more birds to report on later (when and if we get home) and I get through the jet-lag.  Remind me to tell you about the hot dog stand we ate at today that Bill Clinton made famous.
---
if you enjoy seeing beautiful pictures of birds from around the world and reading about them Click Here to sign up for our mailing list.  Members can post their GreatBirdPics and learn more about bird photography techniques.