Owl Take Two, Part 1
Although winter birding in Chicagoland can be kind of boring (we saw 9 species during our 2-hour bird walk recently) one family of birds are always exciting to see – owls.  Owls can be hard to find, but once found they can be found again in the same area.  Today and tomorrow I'll share our recent owl sightings with you.
My first story is of the Barred Owl at one of our DuPage County Forest Preserves.  It's been there all winter long and everybody has seen  it – Birder2011 has even posted a picture of it on GBP.  Karen and I went out first thing in the morning to right where Laurel told us she saw it.  Twice.  No luck.  We went a third time with birding buddy Mark who took us to where he saw it.  No luck.  The fourth time we went we saw bird photographer Dumont in the area where Mark told us to look (we had met Dumont on two of our previous forays to find the owl).  As we approached him a passerby stopped to show Dumont a picture of a Blue Jay he had taken on his iPhone.  As they were chatting we approached the pair and asked Dumont if he had seen the Barred Owl today and Dumont pretty much ignored us.  Soon the passerby walked on and then Dumont acknowledged us; he explained that he had seen the owl but he didn't want to share its location with the passerby for fear the person may not be respectful of the bird.  Most birders have a protective streak when it comes to owls because if the owl receives too much attention it vacates the area, then nobody gets to see them.  We asked him to tell us where he had seen the Barred Owl; he grinned and pointed over my left shoulder.  There it was!  Not 10 yards away, just off the path.  Here's a pic of the Barred Owl hiding in plain sight.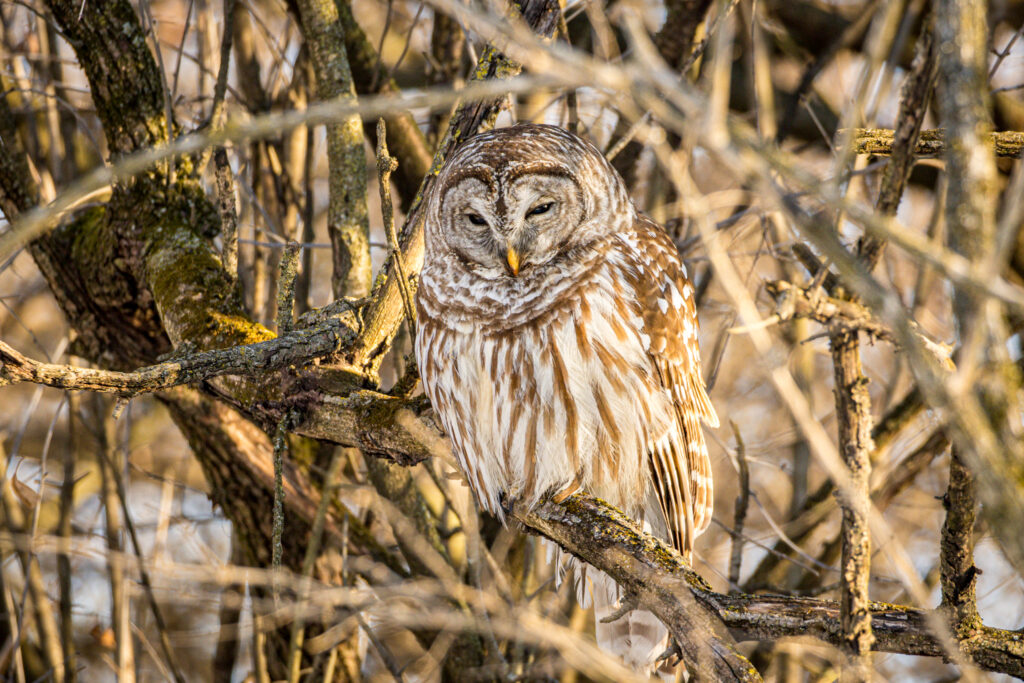 Tomorrow: Short-eared Owls
---
If you enjoy seeing beautiful pictures of birds from around the world and reading about them Click Here to sign up for our mailing list.  Members can post their GreatBirdPics and learn more about bird photography techniques.