Site Map Outlines All Entries
There's a page on GreatBirdPics.com that isn't on any pull-down menu but can be accessed from just about any page.  The Site Map organizes every post on the website by category and then presents them in outline format.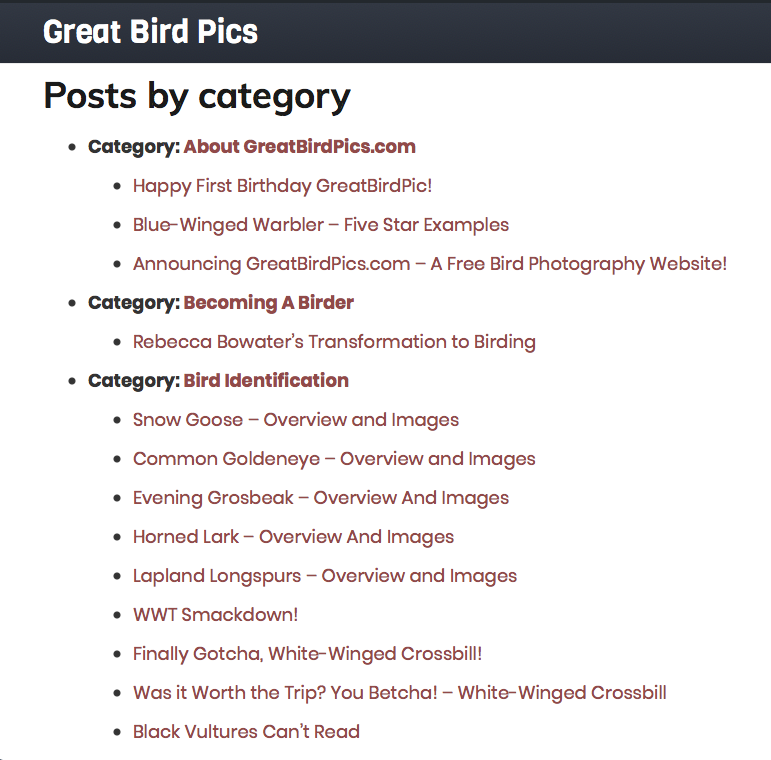 Just clicking on the topic listed in the outline takes you to that page.  So if you remembered that I had written about my trip to Thailand a year ago but didn't know where to look, go to the Site Map and scroll down the outline until you see International Bird Trips/Thailand.
You can check out the Site Map just about any time – it is in the footer of most pages:

If you want to go to the Site Map now CLICK HERE.  Explore and relive all those great GreatBirdPics memories!
Stay Safe.  Go Birding.  Take Pics. Post Here. Repeat.
Mike
---
If you would like to learn more about GreatBirdPics.com CLICK HERE.  Members can post their own GreatBirdPics, interact online with other members, and receive regular emails about topic posted on the site.