Good Birds, Bad Pictures
Sometimes when out on the trail you come across a great bird – maybe a lifer – and you grab your camera and start clicking away even though the bird is well-hidden.  There's virtually no chance of getting a GreatBirdPic but you have take a picture of it anyway – just to document the fact that you saw it.  This happened to me a couple of times recently.  Even though the shots are too poor to enter into the GreatBirdPics.com database (clicking on the pictures below won't take you to their information screen) I just had to share them with somebody to show off that I saw the birds.
First off, we were trekking between the campsites at Greene Valley Forest Preserve.  During the week the campsites aren't used so their are these open areas in the midst of the woods.  We often poke our heads into these open spaces while walking the trail that connects all the campsites.  As we explored the path connecting Sites 4 and 5 we heard a Wood Thrush, which is not so unusual because we often hear them, just never see them because they are usually way back in the deep woods.  This time we found one quite close by, so I grabbed my camera and snapped a pic as it flew off.  A terrible pic, but a pic of a Wood Thrush nonetheless!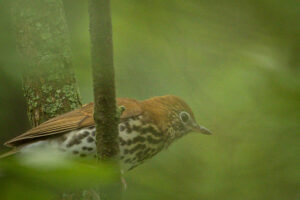 More recently I was off to the Greene Valley fluddle with Birding Buddy Mark to check out the shorebirds there.  Not much, as the water had receded due to the drought here.  After checking out the fluddle we set off for the bridge over the DuPage River.  Normally the marsh surrounding the fluddle would have been, well, marshy – wet and impassible.  However the marsh was dried up so we were able to walk around its perimeter toward the bridge.  Mark spotted a bird in some little willowy bushes along the perimeter as we bushwhacked through the marsh grass.  The bird was buried in the bushes and hopped around like a warbler.  Training our binoculars through the stalks we were able to make out a warbler with a gray hood and large eyerings – could it have been a Connecticut Warbler?  These elusive birds sulk in low brush and are rarely seen – it would have been a Lifer for both of us.  I grabbed my camera and had to go into Manual Focus mode because the stalks in front of the bird became the camera's focus point.  I kept on snapping away and manually adjusting the focus in small increments in hopes of getting a shot of the bird in focus.  The bird only stayed around a couple of seconds before taking off and I was able to get a couple of pics good enough to confirm that indeed it was a Connecticut Warbler (sorry Karen, I owe you one).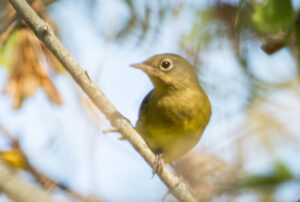 So even if a bird is buried in a bush, try getting some shots of it in Manual Mode.  It's good practice for when you see a Lifer!
Stay Safe.  Go Birding.  Take Pics.  Share Here.  Repeat.
Mike
---
If you would like to learn more about GreatBirdPics.com CLICK HERE.  Members can post their own Great Bird Pics here, can create their own online gallery, and receive regular emails about bird photography.