Introduction to Horicon Marsh
We went on a quick one-day trip to Horicon Marsh (in Wisconsin, north-west of Milwaukee) recently.  This is a large area (32,000 acres) that was a haven for waterfowl and other birds until European settlers arrived and first build a dam, which flooded the marsh, and then built ditches to drain the marsh for agriculture.  The drainage worked well – it exposed the peat beneath the marsh which dried.  The peat then caught file and made the area uninhabitable for agriculture and wildlife.  The Wisconsin Department of Natural Resources had a web page all about Horicon Marsh with links to its "human history" HERE.
In 1927 some committed individuals began restoration of the marsh.  For the past 95 years Wisconsin and the U.S. Fish and Wildlife Service have worked together to restore the marsh to its previous habitat.  It is now a great place for birders who want to see a variety of species – from waterfowl to marsh species.
In the next couple of days I hope to be sharing some pictures of some of the species we saw there.  I'm hoping by then my mail service, MailerLite, will be working for me again and allowing me to copy/paste pictures into the emails.  They have suggested a work-around but it takes much more time to insert the pictures.  So in the mean time I'll be doing more text messages with fewer pictures.  Below is one picture of a Common Yellowthroat found there.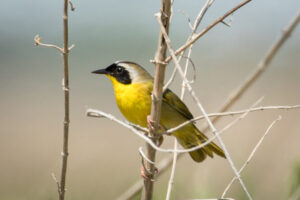 Go Birding.  Take Pics.  Share Here.  Repeat.
Mike
---
If you would like to learn more about GreatBirdPics Click Here.  Members can post their own great bird pics, create an online gallery of their works, and receive emails about bird photography.