Recently LinLark, a great bird photographer and prolific sharer, submitted the following picture and titled it "Lousy Pic of a Lifer".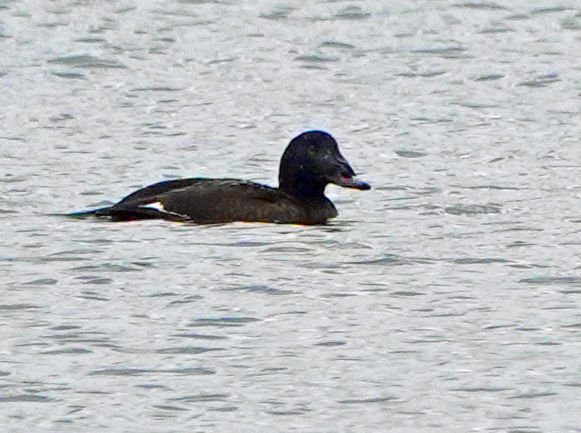 When it comes to Lifers, there are no "lousy" pics.  If you take a picture and you are proud of it, it's welcome on GreatBirdPics – just tell us why the pic is special to you.  And yes, a Lifer pic is a great reason to be proud.  Birding Buddy Bonnie goes out of her way to get a picture of every Lifer so she can put a print copy of each in her Lifer Book.  I've taken pics of Lifers that have been "lousy" but I cherish the memory of the first time I found that bird.
There are a couple of things LinLark could have done to improve the quality of the White-winged Scoter pic.  First, note the brightness of the water around the Scoter; this would have caused the camera to automatically darken the image.  In these cases try increasing the Exposure Compensation up to +1 or +2 to force the camera to accept more light.  Yes, the water in the image would become even brighter but so would the Scoter.  Secondly, cameras have a hard time focusing on a bird far out in the water because the camera tends to see a flat surface (the water) so it doesn't know exactly where to focus.  Try increasing the Aperture to f9 or f11 (this shot was taken at f4) so there is a bigger depth of field, hopefully including the bird in the focus area.  Together, these two tips may increase the likelihood of getting a better shot.
Keep those Lifer pics coming, LinLark!
---
If you enjoy seeing beautiful pictures of birds from around the world and reading about them Click Here to sign up for our mailing list.  Members can post their GreatBirdPics and learn more about bird photography techniques.