Blue Birds
I was emailing back and forth with my oldest, dearest friend Sue the other day and was reminded that her favorite bird was the Eastern Bluebird.  She has lots of statues and pictures of them in her house, but I don't think she has seen many in the wild.  For today's post I decided to share pictures of blue birds – but not just Bluebirds, but other birds that are blue, too. Take a look:
Let's start out with what brought us here, an Eastern Bluebird.  Although the body and wings are blue, the breast varies from a deep rust color (male) to tan (female).  Our first pic is of a male sporting a bright blue body – and a green wormy thing.  Great shot Bashafranklin!  Be sure to click on the pic as Bashafranklin provided lots of good information about Eastern Bluebirds.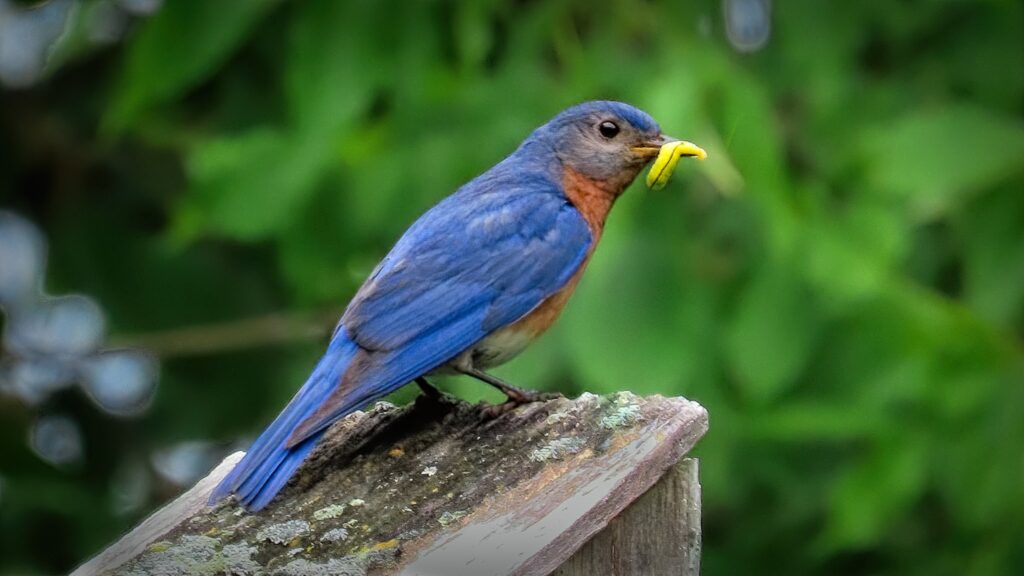 Here's a female Eastern Bluebird and you can see how pale it is compared to the male above.  I took this pic not far from our home a couple of years ago.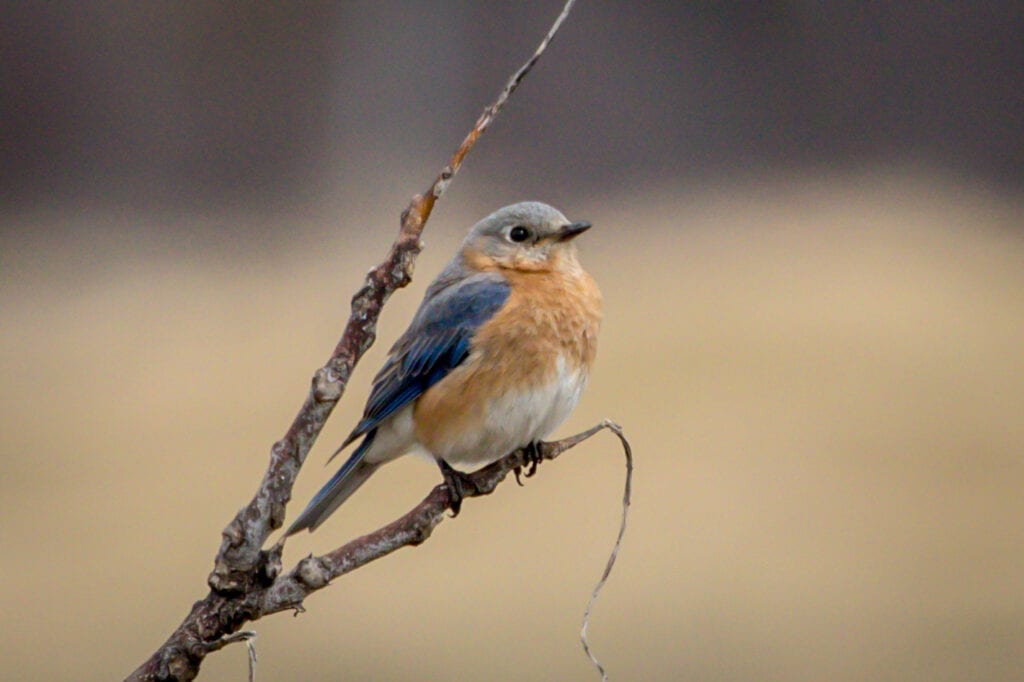 The Western Bluebird is similar to the Eastern with some variation.  The rust color extends to the neck and the blue is even deeper than the Eastern Bluebird.  I took this picture while visiting Arizona.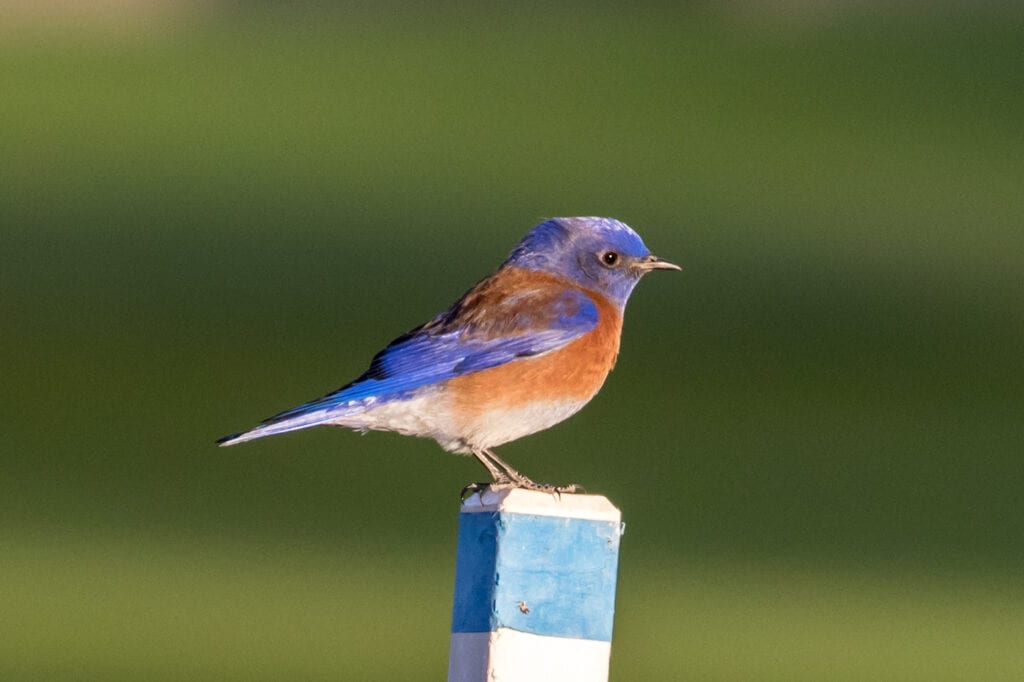 There is one more type of bluebird found in North America and that is the Mountain Bluebird.  Although it lives primarily in the Rocky Mountains and parts west of there, this one was found in Michigan by Always Birding.  Great shot of a rare bird for that area!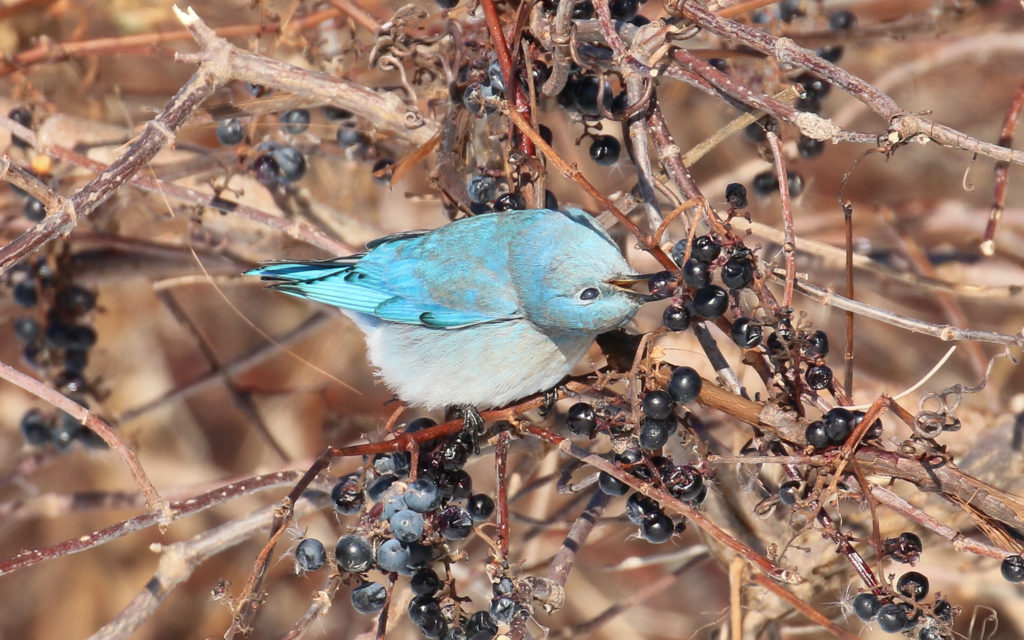 Here is a Stellars Jay, which is found on the western half of North America, too.  Birdman captured this beauty in his backyard in British Columbia, Canada.  I should have included this one the other day when we featured birds with a crown!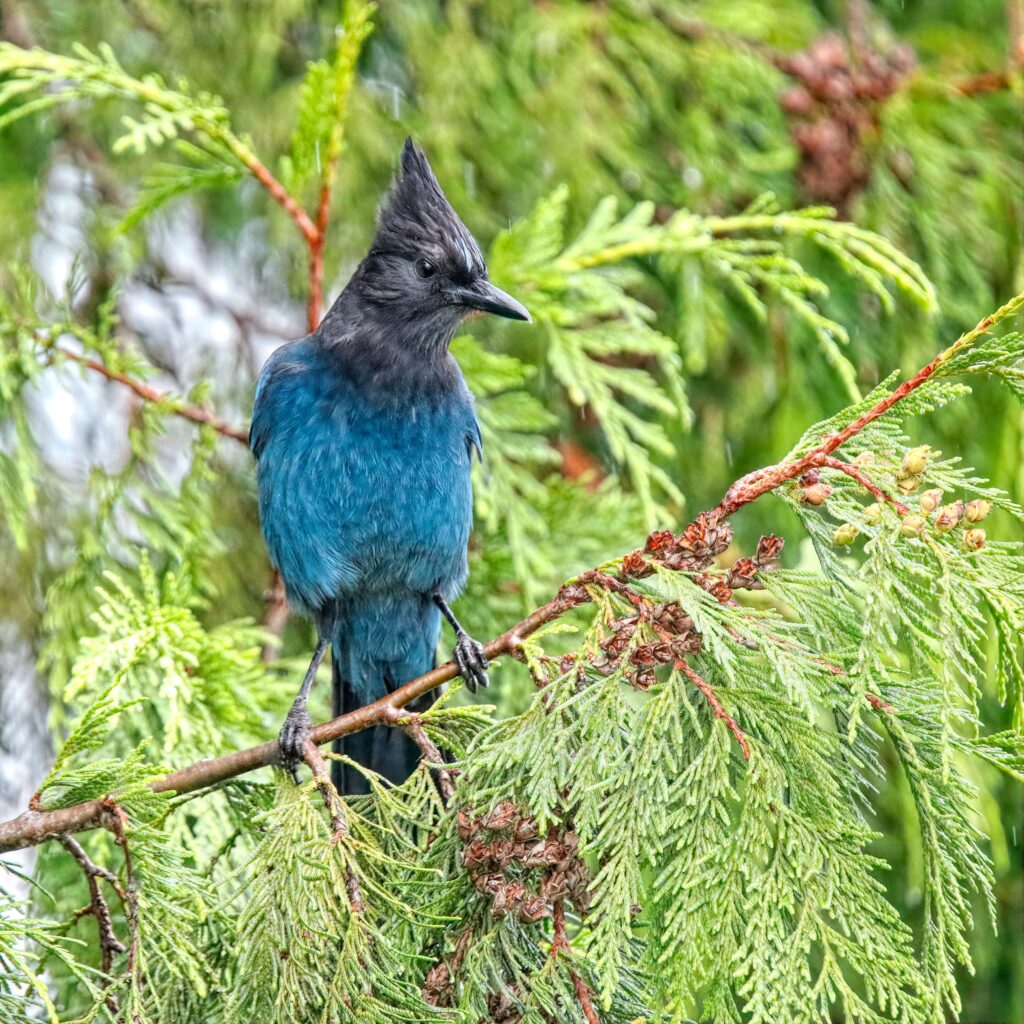 We keep hopping from one side of the continent to the other!  Here's a common bird in the midwest, the Blue Jay.  MelinaG braved the elements to get this fun pic.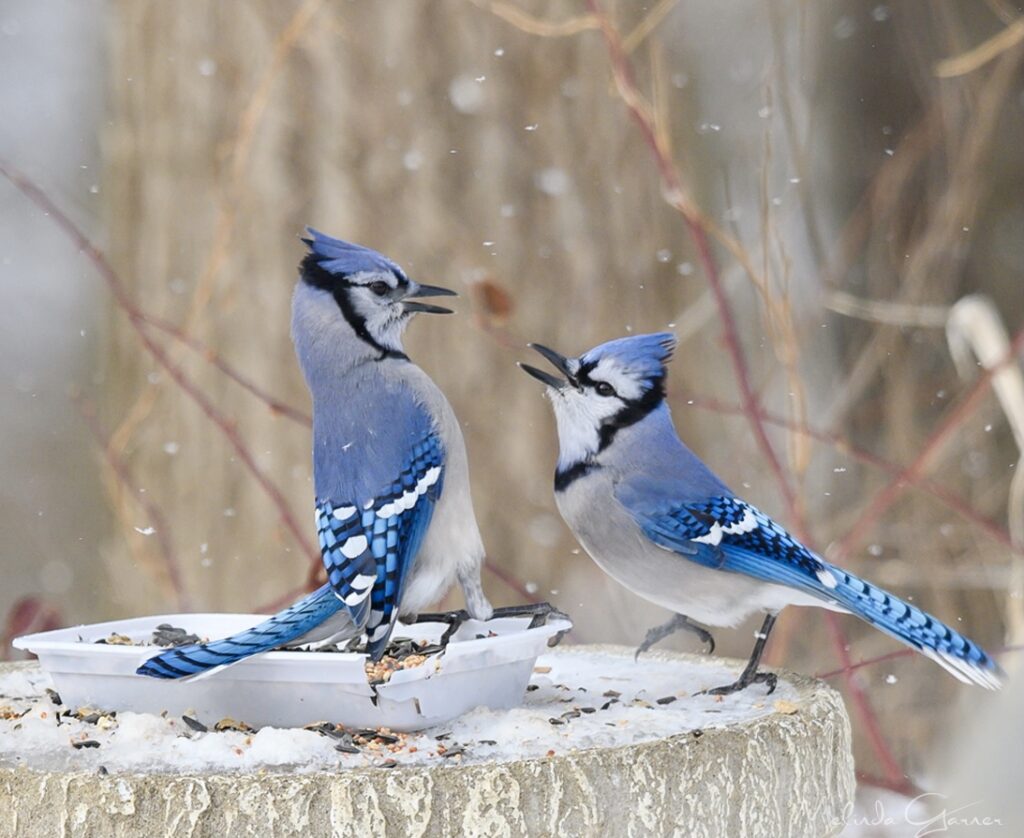 You can't get much bluer than a male Indigo Bunting.  These blue birds have some black highlights but are as deep a blue as you can find.  Birder2011 captured this stunning bird in the Morton Arboretum in Illinois.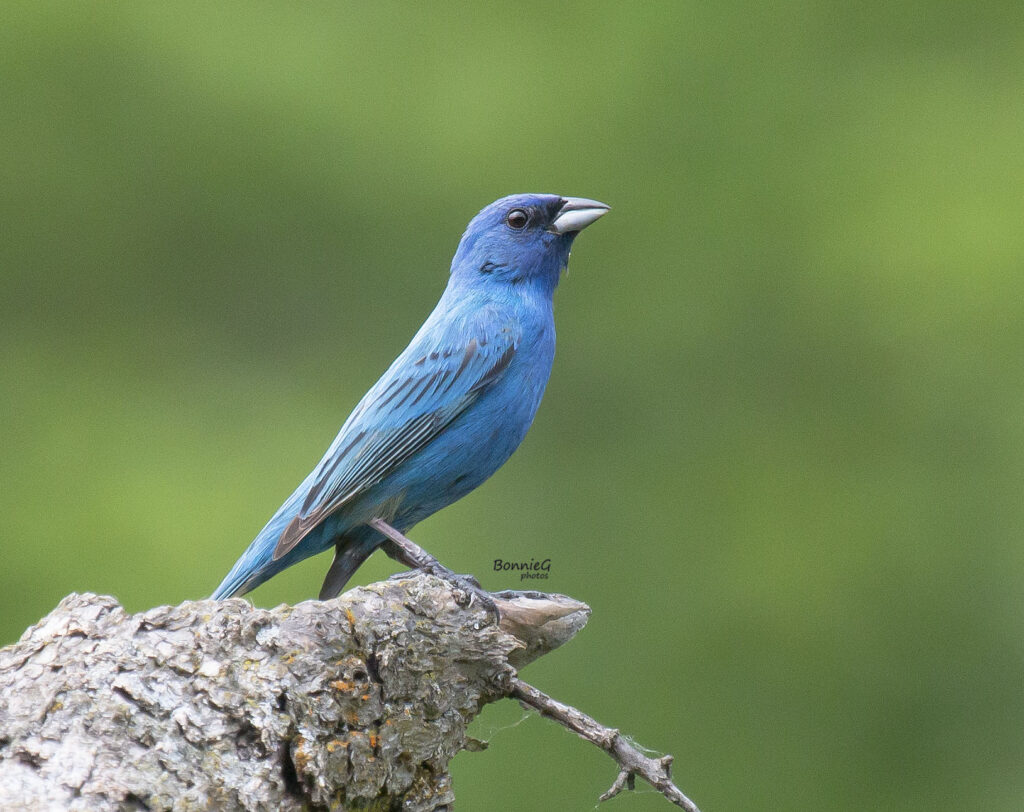 We'll round out today's pics of blue birds with a California Quail – in New Zealand.  Rebecca Bowater submits this one shot on the South Island with lots of blue in it.  Perhaps it is an adaptation to New Zealand but according to my Sibley's Guide To Birds book the North American birds have just a hint of blue, with a predominance of gray, whereas this one is definitely blue.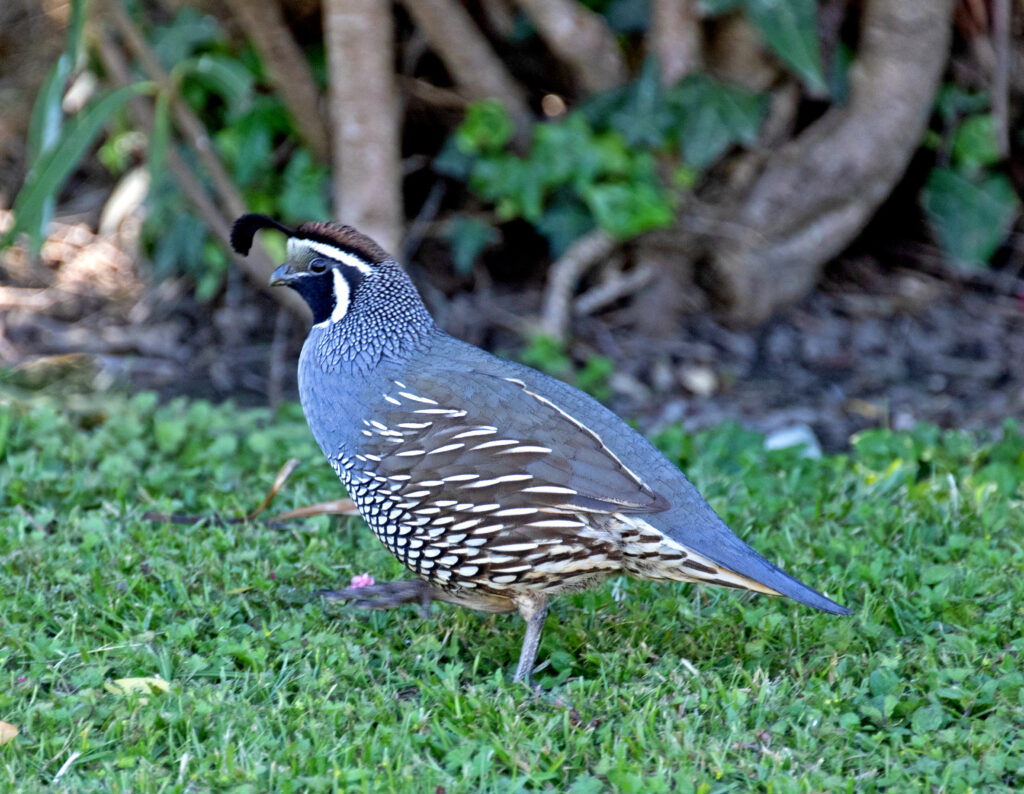 Hope these blue birds brought some happiness to your day.
Stay Safe.  Go Birding.  Take Pics.  Share Here.  Repeat.
Mike
---
If you would like to learn more about GreatBirdPics.com Click Here.  Members can post their own Great Bird Pics, create an online gallery of their work, and receive regular emails about bird photography.