Hear More -> See More
Recently the creators of the eBird App, Cornell's Department of Ornithology, made a major upgrade to their Merlin App.  I have used Merlin for years as a pocket Field Guide when out birding.  I also use Merlin at home when I'm not sure of the identity of a bird I've taken a picture of; I can take a screen shot and Merlin will analyze it and provide me with possible matches.  Those features have been useful but the latest upgrade is making me a better birder.
Whenever I go for a bird walk I hear lots of birds but I rarely know which species are making those sounds – particularly when there are many different ones at the same time.  That has now changed with Merlin's new Sound ID feature.  Even armchair birders will benefit from this feature so download Merlin now at your phone's App Store.
When you start Merlin the screen looks like this.  Just tap the Sound ID button to begin.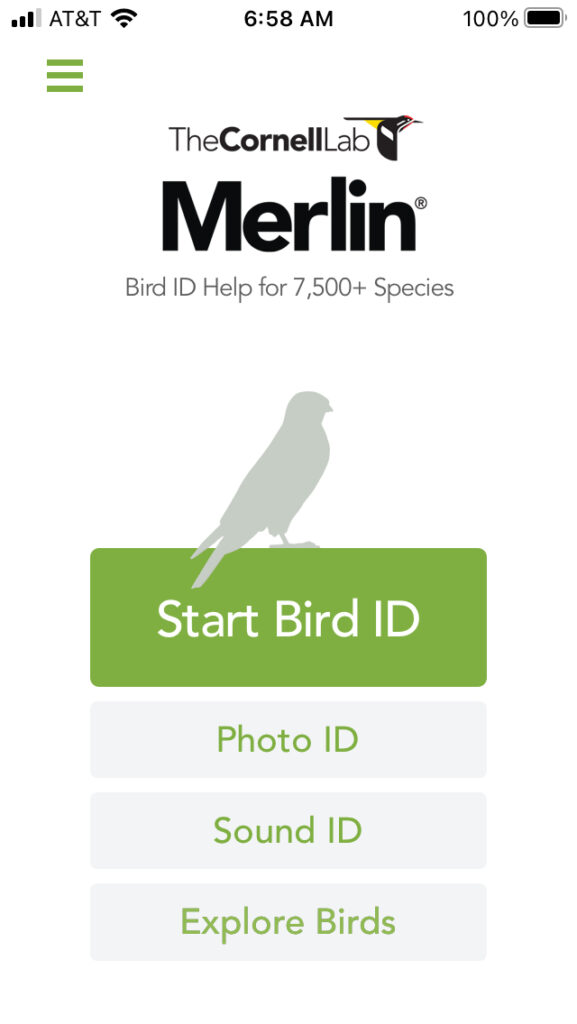 When you hear birds just tap the microphone icon and let it do its magic.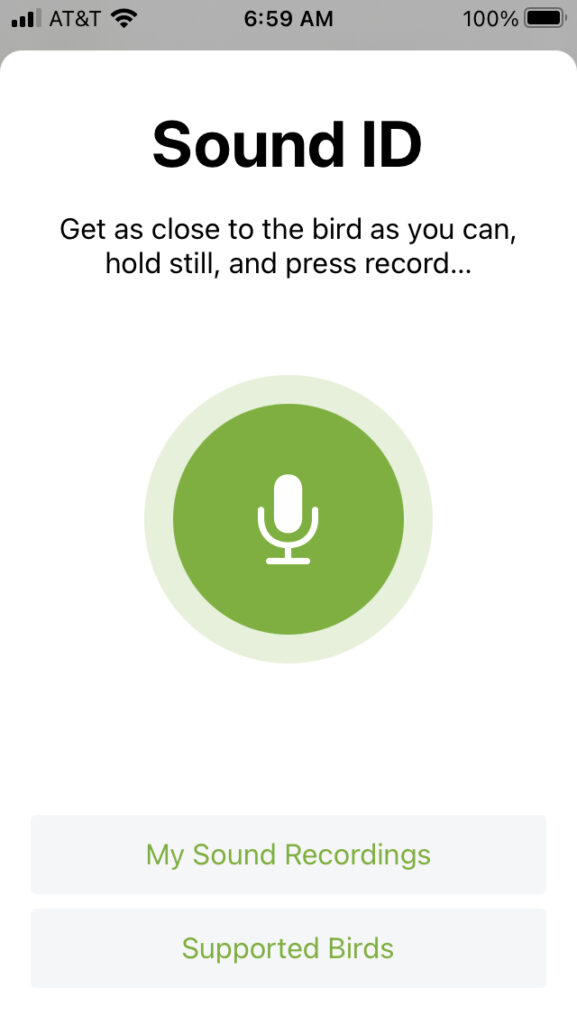 An audiogram will appear on your screen and as your phone's microphone picks up bird songs it analyzes them and when it has a match it will show a picture and the species' name on your screen.  Usually it can pick out several birds singing at the same time and each will be shown on your screen.  As you watch the screen you will note that each time it picks up the sound of a bird it has already identified it will highlight that bird in yellow.  This gives you real-time feedback on the sounds you are hearing and what bird is making it.  Every time the bird flashes yellow on the screen you are learning that bird's song.  Keeping listening and watching the screen and pretty soon you'll make a connection between the song you're hearing and the species of bird that is making it!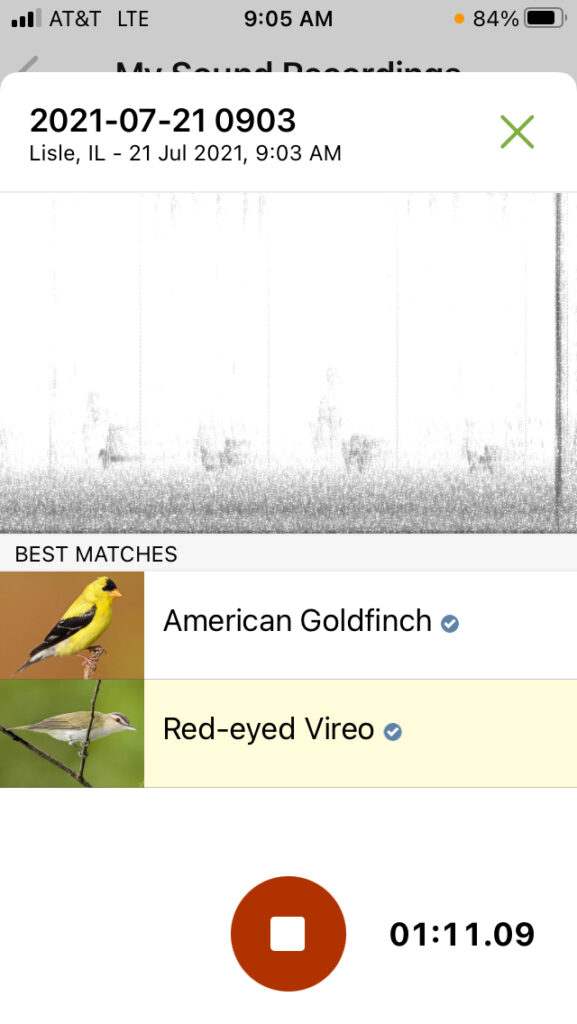 Merlin automatically saves each recording so you can go back to them and continue to learn.  When you open up a recording the screen looks similar, but now you can tap on the picture of one of the birds it identified and the audiogram jumps to where that bird's song begins.  Hit the Play button and you can hear the song for that bird.  Keep doing that to reinforce the sound with the bird.  You can take it home and continue to listen to your recordings and learning which birds make each song.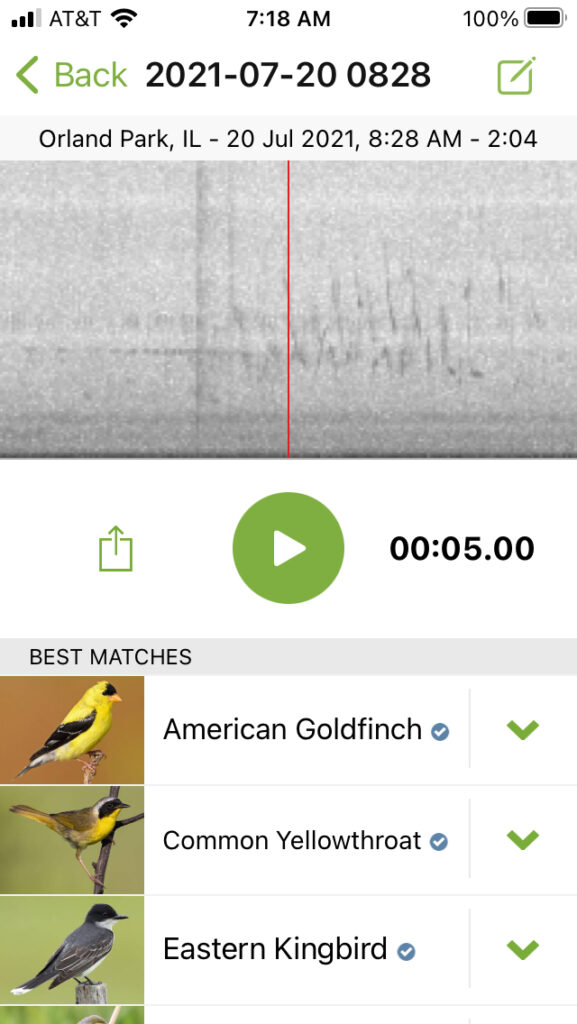 So how is the Merlin Sound ID a game changer?  Before, you had a listen to a CD with a hundred different birds songs on it and try to remember each one, or go out with an expert and attempt to learn the songs from them – and try to remember them next time you go out.  Now you get real-time identification of the birds around you.  You can listen to and see what Merlin interprets are all the bird sounds around you (Merlin isn't perfect and sometimes it will misinterpret a song or not pick up a song you can hear, but with future revisions it's only going to get more accurate).
The Sound Id feature will pick up birds you weren't even aware were in the area.  We were on a trip to visit the grandkids in Des Moines, IA recently and stopped at the Mississippi River to see what birds were by the dam.  We saw lots of White Pelicans and Double-crested Cormorants.  We stepped into a little park away from the river and Karen started the Sound ID on Merlin.  It picked up what we were seeing – Robins, Starlings, House Sparrows – but it also picked up a Redstart (a type of warbler).  Once it displayed on the screen we watched and listened; every time we heard the Redstart's song its picture turned yellow.  We didn't expect to find a warbler there, as most of them migrate north, but sure enough we searched and continued to listen to the bird and it popped up high in a tree!  We would have never even thought to look for it had it not been for Merlin.
The same is true while out walking.  We regularly turn on Sound ID and watch to see what comes up on the screen.  Birding Buddy Mark and I were at Orland Grasslands and Sound ID identified a Henslow's Sparrow somewhere around us.  We looked and sure enough one was singing on a stalk of grass 50 yards away.  Just today Karen and I were taking a walk at Herrick Lake Forest Preseve and Karen's Sound ID picked up a Rose-breasted Grosebeak.  We hadn't heard it and we didn't see it so we moved on, but when we were headed back to the car there is was – a female Rose-breasted Grosbeak in the same spot Merlin picked it up earlier.  Even the other night Karen and I were eating dinner out in our three-season room and heard a strange call outside.  We switched on Sound ID and found that a Northern Flicker was making the sound, which is rare for our neighborhood.
The Merlin App with Sound ID is a "must have" on your phone.  Even if you're just gardening in your backyard you can turn it on and and find out what birds are around.  Pretty soon, you'll start to recognize their songs yourself.  Thanks to Sound ID I feel like I am a better birder already because I am much more aware of the bird sounds around me and I've started to identify more birds by song.
Stay Safe.  Go Birding.  Take Pics. Share Here.  Repeat.
Mike
---
If you would like to learn more about GreatBirdPics.com CLICK HERE.  Members can post their own Great Bird Pics, communicate with other members, and will receive regular emails about bird photography.