Boffo BIF Pics
We left on New Years Day for a slow drive south, out of the cold.  Our plan was to take three days to get to Hilton Head Island to visit my 92 year-old dad.  We consulted eBird along the way to find interesting Hotspots to visit and we found a gem – the Donnelly Wildlife Management Area in South Carolina.  It is a large, beautiful pine forest with open fields, marshy areas, a former rice plantation, and a good sized lake.  We stopped at the lake when we saw a lot of waterfowl in it and flying overhead; we couldn't have picked a better location to do some birding!  We were at the south-east corner of the lake which meant the sun was at my back (perfect shooting light) and there was a small island just off-shore.  A number of White Ibis and Double-crested Cormorants were on the island but what caught my attention were the birds flying around it.  There was a steady stream of birds flying counter-clockwise around it; they would fly toward me between the island and the shoreline and then sweep out toward the main body of the lake in a lazy circle before heading back.  It was a perfect location to do get some BIF shots!
The majority of flying birds were Forster's Terns. I usually don't like using the portrait view to frame a bird but it just seemed right for this picture of a Forster's Tern as if flew by.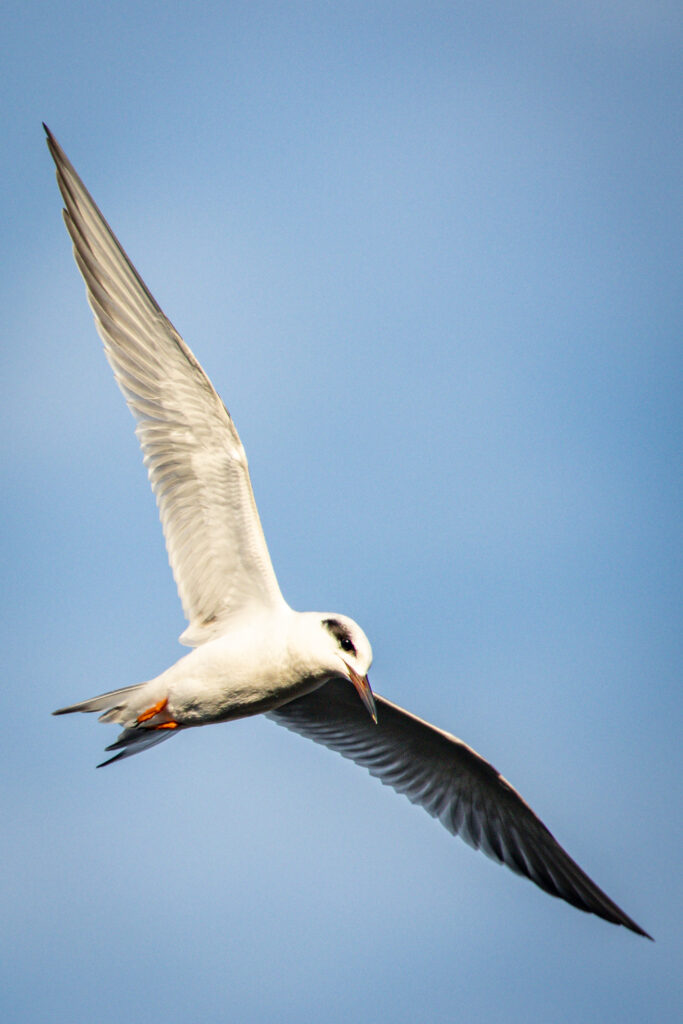 The Bonaparte's Gull is a dainty and acrobatic bird.  Differentiated from the Forster's Tern by the distinct black dot behind it eye (instead of the tern's black smudge).  It's always a treat to see one in the Chicagoland area because they are infrequent visitors; we found about 20 of them gathered on the lake here.  This one was peering down in search of food.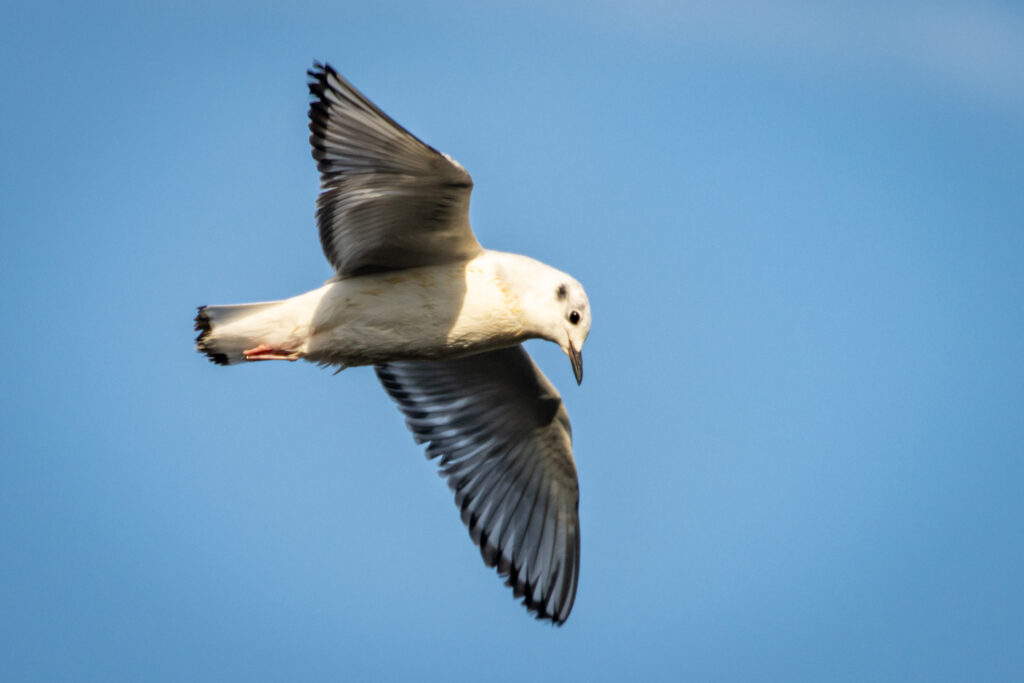 One of the most prevalent gulls in the south-east is the Laughing Gull.  This immature Laughing Gull joined the circle of birds, perhaps keeping an eye out for another bird with food so it could swoop down and steal the food.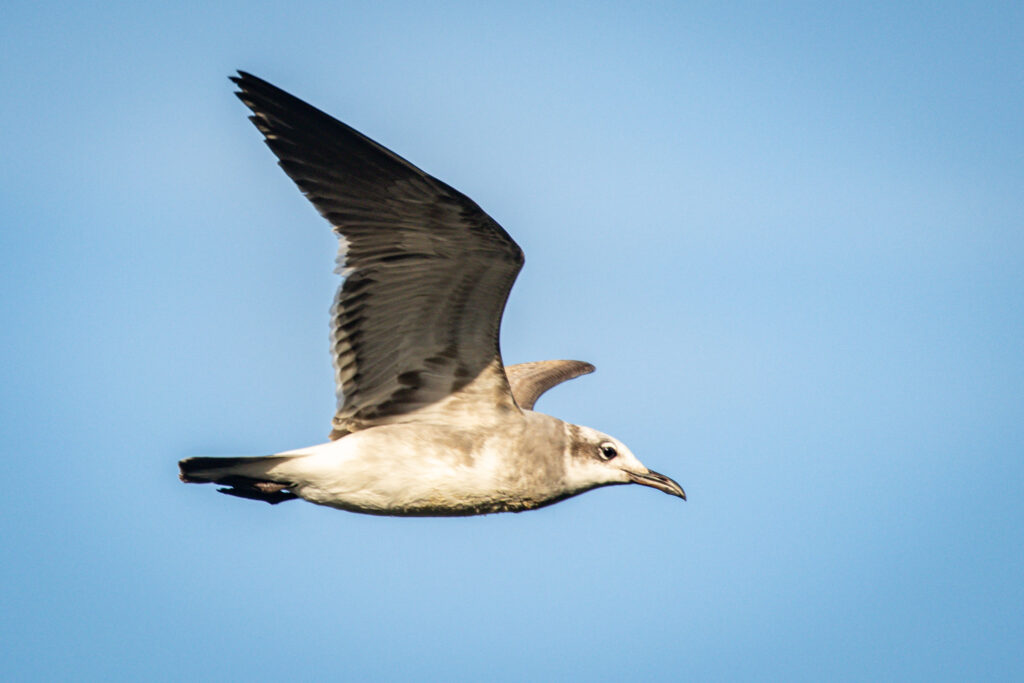 The area we were in used to be a rice plantation.  The lake was contained by berms which separated it from adjacent fields.  I was able to catch this White Ibis as it worked its way above a berm toward its mates on the lake.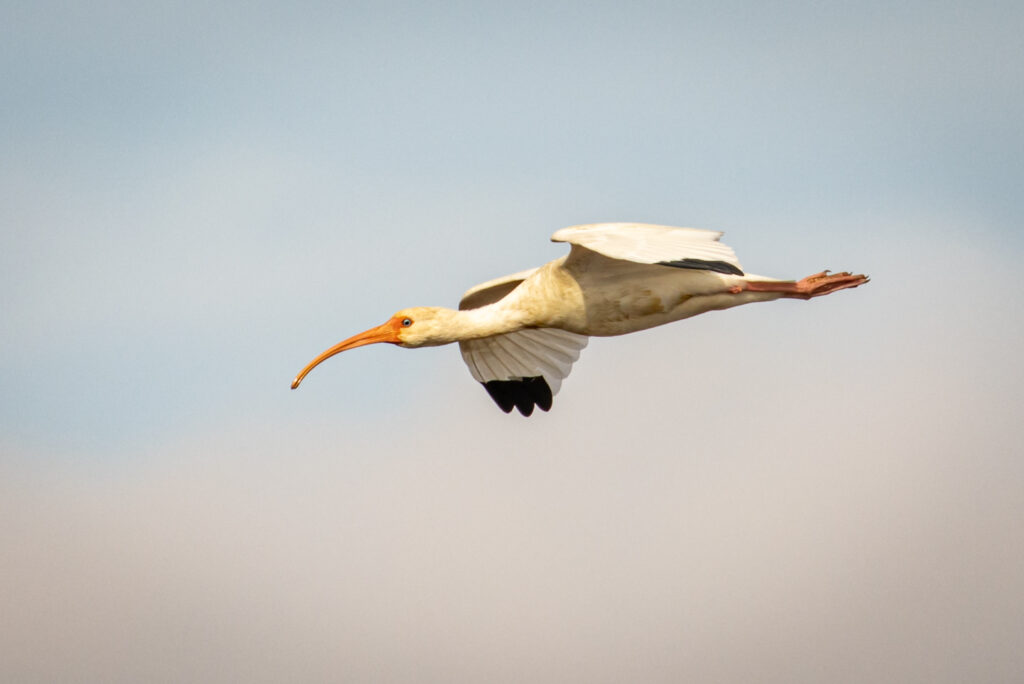 There were many Double-crested Cormorants in and around the open area we were in.  This old bird was flying toward the lake – it looks like it's been through some rough times, judging by its wing feathers.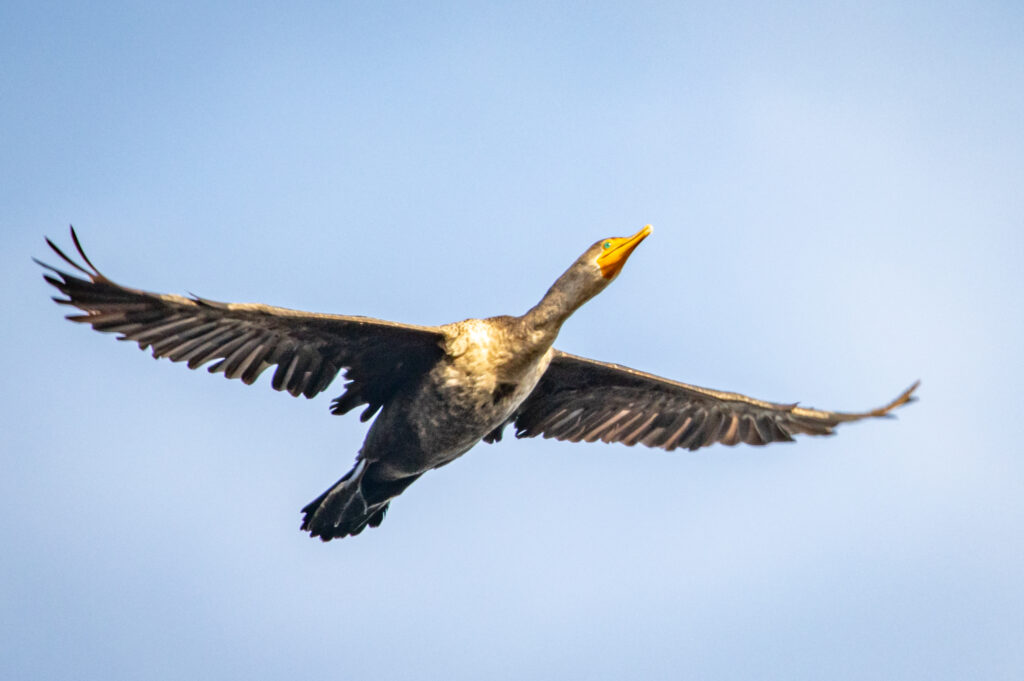 ---
Click Here if you would like to learn more about GreatBirdPics.  Membership is free; members can post their own great bird pics,  create an online gallery of their works, and receive emails about bird photography and birding.