Merlin Conjures Up a Kestrel
Last week Birding Buddy Mark led a bird walk along the DuPage River Greenway Trail for the DuPage Birding Club.  At first there were no birds – not one was seen for the first couple hundred yards or so.  Then things started to pick up as we saw a number of Tree Sparrows, Cardinals, Downey and Red-bellied Woodpeckers, and House Finch.  As we reached the path leading us to Lake Whalon Mark spotted a raptor sitting atop a utility pole.  His first reaction was to ID it as a Kestrel, because we had just seen one flying away from us.  I took a couple of quick pics and here's what I saw –
It wasn't a Kestrel, but a Merlin!  These are infrequently found in our area and it turned out to be a Lifer for Mark; understandably he was quite excited about the sighting.  We watched for a little while as it had what looked to be a Dark-eyed Junco for breakfast.  We moved on to the lake and saw a Belted Kingfisher and  couple of Mute Swans out there.  We retraced our steps toward the Merlin and returned there at the same time as the Kestrel.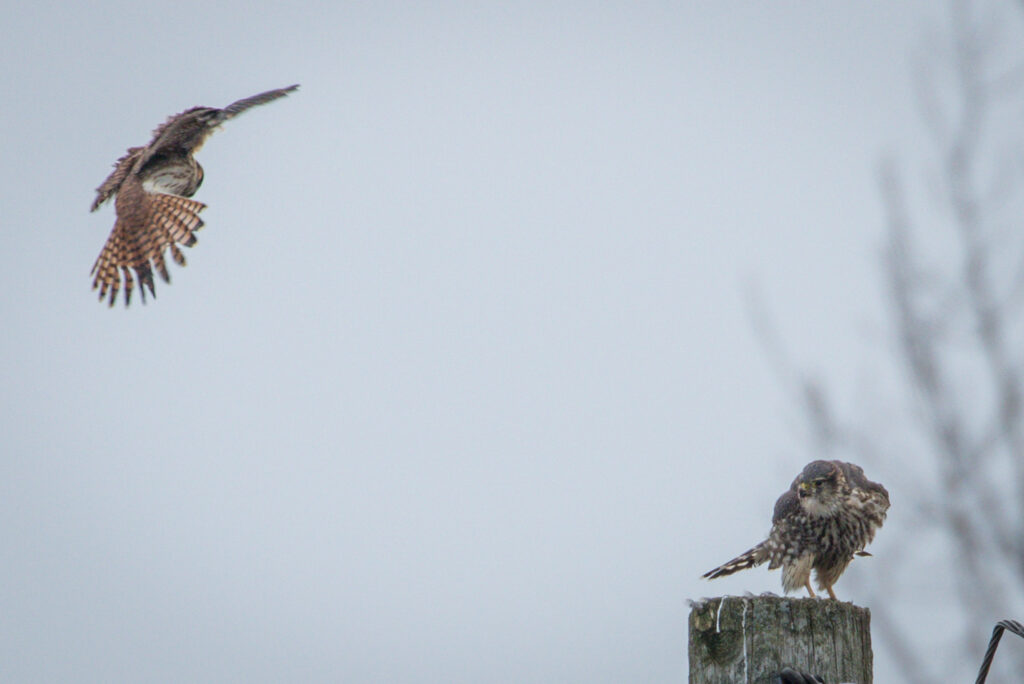 The Kestrel made a couple of flybys but the Merlin was not moving.  Finally the Kestrel settled down on an arm off the pole and they kept a wary eye on each other.
Eventually the Kestrel flew off leaving the Merlin to his perch and to digest its breakfast.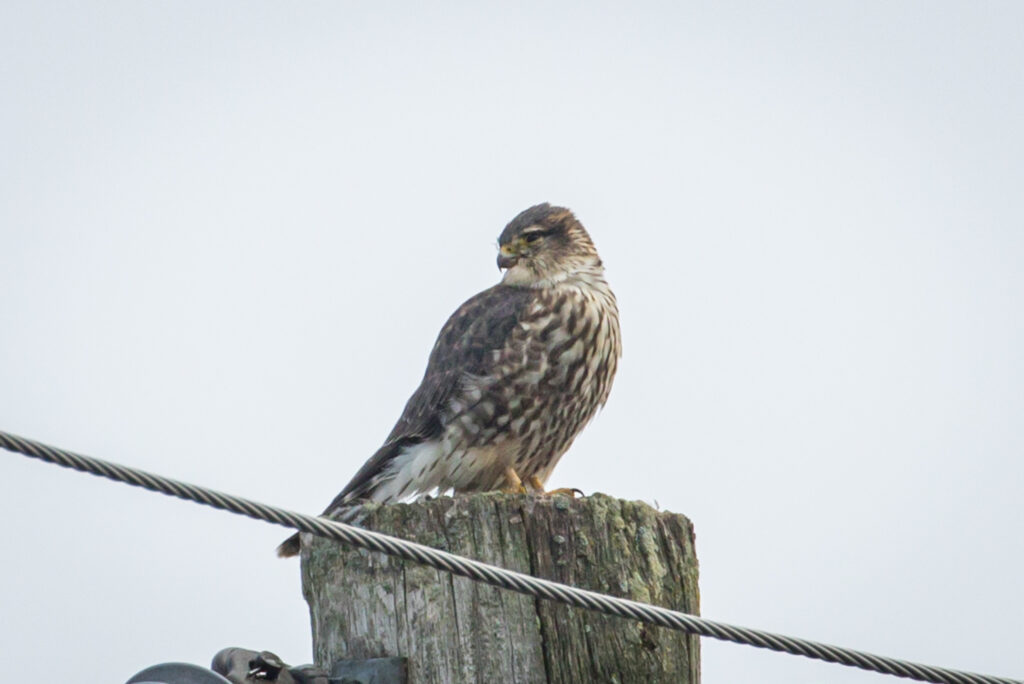 Even though our walk started off slowly, we were all thrilled to see not one, but two raptors in the same spot.  Somehow the Merlin conjured up a Kestrel for us!
Stay Safe.  Go Birding.  Take Pics.  Share Here.  Repeat.  
Mike
---
If you would like to learn more about GreatBirdPics.com Click Here.  Members can post their own Great Bird Pics, create an online gallery of their works, and receive regular emails about bird photography.