A Walk In the Park
A day after we got back from 8 days of birding in Tucson, AZ we just had to get out birding around home – the warblers have arrived!  Although we usually associate warbler migration with the month of May all types of them have been coming through in large numbers.  Perhaps they are making up for last year, when they kind of skipped over Chicago during migration.
We went over to the Morton Arboretum with low expectations.  The Arb has been less birdy the last few years; perhaps the increase in visitors has scared some of them away.  It was pretty quiet the day we went, perhaps due to the chilly morning.  There were many birds to be seen and we got our first looks at some warblers we hadn't seen in awhile.
Our first warbler was the reliable Yellow-rumped Warbler.  Reliable because we see more of them than any other migrating warbler.  This one posed up in a tree pecking at the seeds hanging from its limbs.
I couldn't resist another shot of it, this time showing its bright yellow cap on the top of its head.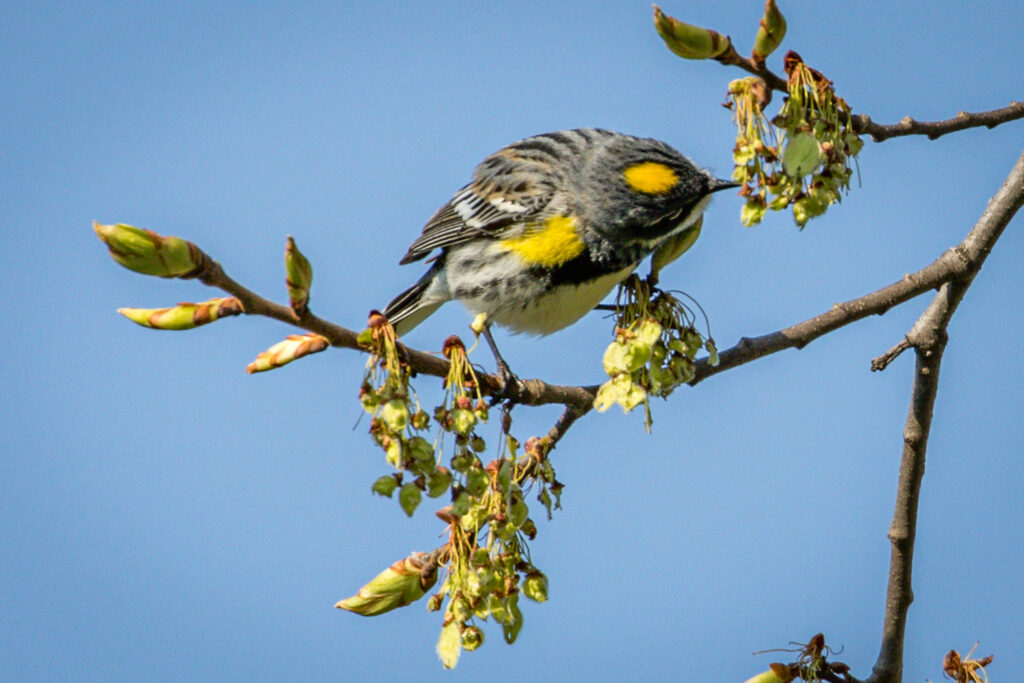 We continued our walk and got to the entrance to the Fragrance Garden.  It's a small area and I didn't really expect to see many birds in there but the garden is planted with a variety of plants and flowers that smell wonderful.  We soon picked up movement in the bushes and a couple of Palm Warblers hopped out in plain sight.  These are the second-most numerous warblers in the midwest and can be found for most of the month of May (where some species are only briefly seen).  This one hopped up on top of one of the plant identification signs (an appropriate name for the warbler, too).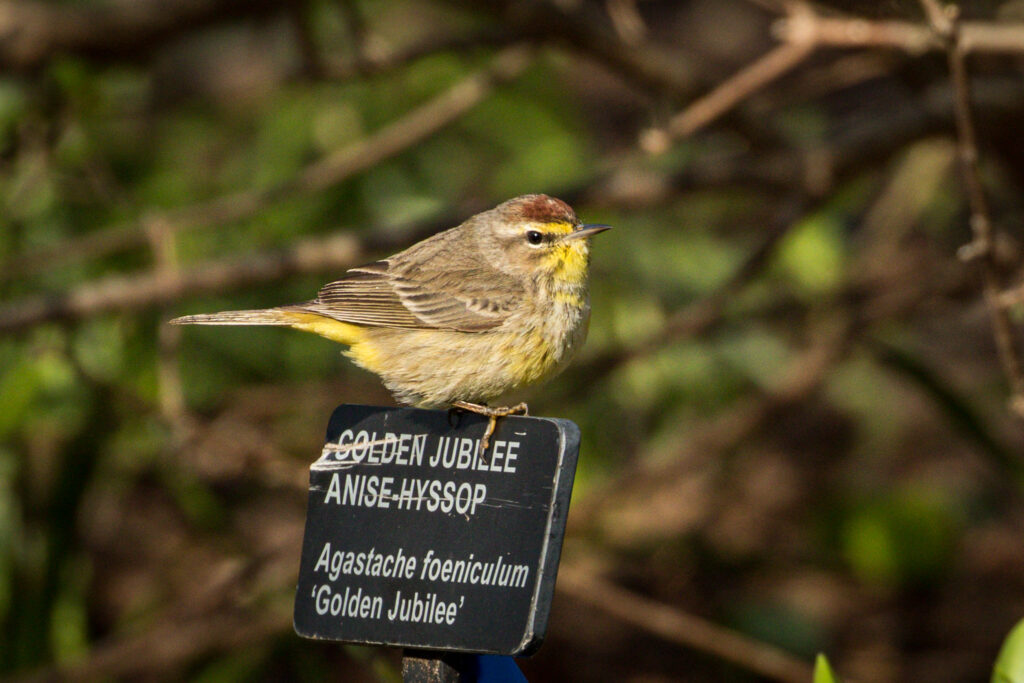 We continued our meanderings through the Arb and reached the little spillway between Lake Marmo and Sterling Pond.  It's often been a good spot for birds and that day was no exception.  We watched several birds come over the hill above us, feeding high in the trees. We spotted a Black and White Warbler coming through with a group of other warblers.  The Black and White is one of my favorites but it is tough to see and photograph.  They tend to crawl around large limbs whereas other warblers can be found out on the thinner branches.  This one came out for a quick peek before scurrying back behind the trunk. This is a male, as identified by the black throat and heavy black streaks down its breast.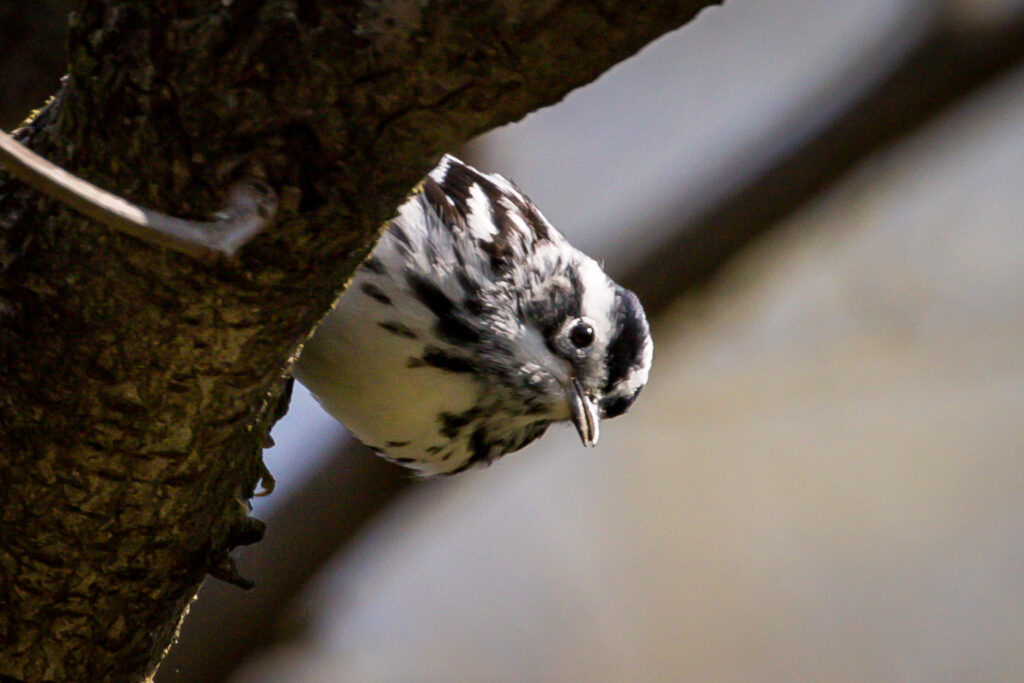 Sometimes the birds come right at you out of the sun, so they are backlit in the photographs.  You can play with the adjustments in your photo editor but you can't really eliminate the halo of light around the bird – sometimes it looks interesting, like in this picture of a Pine Warbler.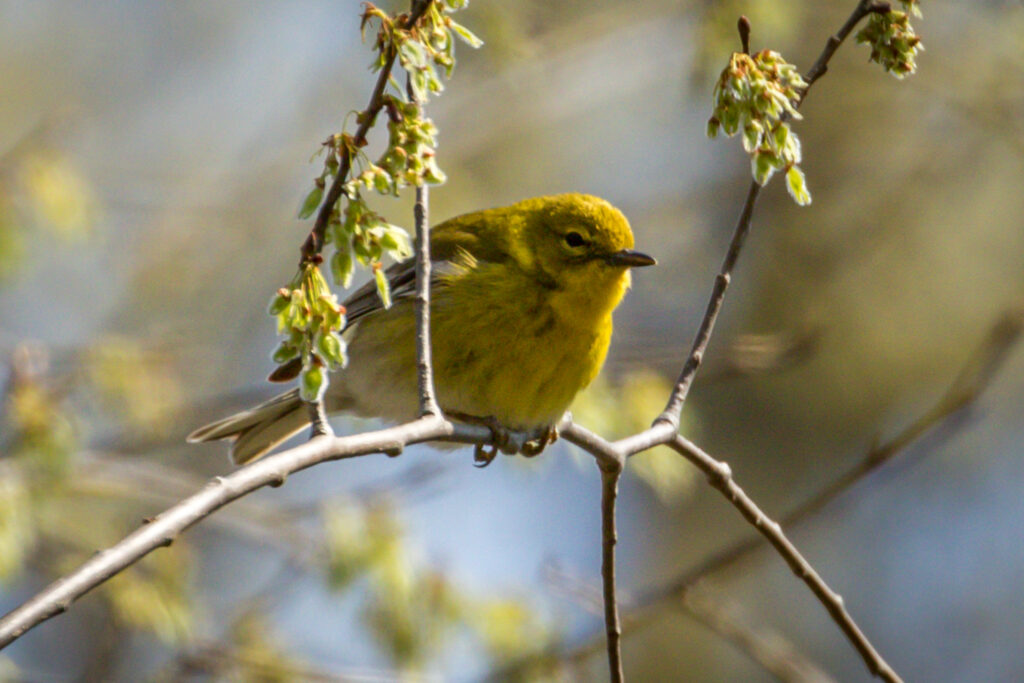 There are birds other than warblers that have stunning colors, too. This Eastern Bluebird has a lot of rust around the neck and flanks with brilliant blue on the wings.  Probably an immature female.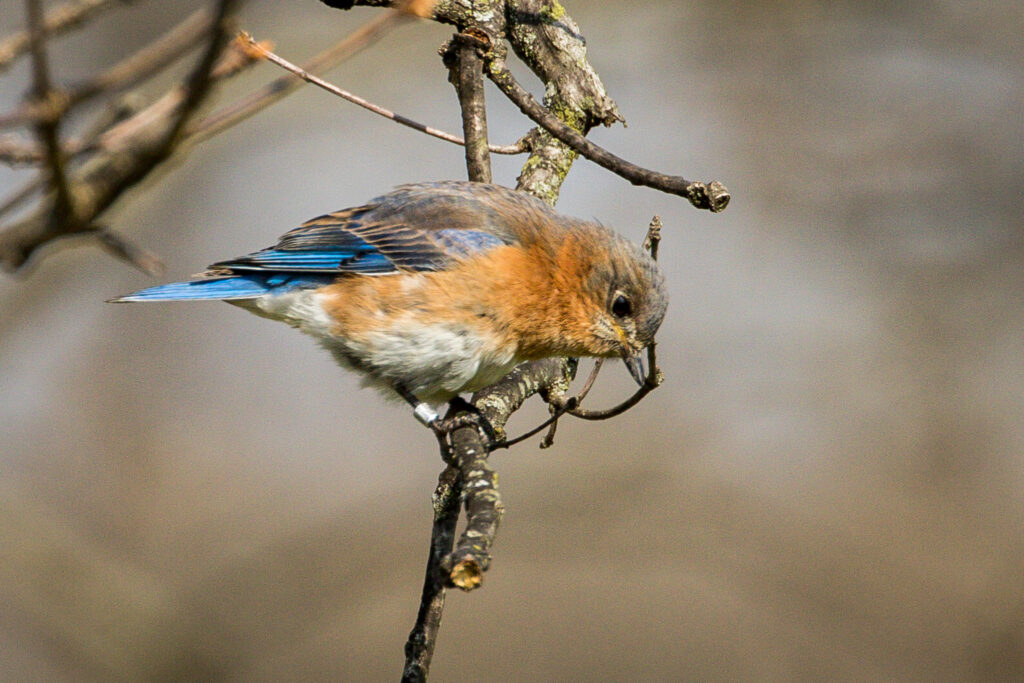 We saw a couple more birds but I'll save them for later.  All-in-all we saw over 40 species that morning – the migrants are back!
Stay Safe.  Go Birding.  Take Pics.  Share Here.  Repeat.
Mike
---
If you would like to learn more about GreatBirdPics Click Here.  Members can post their own great bird pics, create an online gallery of their works, and receive emails about bird photography like this one.