More Panamanian Bird Pics
Although there are many more bird photographs from Panama I could feature on Mike's Monday Pics, I feel like it's almost time to move on – to Texas bird pics (more about my Texas birding trip later).  Today I've collected some of my favorite bird photos I took in Panama.  I'll be adding more Panama bird photos and you will be able to see them in the Latest Pics section of GreatBirdPics.com or you can go to  Search All and enter Panama in the Country Field.
One morning on the famous Pipline Road we spotted this very different looking bird.  I was immediately taken by the colors of the bird but couldn't get a picture before it flew off.  Our Red Hill Birding guide Adam Sell was kind enough to help me relocate it and I was able to get several shots of it.  I love the funky hairdo!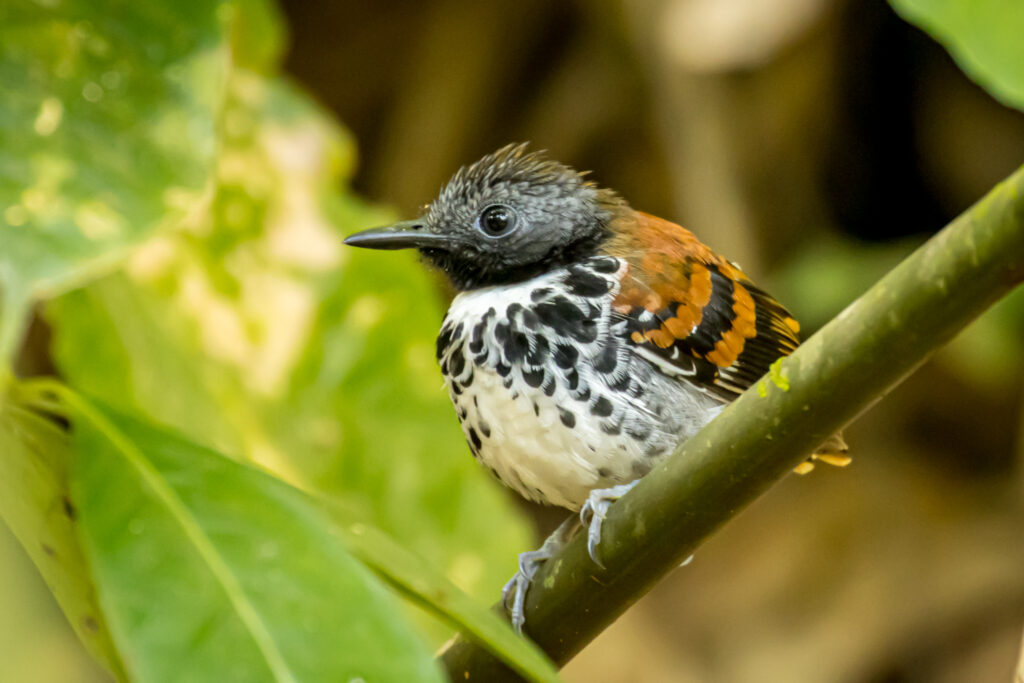 The Barred Antshrike had a tall mohawk, with long feathers rising up off the top of its head.  A very fun bird to see.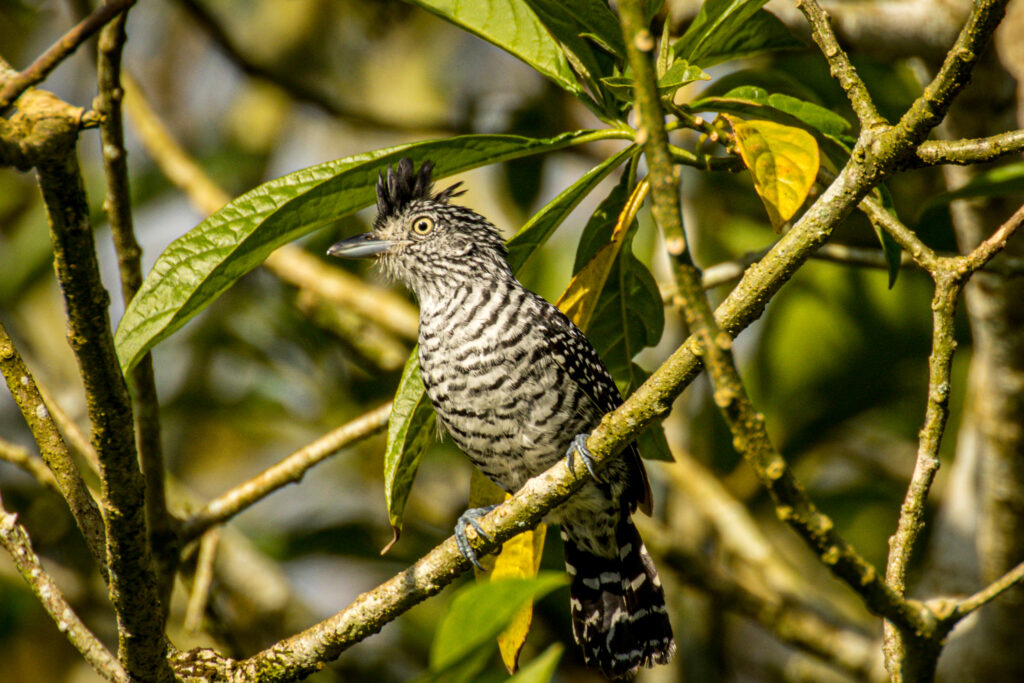 This Ruddy-tailed Flycatcher popped up for a quick shot and then disappeared into the forest.  It was the only time we ever saw this interesting bird.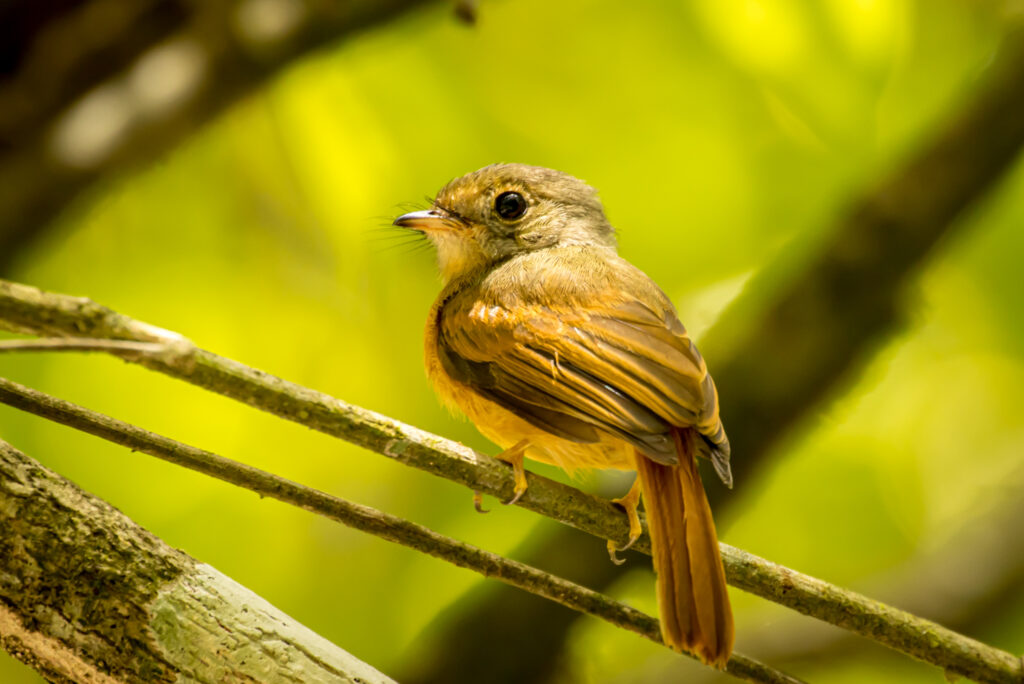 We came across this Greater Ani on the very last day of our birding tour in Panama.  Like all of the Ani species we saw (Smooth and Grooved-billed) at first they appear black but when you look closely, their feathers are a combination of dark blue, purple, and black.  It wasn't until I got home and processed the photographs that I noticed that this one was banded.  I'm going to find out if I can track down when and where it was banded.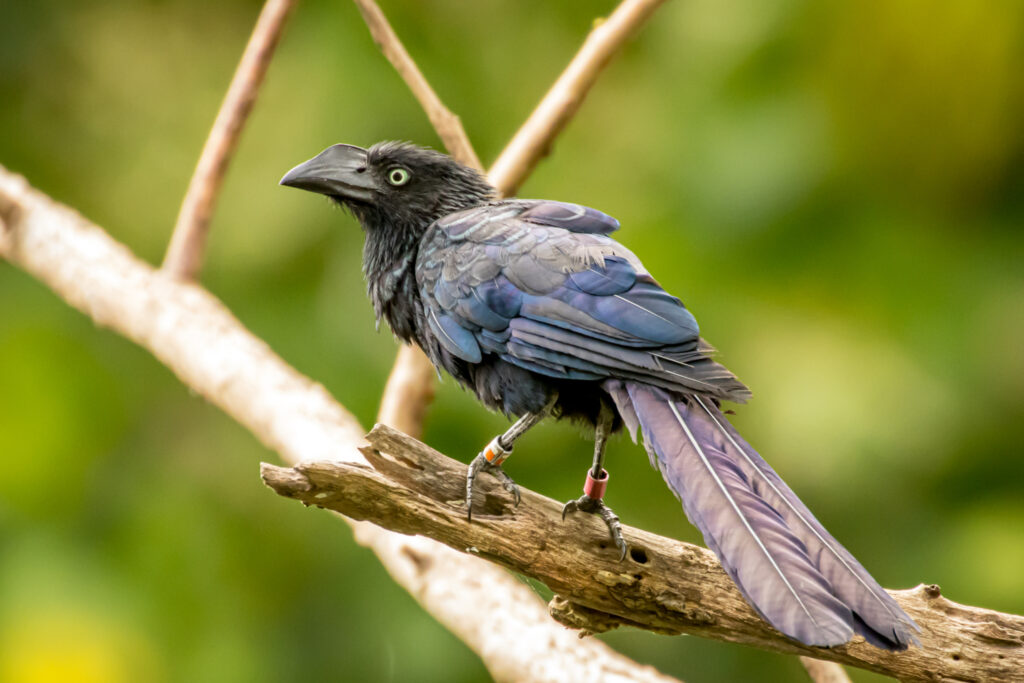 Most of the feeders we visited while in Panama put out two kinds of food – bananas and rice.  In fact one private homeowner that invites Red Hill Tours to bring clients to their feeders said that last year they purchased one TON of rice and two TONS of bananas to keep their feeders stocked.  Panama is the first place I can recall where cooked rice is used as bird feed.  Here you can see a Red-crowned Ant-tanager with a beakfull of rice.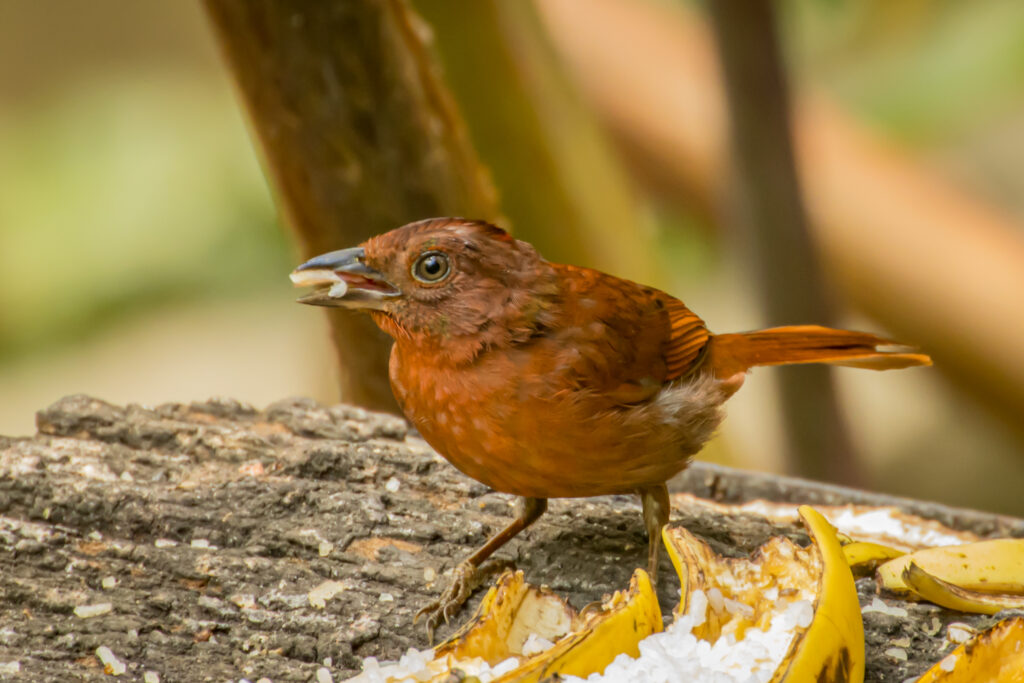 This male Green Honeycreeper has the most beautiful green coloration I've seen.  The red eye sets off the black hood with a bright yellow beak.  Such vibrant colors!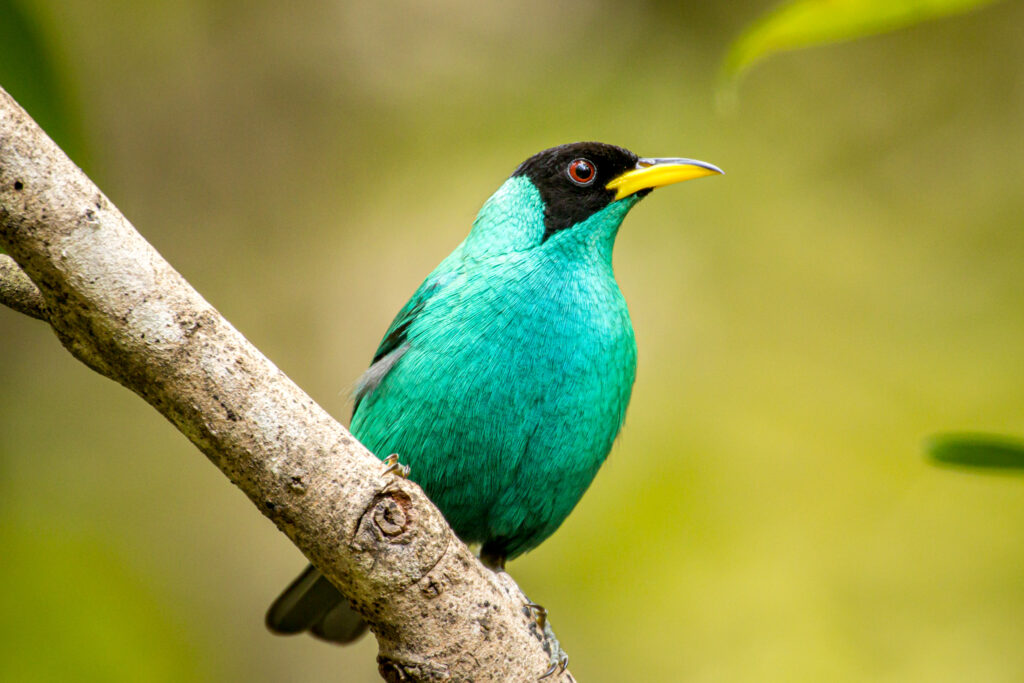 The female Shining Honeycreeper is one species in which the colors of the female are perhaps more striking than the male.  I couldn't get enough of this little bird.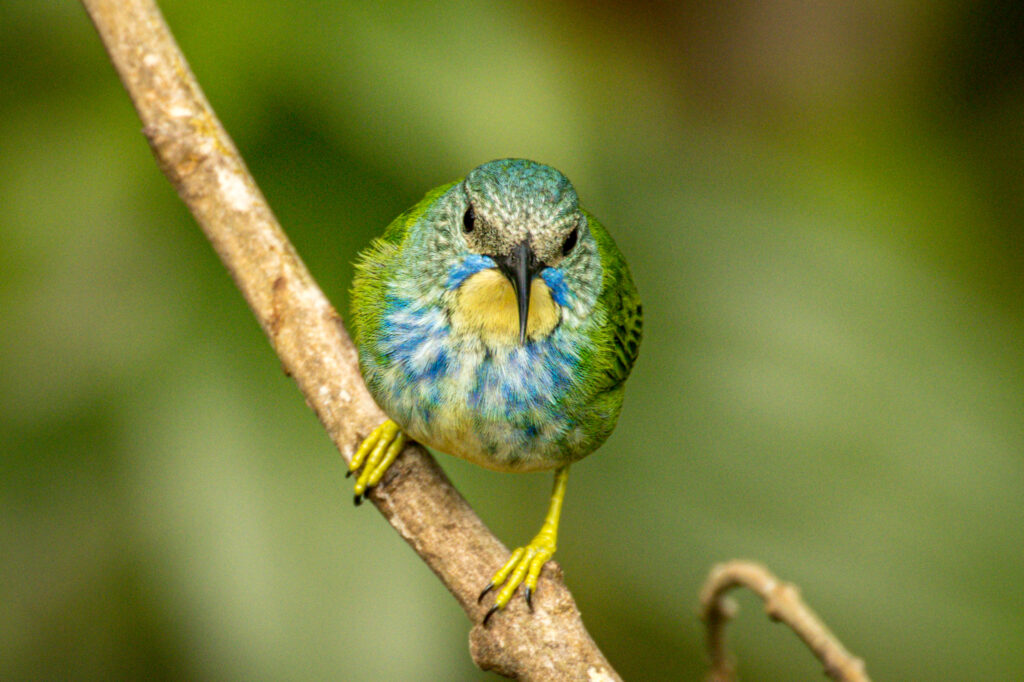 Our local guide Carlos was an expert birder (named Panama's Naturalist Guide of the year in 2018).  He has observed 776 species in Panama so it takes a special bird to get him excited.  When Carlos got excited, we could tell how good the bird was by how many OMGs he strung together: OMG! = pretty special bird, OMG! OMG! = a rarity, and OMG! OMG! OMG! = he lost his mind when he saw it.  One morning we were having coffee before breakfast outside of the Canopy Family Lodge when both Carlos and Adam Sell stopped mid-sentence, jumped up, and rushed over to the nearby stream.  Picking its way along the waters edge was a Sunbittern.  Carlos let out a string of OMGs that let us know we should stop eating and get over there to see this special bird.  Carlos and Adam could barely tear themselves away to begin the day's touring.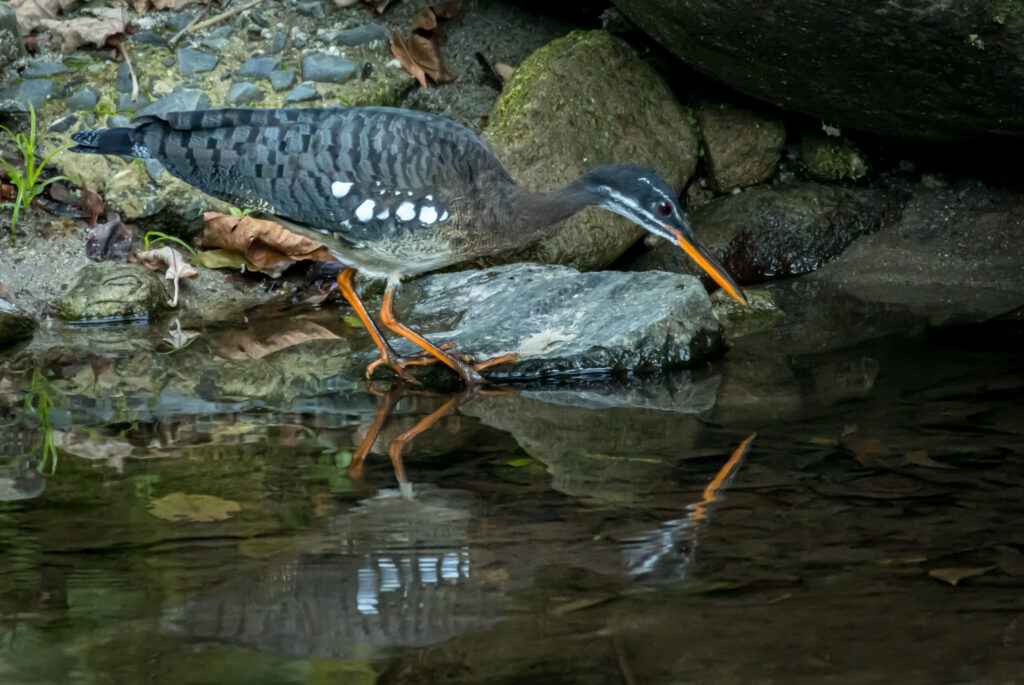 ---
If you enjoy seeing beautiful pictures of birds from around the world and reading about them Click Here to sign up for our mailing list.  Members can post their own GreatBirdPics and learn more about bird photography techniques.