GBP Notes 11/16/20
Good Morning GreatBirdPics Members!
One of the hottest birding hotspots on the Atlantic side of Florida is Merritt Island National Wildlife Refuge. Merritt Island is also known as the home of the Kennedy Space Center.  This huge tract of land is undeveloped (except for the Space Center) and is home to a wide variety of birds so we had to drive down there from Daytona to bird there.
As we drove around the area we passed the Scrub Ridge Trail.  We actually passed this sign on the way to a different area but Karen wanted to go back there to check it out on our way home.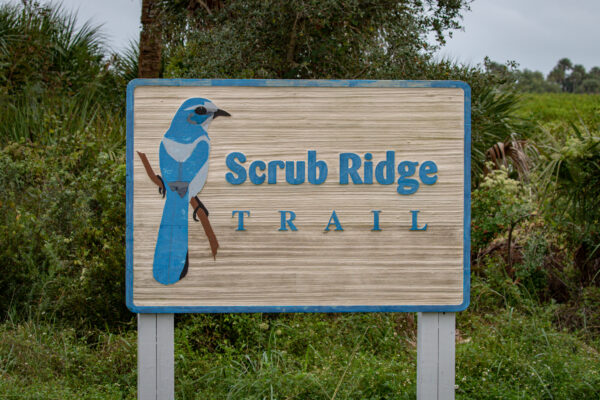 The bird displayed on the sign was a Florida Scrub-Jay, which is an endangered species.  It is the only bird which lives exclusively in Florida – you can't find it anywhere else in the world!  It is on the endangered species list because the unique habitat it thrives in is slowly being reduced by human habitation.  The Florida Scrub-Jay lives in areas where scrub oaks live.  These short trees, and other plants in the scrub habitat are the best places to find the Florida Scrub-Jay.
Being the pessimist, I thought we would be unlikely to find any of them here – sure the sign shows them but that was probably made years ago when somebody saw one and decided to name the area after the bird.  But being a good sport I pulled in.  The informational sign said there was a one-mile trail around the scrub area but we decided, since we were tired from the long day, we would just walk in a little way and then turn around and take off.  Well, we hadn't gone 30 yards along the trail and there was a Scrub-Jay at the top of a scrub oak! (Click on each picture to see a larger image and information about the shot).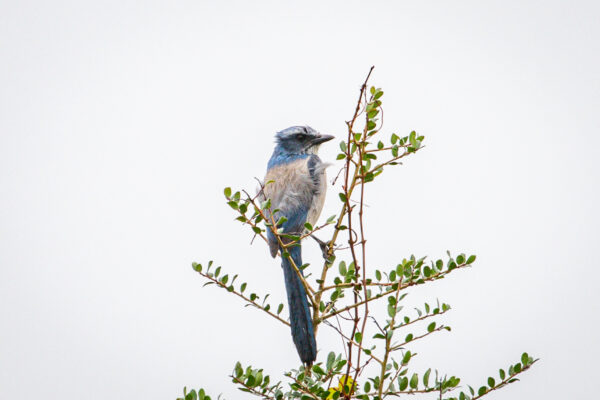 As we watched the tree we saw two more Scrub-Jays.  They were moving to the north and foraging along the way.  Here are a couple more shots of them: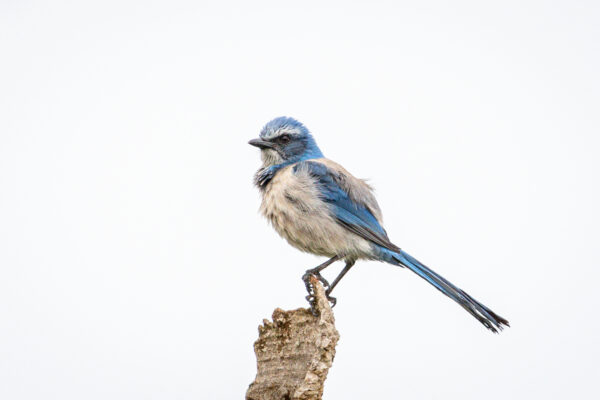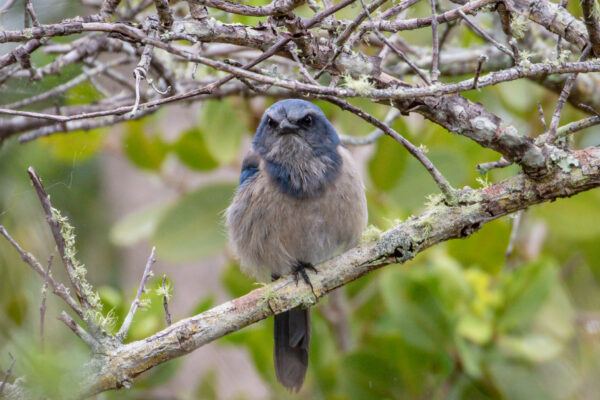 Lesson learned – if an area is named for a specific type of bird, check it out!  Particularly if it is a rare bird only seen in a limited area.  I glad we didn't just drive by and head home.
It's just past dawn here and I'm going to walk down to the pier that extends out into the ocean 150 yards and see what's flying around there.  Get out there and go birding; if you can't post pictures!  Happy Birding!
Mike