Great Place for BIF Shots
During my two-week email hiatus I was in Pentwater, Michigan on a guy's golf weekend.  Of course I took my camera along because I found a great place to take BIF (Bird in Flight) shots from.  My buddy Bob's place is a short walk from Longbridge, which is a road going over the end of Lake Pentwater.  The road is just a few feet above the water (it was actually closed for a long time because the water level was too high) and has some observation/fishing decks built off the side of it.  To the west is Pentwater Lake, which leads into Lake Michigan and to the east is a large marsh surrounded by forest.  I got out there around sunrise and the birds of the marsh were starting to move around, some flying over the bridge.
My first visitor was a Green Heron.  These smaller herons are fast flyers but this one was flying pretty low and I spotted it pretty far away as it flew toward me.  The views were unobstructed so I was able to track it the whole way in.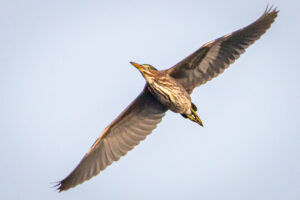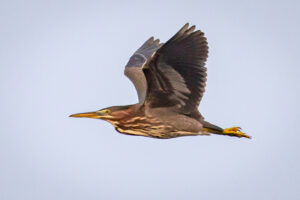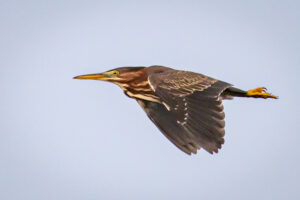 The next bird to fly by was a Great Blue Heron.  Again I was luck to have the sun at my back at dawn as this big guy slowly winged its way into the marsh.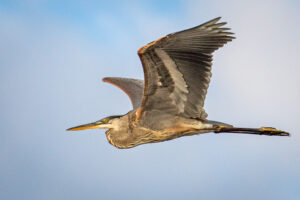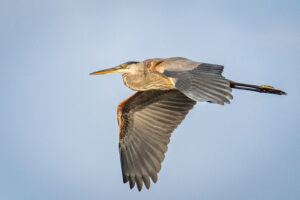 After an unremarkable round of golf we settled back in at Bob and Sue's place for the afternoon.  They have a couple of hummingbird feeders hanging off the deck and three Ruby-throated Hummingbirds came and went regularly.  I grabbed my camera and settled in pretty close to the feeders and waited for them to return – I find if I'm still after awhile they forget I'm there.  Here are a couple of shots (I plan to do a separate article on how I get hummingbird shots in a future article).  All three of these pics are of the male with his ruby/orange gorget flashing.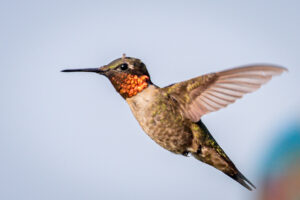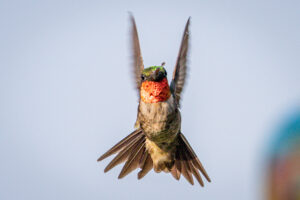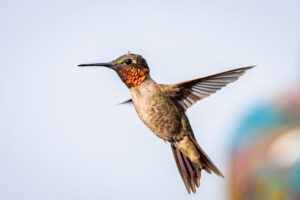 Thanks again Bob for a great weekend!
Stay Safe.  Go Birding.  Take Pics.  Post Here.
Mike
---
If you would like more information about GreatBirdPics.com CLICK HERE.  Members can share their own Great Bird Pics, communicate with other members, and receive regular emails about bird photography.