March 6, 2020    Boats, Vans, and Planes
This is Day 19 of a 19-day birding tour of Thailand; it was a private group arranged through Field Guides, adhering to their typical itinerary.  The pictures in this post are just some of the many Thailand pictures I've uploaded to GreatBirdPic.com.   Check out the site before you leave: see the Latest Pics uploaded by our members or read the About GPB to find out more about the site.  You are welcome to join if you enjoy bird photography.  Click on any bird pic to see more about the shot.
Our last day in Thailand was a busy one (no surprise there).  We started our day at sunrise and arrived at Nong Luang for a personalized boat trip.  When we arrived the boats were securely housed in the harbor: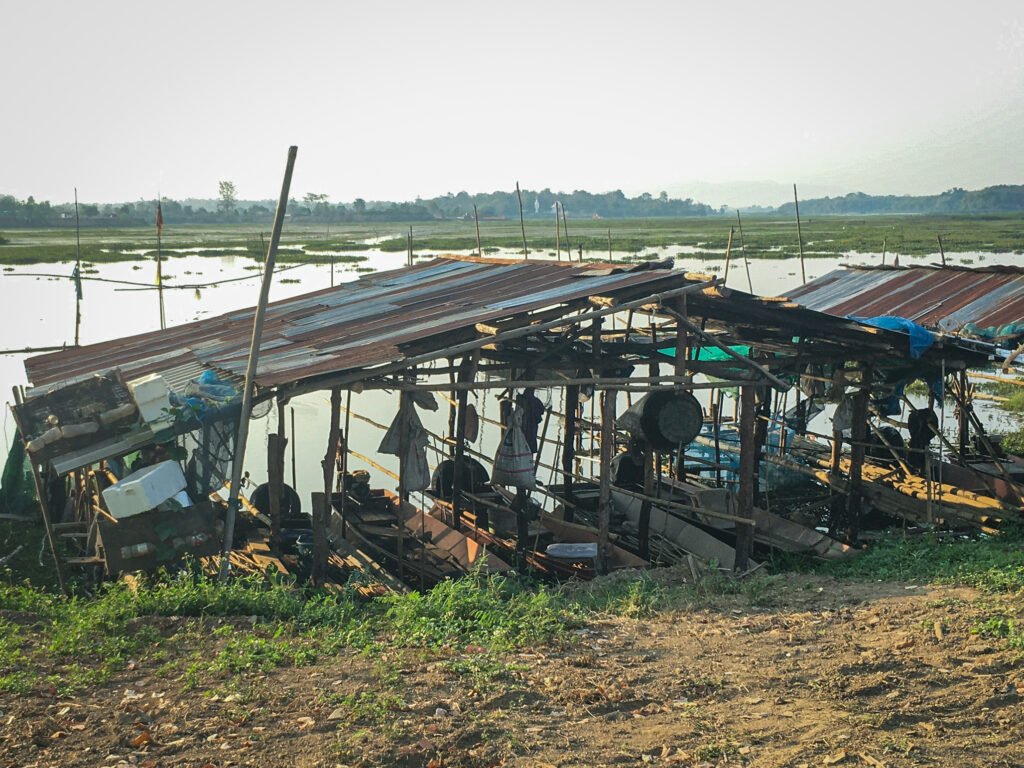 Facilities were limited on board so we were invited to use a local's water closet: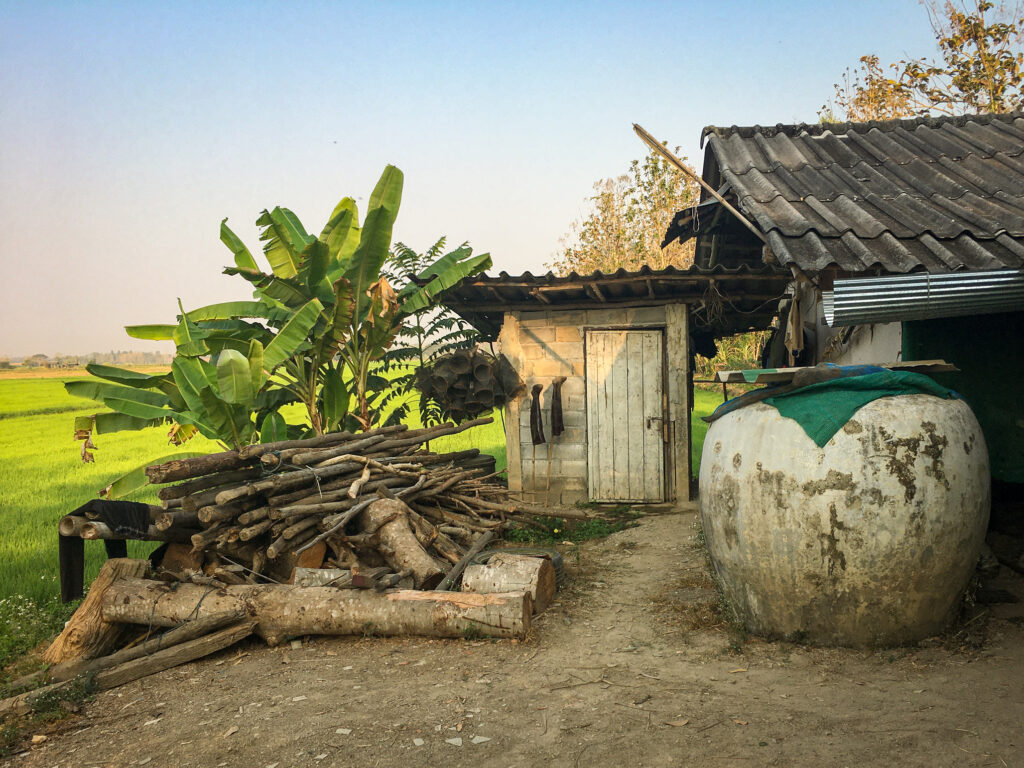 It took a couple of phone calls to get all the captains needed to pilot the boats (two of us per boat) but finally we were ready to load up.  Dave settles in with his expensive camera, along with Joe, in a boat that doesn't even appear to have a bow (if you look closely it is about 4 inches high):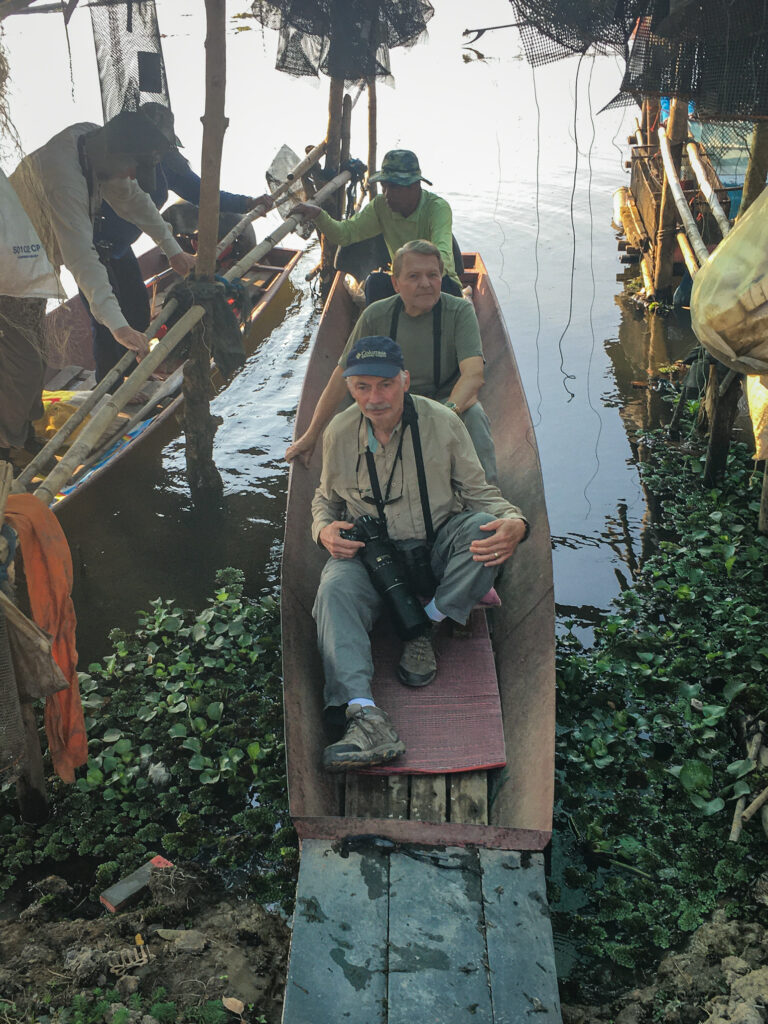 Amazingly none of us sank!  Those boats we very low in the water and were not designed for guests but for fishing, but for our purposes they worked fine.  I shared a boat with Diann and we mostly chatted about the trip and found that we both lived in Ann Arbor, MI at about the same time (early '70s).  Here's a look at Dave snapping pics from his boat: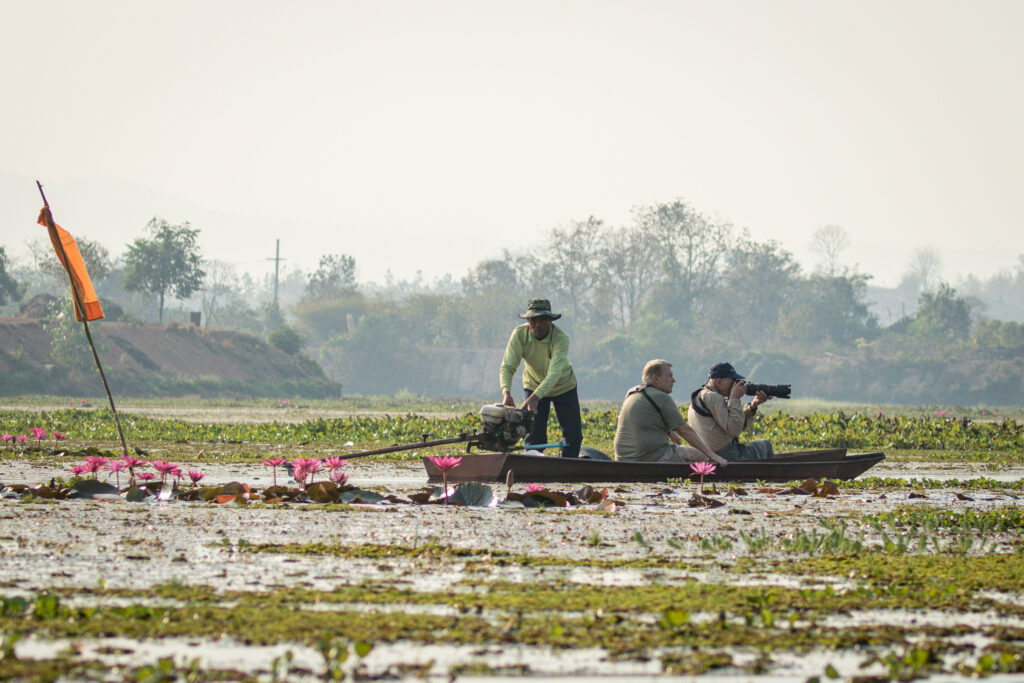 You'll note the pink water flowers next to the boat.  These dotted the surface all around us: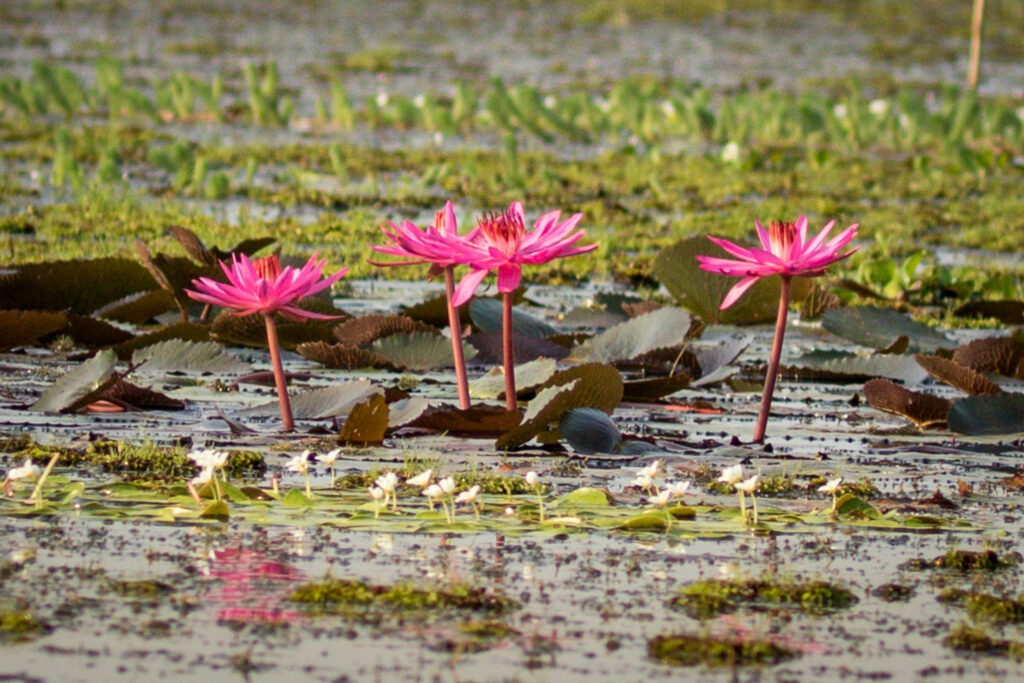 As our boats went through the waters we flushed several types of birds into the air.  Most numerous were the Lesser Whistling-Ducks: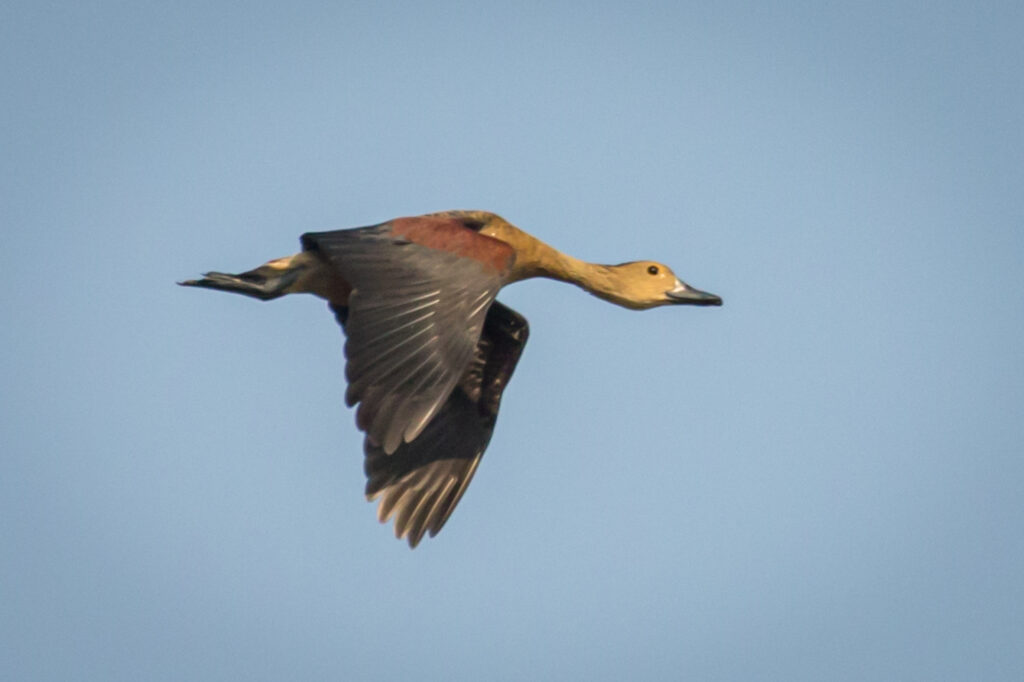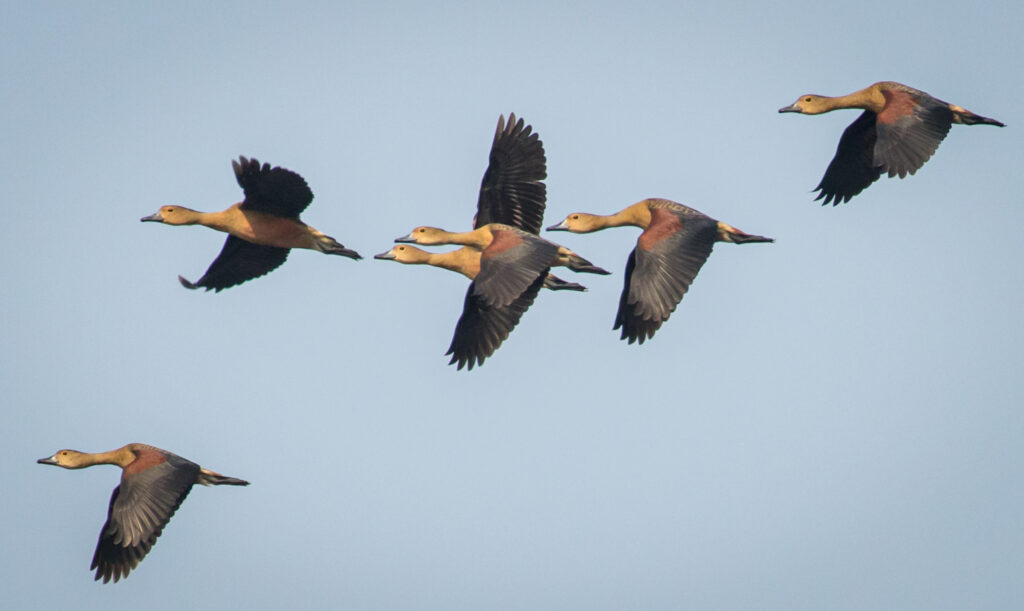 The Asian Openbill was seen several time earlier in the trip, but not in the last week or so.  Here is one perched atop a tree with several Intermediate Egrets: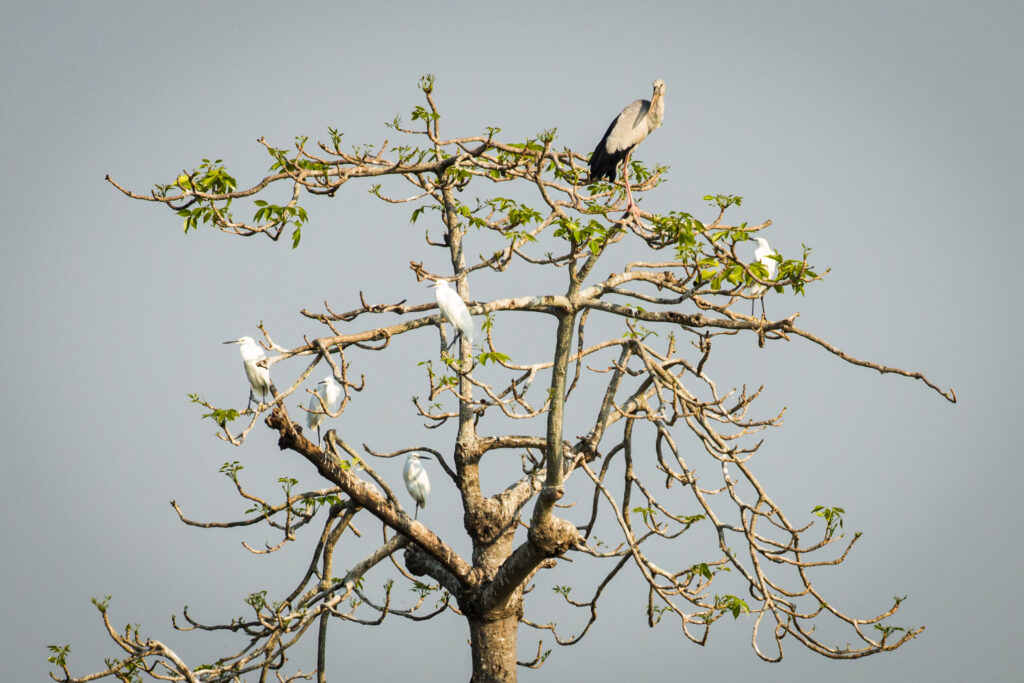 As we glided by the tree a new bird came flying in.  An Oriental Darter came in to land in the same area of the tree near the Openbill: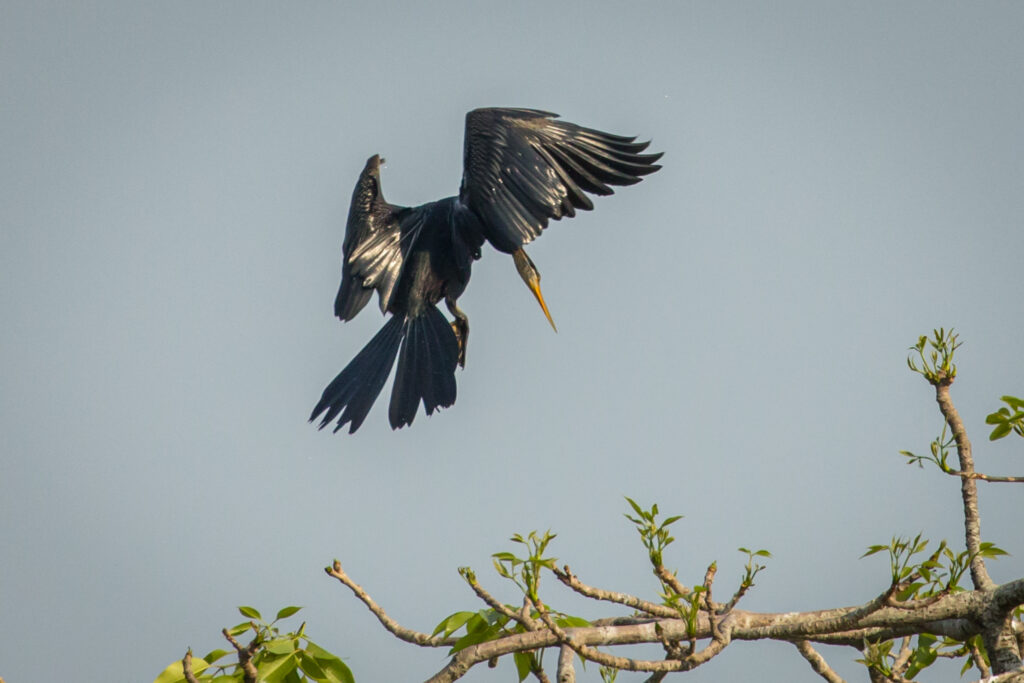 The Oriental Darter shares several attributes with the Anhinga, often seen in the southern U.S.  Both have long slender bills for stabbing its prey and they both fan out their wings to dry off in the sun.
Here's another Oriental Darter drying off in the sun in another tree next to a Gray Heron.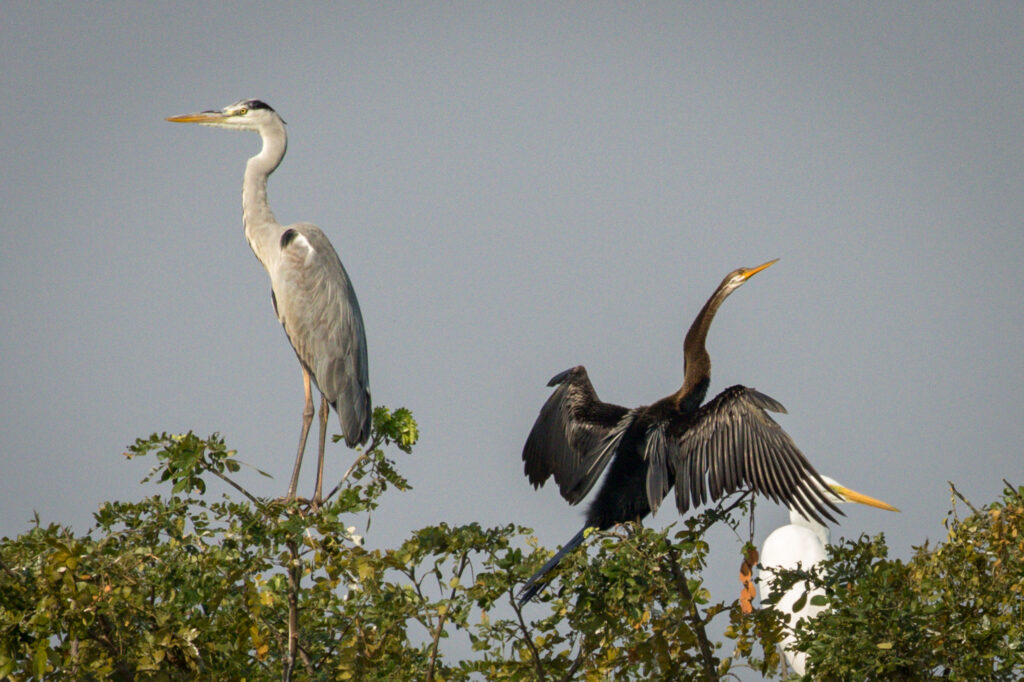 A different bird found on the lake was the Eurasian Coot.  As our boats sailed up to them the Coots would take off and seemed to walk across the water to get away from us: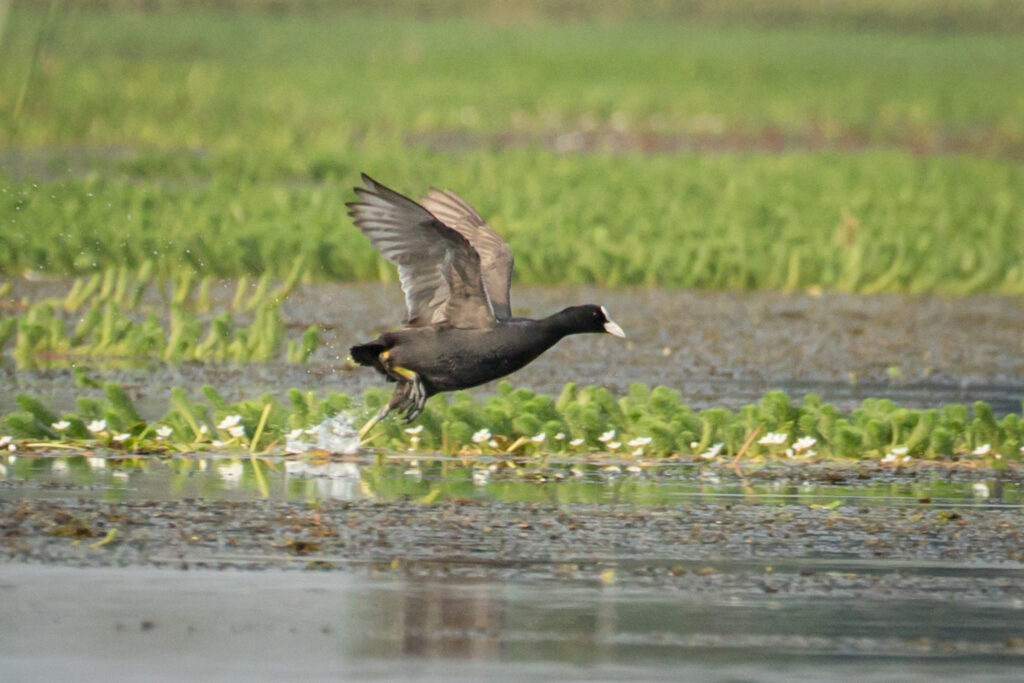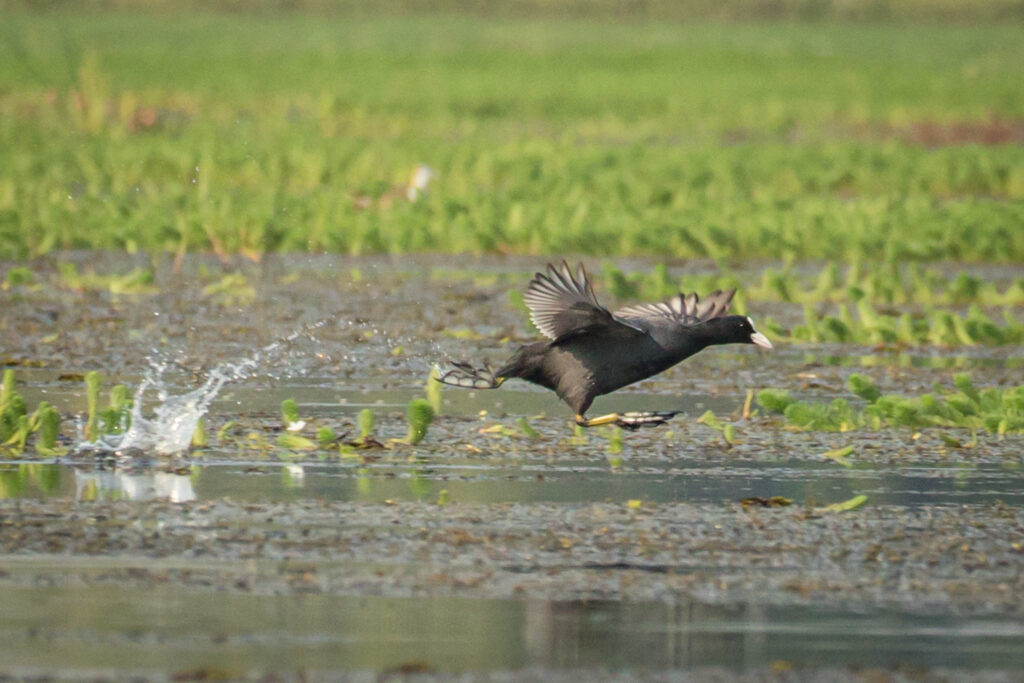 Thankfully all the boats came back to the harbor with all passengers dry.  For me, getting out of that low boat was one of the most difficult tasks of the trip!
We piled back into those silver vans above and drove around the lake to get find a couple of more birds.  Our intrepid guide Dave (r) was always on the lookout for just one more Lifer for us:
We did get one more!  A Gray-bellied Prinia popped up briefly for a snapshot before diving back into the brush: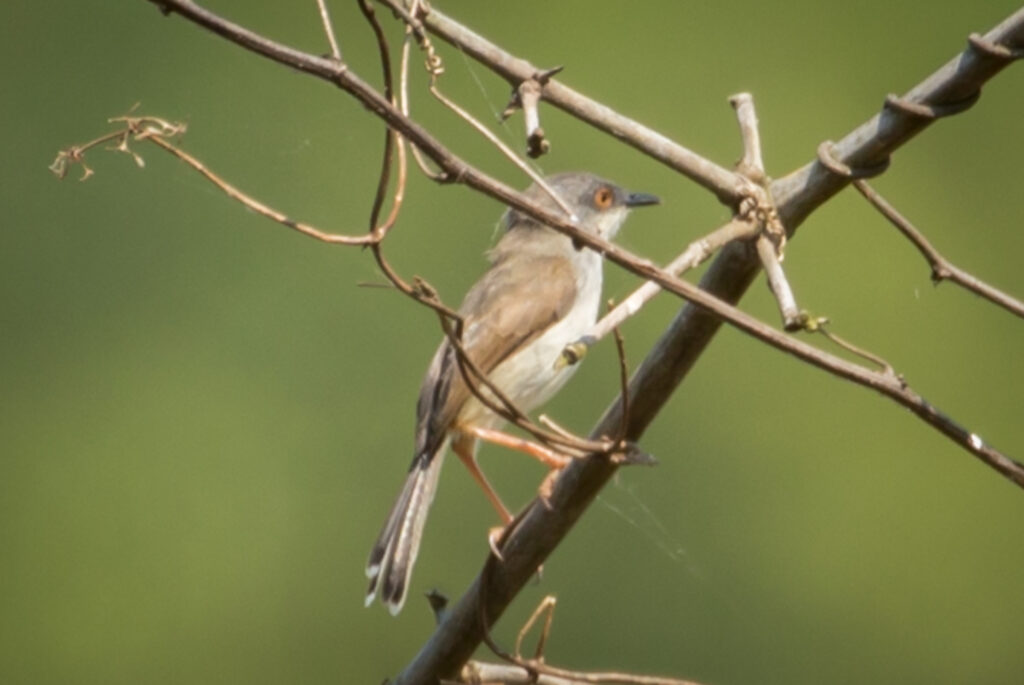 As the group searched for another my attention was drawn to a hillside of dirt nearby.  On it were two Oriental Pratincoles foraging for food.  Below is the last bird picture I took in Thailand (did I hear "finally" out there?):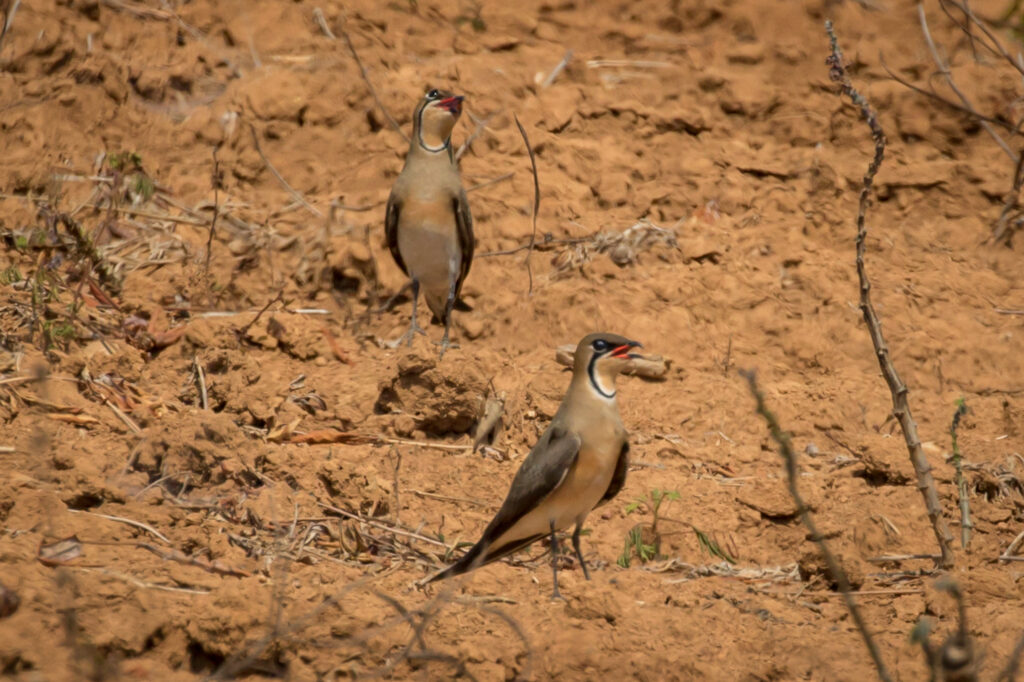 All that was left were the goodbyes.  Our host Wat and drivers Chaing and Bong drove us to the airport in Chiang Mai for our short hop back to Bangkok.  Chaing's wife made some golf hats with the famous Spoonbilled Sandpiper we saw early on and I had to have one.  Here I am with Chaing: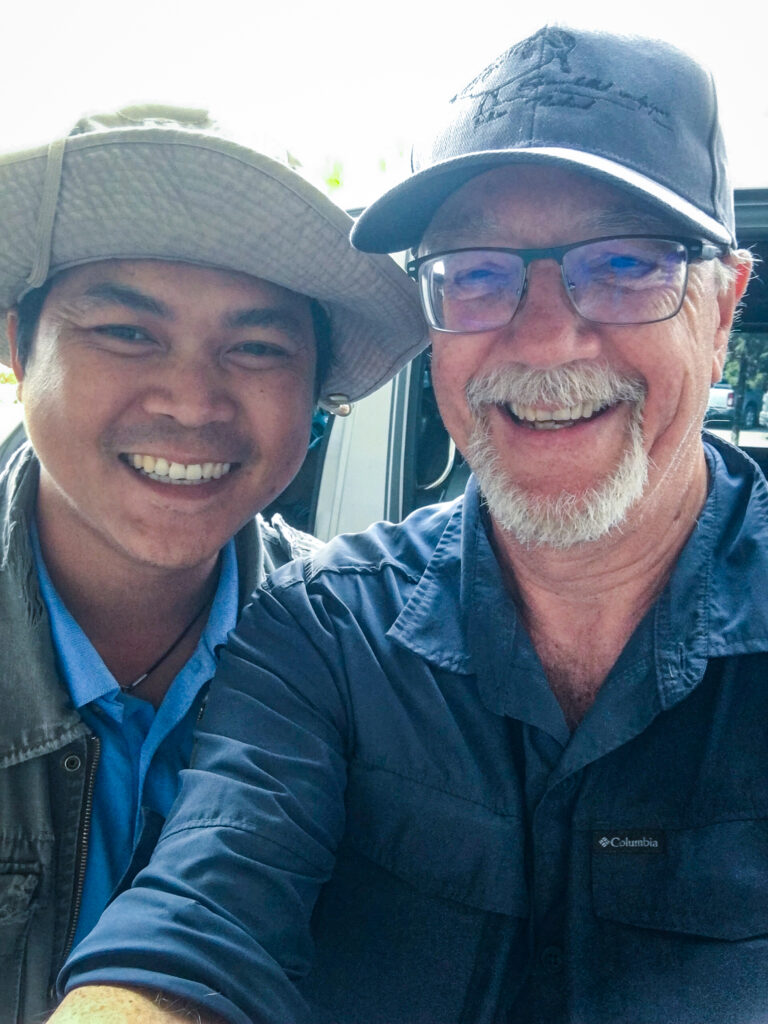 We had one final lunch together in a pizza shop within a large shopping mall back in Bangkok.  Being out in the field for the past 2 1/2 weeks had shielded us from the news about the pandemic.  Here on March 6, 2020 the Thais had already put into place precautions that we Americans didn't enact for several months.  Upon entering the shopping mall everyone had to get a temperature scan: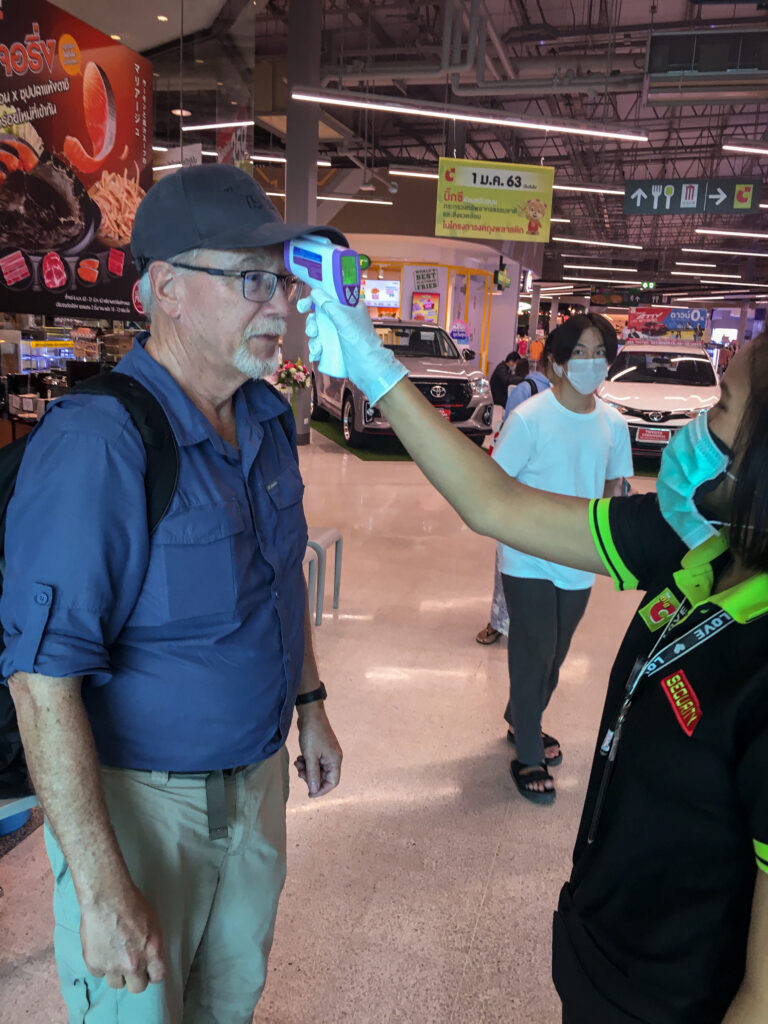 As our plane back home didn't leave for till midnight, we were able go back to our first hotel in Bangkok (where our temperatures were scanned again) to pack and repack for the trip home.  We had one last dinner together where we thanked our guide Dave, shared recollections our our favorite bird sightings, and enjoyed our group's camaraderie for one last time.  After dinner we loaded up all our belongings into the vans and went to the Bangkok airport.  Before I left I promised Karen I would wear a mask on the plane and during our layover in Seoul (which was hard to do for 23 hours):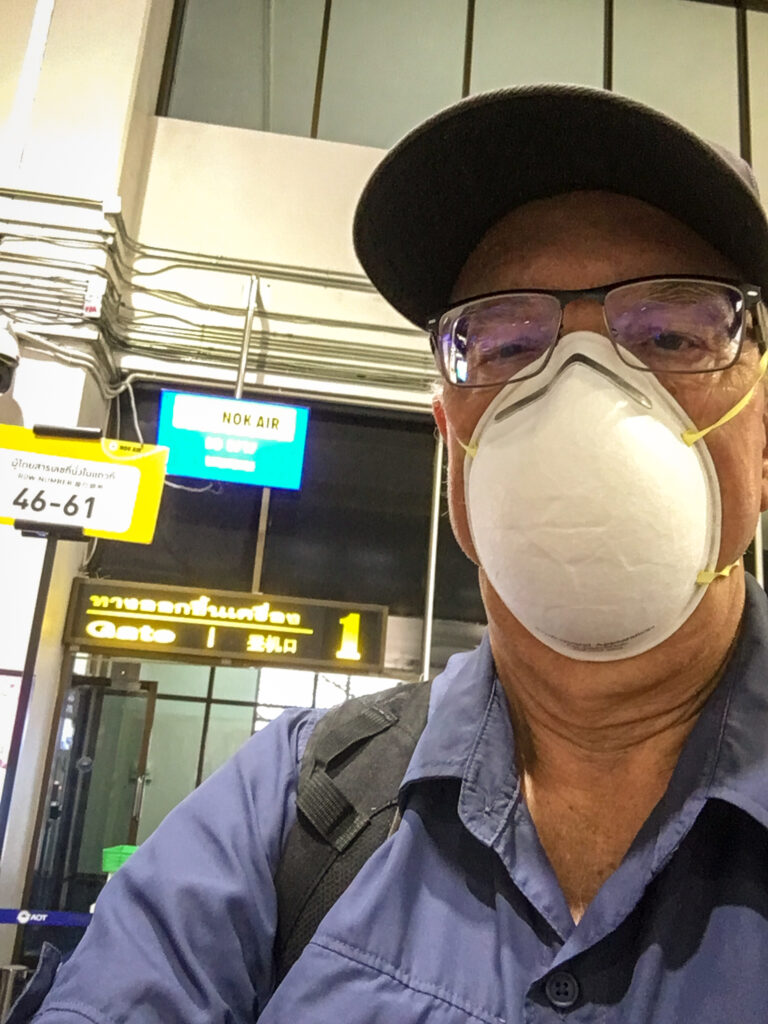 On March 7th we got off the plan in Chicago with a couple hundred South Koreans expecting to be questioned and checked.  Nothing.  We breezed through customs and immigration in record time without a temperature scan or being questioned about where we had been.  I did self-quarantine upon return for two weeks.  The day after my quarantine ended I was looking to get out and about when the state of Illinois issued "stay-at-home" orders because of the pandemic.  We stayed that way for months, which gave me a chance to work on the thousands of pictures I had taken.
Will I go on another international birding trip?  The answer is, "Probably".  This was a long, intense trip whose sole purpose was birding.  Karen and I have signed up for a Birds and Wine of Argentina next year – we'll see if we choose to go or not.  I did write extensively about the birding experience (I focused these posts on the birds).  If you would like to read about how I felt about my first International Birding Trip and some of the tips I picked up along the way, click HERE.
Thanks for reading about my trip.  I hope you enjoyed the pics and stories.  If would would like to see more days of my trip you can go the table of contents page HERE.
Mike
•••••••••••••••••••••••••••••••••••••••
For you overachievers here is the last checklist our trip:
https://ebird.org/checklist/S65481230
•••••••••••••••••••••••••••••••••••••••
Glad you found GreatBirdPics.com.  Check out the site before you leave: see the Latest Pics uploaded by our members or read the About GPB to find out more about the site.  You are welcome to join if you enjoy bird photography.