February 20, 2020.   Monkeys and evidence of elephants at Kaeng Krachen National Park.
This is Day 4.2 of a 19-day birding tour of Thailand; it was a private group arranged through Field Guides, adhering to their typical itinerary.  The pictures in this post are just some of the many Thailand pictures I've uploaded to GreatBirdPic.com.   Check out the site before you leave: see the Latest Pics uploaded by our members or read the About GPB to find out more about the site.  You are welcome to join if you enjoy bird photography.
After lunch we took a little walk around the outskirts of the campgrounds where we enjoyed another of Wat's home-made lunches.  We were beginning to realize that it was more difficult to locate birds from about noon till 4 PM and today was no different.  One of the few we found was this beautiful Gray Wagtail right on the road leading into the area.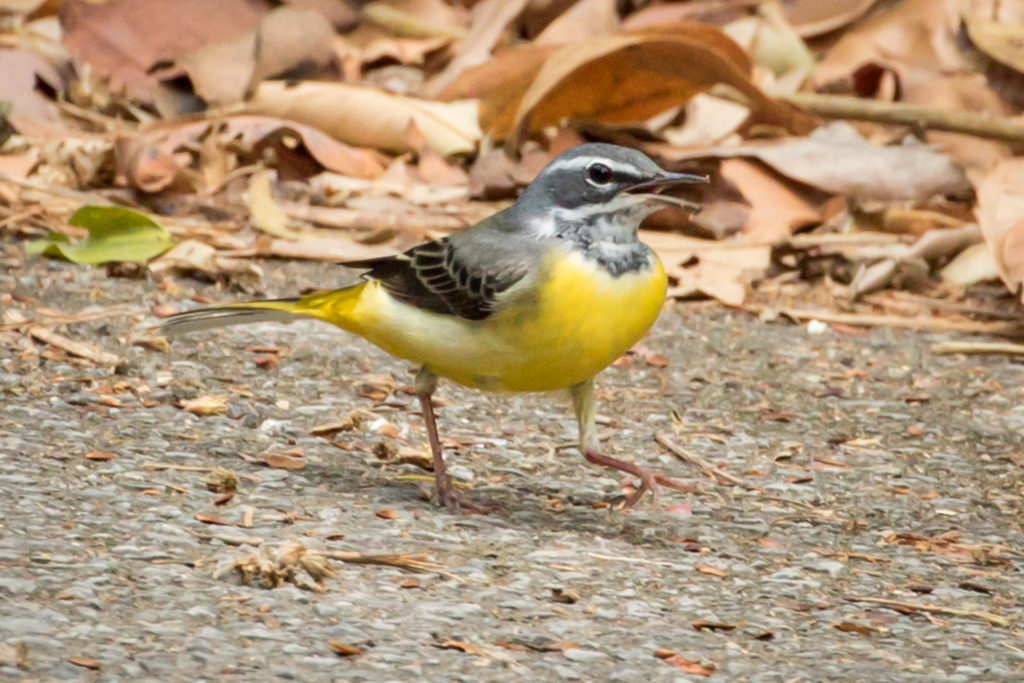 Even more exciting to see was a couple of Dusky Leaf Monkeys scampering through the trees.  They looked very distinctive with the white outline surrounding their eyes and mouths.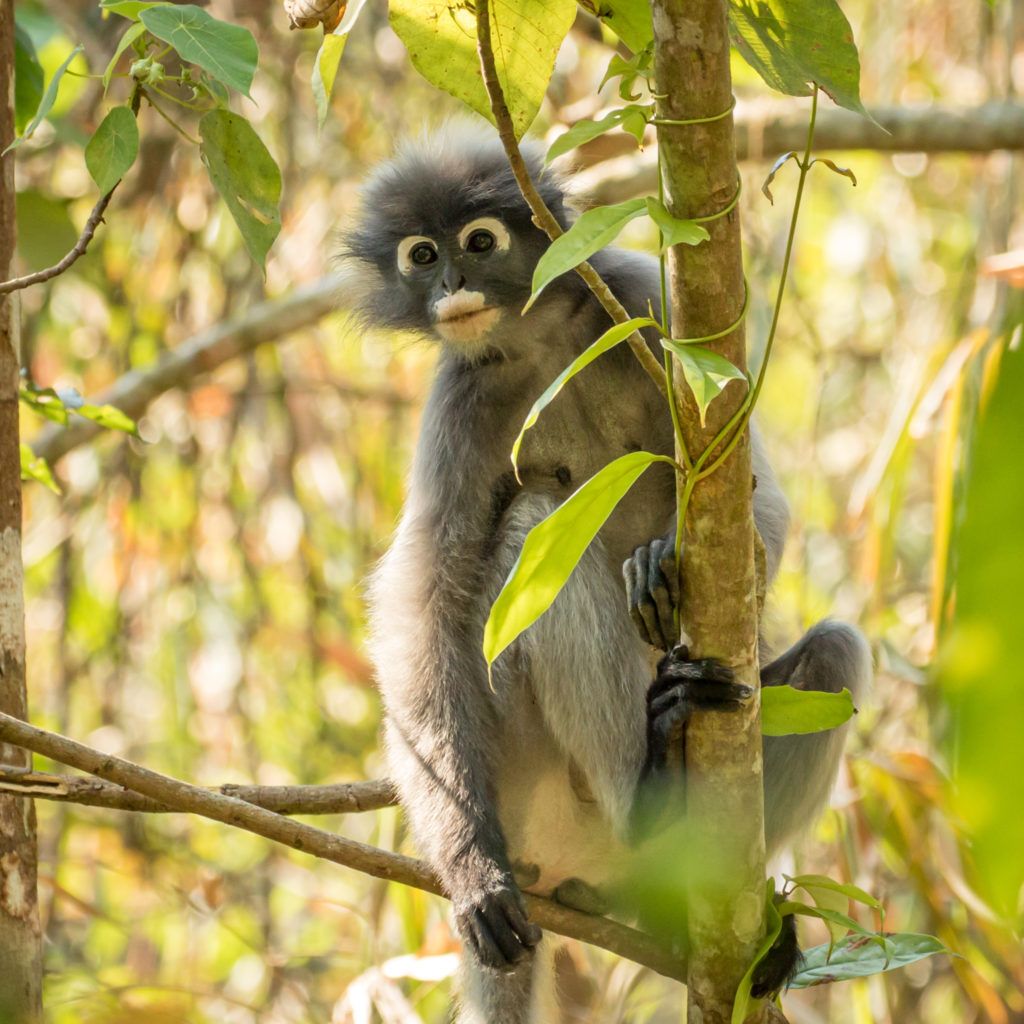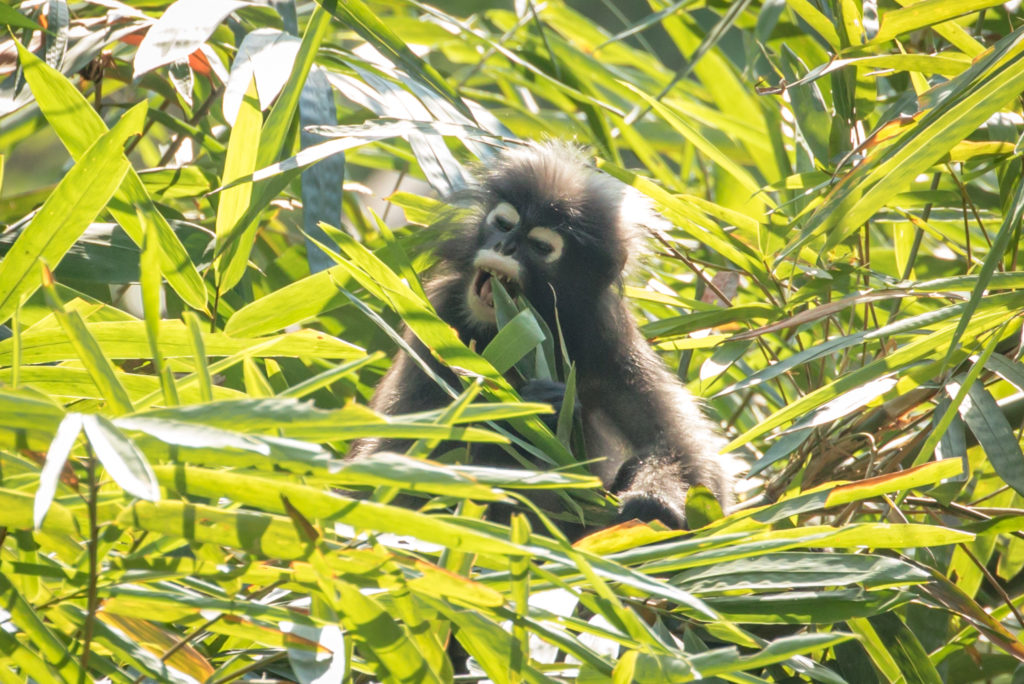 As we ended our tour of the campground area Dave spotted a Common Hill Myna.  These birds are very vocal but their numbers are diminishing due to their popularity as pets.  Bird dealers trap the birds and they end up in a cage in someone's home.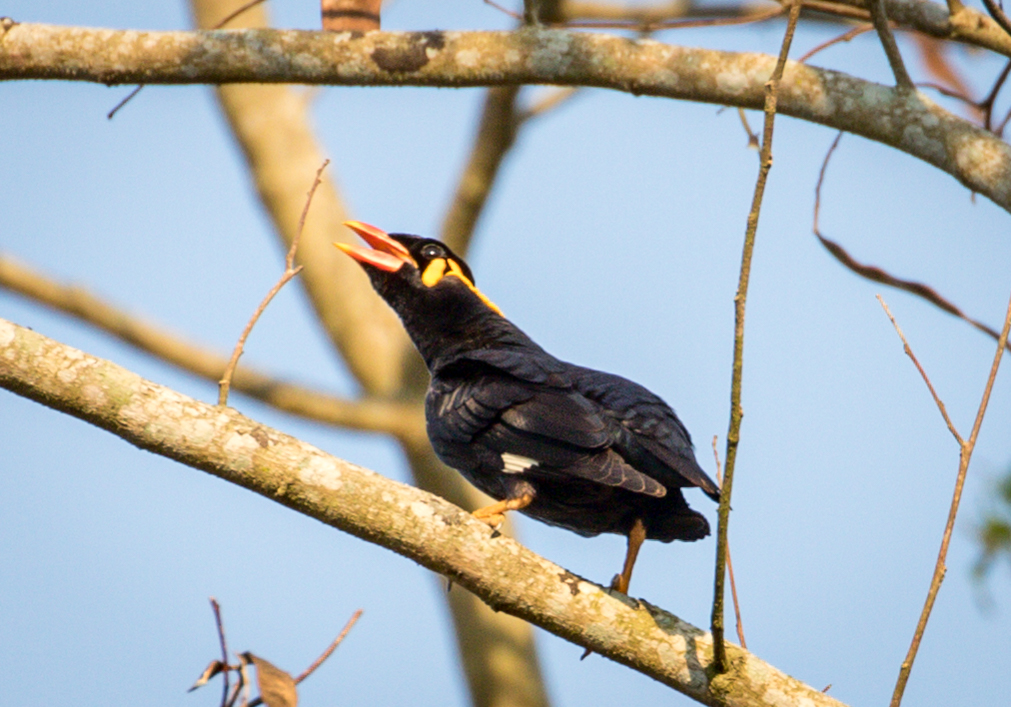 The trip around the campgrounds was not very fruitful so we headed down a path in search of birds.  Again, the afternoon was not a great time for birding but we did see a few, like this Crimson Sunbird.  Look at the size of that beak!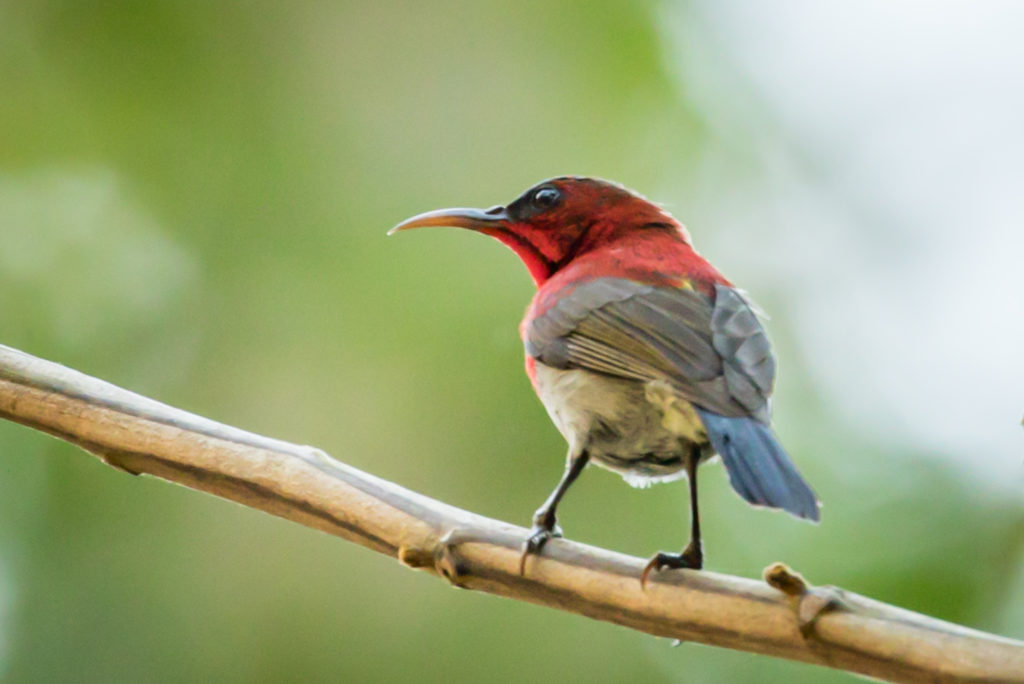 As we strolled down the bamboo-walled path, Dave pointed out an area where elephants had probably rested during the previous night.  The dense bamboo was flattened in a large area and tramped down.  Here you get a sense of the bamboo and you can see the lair behind it.  I see I need to work on my Selfie Smile.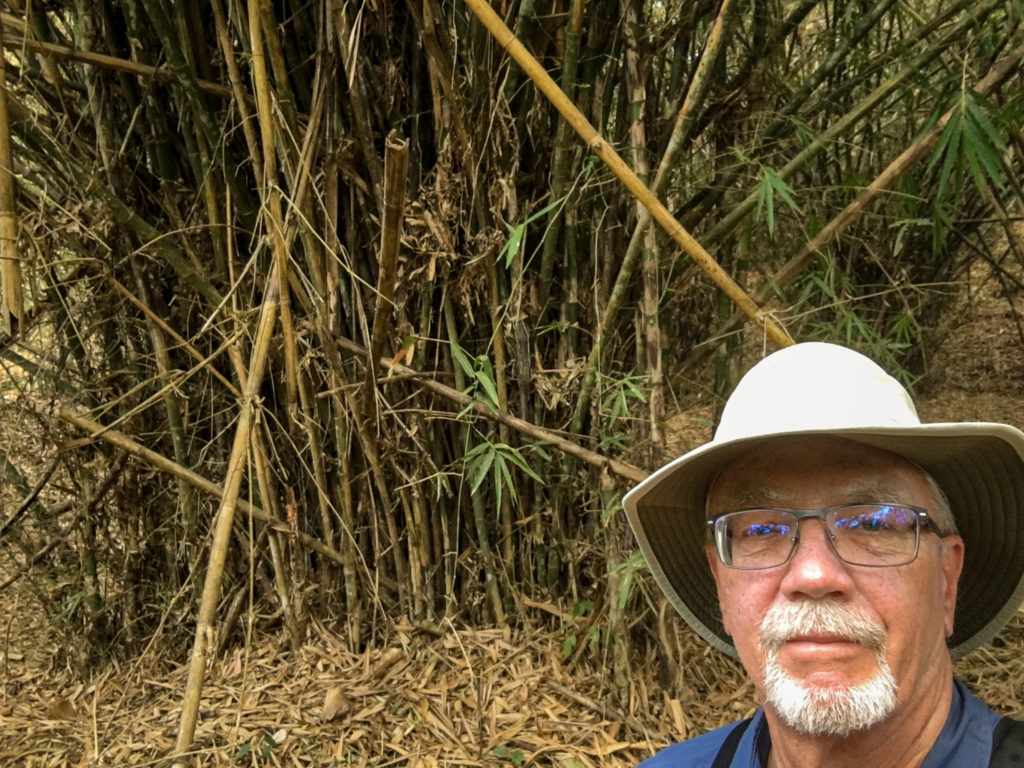 If further evidence was needed, we found some elephant dung in the path further on.  This stuff was the size of bowling balls!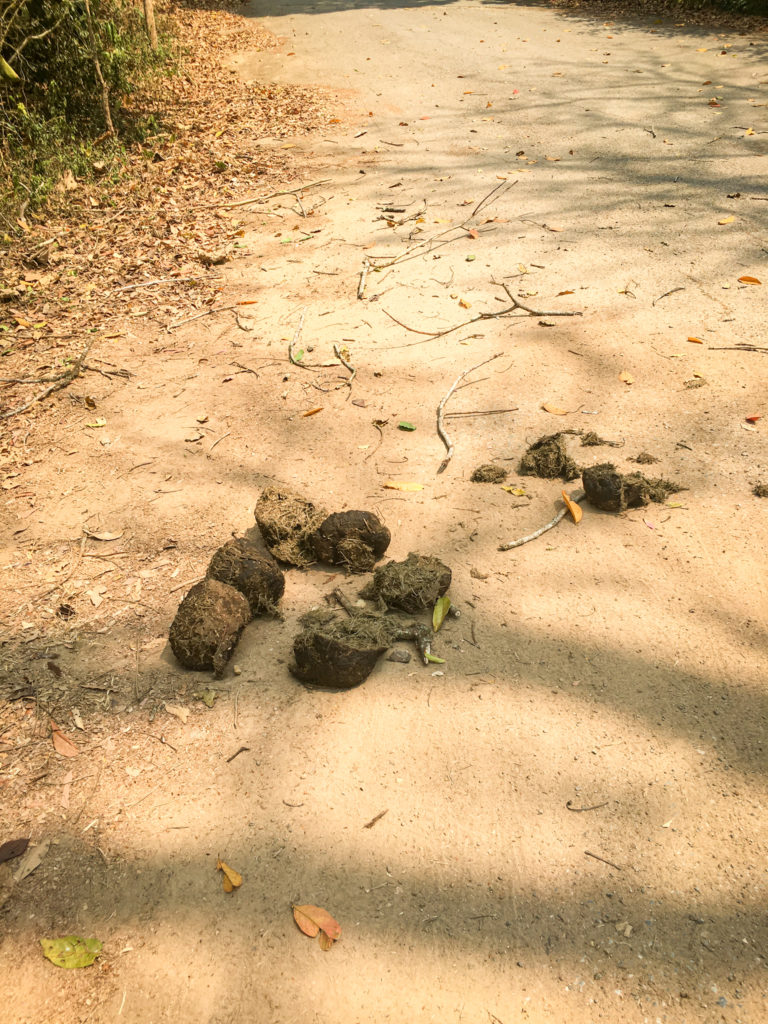 After our hike we jumped into the vans and headed back toward the hotel.  Along the way we were lucky to spot a pair of Red Junglefowl emerging from their nesting area.  Male on the left, female on the right.

On the way out we were reminded by this sign that Kaeng Krachan National Park is known for its butterflies, too.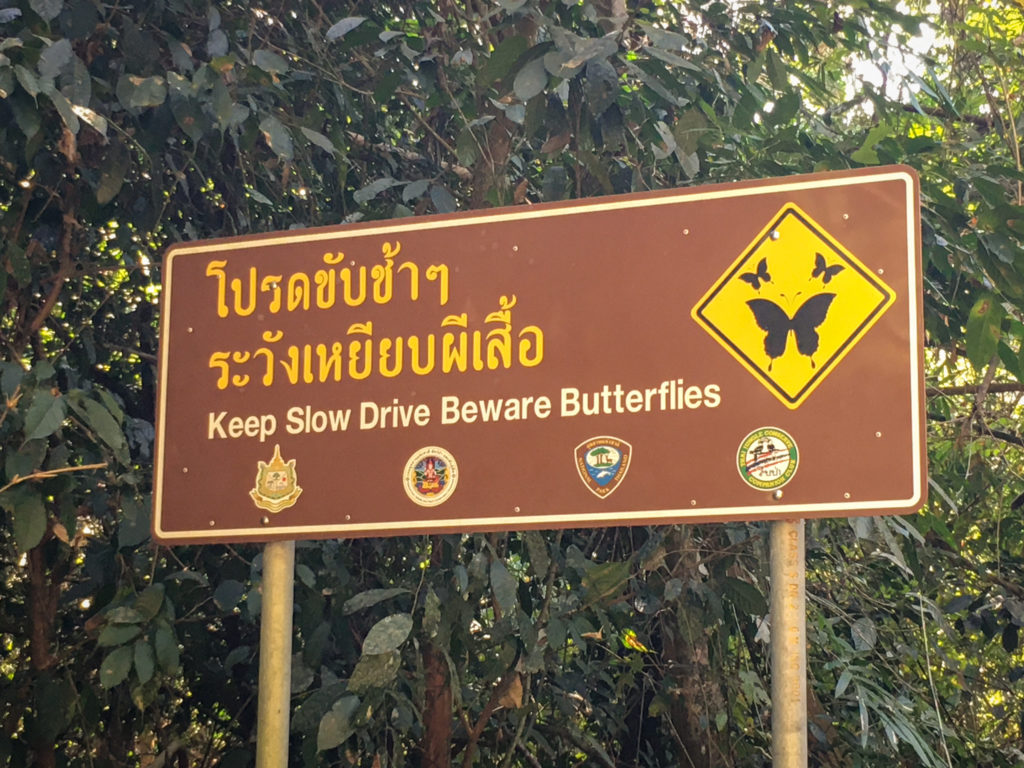 We returned to our Kaeng Krachan "Resort" just after sunset, reviewed our field checklist and then turned in early in preparation for Day 5 (our second day) at Kaeng Krachan National Park, which continues HERE.
•••••••••••••••••••••••••••••••••••••••
For you overachievers here are the Ebird checklists for that afternoon:
https://ebird.org/checklist/S64796224
https://ebird.org/checklist/S64796228
https://ebird.org/checklist/S64796233