February 24, 2020.   A visit to a Biosphere Reserve to see Thailand's national bird, the Siamese Fireback.
This is Day 8.3 of a 19-day birding tour of Thailand; it was a private group arranged through Field Guides, adhering to their typical itinerary.  The pictures in this post are just some of the many Thailand pictures I've uploaded to GreatBirdPic.com.   Check out the site before you leave: see the Latest Pics uploaded by our members or read the About GPB to find out more about the site.  You are welcome to join if you enjoy bird photography.
Seeing Thailand's National Bird the Siamese Fireback
The group decided that instead of continuing to bird in Khao Yai National Park we would take a little drive over to the Sakaerat Biosphere Reserve.  This facility is one of four in Thailand with 411 of them worldwide. The biosphere reserves link ecology with economics, sociology and politics. The aim of a reserve is to maximize the conservation of an area's natural environment and biodiversity while managing people's use of it resources for sustainable socio-economic development.  The management of a biosphere reserves brings together government departments and local people who may depend on the reserve for their livelihood.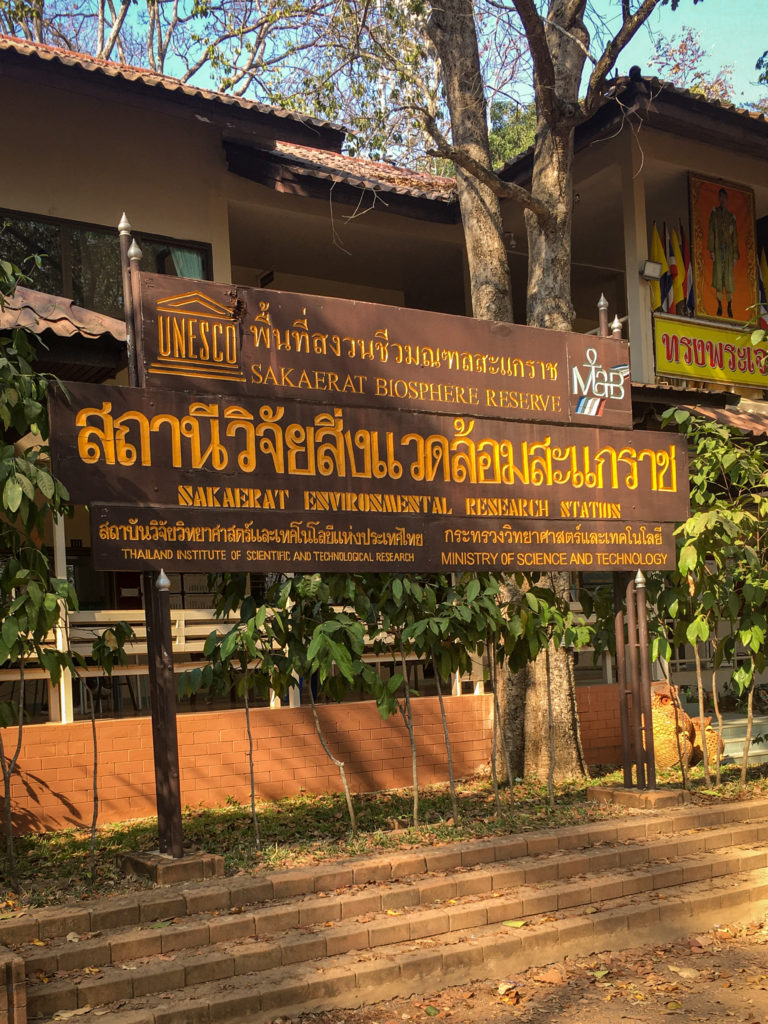 As we pulled into the central reception area it reminded me of a college campus set in the middle of a dry evergreen forest.  There were dorms, a cafeteria, gift shop, and lots of students on their laptops studying.  As we exited our vans an open-air tram with two cars pulled up in front of us and we quickly found a seat.  Tourists must regularly visit the Reserve to have a couple of trams available.
We took off into the dense forest on a gravel road keeping our eyes peeled for the Siamese Fireback, Thailand's national bird.  We couldn't have gone more than 200 yards down the road when there was an opening in the forest on our left with three Siamese Firebacks and a couple of Red Junglefowl (left)!  It kind of felt like the ride on Jurasic Park where you take off and soon see the first exhibit.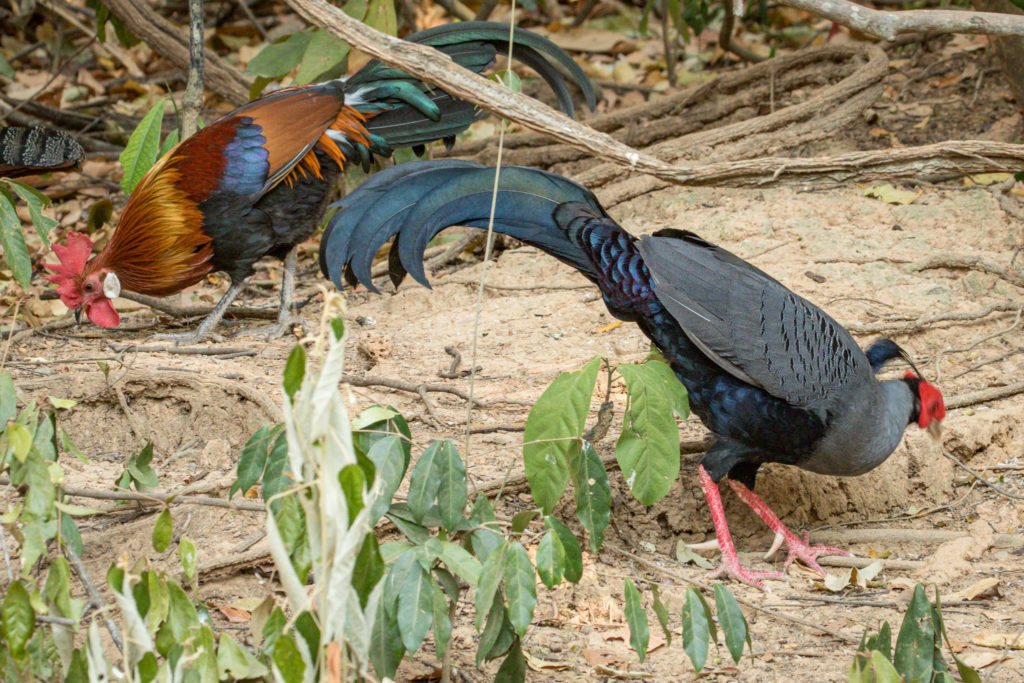 These bird were magnificent to say the least.  Very regal looking and not shy at all.  I'm guessing that the reserve has many of these birds under their protection, although they are free to roam about in the wild.  They swore they did not lure the birds to this spot just for us.  Here are some shots so you can get a good look at them.  First a male and female (left):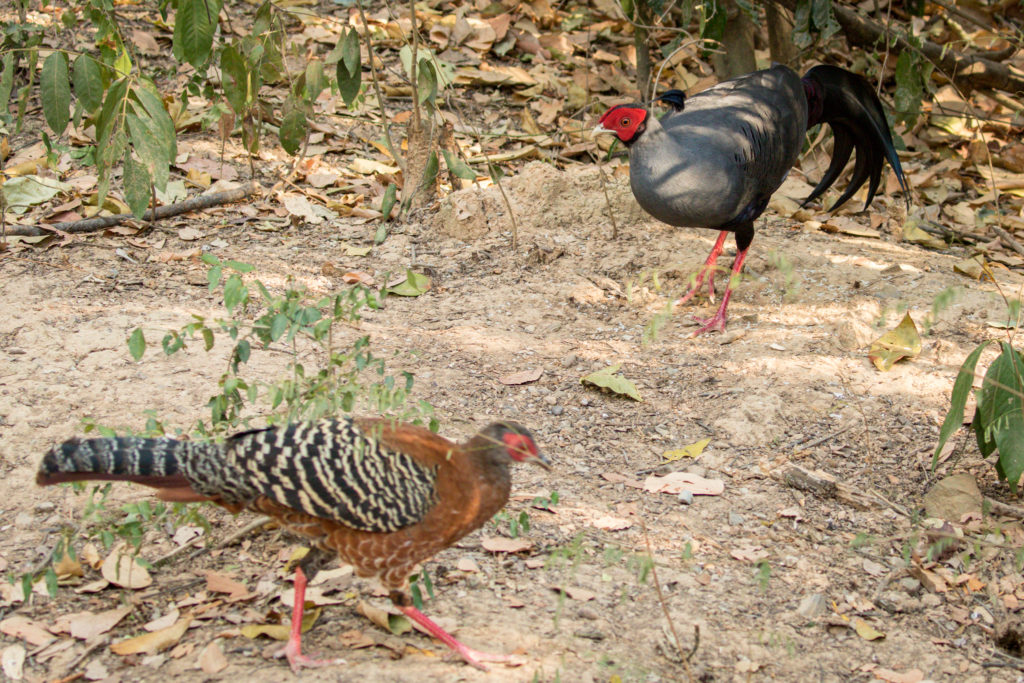 Next a couple of the male Siamese Fireback: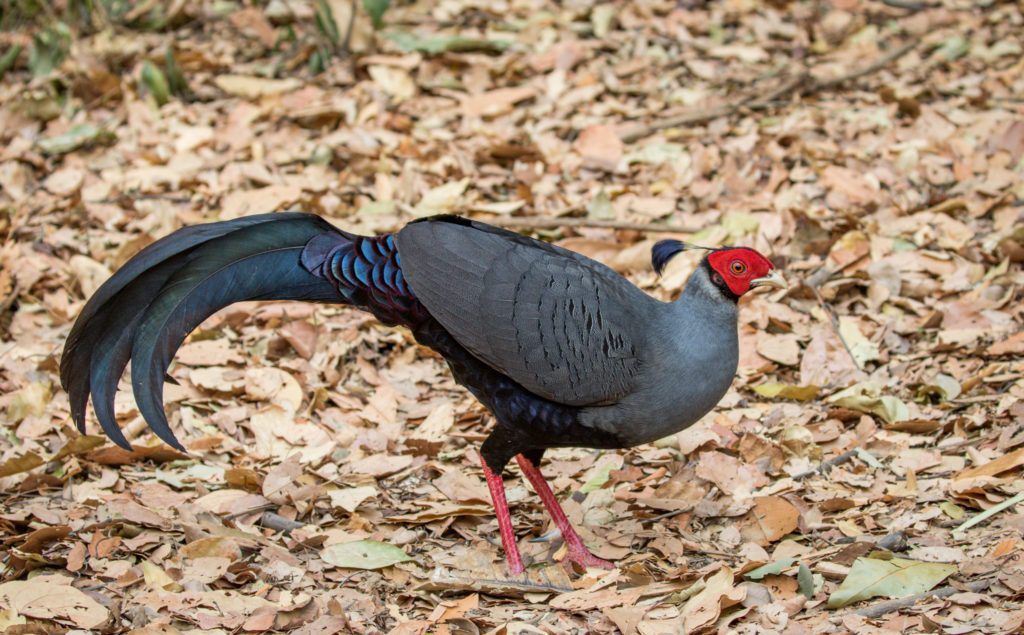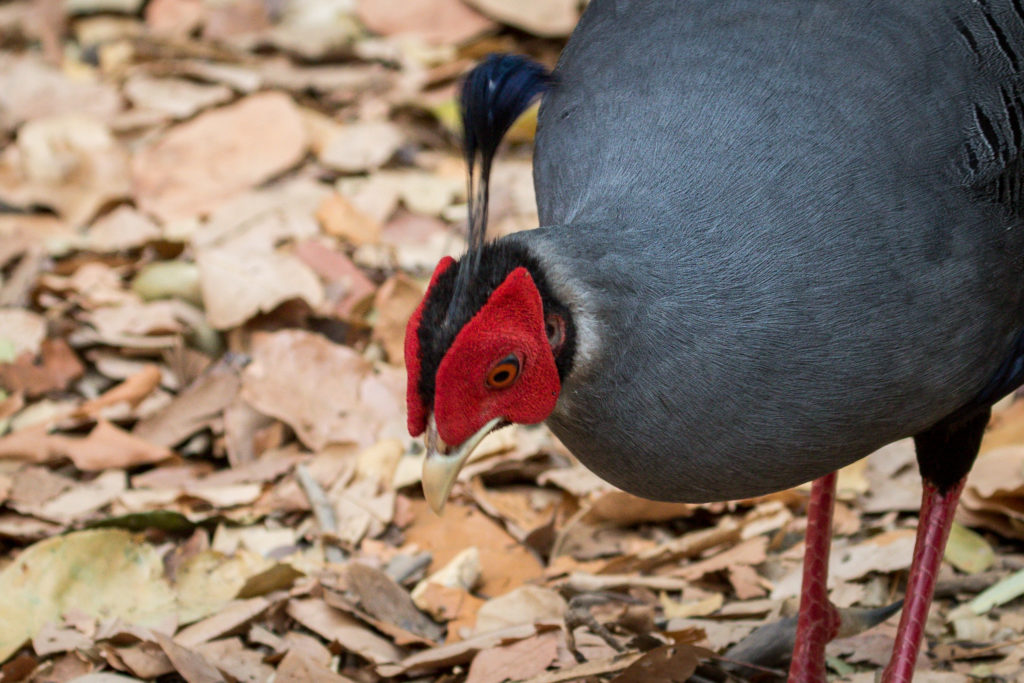 Now a couple of the female, who was just as striking: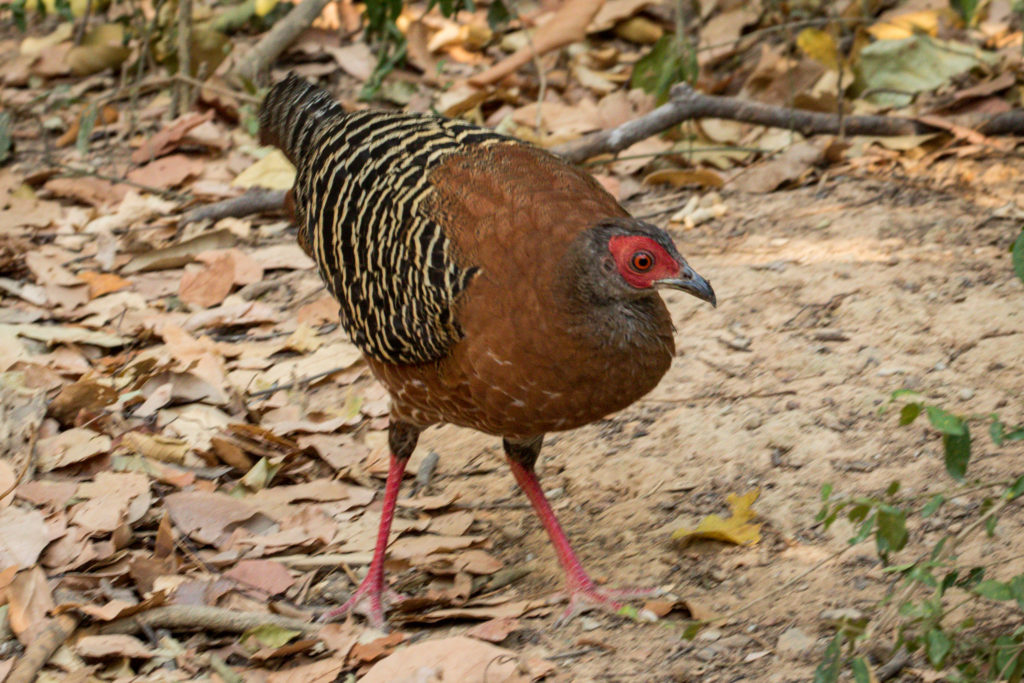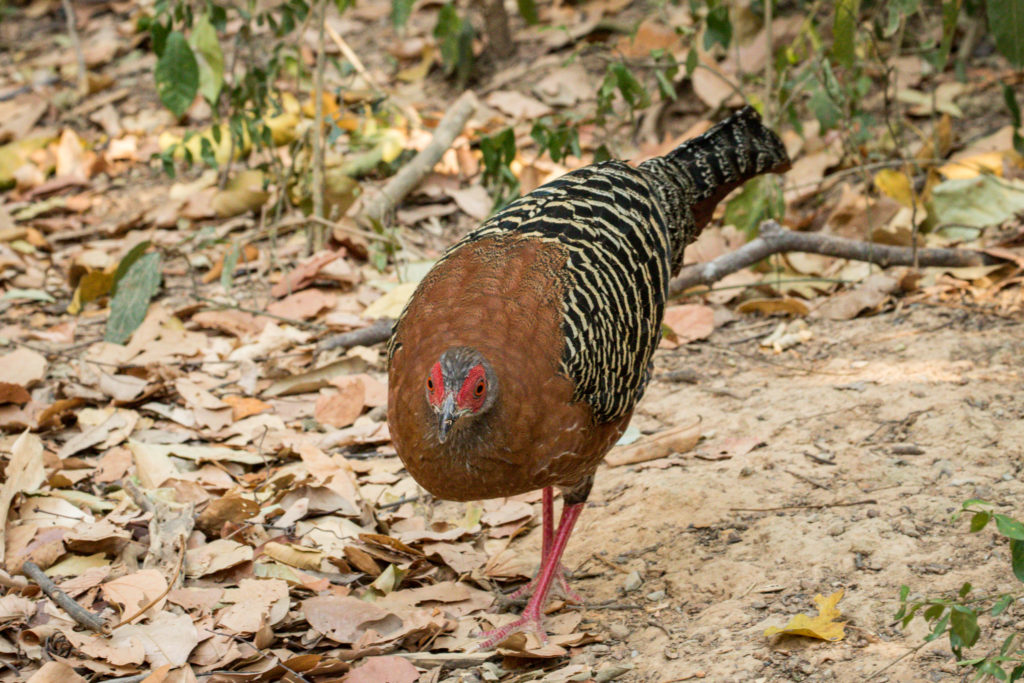 As we completed our observations another tram showed up – full of noisy schoolchildren.  I'll bet the birds didn't even notice them so hopefully the kids got a great view of their national bird.
Back in the central reception area we had a couple of minutes before heading back to the hotel so I took a selfie in front of a couple of statues celebrating these beautiful birds (I've got to work on my Selfie Smile):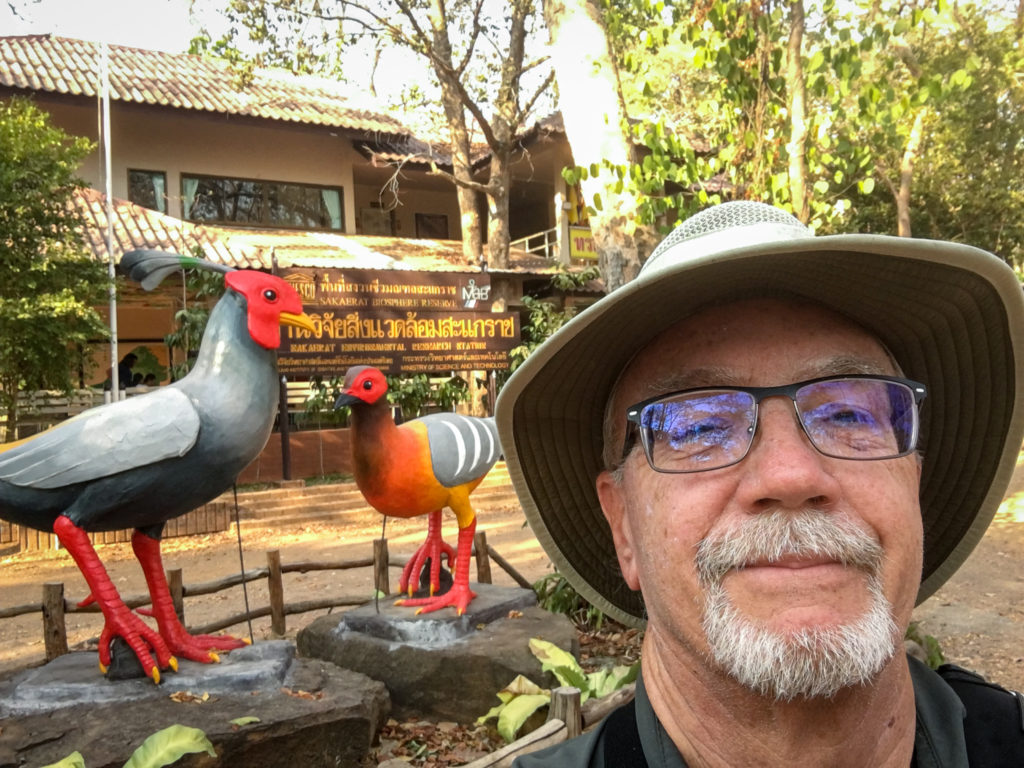 Another strange sight there was the Finlayson's Squirrel, an all-white squirrel.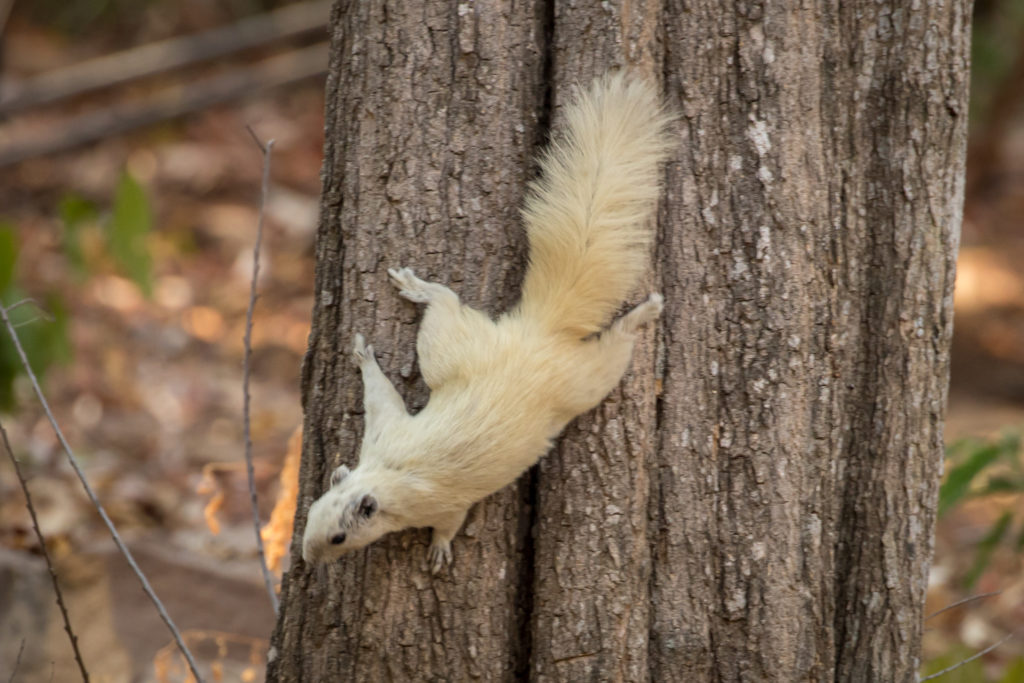 Once we finished our dinner our guide Dave asked if any of us wanted to go out hunting for owls.  Diann and Carol were well prepared as we stepped out into the evening:
We did see a Spotted Owl that night and then I went straight to bed for tomorrow was an early rise as we wanted one last day at Khao Yai National Park.  Click HERE to go to the Day 9 page.
•••••••••••••••••••••••••••••••••••••••
For you overachievers here is the Ebird checklist for that portion of our trip: