One in Ten Thousand?
We've been doing a lot of babysitting lately because our son Sean is in Honduras working on his coffee business (Honduran Coffee Alliance).  Not that we mind, but it has cut into our birding time!  The other day we had morning duty – at their house by 7 AM to help get the kids breakfast and be there after Whitney took off for work.  Their nanny came earlier than we expected so we had the morning to go birding – but where?
A Townsend's Solitaire had been reported in Hampshire Forest Preserve, about 30 miles west of us.  Although it hadn't been seen in the past 5 days we thought we would give it a try.  When we arrived our car thermometer read 11º.  Fortunately it was very sunny and we dressed for the cold (I had 6 layers on above and felt-lined pants below).  Once we got there we realized that is was a huge place with many hiking and horse trails weaving through the trees and meadows.  How to find one bird in all of that?  We did have two clues – someone said they saw it near Post 17 (the one-site map pointed the way) and someone else said they saw it hanging out with bluebirds.  Off we went down the trail toward Post 17 to find this rare Illinois bird.  The path was covered with a couple inches of recent snow, which was lucky because the path itself was a sheet of ice; we slipped a couple of times as we made our way through the woods.  We arrived at an unmarked pole (turned out to be Pole 13) and kept moving forward toward Pole 17.  Just as we made it out of the woods Karen spotted two Eastern Bluebirds.  She kept her binoculars trained on the bush and sure enough the Townsend's Solitaire was hiding at the base!  The Bluebirds, then the Solitaire, flew back into the woods but I was able to get a couple of Documenting Shots of the Solitaire (below).  What were the chances of finding that one bird within the 100 acres of Forest Preserve?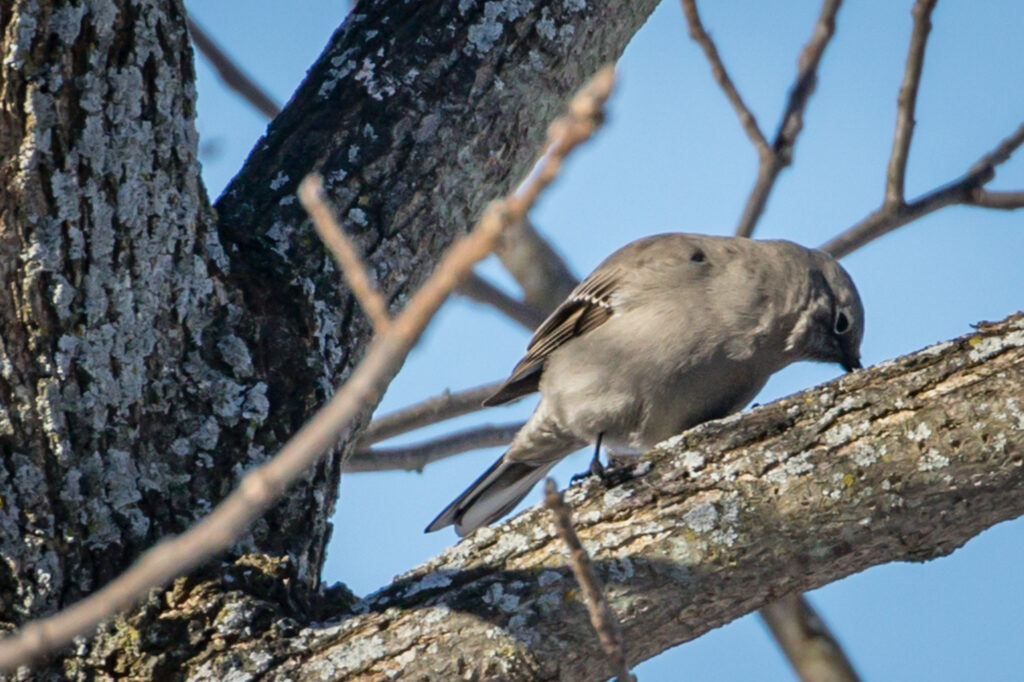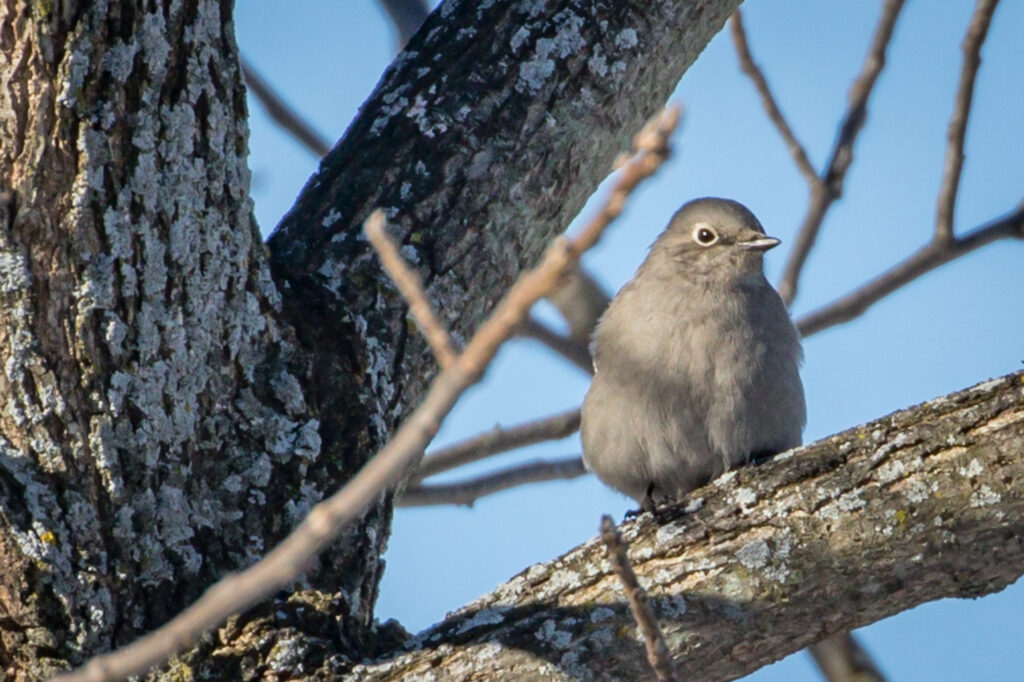 High-fives (gloved) were exchanged and we walked back to the car where we warmed up.  After a brief discussion we decided to go looking for another rarity, White-winged Crossbills.  You might recall the frustration we had in locating these birds a year ago (about 12 trips to various places before Emil put us on them out in the country).  Again, the birds had not been reported in a couple of days so there was a good chance we wouldn't find them but off we went to Elmwood Cemetery and Mausoleum.  Why do birds like cemeteries?  Perhaps there are fewer people there in heavily populated areas like River Grove, where this one was located.
In spite of the cold there were several funerals taking place so we tried to be respectful and avoided those areas.  We drove around looking at pine trees in search of the flock of reported crossbills.  I spotted one bird high atop a pine far away and I thought it was a Goldfinch because of its yellow coloration – it dove down out of sight after a few seconds.  We backed up the car and drove toward the area where the bird might have landed and lo and behold there were 10 White-winged Crossbills feeding in a small pine next to the road!  I got some pretty good shots of them because they stayed feeding for several minutes and the low tree made it easier to see them.  Below are some of the shots I took that day. Ladies first: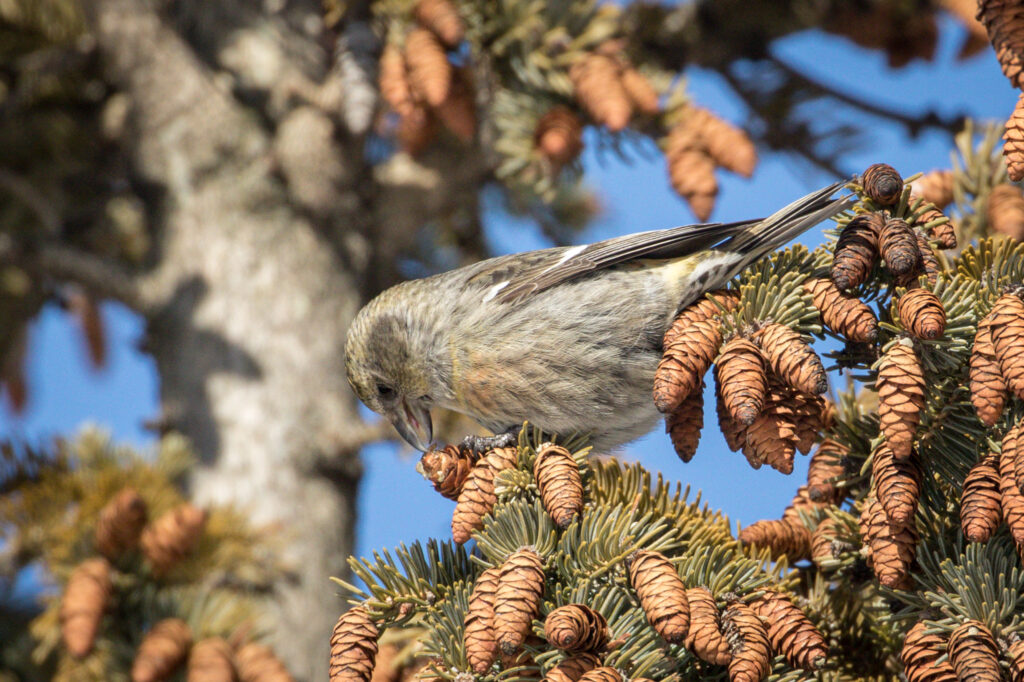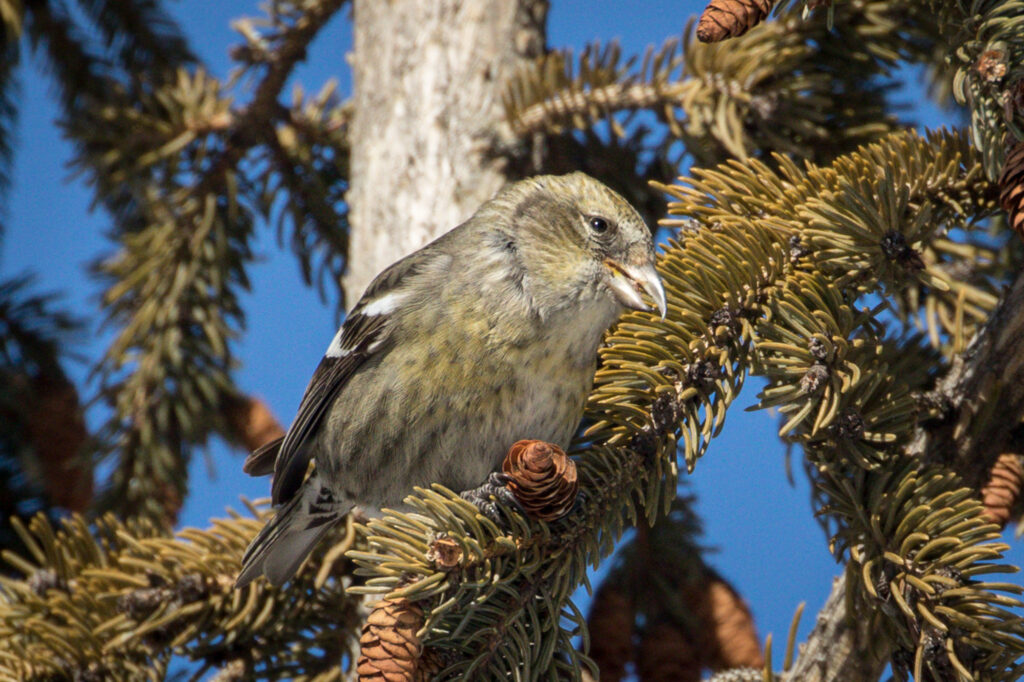 Then the males.  You get a pretty good look at the crossbill in the last two pictures.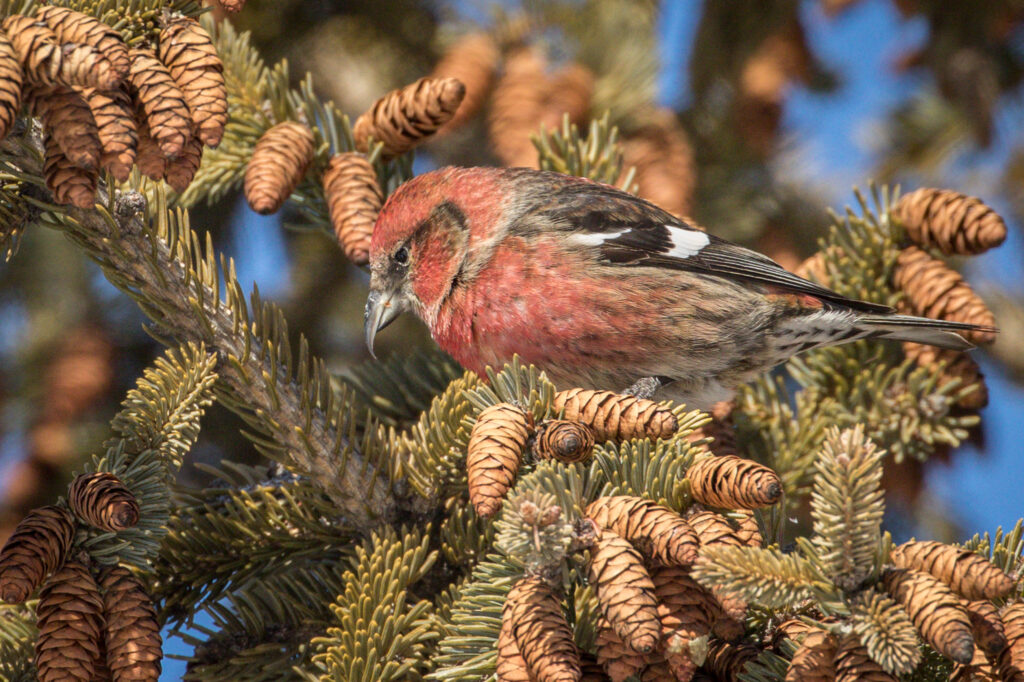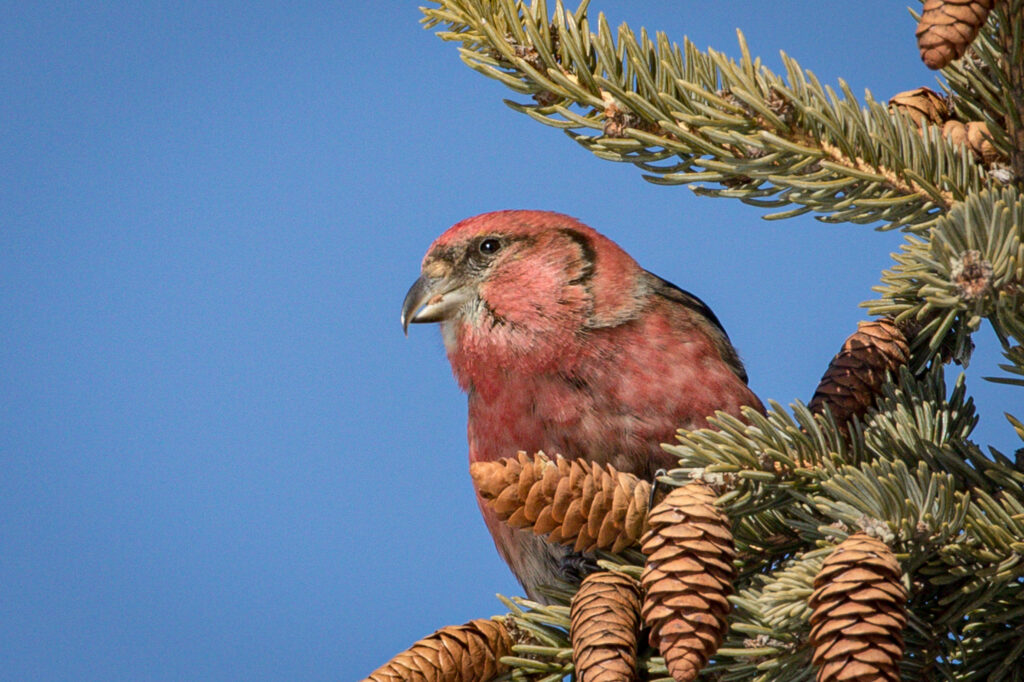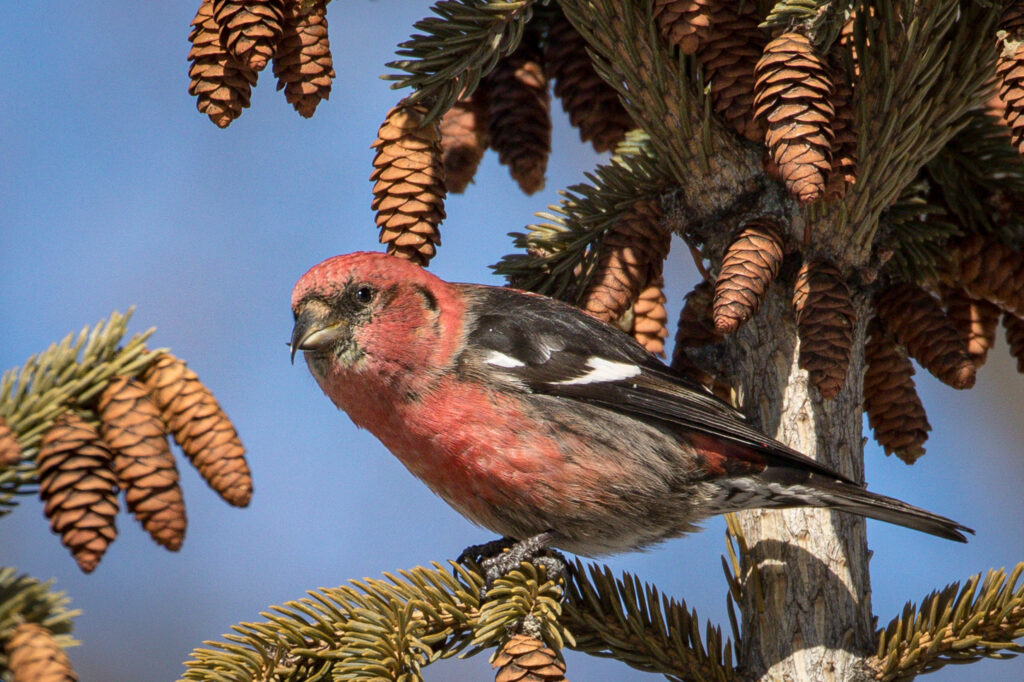 So what were the chances of finding both the Townsend's Solitaire and the White-winged Crossbills?  One in a thousand?  Ten-thousand?  When I relayed the story to a friend that evening he said I should have bought a lottery ticket!
Be lucky.  Go birding.  Take pics.  Share here.  Repeat.  
Mike  
---
If you would like to learn more about GreatBirdPics.com Click Here.  Members can post their own great bird pics, create an online gallery of their work, and receive regular emails like this about bird photography.