Touchdown!
Yesterday I spent half the day watching football games and saw touchdown after touchdown – and it reminded me of some bird pics I had recently taken.  We just returned home after spending almost two weeks with friends in The Villages, Florida.  The Villages is a huge development just for retirees, and the planners left some open spaces and ponds that birds of all sorts can be found on and around.  While taking some BIF pictures I ended up with a few "touchdowns" – the moment a bird flying into a pond touches the water.
There were many Double-crested Cormorants in The Villages and most of them were seen either in the water or flying overhead.  By carefully following its flight around the pond I was able to capture this one just as it came in for a landing just off of the Hog Eye Trail.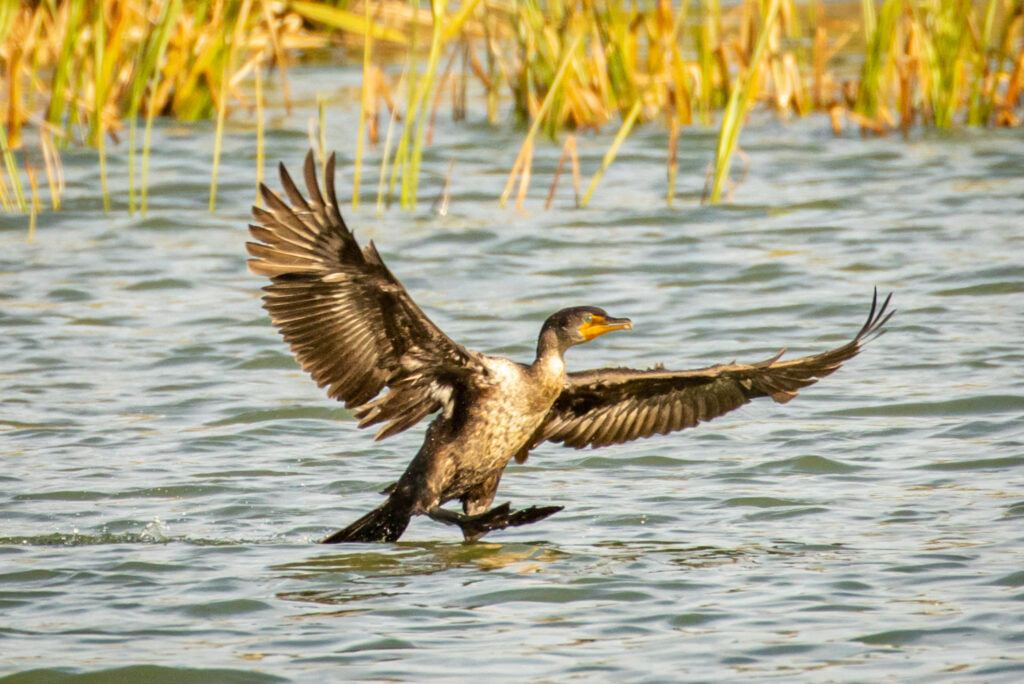 There is a larger pond near Freedom Point and we saw a variety of waterfowl there, including an Egyptian Goose (an introduced species to the U.S.).  What brought us there were the eBird reports of American White Pelicans gathered in various spots in and around the lake.  Every once in a while one of the pelicans would fly from one part of the lake to another and I would track its flight with my camera.  Here's a shot of one landing right in front of another pelican.  Take a look at the bill of the floating pelican – I'm not sure why it looks like a big waddle.  I don't think it was eating so any ideas as to why it looked like that?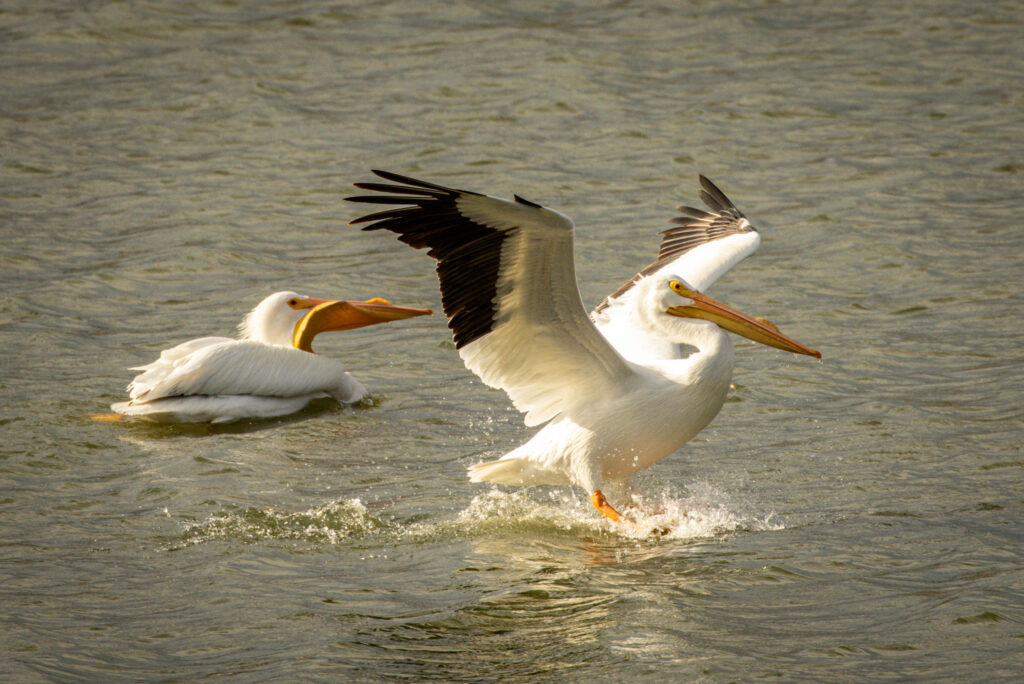 My next two pics show a Bonaparte's Gull the moment before and after touchdown.  Bonaparte's Gulls sometimes migrate through Chicagoland, others stay permanently in Florida.  Although we don't see them very often up north, they are one of my favorite gulls because they are so dainty and acrobatic.  If you look closely at the first picture you'll see a disturbance in the water which was made by a bubbler in the pond which oxygenates the water thereby reducing the algae.  Bonaparte's seemed to prefer these areas to feed in as the bubbles bring up bits of food toward the surface.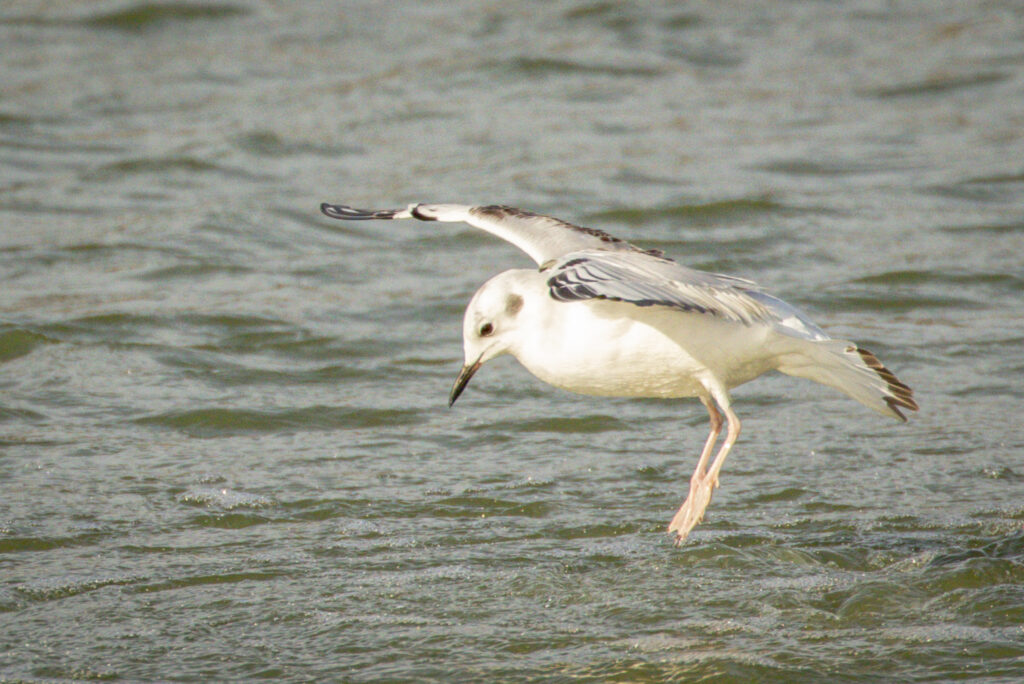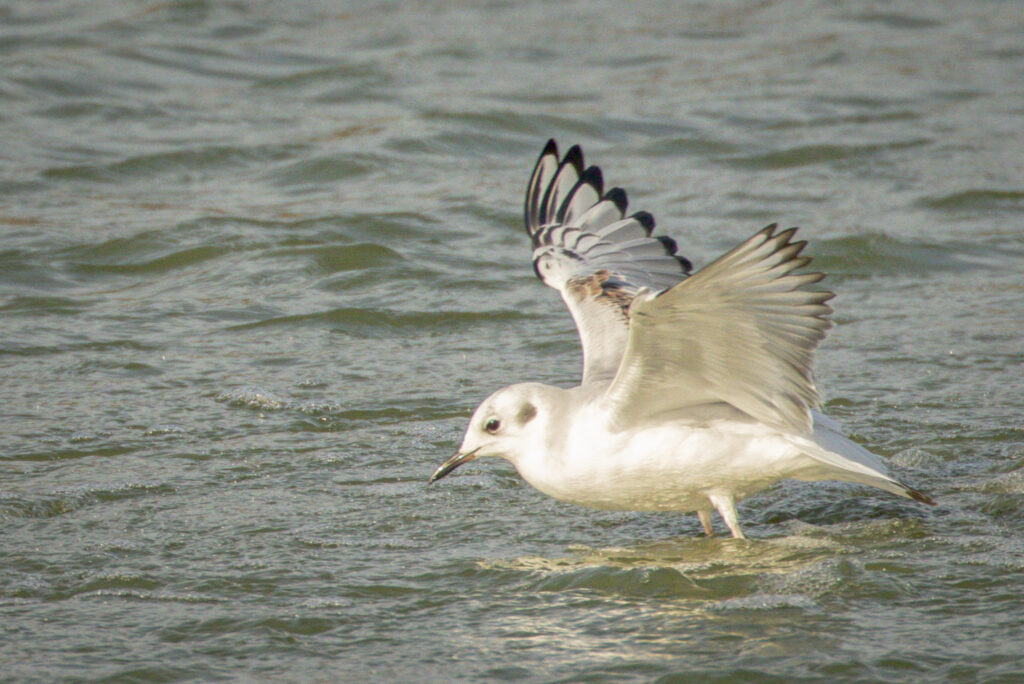 I spotted our last "touchdown" in the Latest Pics section.  It was shared with us by Burningnaturephotography and it's of a rare Franklin's Gull he spotted at Montrose Beach.  GreatBirdPic, BNP!  Why is the image so blue?  Click the pic and read his description.
---
if you enjoy seeing beautiful pictures of birds from around the world and reading about them Click Here to sign up for our mailing list.  Members can post their GreatBirdPics and learn more about bird photography techniques.