Banded Plover's Bling Used for ID
On Monday I shared some pictures of various plovers, including a Piping Plover with bands on its legs, taken on Fish Haul Beach in Hilton Head Island, South Carolina.  I'm fascinated with the "story behind the bird" and try and get pictures of banded birds so I can report the sighting.  Fortunately this little Piping Plover was quite friendly and stayed around long enough for me to get a variety of shots.  Here are a couple I used to identify the bands and ultimately the bird.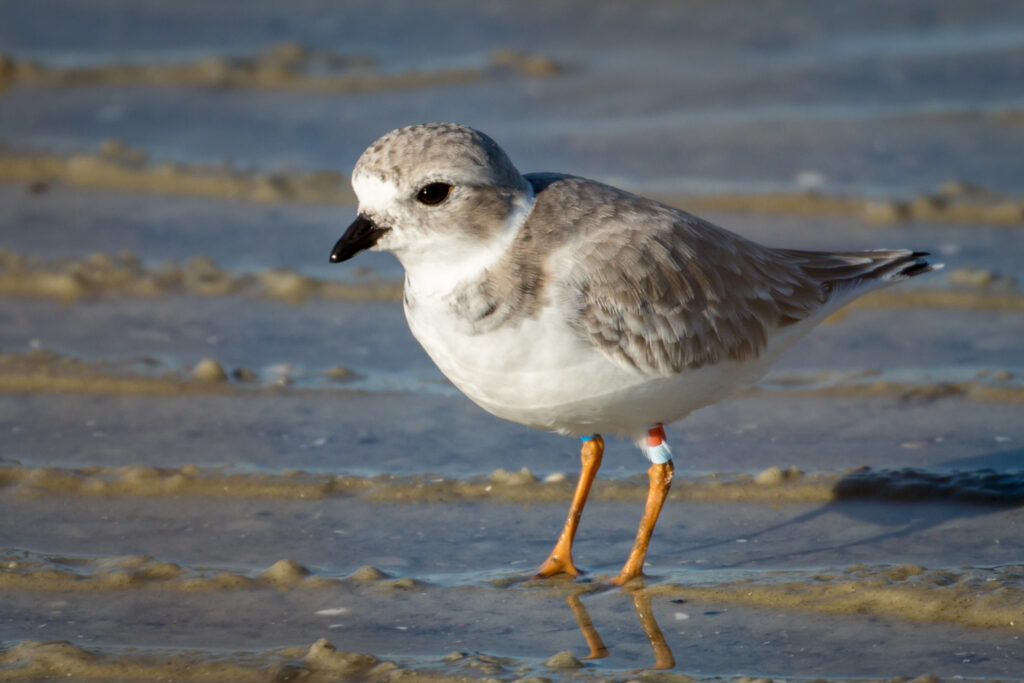 In the picture above you can see two bands on the bird's left leg – light blue lower and orange above (when reporting, the correct leg and the order on the leg is important).
The right leg was a bit more difficult to ascertain.  As you look at the next picture you may see one blue band, which is what I originally thought.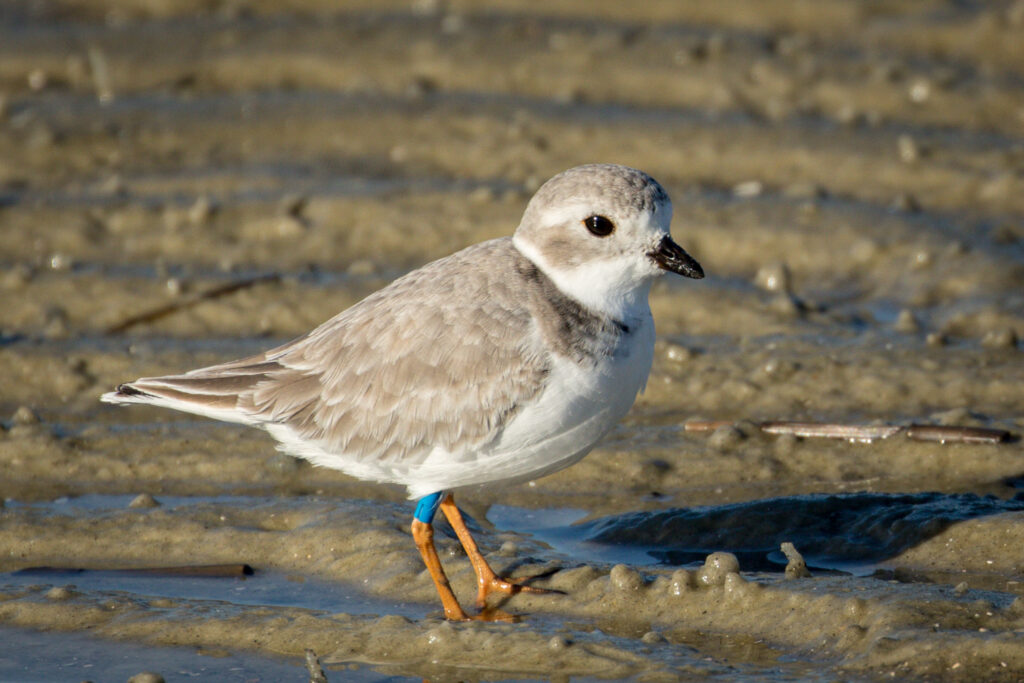 However it looked bigger than one band so I blew up another picture to get a different view.  Look a the next picture and you'll notice that there are two blue bands stacked on top of each other.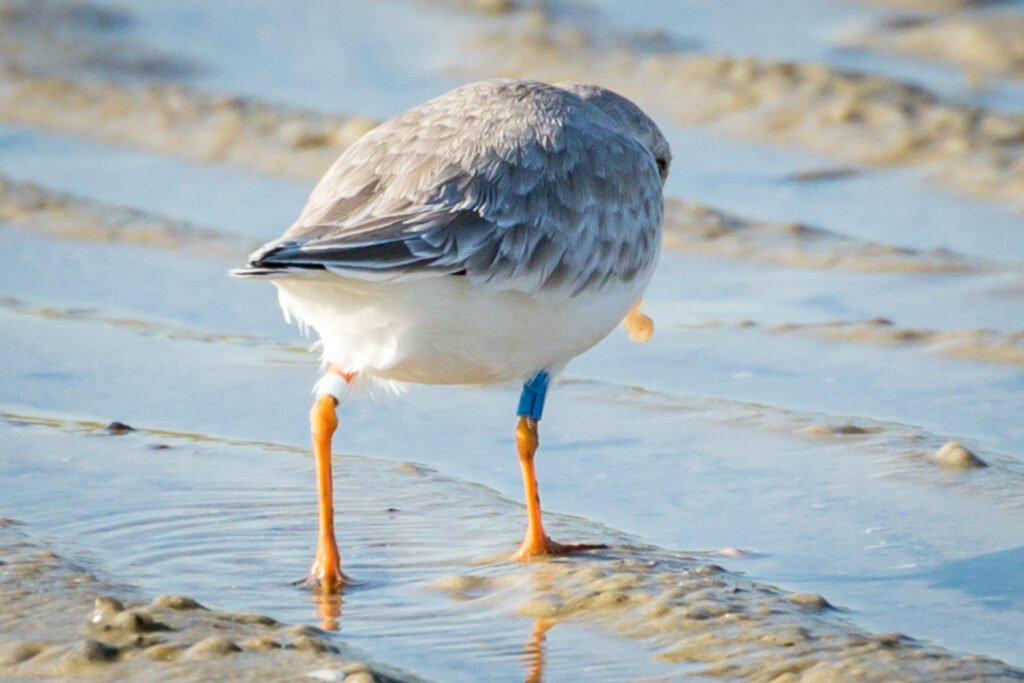 So now that my identification was complete, I just needed to know where to report it.  Doing a quick internet search took me to the U.S. Fish & Wildlife Services website Reporting Banded Piping Plovers.  If you click on the link you'll find complete instructions on the types of bands (and flags, which are little tabs that stick out from the band) used and depending on the colors, which of the eight organizations to send the sighting to.  The colored bands on my little bird indicated I was to email my information to two organizations; one in New Jersey and one in Vermont.  I included the appropriate information with a couple of pics to both and hoped for a reply.
Sure enough a couple of days later came a very detailed history of "O-Rex" from Christina "Kashi" Davis with the New Jersey Department of Fish and Wildlife in the Endangered and Nongame Species Program.  Here's what she wrote:
Thanks so much for the report and pics.  This is a male named Octavius Rex (or O-Rex as we call him for short). He was banded as a chick in 2019 at Holgate. In 2020, he showed up at the Barnegat Light restoration area and although he tried his little heart out (defending a territory enthusiastically all season), he was not able to attract a lady (sometimes happens in their first year). In 2021, he was back in action at the same site and had better luck! He and his mate, Jennifer Jason Leigh, were able to hatch their first nest. Unfortunately, those chicks were only a few days old when a massive 3-day nor'easter hit NJ. After the storm, all but one chick was lost and that one disappeared a short time later. We believe that the cold temps and pouring rain made it just impossible for the chicks to feed and they likely perished due to a combination of exposure and starvation.
 O-Rex and JJL picked themselves up and tried again! This time they had better luck, hatching that second nest and fledged 2 chicks (nicknamed Pi Patel and Man)! Hurray!
 O-Rex loves Fish Haul Creek Park – he has been reported there each of his 3 winters (he showed up this year in Oct and we just got another report of him from 12/3). He has also been reported in NC on multiple occasions as he makes his way south.  
Thanks so much! We love hearing about the winter adventures of O-Rex – hilariously almost all the reports we have gotten of him this year feature him eating. Must be great foraging there!
How about that – a detailed life-history about a bird that was first banded in Holgate, NJ which is about 700 miles north of where I spotted him on Hilton Head Island.  Whenever you're out birding look for those bands and get a good description (and picture when possible) of them and you'll be able to get some fascinating information about your bird.
Stay Safe.  Go Birding.  Take Pics.  Share Here.  
Mike  
---
If you would like to learn more about GreatBirdPics.com Click Here.  Members can post their own great bird pics, create and online gallery of their works, and receive regular emails about bird photography.