Seeking An Audience with King Eider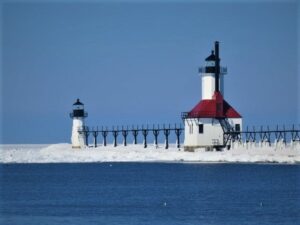 One night recently, as the end of February was closing in on us, we were casting about for places to go birding.  Although the bitter cold had passed and we were now experiencing weather in the 40s and sunny skies, we weren't seeing any different birds than what we'd been seeing for the past month or two.  Don't get me wrong, I love a good walk outside but the last time we went to the Morton Arboretum we saw 5 species in two hours.  So we checked the latest eBird reports from the area to see if anything interesting was out there.  Nothing.  As we are Michiganders (but now living in Chicagoland) I asked Karen to see if anything had been reported in St. Joseph, Michigan lately.  Sure enough a King Eider, along with several types of Scoters and Long-tailed Ducks were there.  Road Trip!
We picked up Birding Buddy Mark the next morning and drove about 2 hours to St. Joesph, a large Michigan town on the shores of Lake Michigan with a mixture of commercial and recreational waterfront facilities.  It was a beautiful morning with blue skies and fair temps.  As soon as we got out of the car we started seeing interesting waterfowl swimming around the railroad trestle, including these Greater Scaups. (Click on any bird pic for more information about the shot)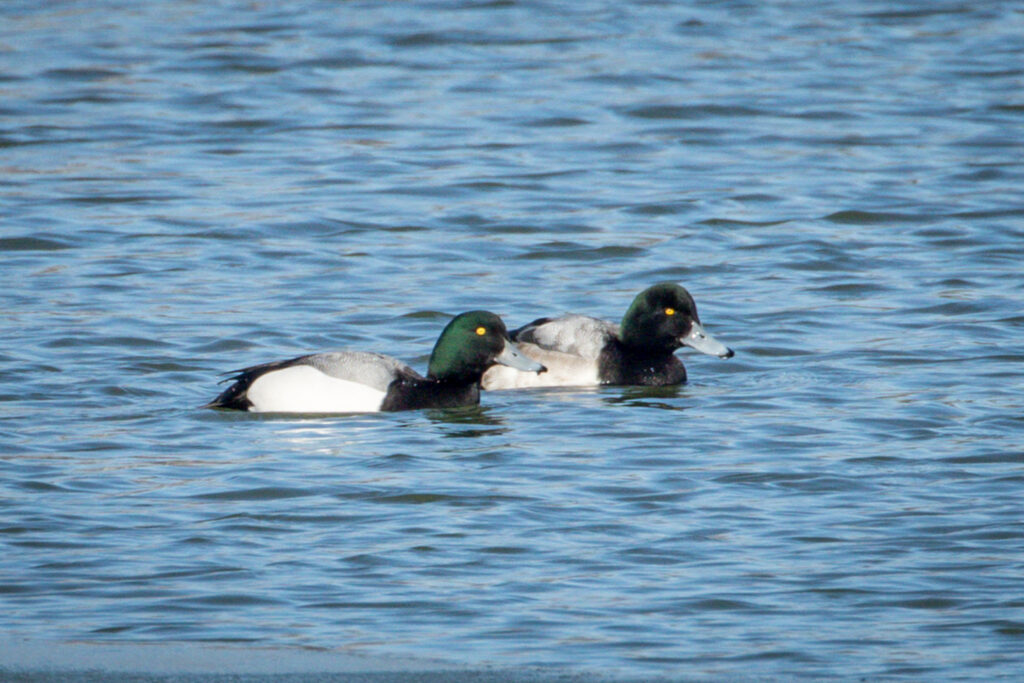 Of more interest were the White-winged Scoters.  We saw a number of them floating around and, like most scoters, they have an interesting bill.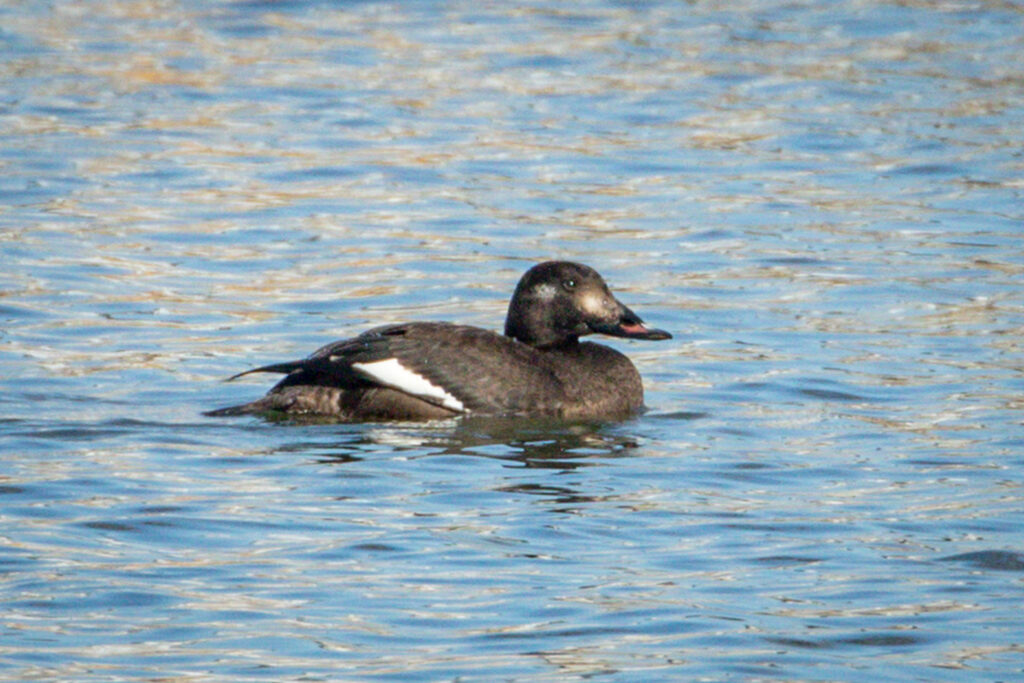 Of course the waterfowl are all mixed in with each other.  I spotted this female Redhead (L) and female Greater Scaup (R) cruising beneath the bridge together.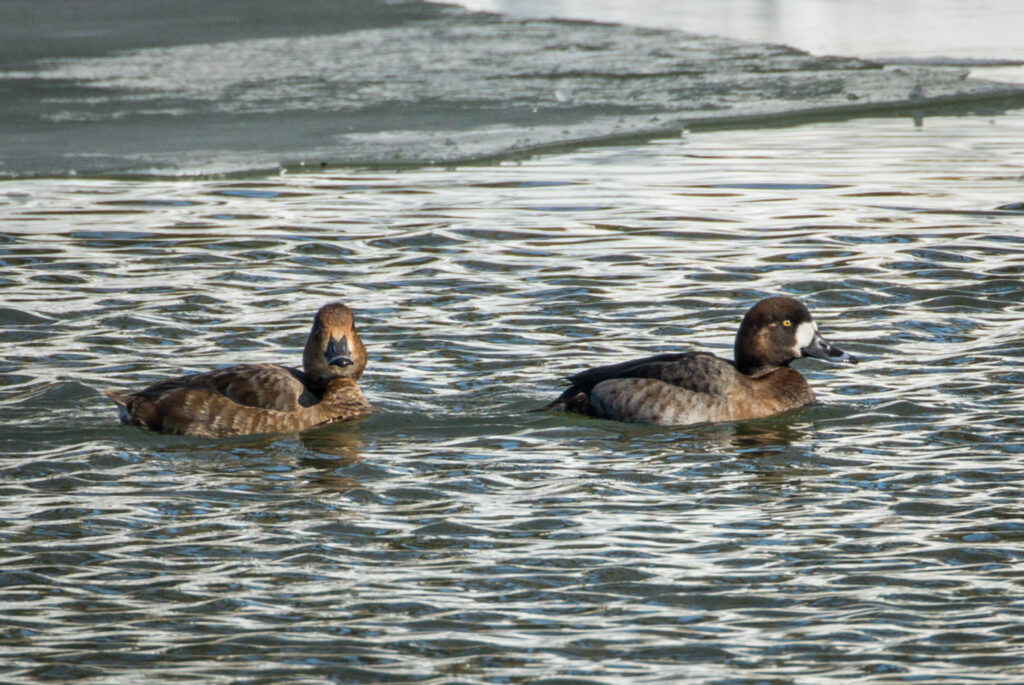 Mark was excited to see his first Long-tailed Duck – a Lifer for him.  Unfortunately they were pretty far out for pictures, so here's a pic of one we saw last time we were in Michigan.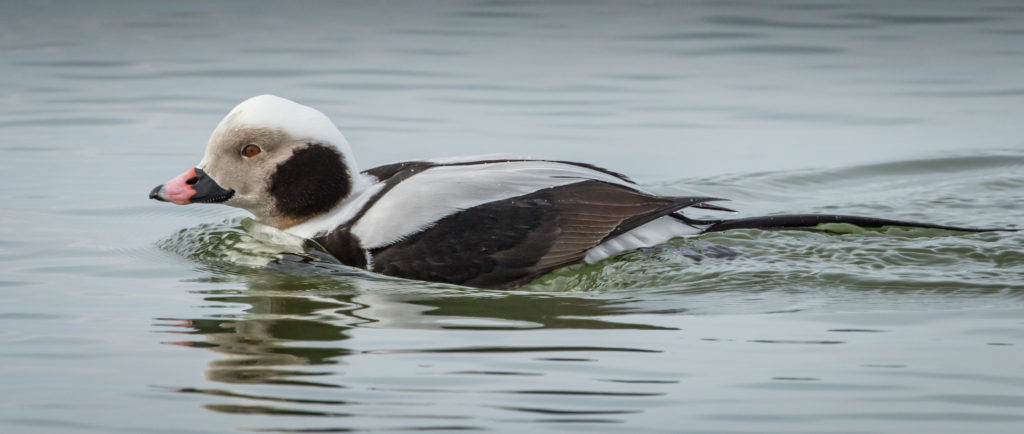 I had to look twice at a group of Mallards as they floated by because mixed in with them was an American Black Duck (back) with a male (R) and female (L) Mallard nearby.
Alas, no King Eider on the south side of the channel so we decided to drive over to the north side as some open water was reported on the far end of the pier.  After a 20 minute drive across the channel we arrived at Tiscomia Park.  We were able to walk quite a ways out on the pier, but not as far as these ice-covered lighthouses.  We did take the scope along; Karen searches for the King Eider among the the waterfowl swimming in the channel (thanks for the pics, Mark).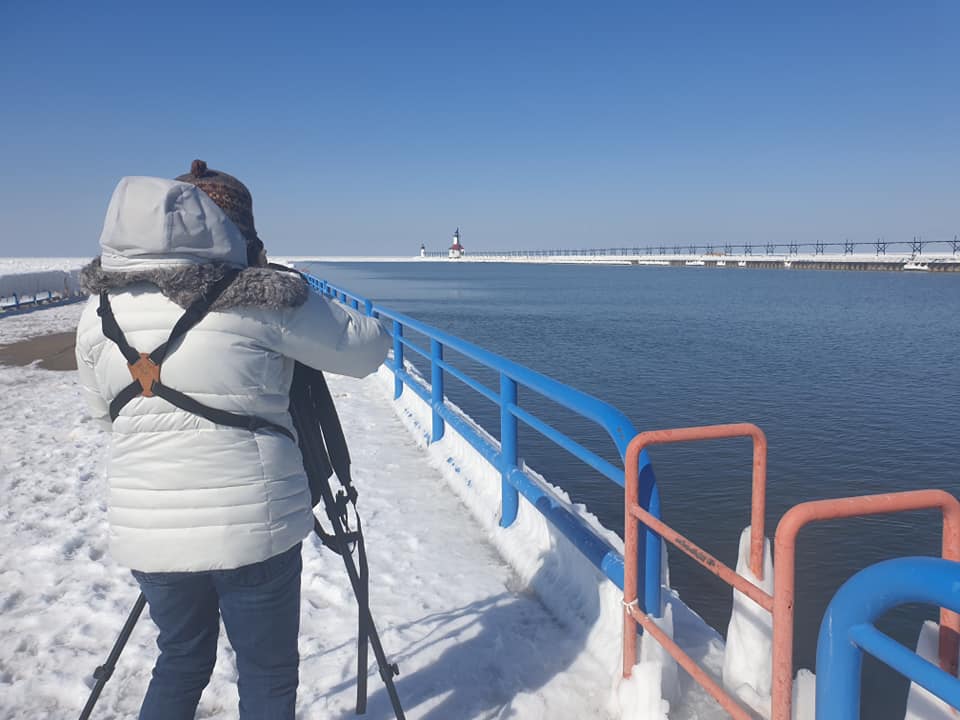 There were many birds out there and they were more active, often flying up to move inland like this Redhead (L) and Goldeneye (R).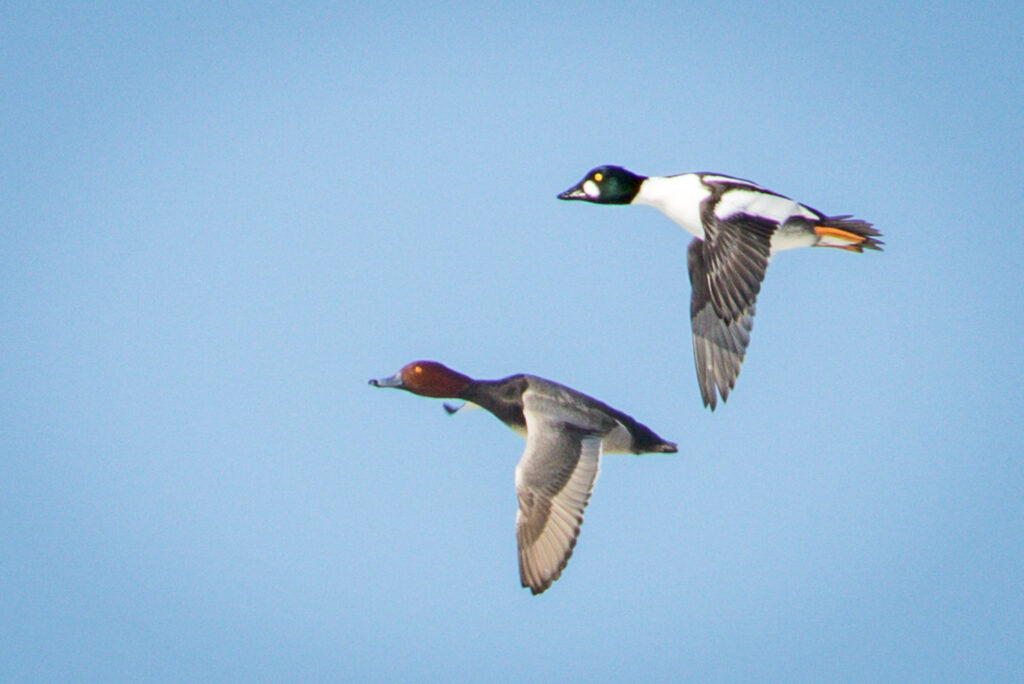 I was lucky enough to get a shot of a male (R) and female (L) Goldeneye flying together.
Out there we were able to get better looks at a male Surf Scoter which has a colorful head and bill.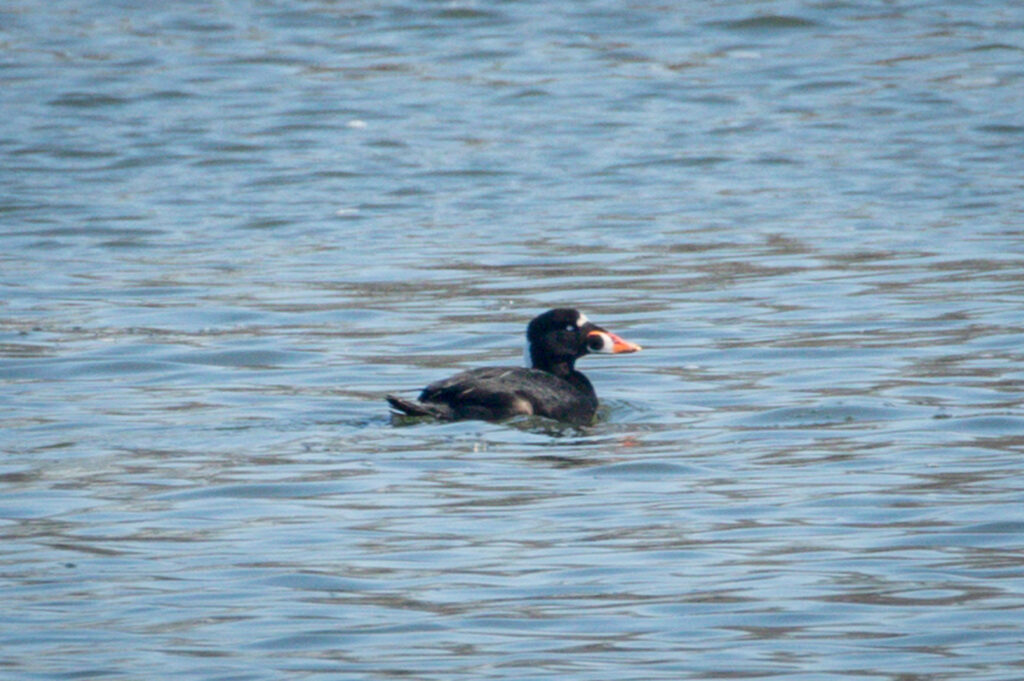 Alas, again, no King Eider.  Well we decided we had given it our best effort and headed back toward the parking lot with the intent of heading home.  As we started loading up the car we spotted a woman carrying a scope walking from the other end of the channel.  We asked if she had seen the Eider. "Yes, it's right over there", she replied casually; she told us where to look and off we went down an icy path back toward the train trestle but now on the opposite side of the channel and looking back to where we had started.  Once the path ended we all searched for several minutes.  I thought I had it in the scope once but then it disappeared.  Then Karen reacquired it and finally we all had good looks at it!  It stayed a distance off so the picture below was taken by our newest member "emmess107" whom we met on the pier and offered to post one of his pictures taken previously of the King Eider.  Thanks and welcome to GreatBirdPics!  As we observed the King Eider a pair of kayakers were making their way down the channel and flushed the bird into flight.  I got a couple of BIF pictures of it but against the sun, so not so great.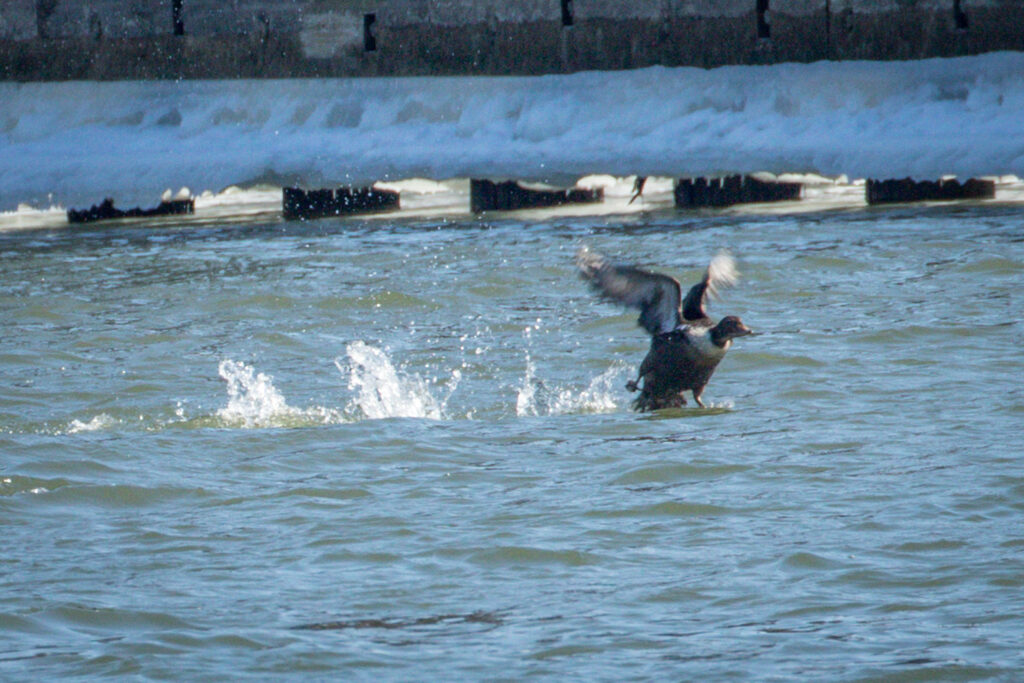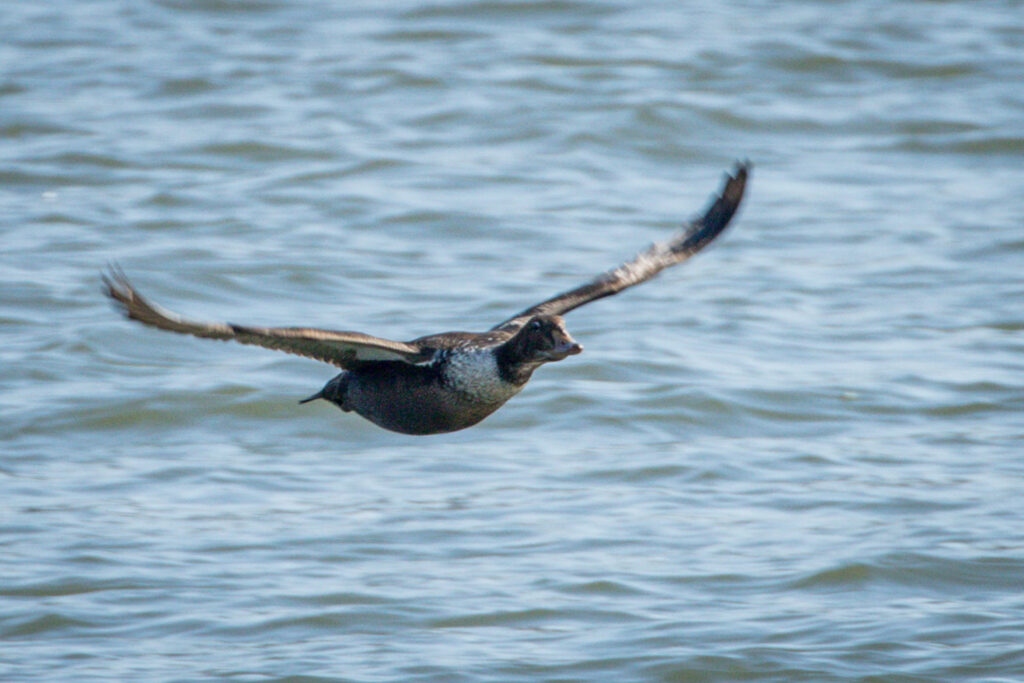 But we all did get the King Eider as a Lifer!  After fist-bumps and congratulations we packed up the car and headed home, stopping for lunch at our favorite place in Sawyer, MI GreenBush Brewing.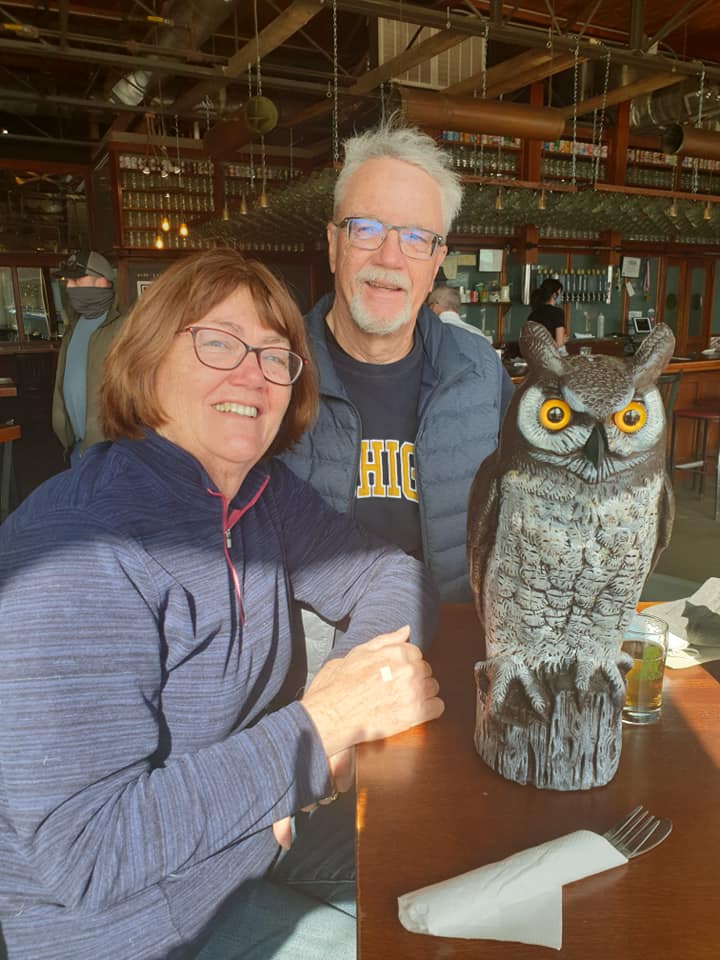 All-in-all a great trip.  Beautiful weather out near the blue waters of Lake Michigan. Mark got 2 Lifers and we got 1.  Well worth the drive!