February 26, 2020    Venturing into Mae Ping National Park (with looks out the back window of our hotel)
This is a report on Day 10 of a 19-day birding tour of Thailand; it was a private group arranged through Field Guides, adhering to their typical itinerary.  The pictures in this post are just some of the many Thailand pictures I've uploaded to GreatBirdPic.com.   Check out the site before you leave: see the Latest Pics uploaded by our members or read the About GPB to find out more about the site.  You are welcome to join if you enjoy bird photography.
We arrived at the Huai Hong Khrai Royal Project grounds just after sunup.  It was a beautiful morning as the sun illuminated the medium-sized lake in front of us.  Across the lake we spotted several Green Peafowls (peacocks); although a good distance away I couldn't resist taking a few pics of this male and its long tail: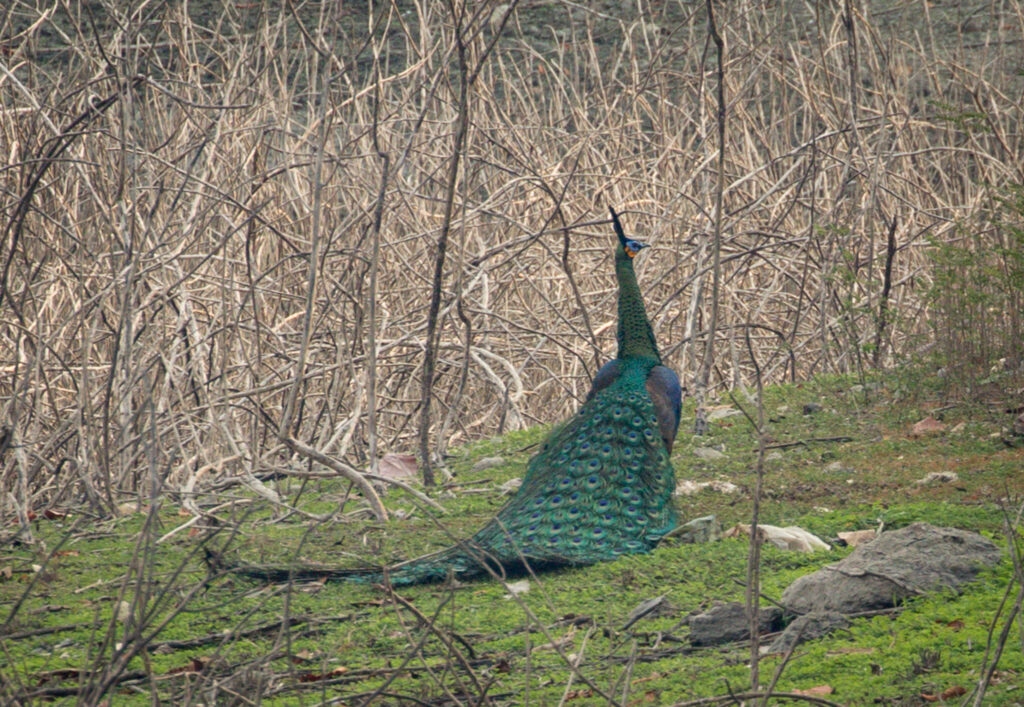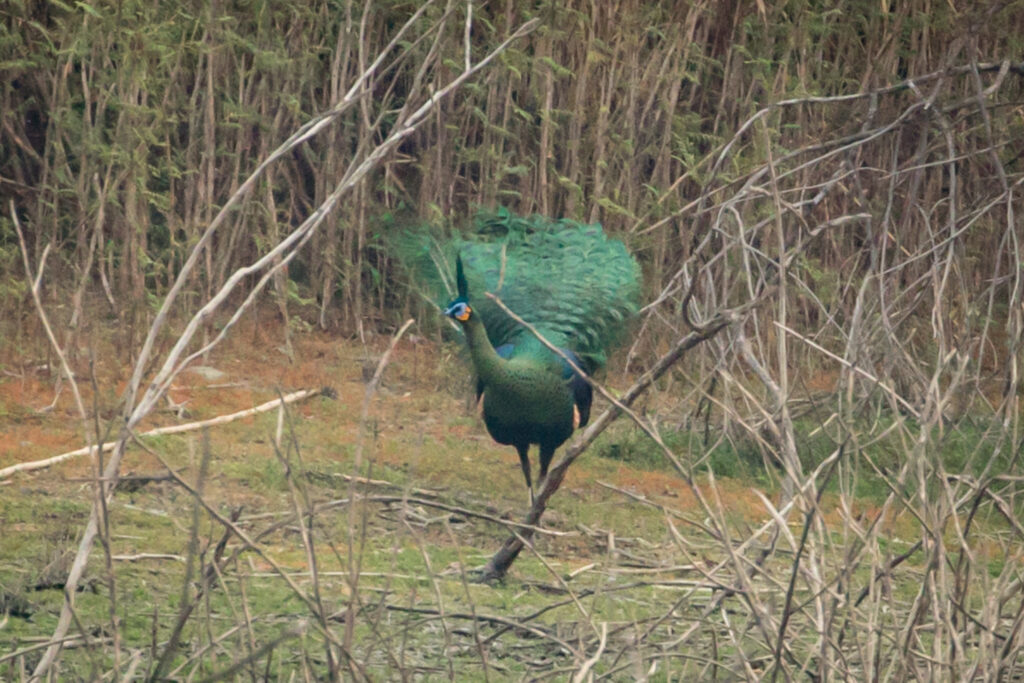 As we traveled through the grounds our guide Dave thought he heard an Indochinese Blue Flycatcher.  We spent a good twenty minutes trying to find this elusive bird; most of the group saw it but it was so elusive no pictures were obtained.  I lingered as the group went on in hopes of catching a few pics of this bird and I thought I was rewarded.  The pics below actually show a Chinese Blue Flycatcher, which I ID'd after returning home.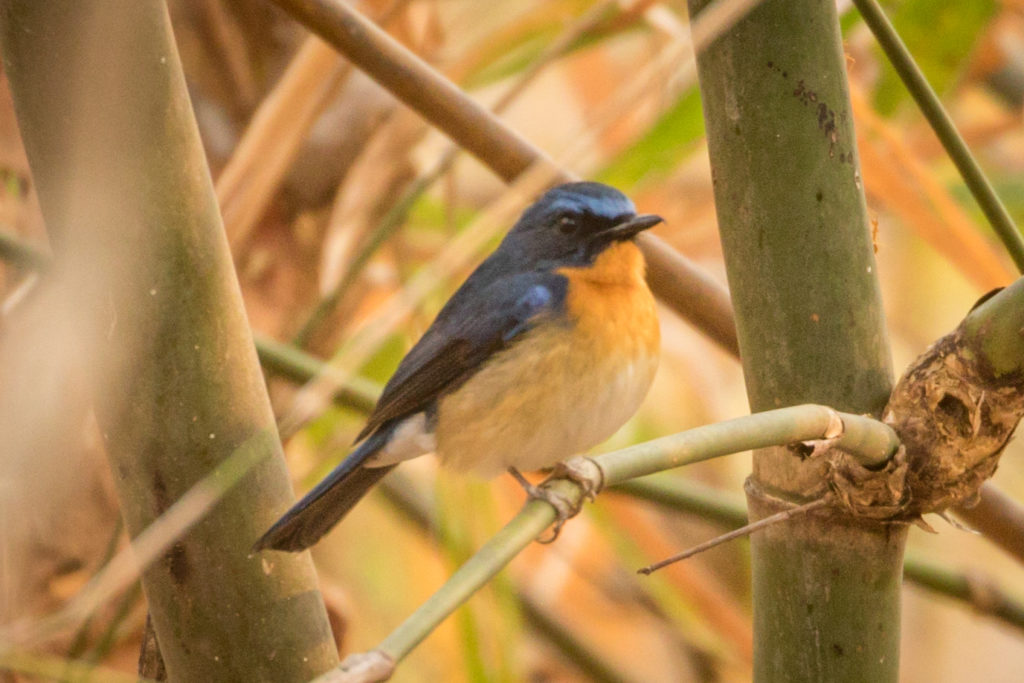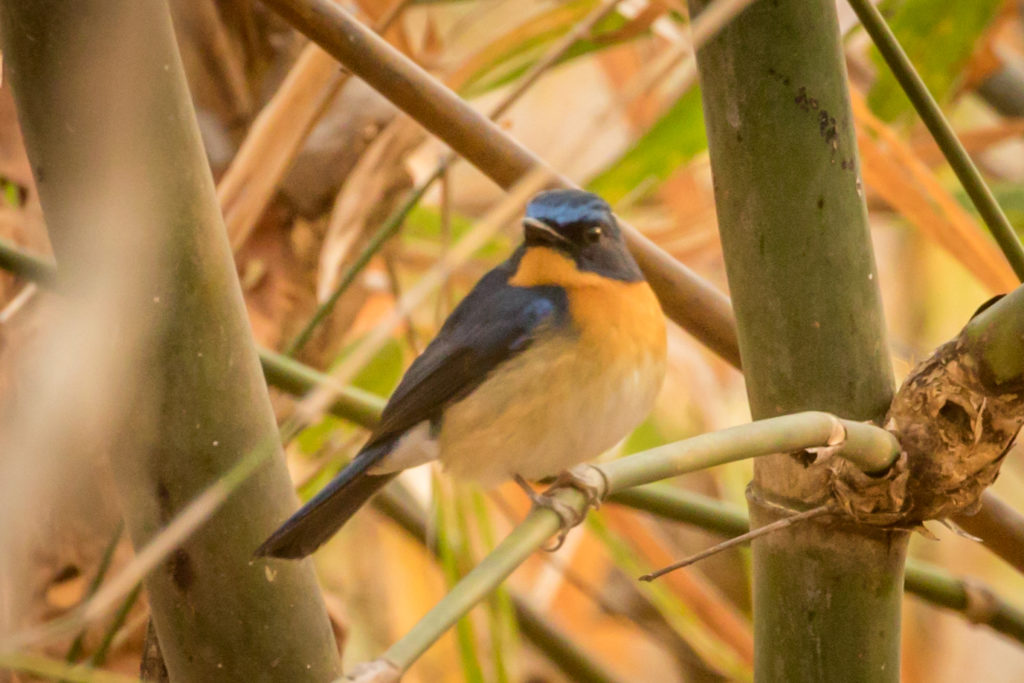 I caught up with the group in time to see an Asian Openbill stork fly overhead: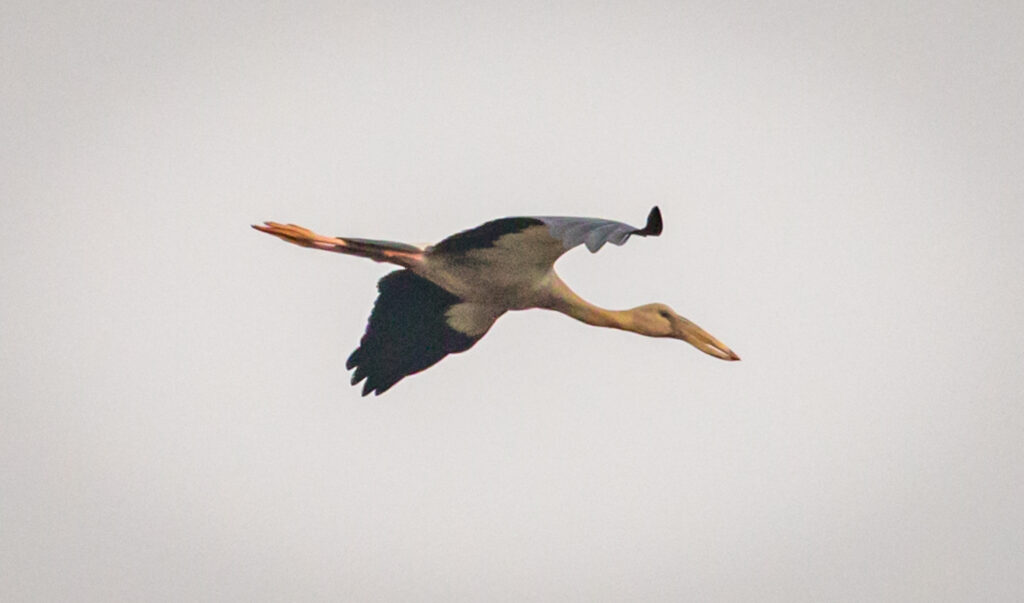 Another flyby was by a Greater Racket-tailed Drongo.  I didn't really get a very good picture, but as I played with my settings on the computer I came to like this blurry silhouette pic: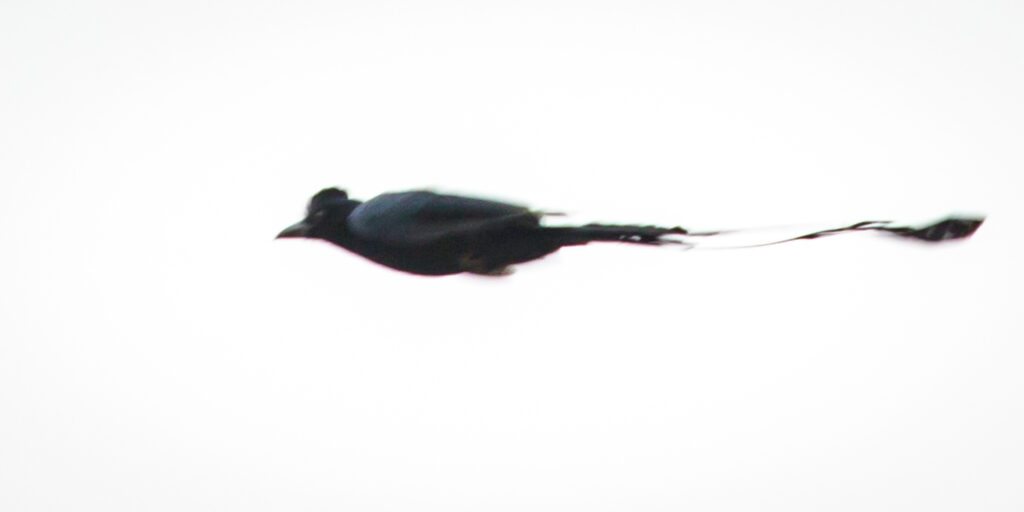 We loaded back into our vans and drove a short distance to the Lamphun area and unloaded in a dry flat area near a small ridge of rocks.  This was a popular area for raptors as they glided around and used the thermals lifting up from the ground to take them high in the air.  The predominant species there was the Black Kite, with about 30 of them floating overhead: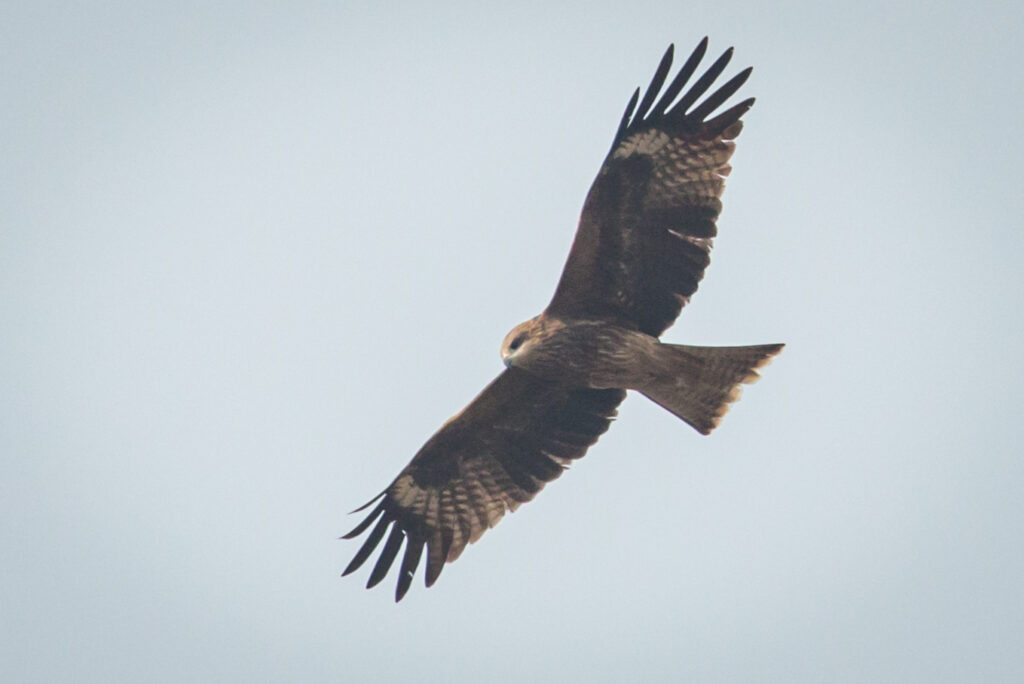 There were other raptors up there, too.  This Steppe Eagle was easy to ID with its unique white markings on its tail and wings: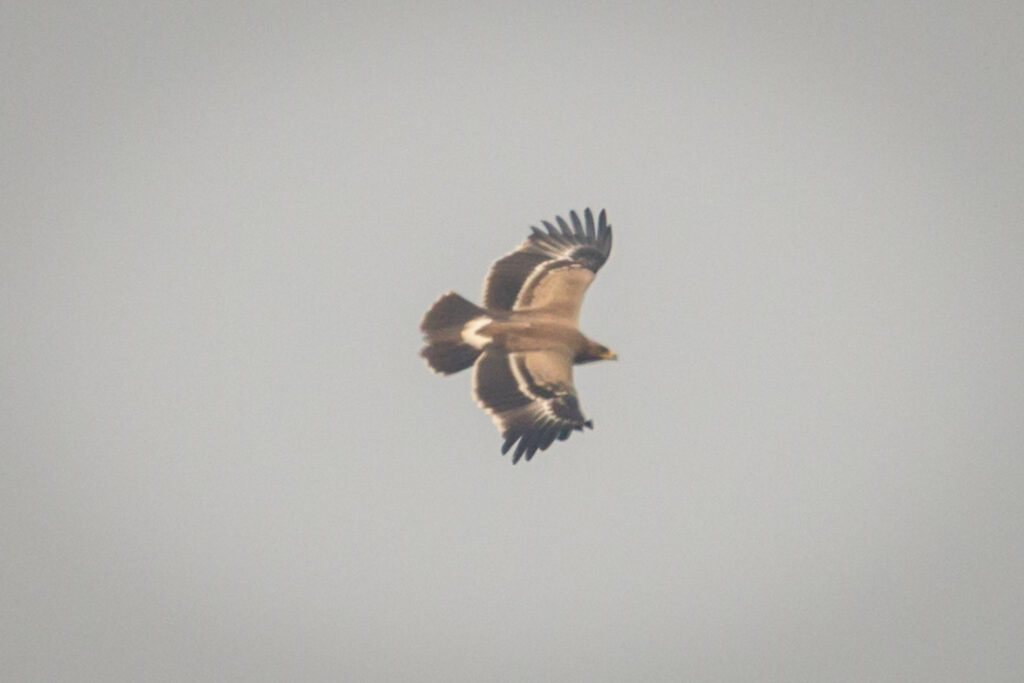 Much more difficult to ID was this Imperial Eagle, partially because it is fairly rare in this area.  We spent a lot of time trying to figure out what is was: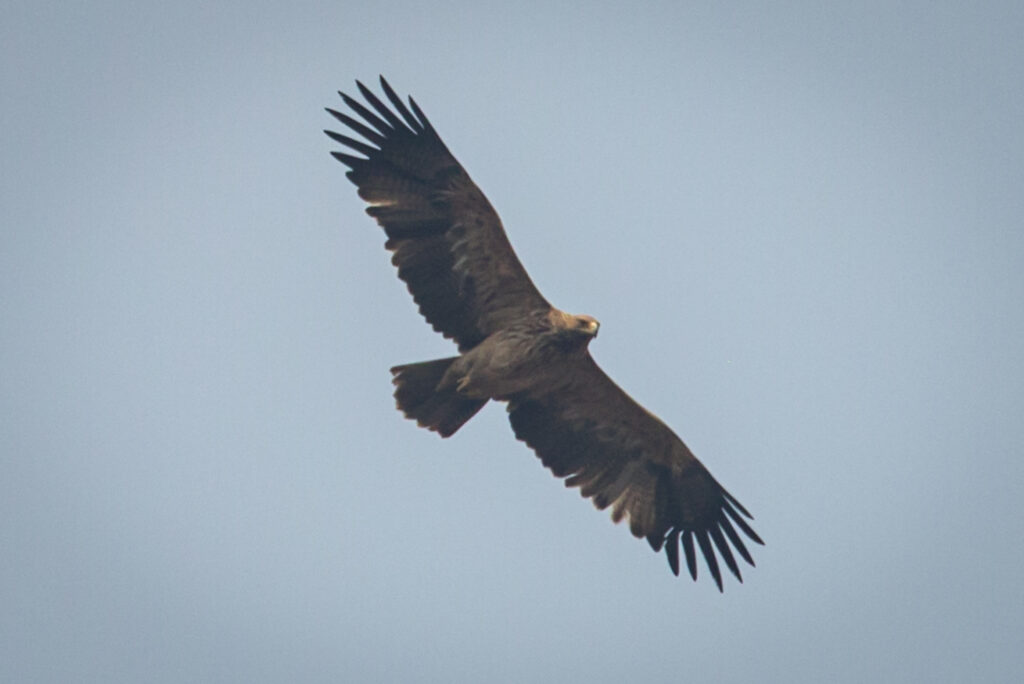 Also found here in the flatlands was the beautiful Green Bee-eater flying back and forth in search of food.  Note the single long feather extending below its tail feathers: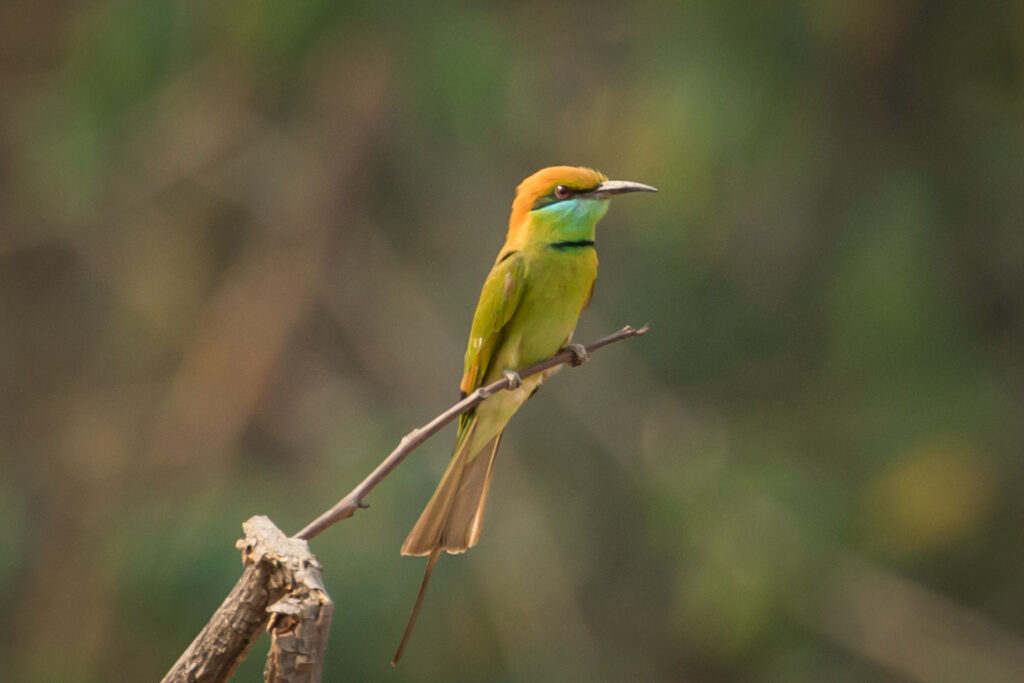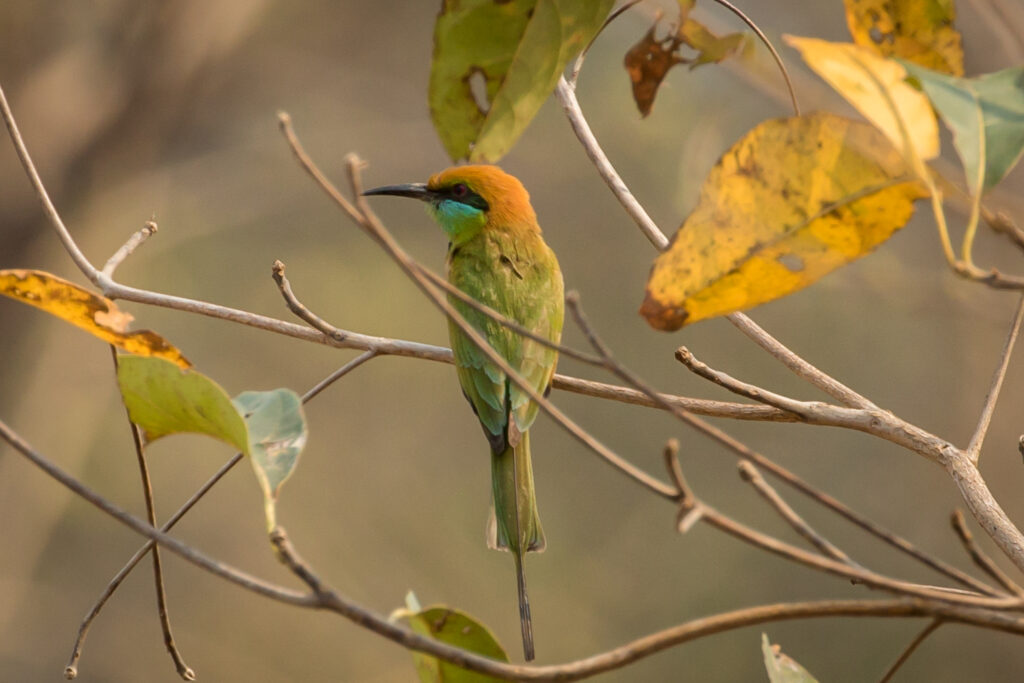 Since we were going by that night's hotel and bird activity is down during the afternoon we checked into our hotel, the Baanpailyn "Resort".  We unpacked our gear and stepped out on the small balcony overlooking the grounds and forested area.  Off a couple of rooms down was a Pied Bushchat (pied means two or more colors, in this case black and white).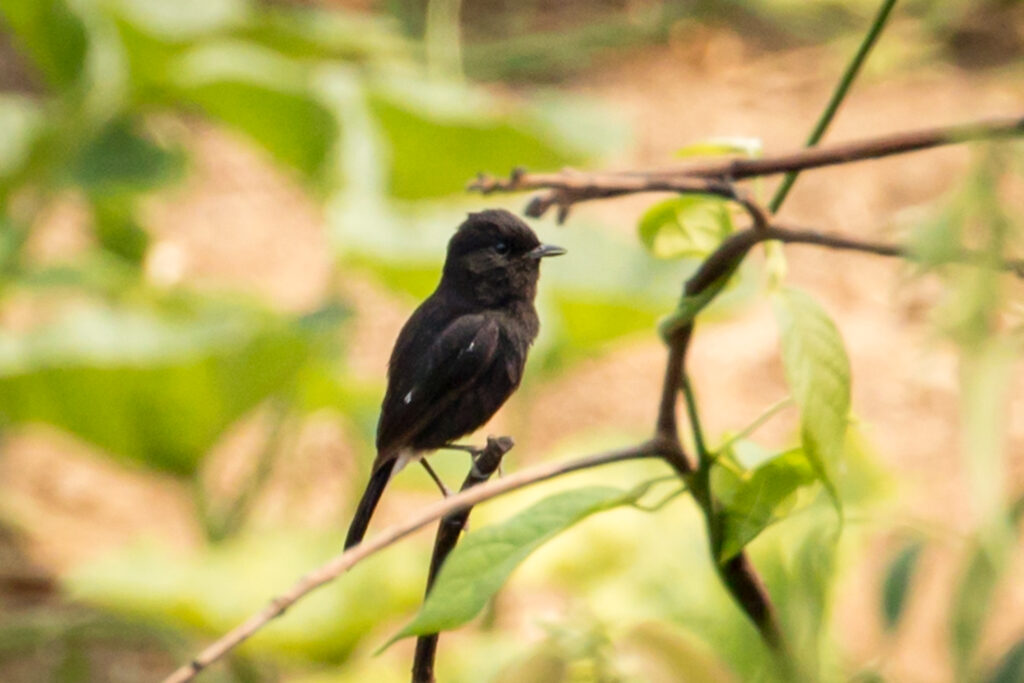 Even closer to us was a beautiful Indochinese Roller sitting in a tree with pink blooms around it.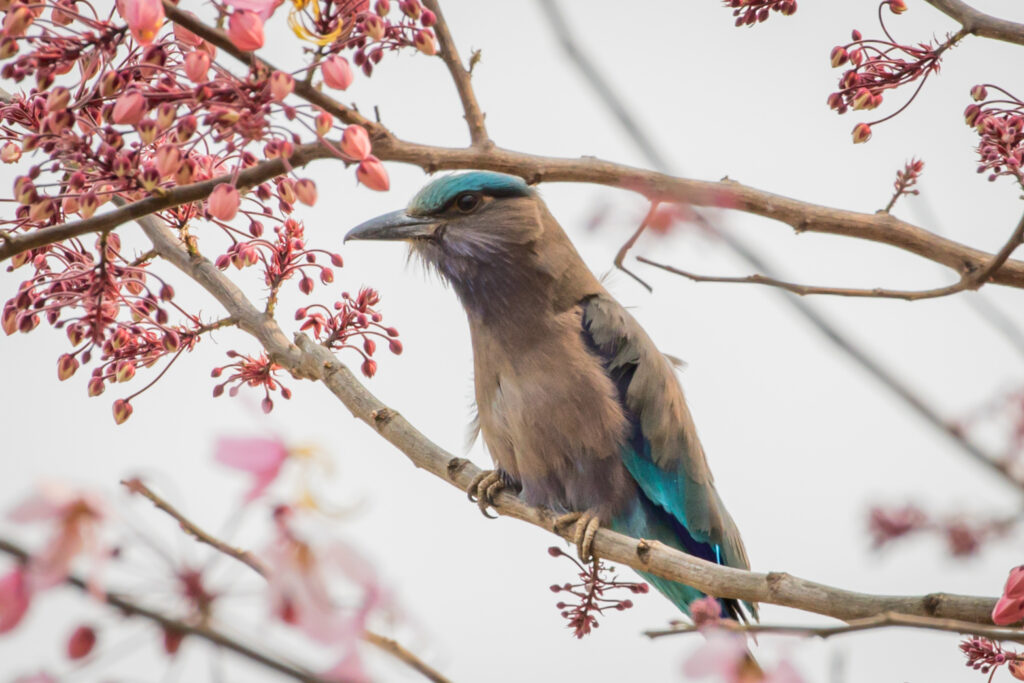 The Roller flew down past our room and grabbed a flying insect in flight and then perched nearby for a mid-afternoon snack.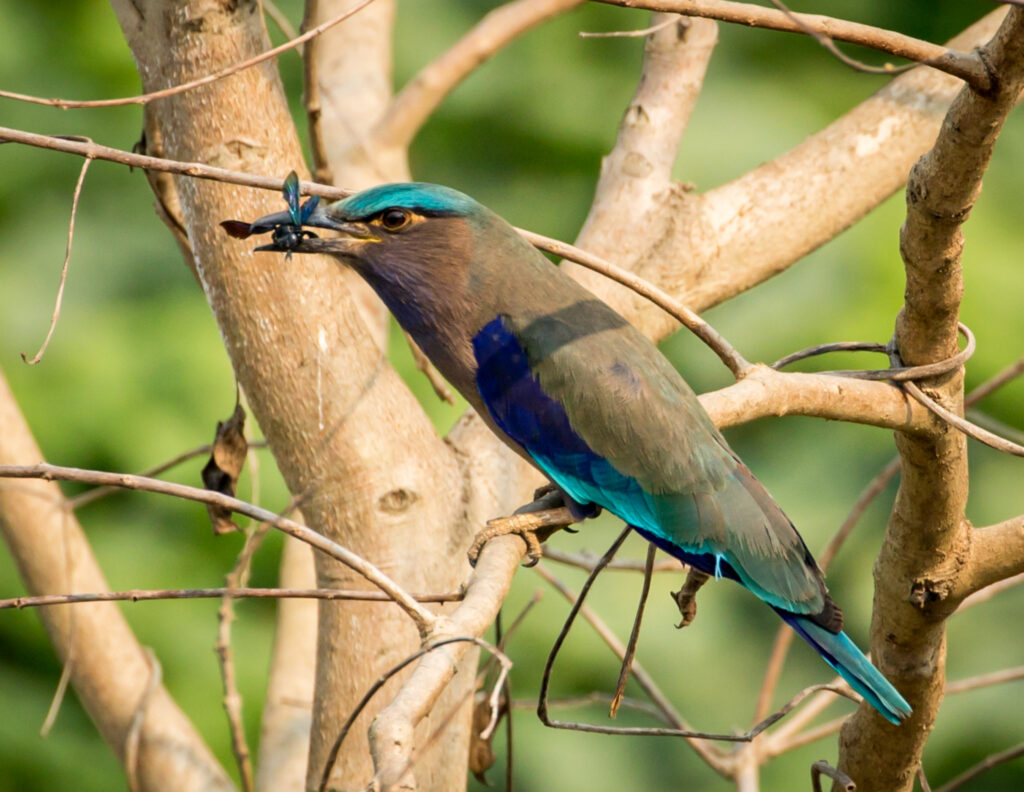 Was that a belch I just heard?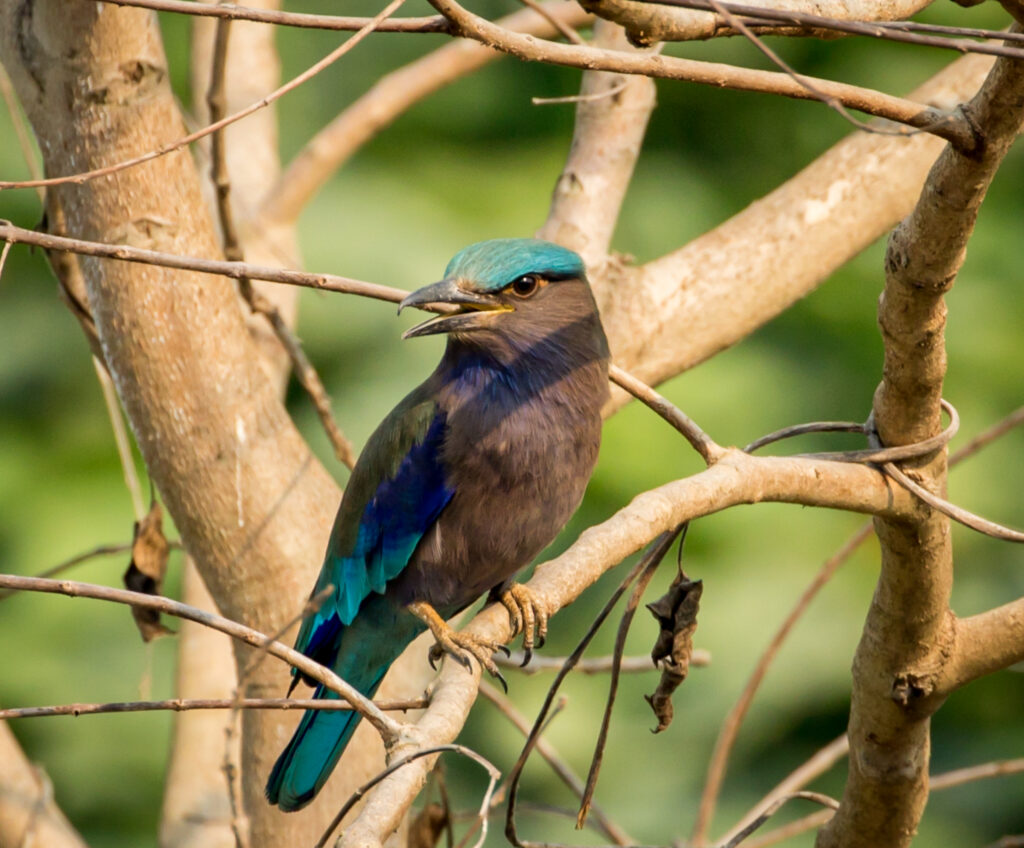 Later in the afternoon we piled back into the vans to explore a dusty road up one of the mountain spines of Mae Ping National Park.  Although the pickings were slim, we were fortunate enough to see a rare White-rumped Falcon perched in a tree overhead.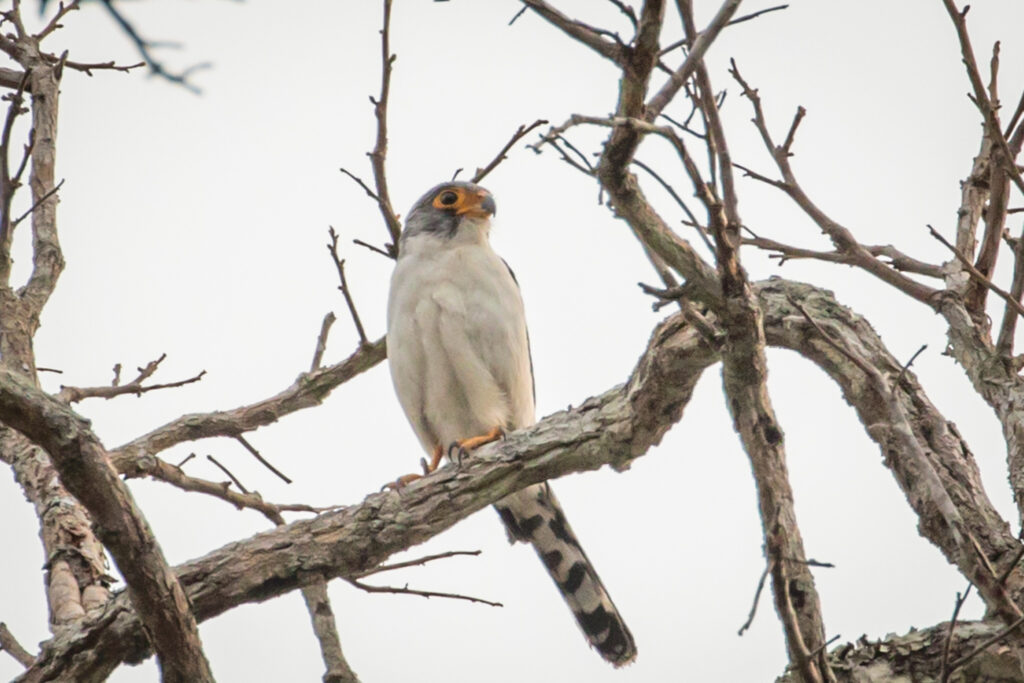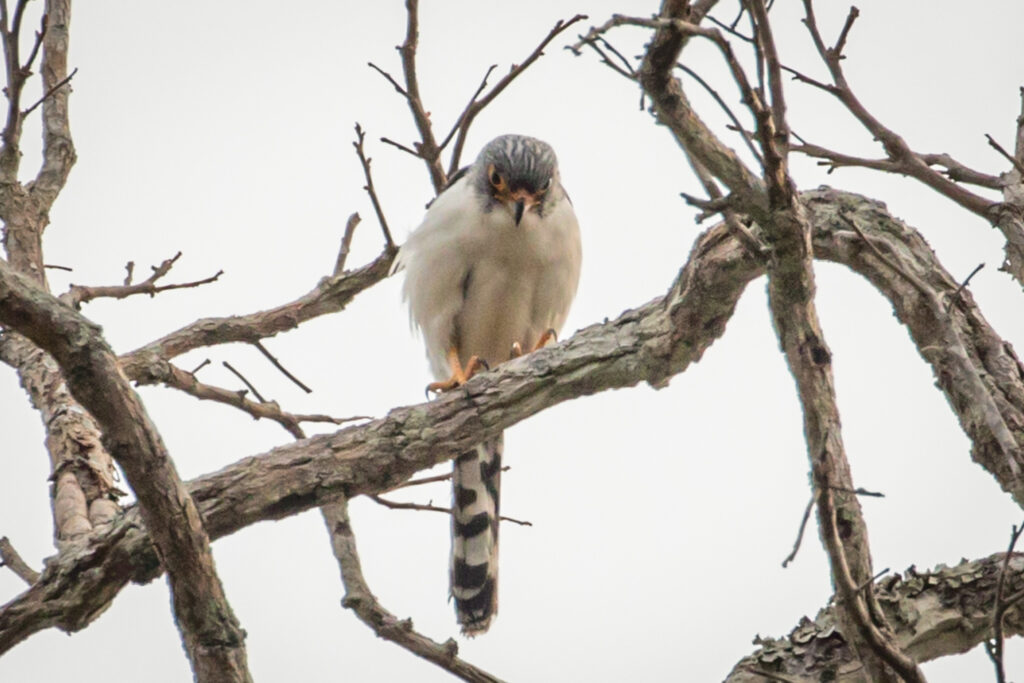 Back at the hotel we completed our Field Checklist together, ate a hardy meal, and then crashed for the night.  An early start the next morning because we were traveling from Mae Ping National Park to Doi Inthanon National Park.  You can see that report HERE.
•••••••••••••••••••••••••••••••••••••••
For you overachievers here are the Ebird checklists for that portion of our trip:
https://ebird.org/checklist/S65066579
https://ebird.org/checklist/S65070505
https://ebird.org/checklist/S65894018
https://ebird.org/checklist/S65139047
•••••••••••••••••••••••••••••••••••••••
Glad you found GreatBirdPics.com.  Check out the site before you leave: see the Latest Pics uploaded by our members or read the About GPB to find out more about the site.  You are welcome to join if you enjoy bird photography.