February 25, 2020    Hornbills in Khao Yai National Park and travel to Chiang Mai
This is Day 9 of a 19-day birding tour of Thailand; it was a private group arranged through Field Guides, adhering to their typical itinerary.  The pictures in this post are just some of the many Thailand pictures I've uploaded to GreatBirdPic.com.   Check out the site before you leave: see the Latest Pics uploaded by our members or read the About GPB to find out more about the site.  You are welcome to join if you enjoy bird photography.
Hornbills in Khao Yai National Park
As per usual, we got off to an early start today, partially because we had such a busy itinerary planned.  As we loaded up the vans with all our gear and luggage I watched as a hotel staff member came to replenish the offerings of milk, juice, and mangos at the Buddhist shrine sitting just inside the parking lot wall.  Soon a of Sooty-headed Bulbul, and then its mate, came down to enjoy the offerings.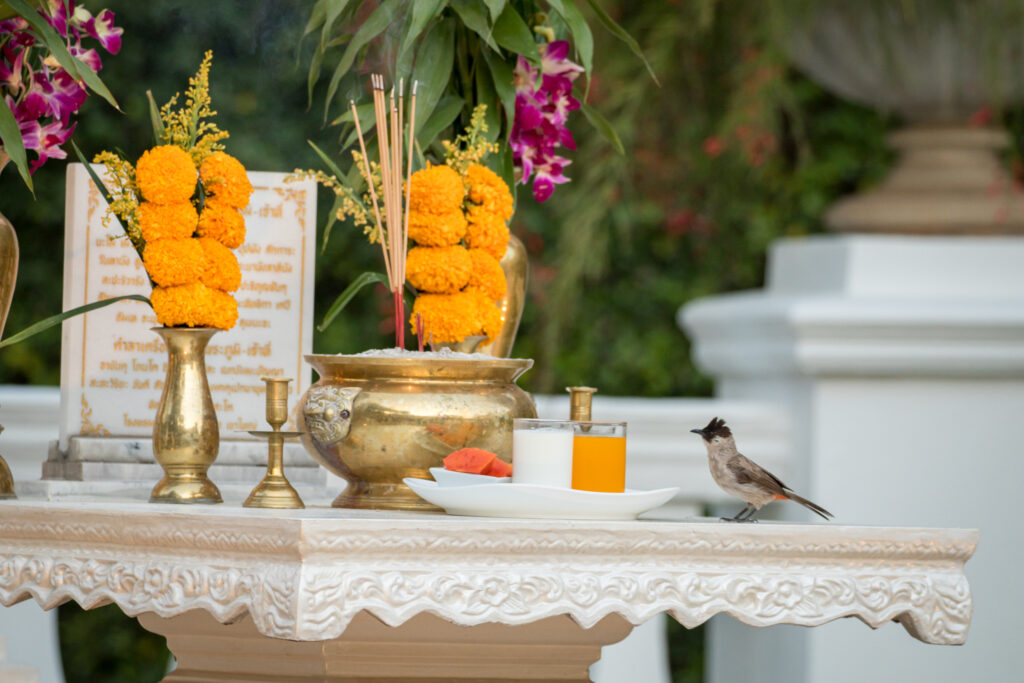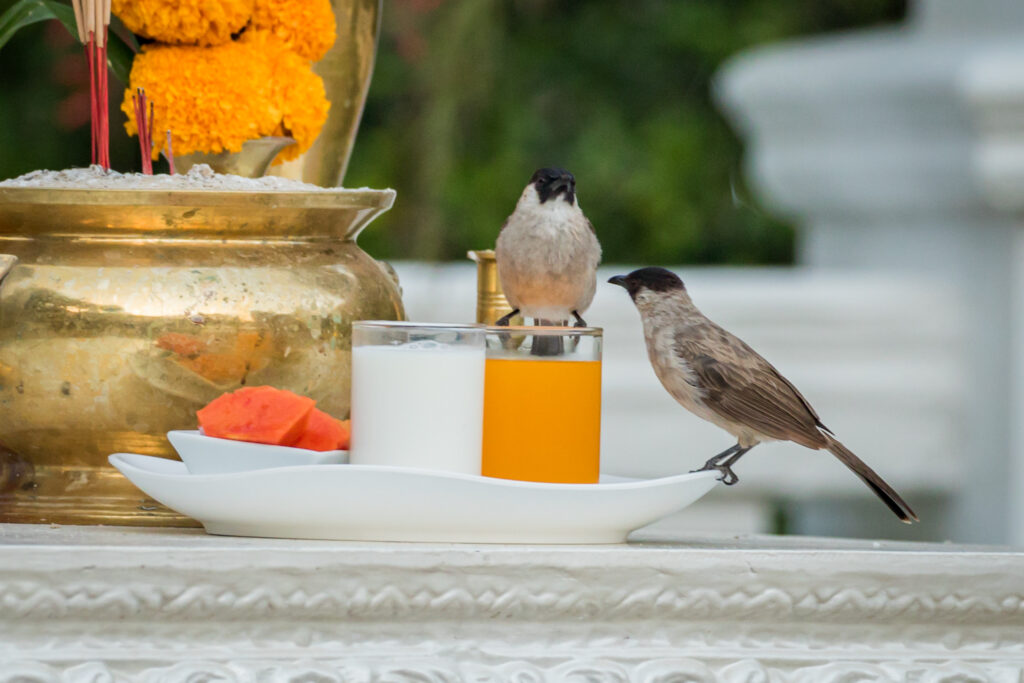 An Oriental Magpie-Robin came in for a sip of juice, too: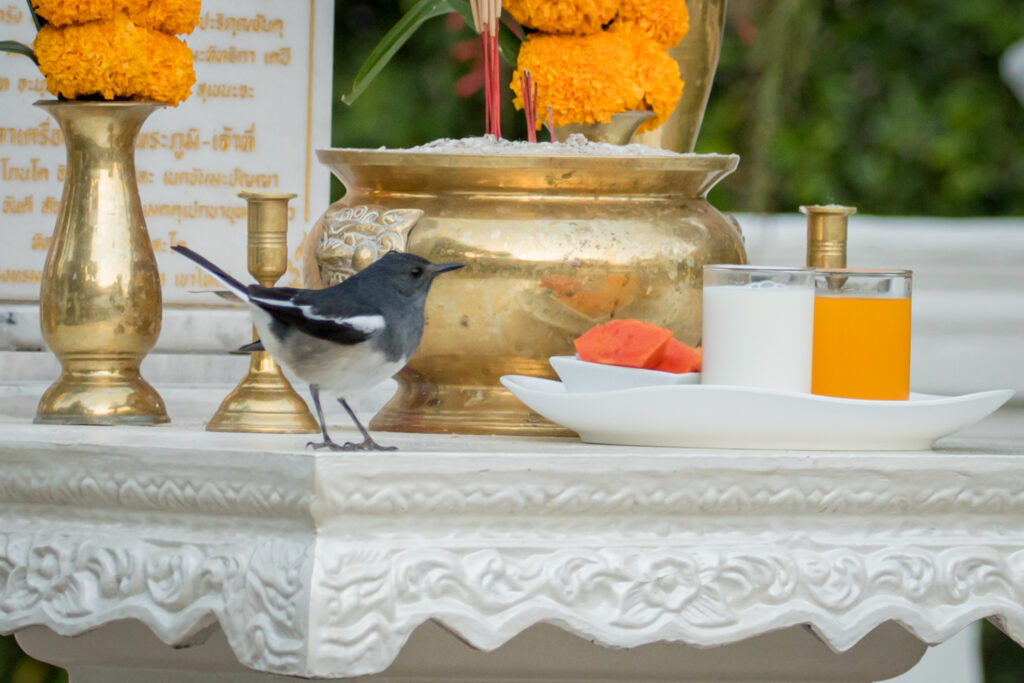 As we entered Khao Yai National Park we were greeted with a beautiful sunrise in the mountains.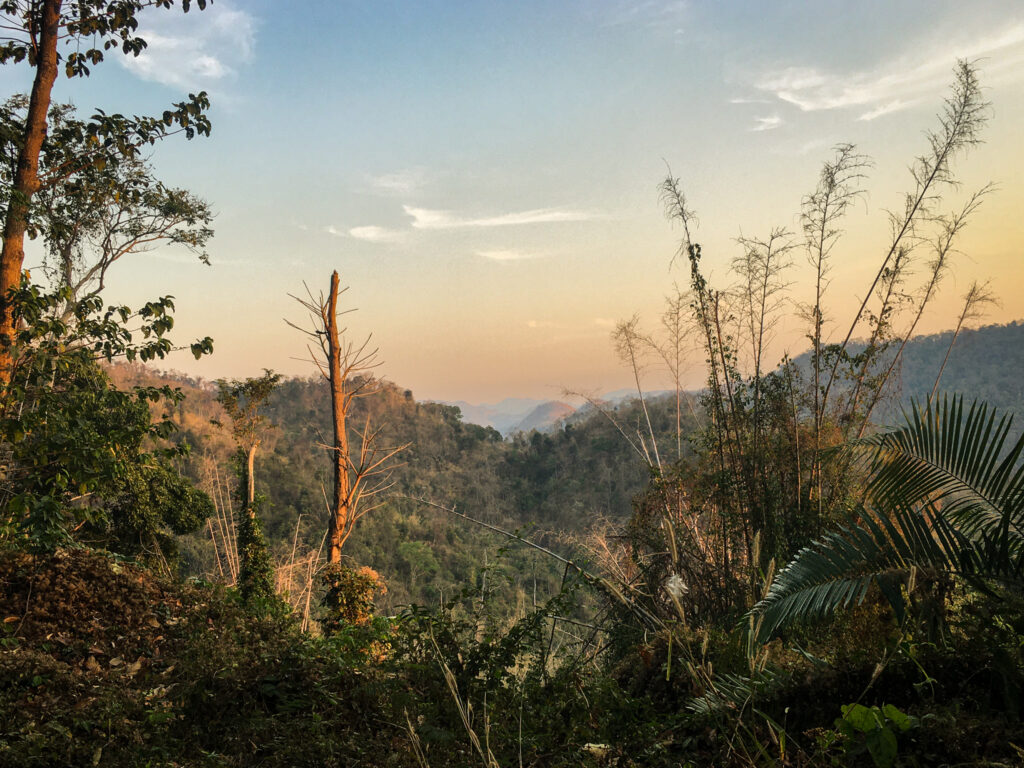 Our early-morning birding was slow (I could have slept in!) but soon we had a great view of a Wreathed Hornbill coming in to feed its mate.  First it showed its impressive wingspan as it came toward us and then it perched on a thick branch not far from its nest.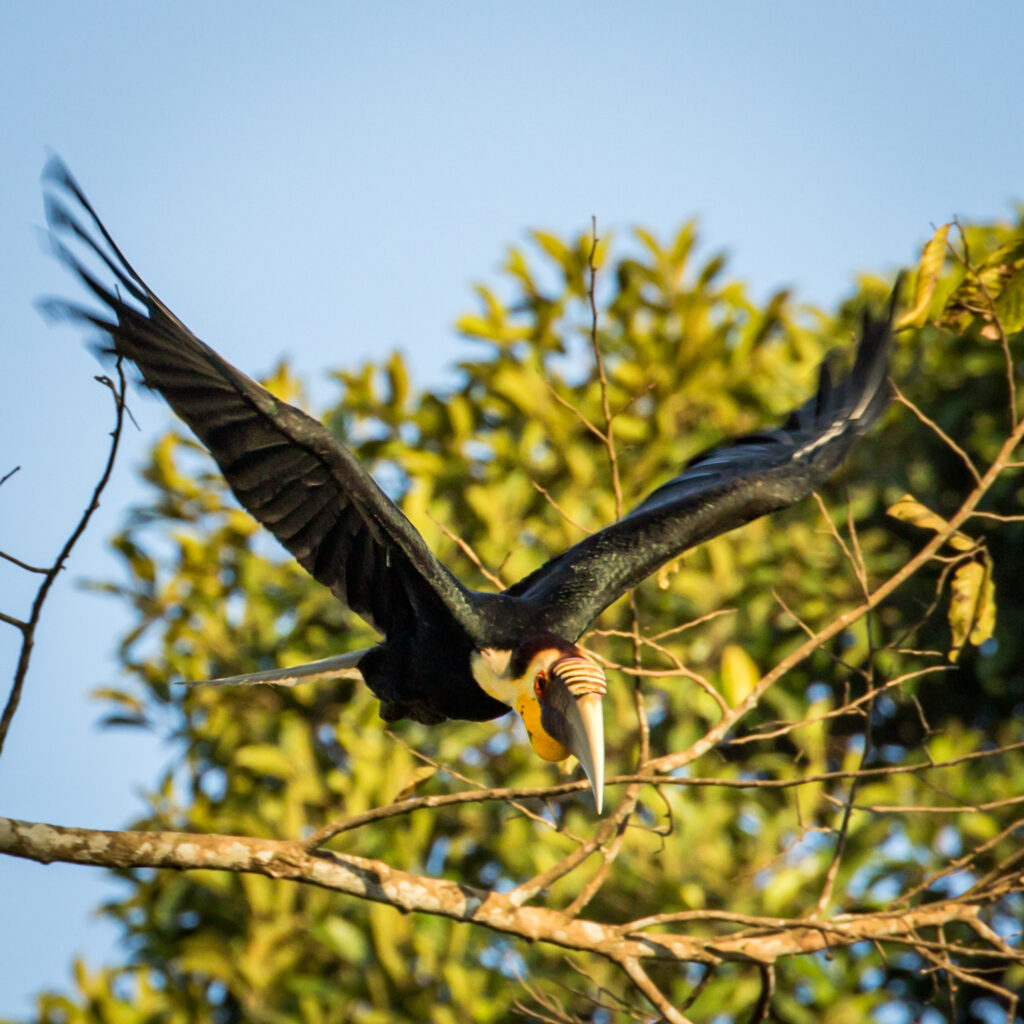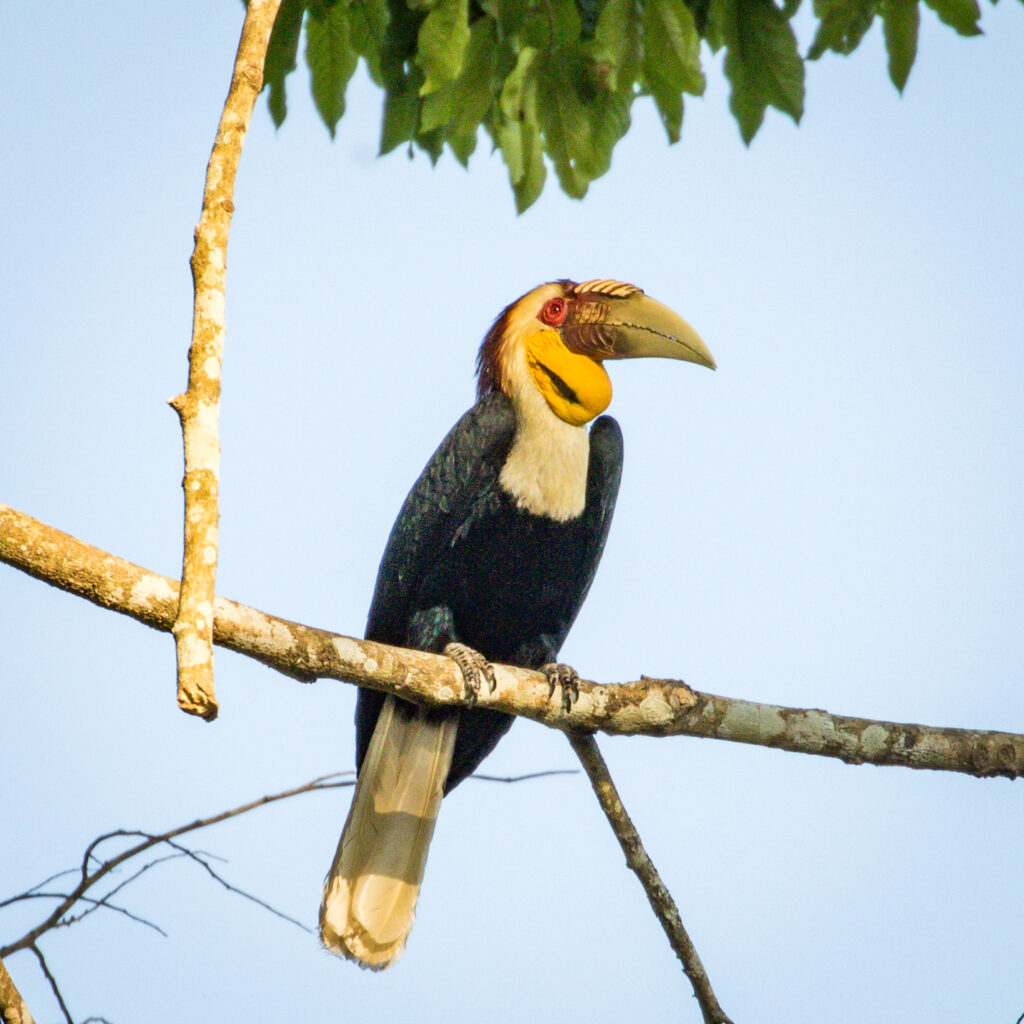 The Wreathed Hornbill (male) hopped over to sit in front of its nest.  In the next series of pictures you'll see it regurgitate some food, then pass it through the hole in the tree to to the nesting female inside.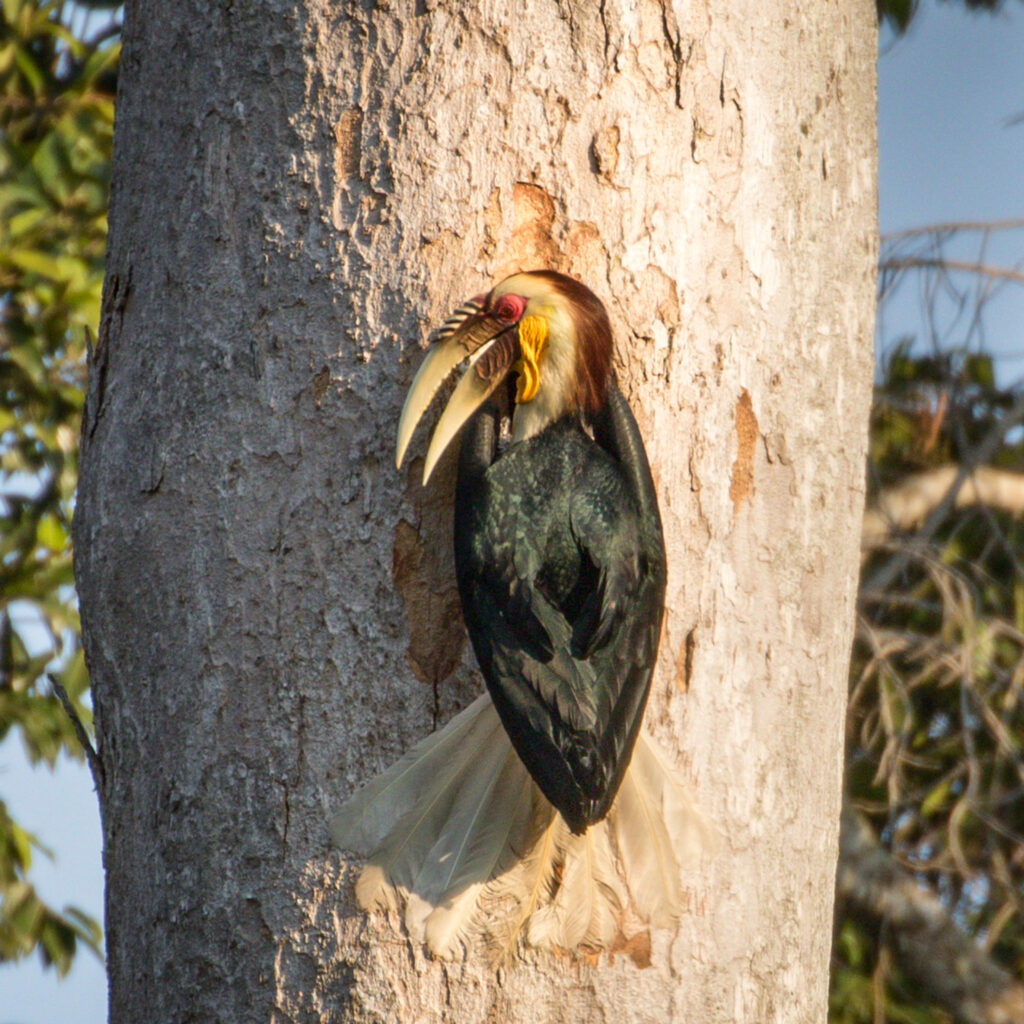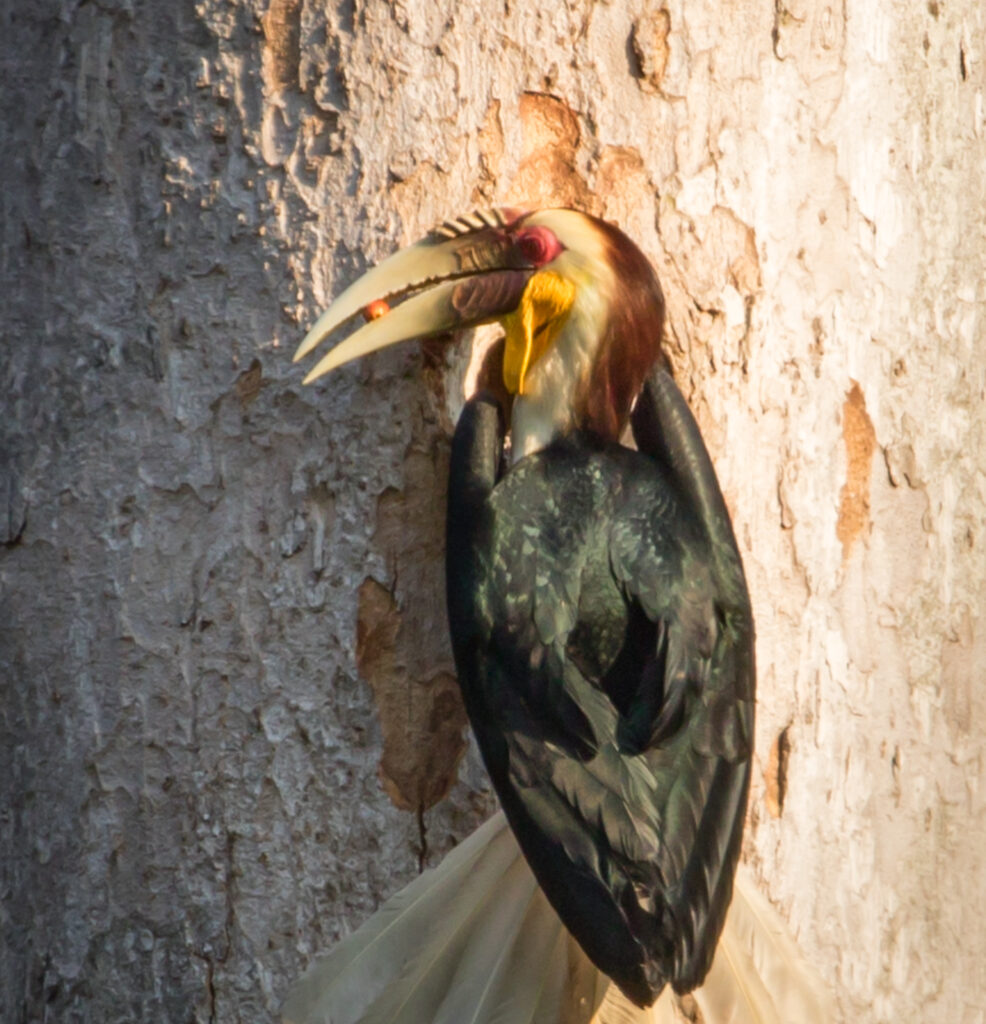 We made our way to the Visitor Center and then followed our guide Dave up a path behind the building.  The path twisted and turned and we were led to another blind area which had a great view of several large trees.  It wasn't long before two Brown Hornbills flew in.  The one on the left here was an observer; the one on the right did most of the work of feeding a female in the tree.  The process was similar to what we had just observed.  The male goes out into the forest and eats some food and returns to the nest with food, regurgitates it and passes the food to its mate inside the tree.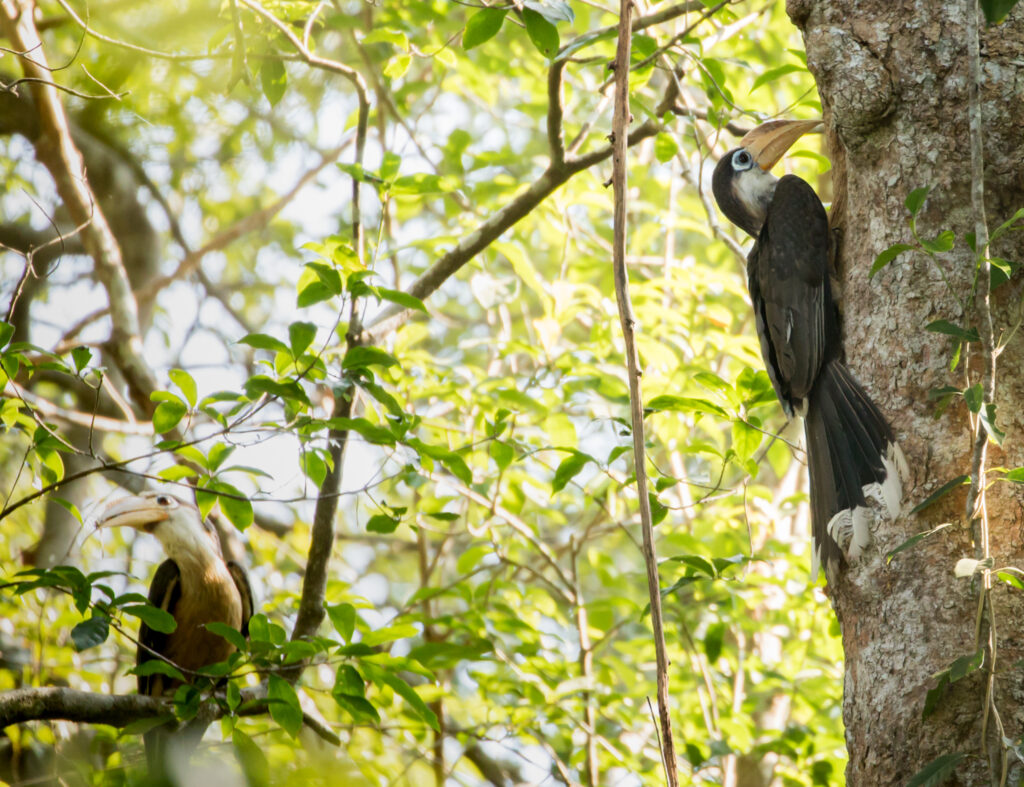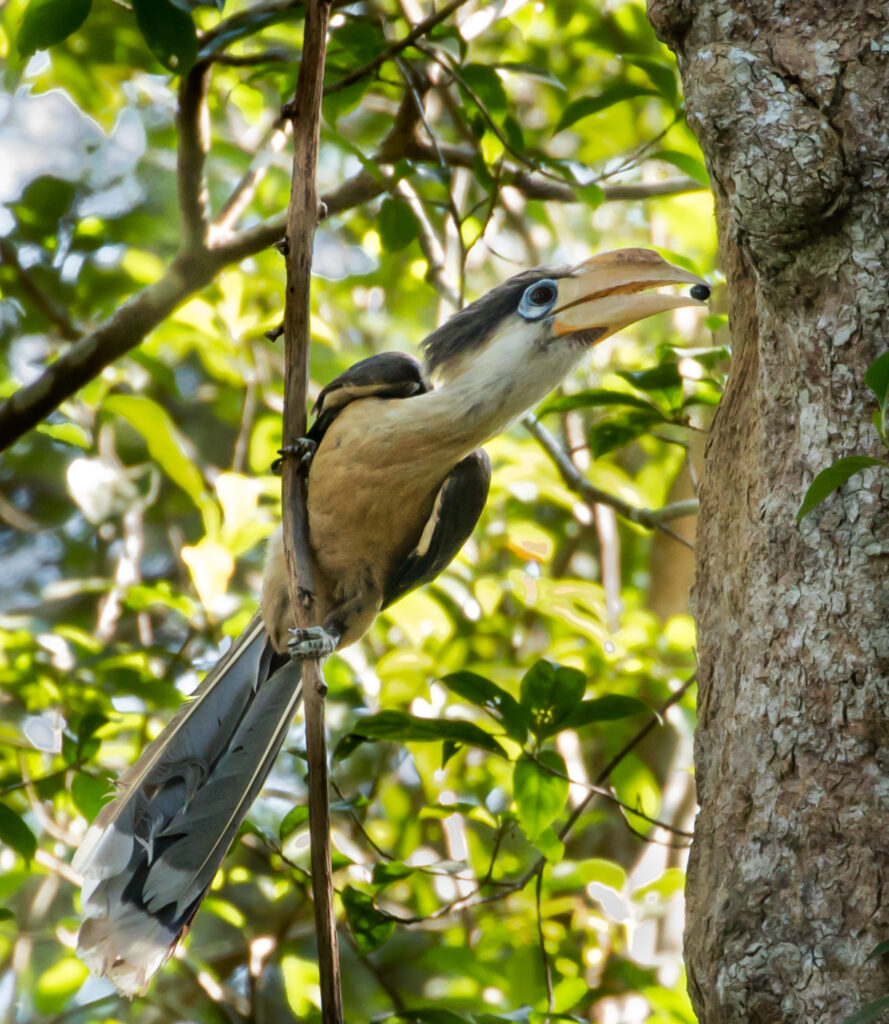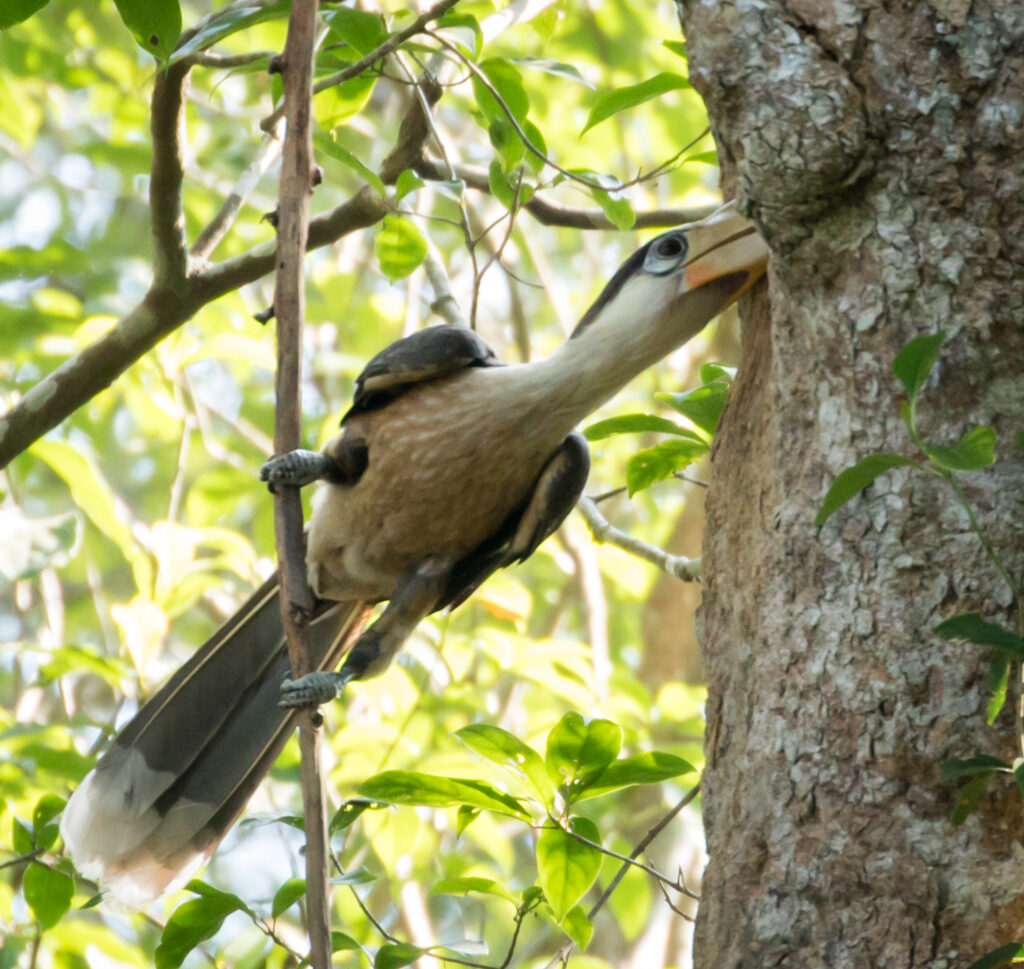 After three full days a Khao Yai National Park we were ready to move on to new locations and birds.  Our road out of Khao Yai took us to a beautiful Buddhist Temple set atop a rocky limestone cliff.  The Phra Phuttabat Noi Temple has many smaller shrines on the grounds at the base of the limestone bluff.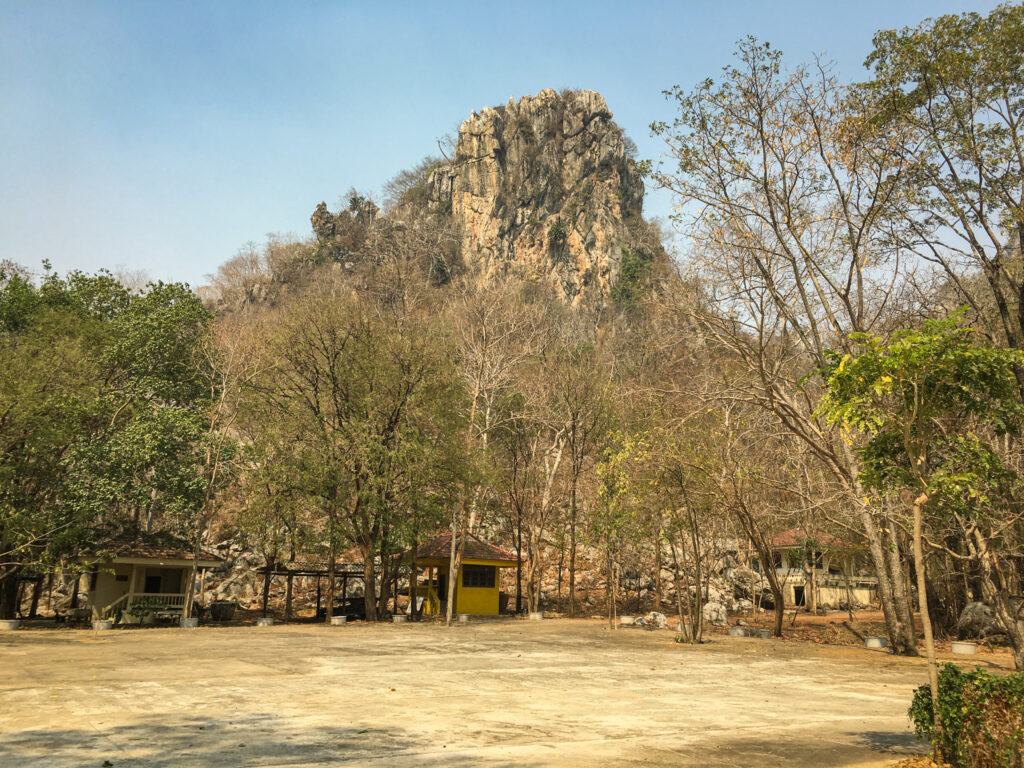 Our target bird here was a Limestone Wren-Babbler, which we found quickly near the bottom of the bluff foraging for food.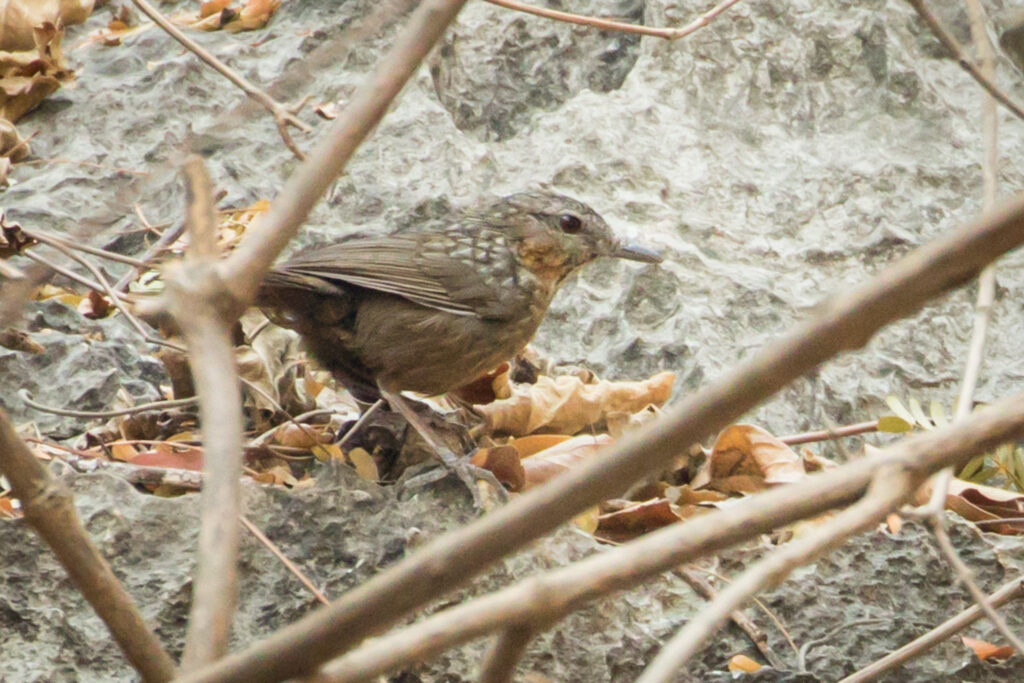 Perhaps even more interesting to me were the Crab-eating Macques walking around us.  So named because they have been seen foraging for crabs on beaches.  These monkeys are used by humans for experimentation, particularly in neuroscience (according to Wikipedia about 22,000 of them were imported to the US in 2014 for experimentation).  Here's a couple shots of them: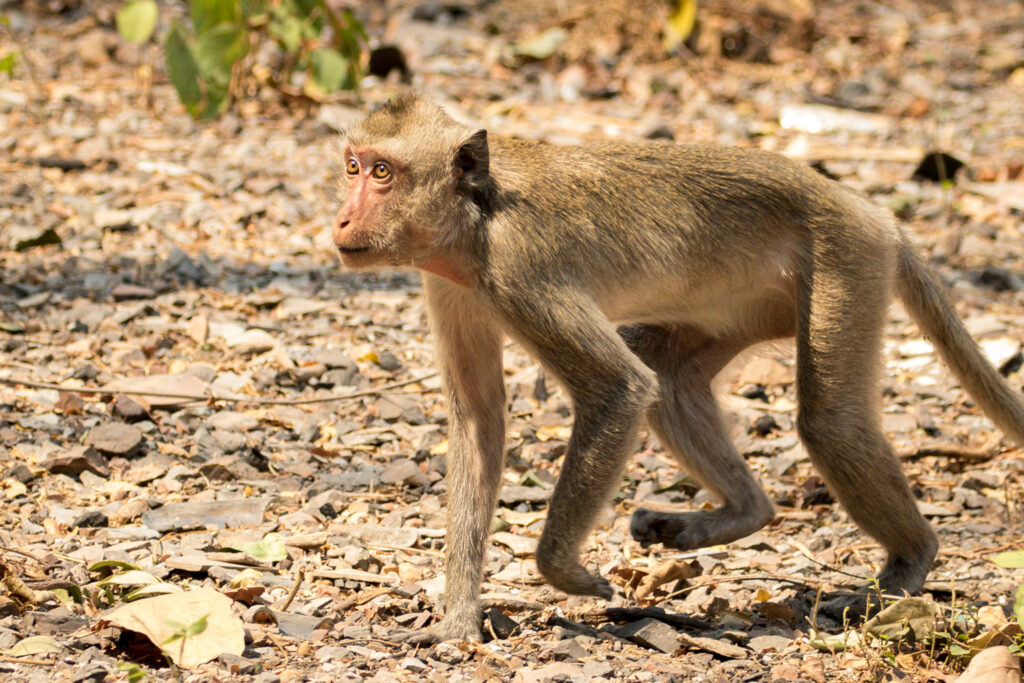 Travel Through Bangkok to Chiang Mai
We boarded the vans after this quick stop and drove to the Bangkok Airport for our quick flight up north to Chaing Mai.  I just had to have a fountain Diet Coke and found it in the airport McDonalds, where I was given a traditional Thai greeting at the door:
We took a domestic airline, Nok Air, with a chicken as its mascot (how a apropos).  I so wanted to get a picture of two tarmac employees together with Nok on their back – would have been a perfect setup for a Nok Nok joke.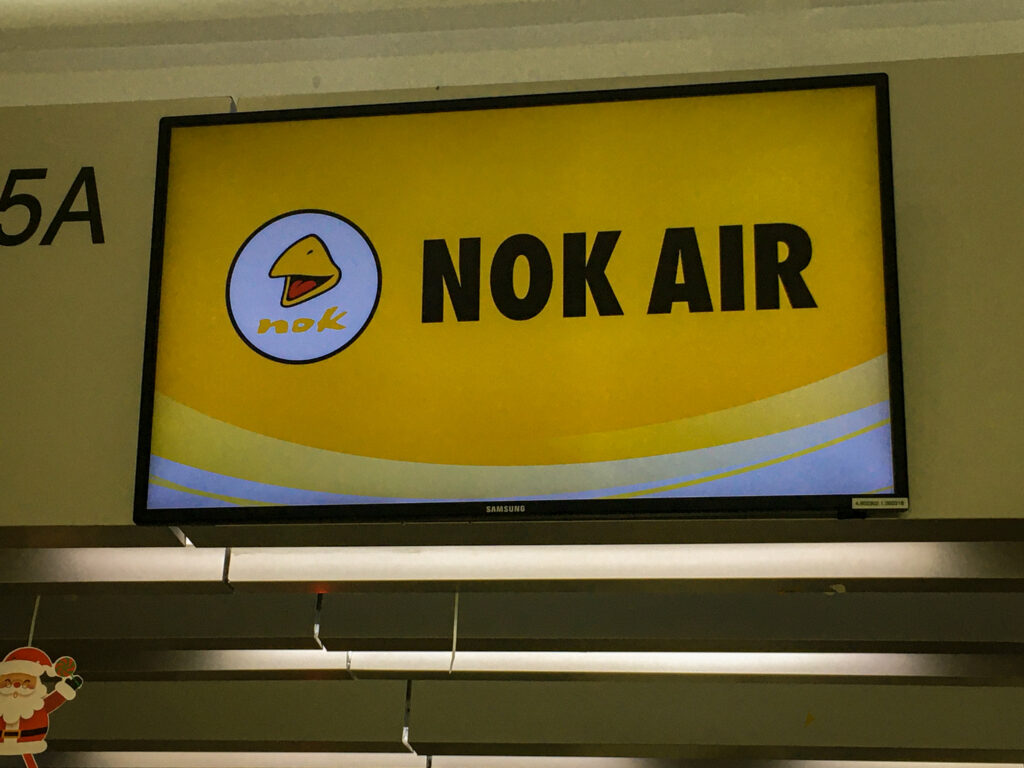 We arrived after a short flight in Chiang Mai and went straight to our hotel.  Chiang Mai was founded in 1296 and is the largest city in northern Thailand.  After checking in I walked around the lobby searching for the bar.  I came across this place but there was a private party inside: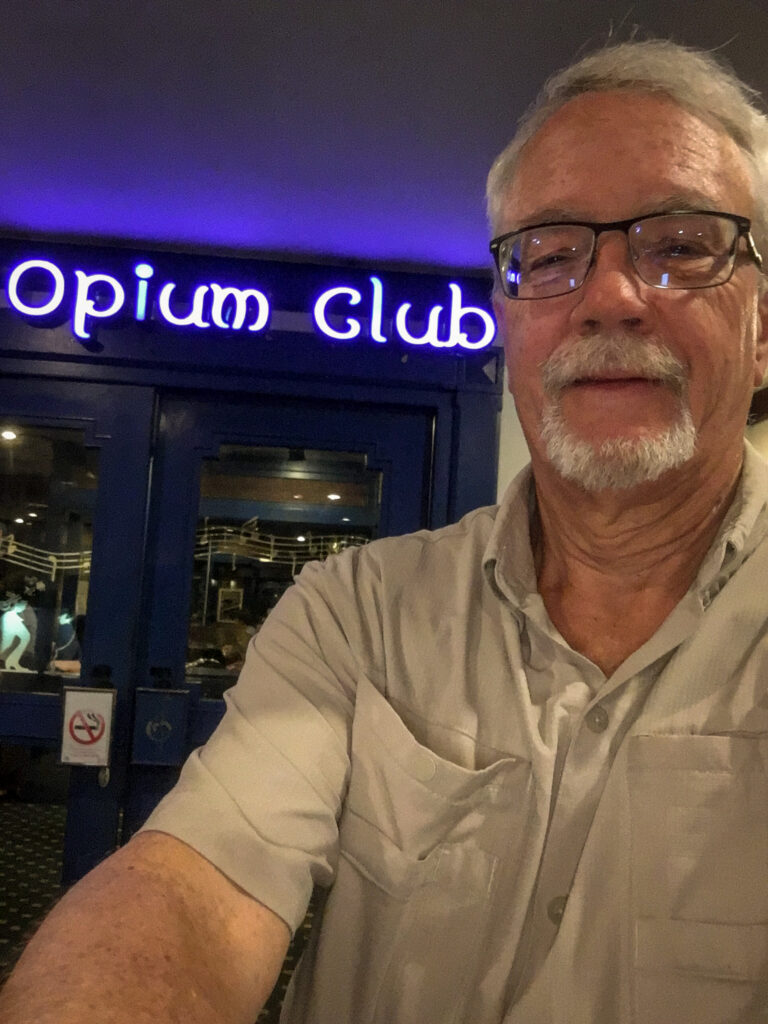 Old Chiang Mai Cultural Center
That night we had the opportunity to go to the Old Chiang Mai Cultural Center, where we watched an entertaining show of Thai dance and music.  Entering the Cultural Center we passed some ladies carving melons into beautiful pieces of art: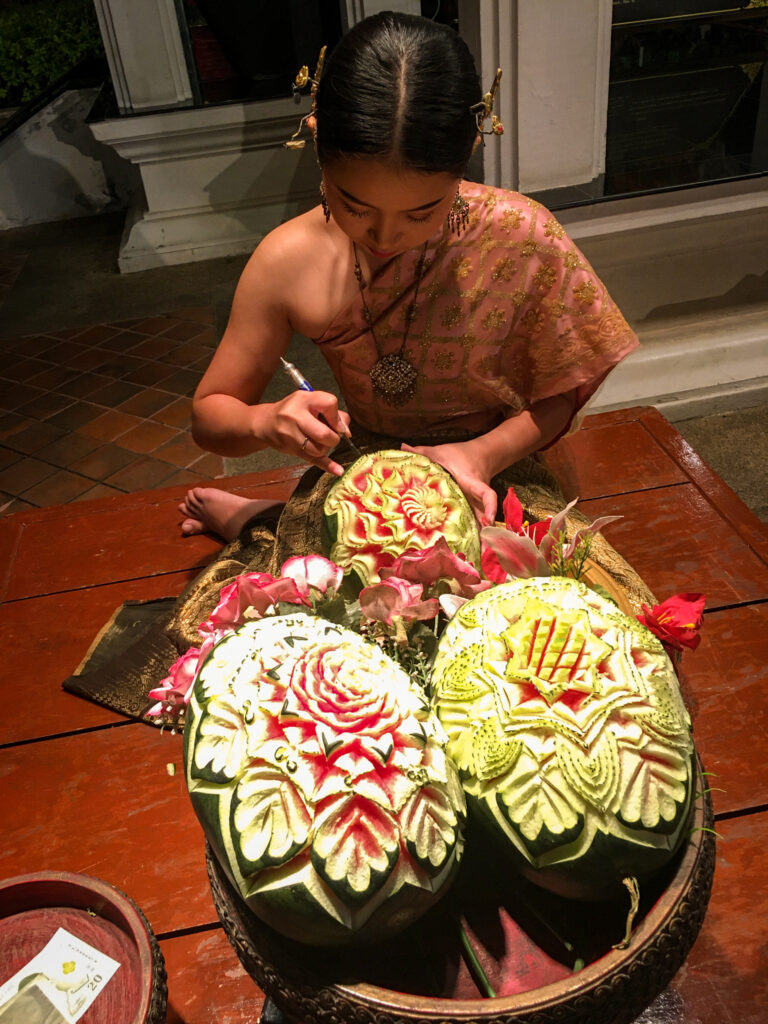 Young women dressed in traditional Thai garb went from table to table chatting with us and posing with tourists like me for another selfie:
We got to bed later than usual but still had to get up early the next day for birding near Chiang Mai, and then travel to Mae Ping National Park.  Click HERE to see Day 10 notes.
•••••••••••••••••••••••••••••••••••••••
For you overachievers here are the Ebird checklists for that portion of our trip:
https://ebird.org/checklist/S65032867
https://ebird.org/checklist/S65032871
https://ebird.org/checklist/S65033029