February 20, 2020.   Our first look at Kaeng Kracken National Park
This is Day 4.1 of a 19-day birding tour of Thailand; it was a private group arranged through Field Guides, adhering to their typical itinerary.  The pictures in this post are just some of the many Thailand pictures I've uploaded to GreatBirdPic.com.   Check out the site before you leave: see the Latest Pics uploaded by our members or read the About GPB to find out more about the site.  You are welcome to join if you enjoy bird photography.
We woke up early to the sounds of a couple of Koels calling in the distance, like roosters at sunrise.  We started to fall into our morning routine: gathering all our equipment for the day and heading down to breakfast before dawn where we were greeted by Wat, who seemed to take over the kitchen and dining room no matter where we were.  Our breakfast choices were usually eggs and bacon or rice soup.  The Thais seemed to prefer the rice soup each morning while the Americans went with the eggs.  There was always a variety of fresh fruit available, too.  Not trusting the kitchen staff to make coffee properly, Wat always made a pot for us: I'm usually not a coffee drinker but I came to enjoy Wat's coffee very much.  At home I get my morning caffeine with Diet Coke, but when I asked for a Diet Coke early on they kind of laughed and looked at me like, "Why would anyone have a Diet Coke first thing in the morning?"  I didn't ask again.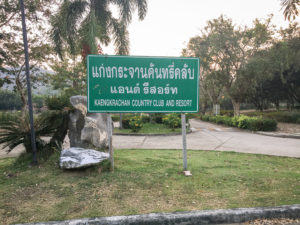 Driving through our base at Kaengkrachan Country Club we set out for Kaeng Krachan National Park, where we would birded for the next three days.  Kaeng Krachan is Thailand's largest National Park at over 1,125 sq. miles (a touch smaller than Rhode Island).  It is known for its wide variety of wildlife (mammal species such as leopards, clouded leopards, bears, stump-tailed macaques, sambar deer, barking deer, elephants, dholes, golden jackals, gaurs, serows, crab-eating mongooses and many others are found in the park).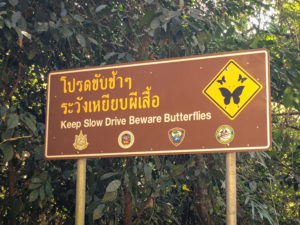 It ranks #2 in the number of bird species found in Thailand and is also a popular area for observing over 300 species of butterflies.
It was interesting to note that unlike most U.S. National Parks, Kaeng Krachan NP has limited trails though it.  In fact their website discourages people from taking a trail "…as it is easy to get lost.." so they suggest hiring a guide.
We arrived at the main gate just at opening time and made our way into the park to see what birds we could find.
Because of the lack of trails in the park we would bird right on the main roads.  The vans would pull off on the shoulder and we would walk up and down the road observing.  This morning we had parked on the side a high hill, with a steep drop-off on one shoulder and the dense forest on the other.  Bong would usually position himself about 50 yards down the road to alert oncoming cars to our presence.
We picked a good spot this morning as the trees that clung to the side of the road overhanging steep descent into valley were teeming with birds.  One of the first birds we saw was this Blue-winged Leafbird.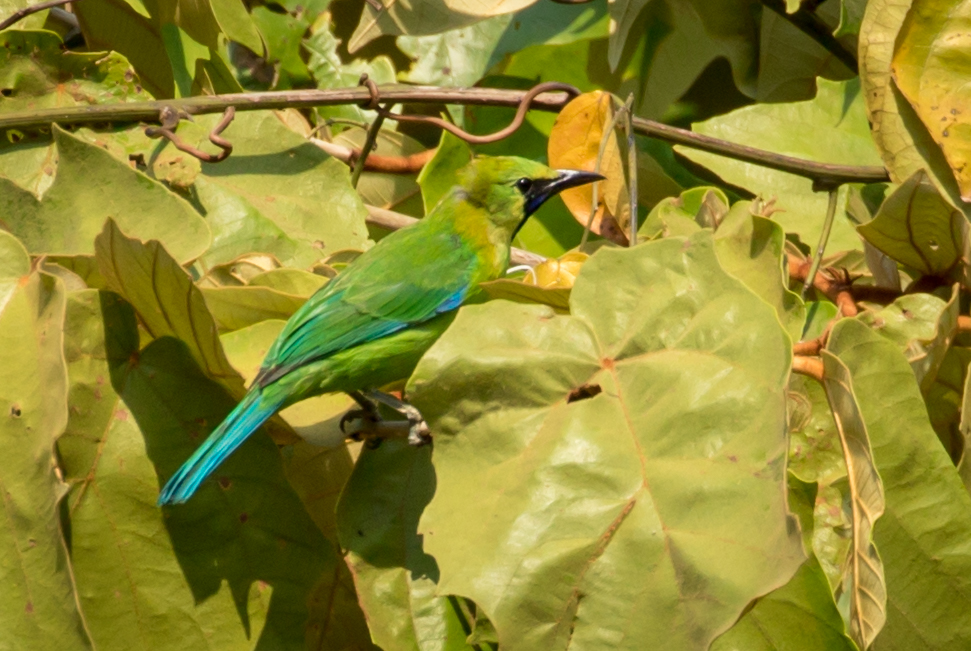 Our next sighting was of the Greater Racket-tailed Drongo.  Take a good look at its tail – two thin whisps extend down from each lob that end in a racket-shaped feather.  This was the best look at this bird during the whole trip.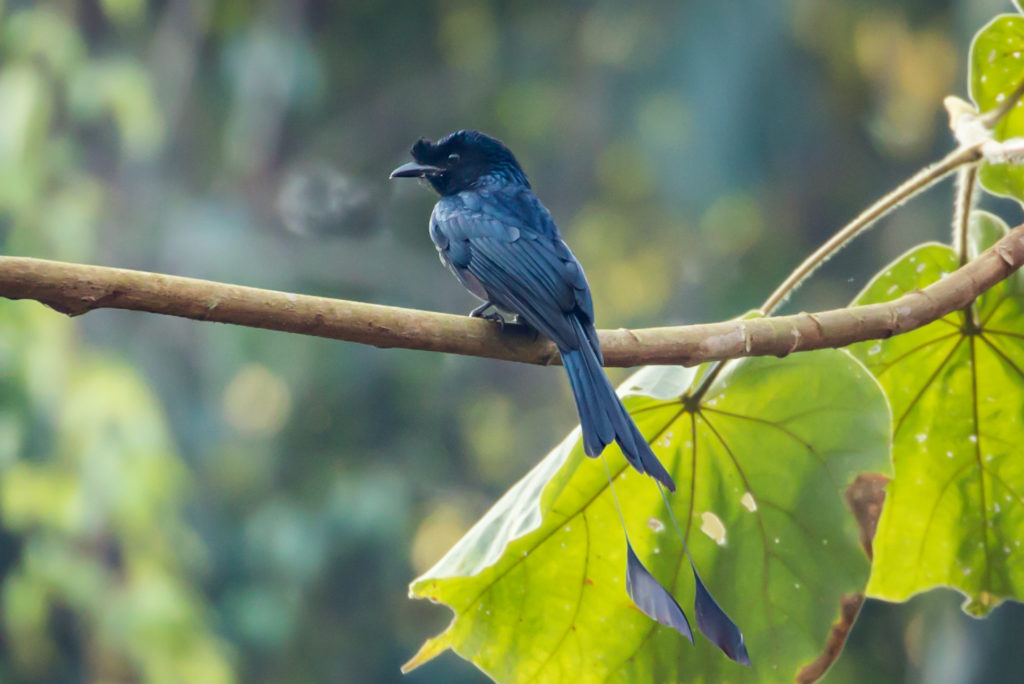 Seen next, the Crimson Sunbird.  A fact I should have known – hummingbirds only exist in the Western Hemisphere!  Sunbirds act like hummingbirds in other regions of the world.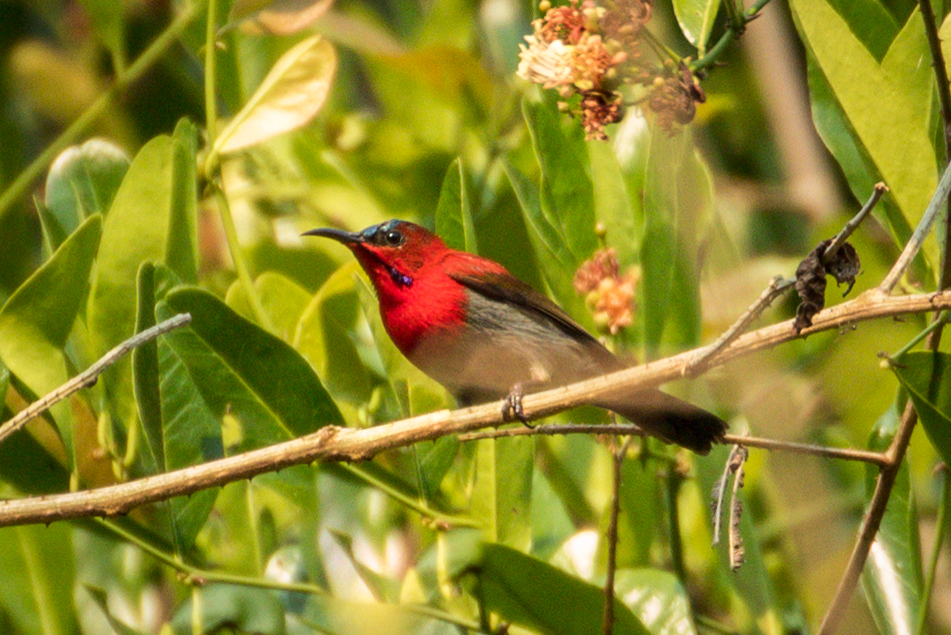 We moved down the road and our guide Dave was able to spot a Great Hornbill off in the distance.  We got a glimpse of it before it few off.  I have great memories of reading a children's book which featured a Great Hornbill to my kids when they were little.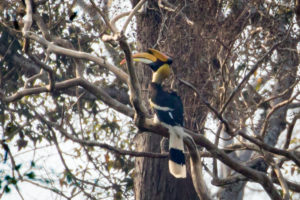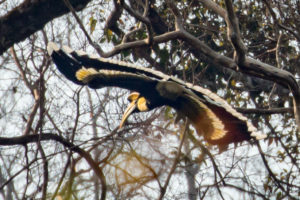 Before Long we spotted another type of hornbill – an Oriental Pied-Hornbill.  The first picture is of a male at the opening of its nest.  The next one is of a female feeding on some berries quite close to us.  Click on the pictures to read more about how to tell the difference between the male and female.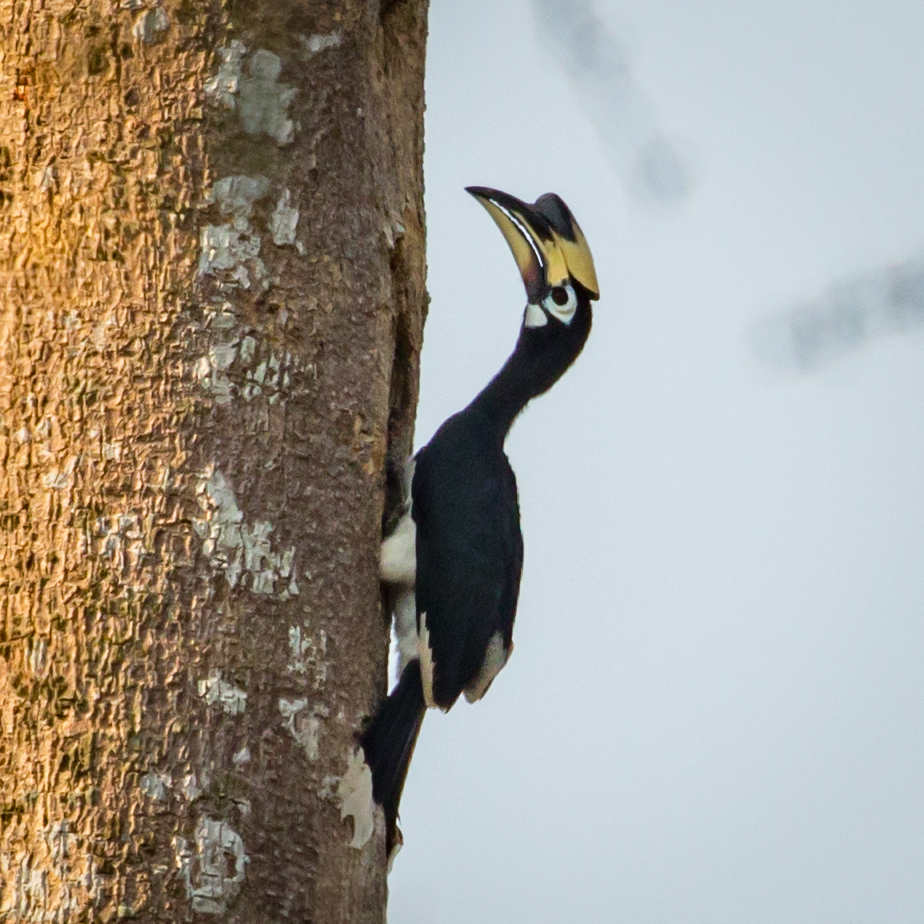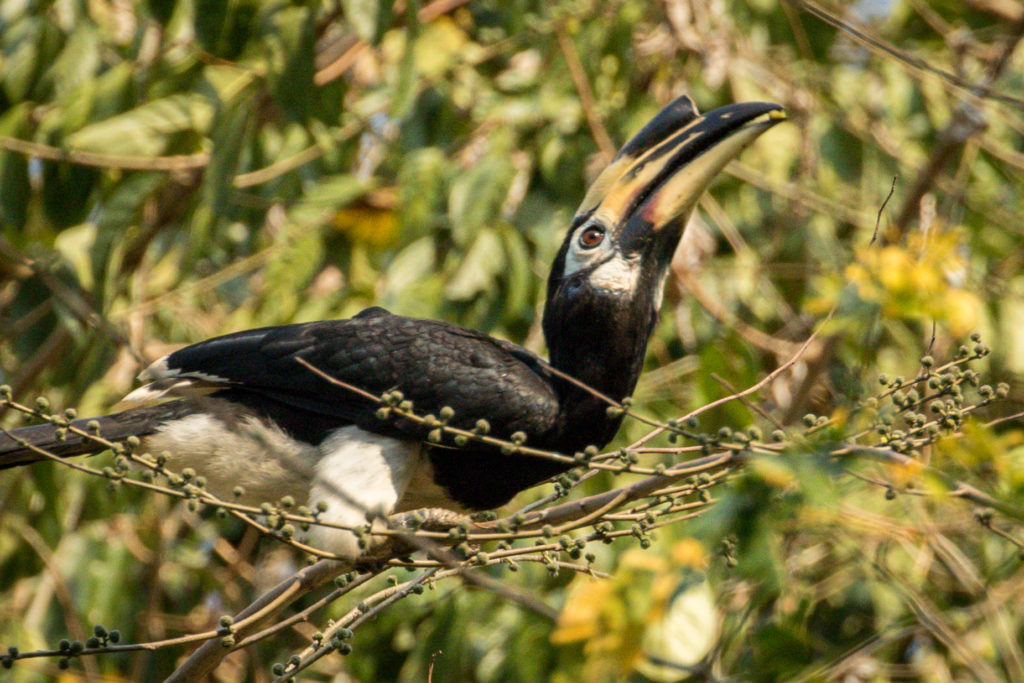 By now it was Snack Time!  Wat would pull over somewhere and set up a table and chairs and we would enjoy local foods, fresh fruits and (finally) my first Diet Coke of the day!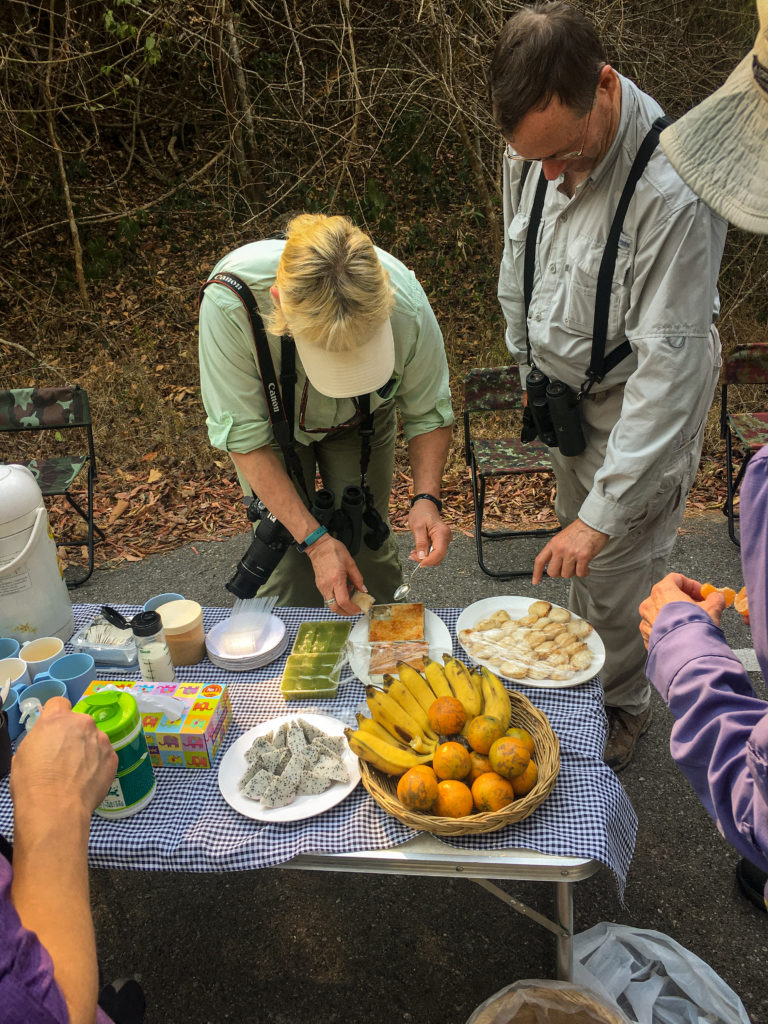 Off once again and we spotted this Crested Serpent-eagle perched nearby and then watched it fly off.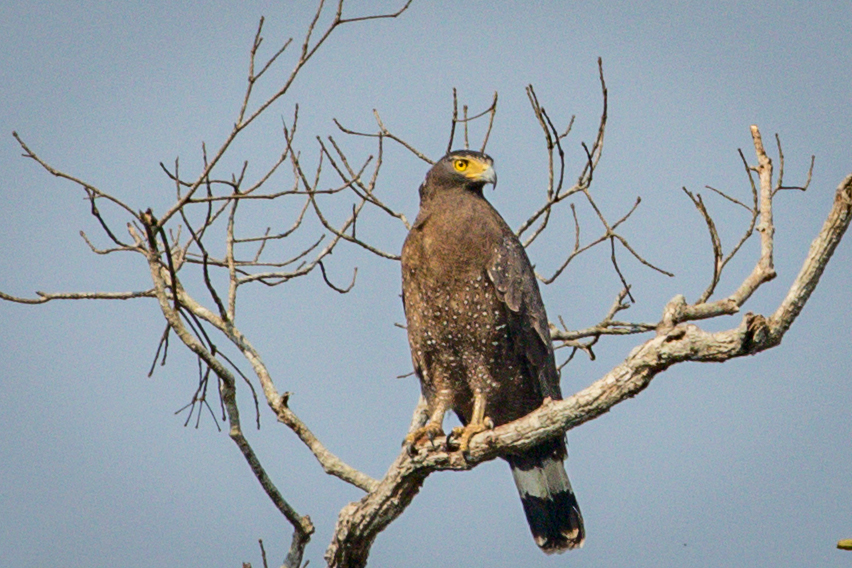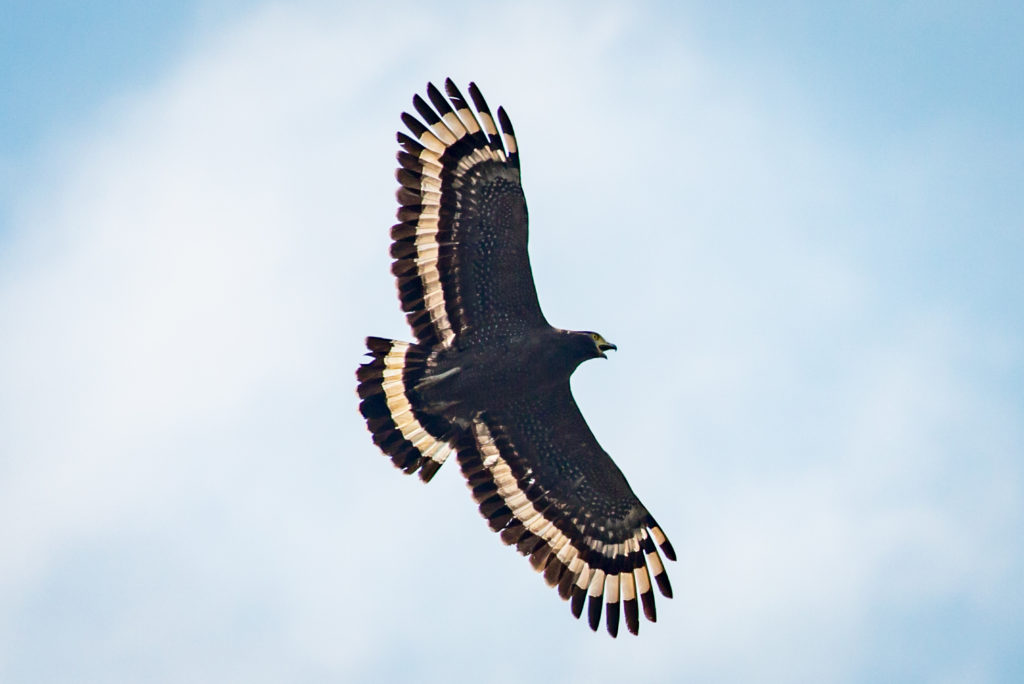 We also spotted this colorful Dark-necked Tailorbird: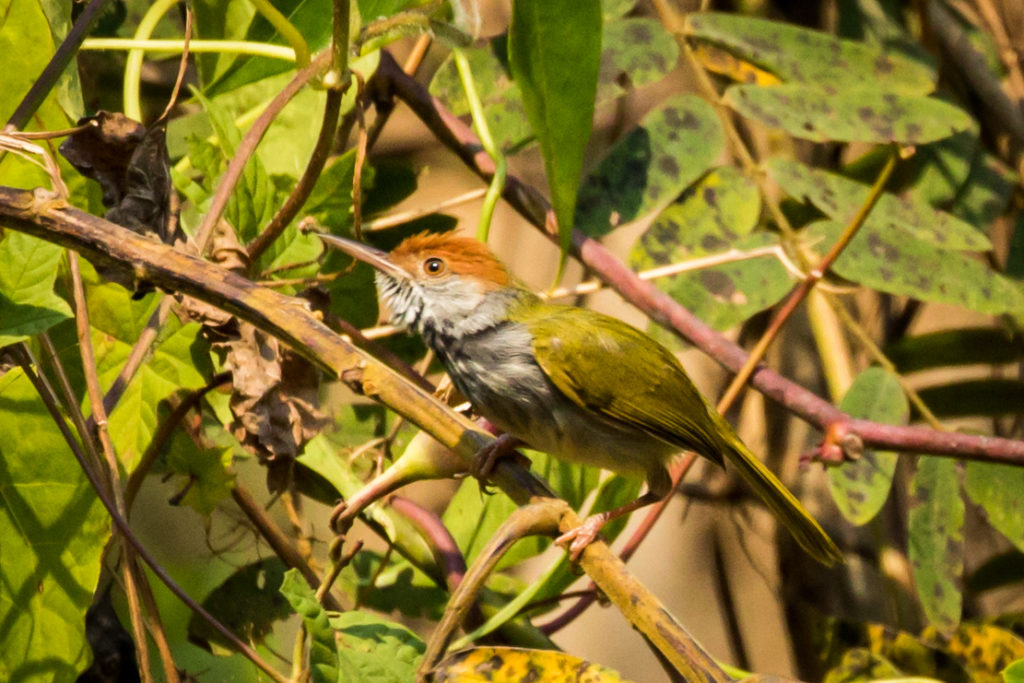 This Blue-eared Barbet had its mouth full of seeds.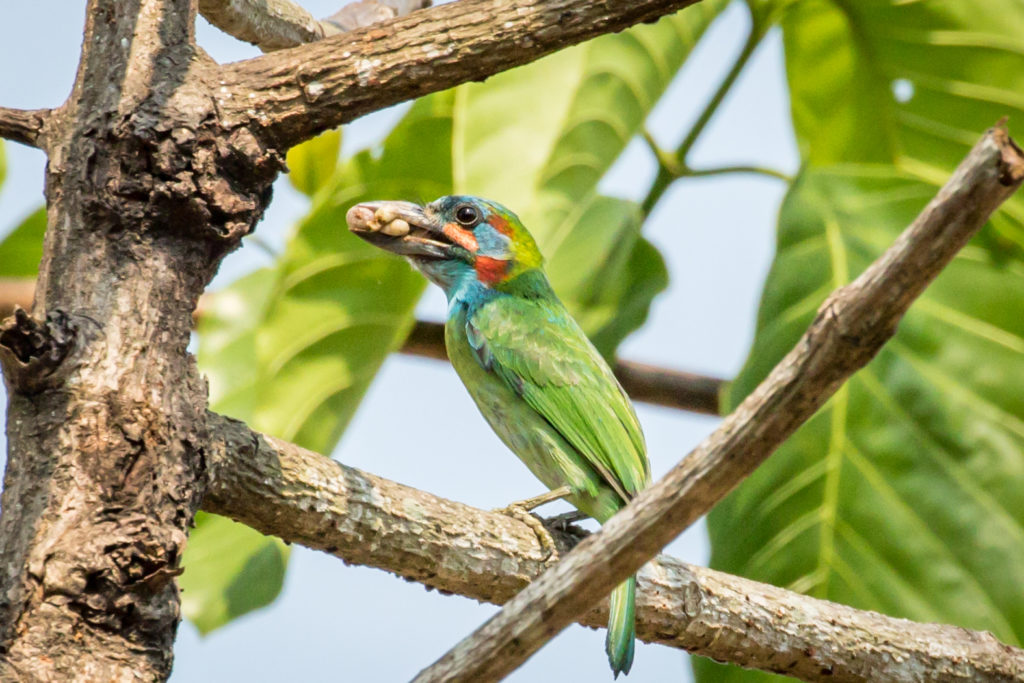 Later that morning we pulled into a camping area where Wat had begun our lunch preparations.  He always used a mask when cooking and used only the freshest ingredients.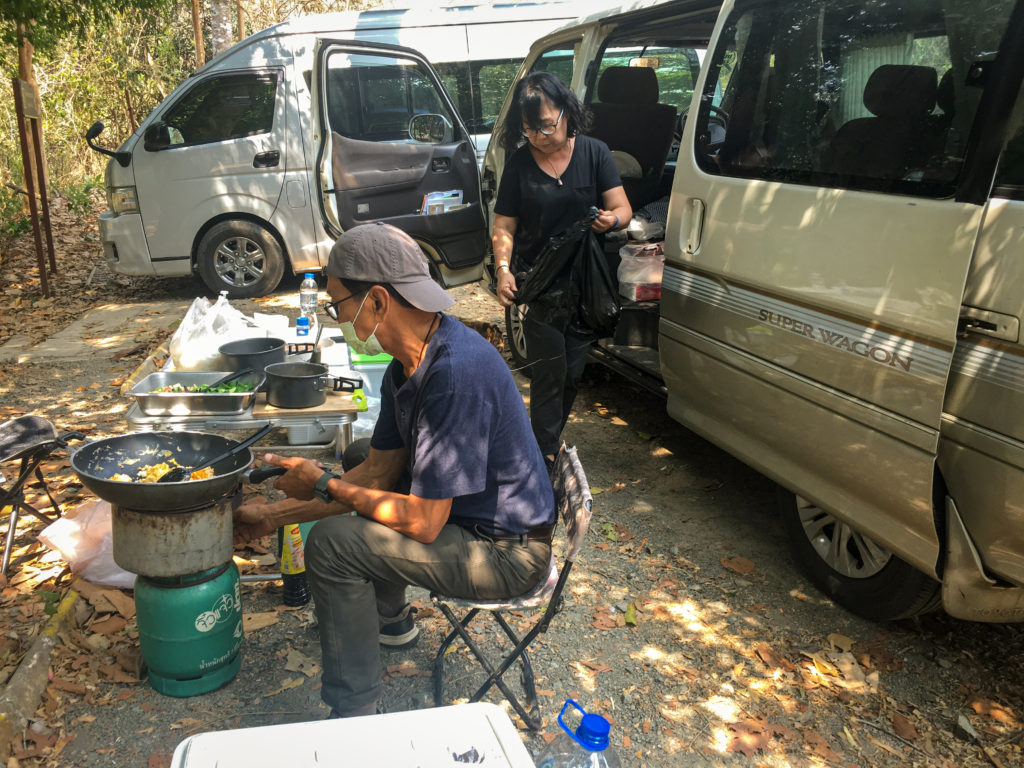 While Wat worked on lunch I wandered the campground and found this Sultan Tit bouncing around a tree limb.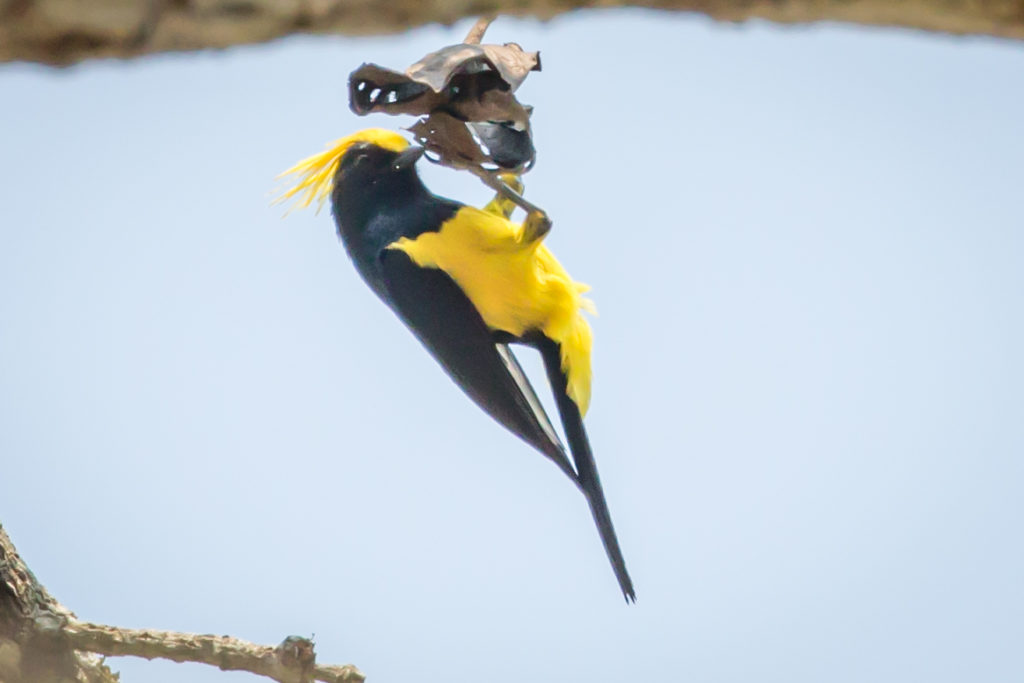 After lunch our guide Dave led us around the campgrounds and we came across some birds – and a monkey.  More about that in the next post, which can be found HERE.
••••••••••••••••••••••••••••••••••••••••••••
For you over-achievers, below are the links to the Ebird Checklists we completed at each stop.  They contain a complete list of all the birds seen and some pictures that were not displayed here.  Clicking on the name of any species will take you to its Ebird file, which includes some facts and pictures.
https://ebird.org/checklist/S64796223
https://ebird.org/checklist/S64813082