March 4, 2020    Fruit Brings Them In
This is Day 17 of a 19-day birding tour of Thailand; it was a private group arranged through Field Guides, adhering to their typical itinerary.  The pictures in this post are just some of the many Thailand pictures I've uploaded to GreatBirdPic.com.   Check out the site before you leave: see the Latest Pics uploaded by our members or read the About GPB to find out more about the site.  You are welcome to join if you enjoy bird photography.  Click the bird pics to see more information about the bird and the shot.
What a long day!  Up before dawn and birding well after sunset – I suppose I won't get much sympathy for having to endure another day of birding in Thailand.  We were back knocking on the gate of Doi Pha Hom Pok NP–Doi Lang.  The previous day we birded on the west ridge and today we were on the east ridge.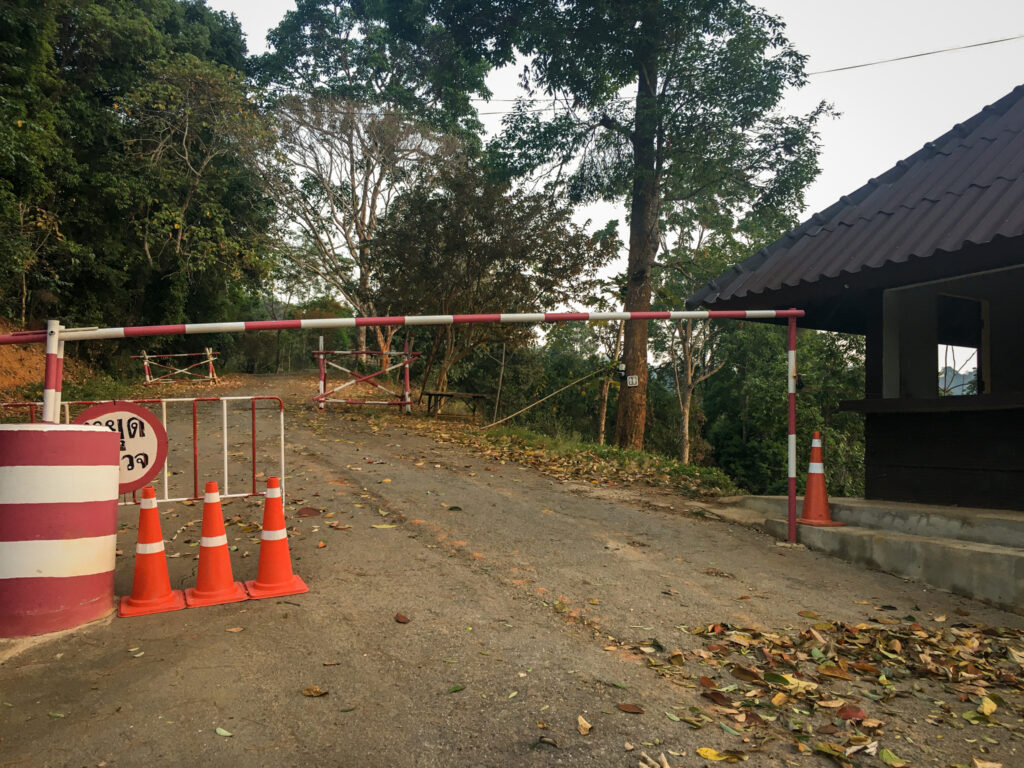 We waited patiently outside the gate until the guard arrived on his motorcycle to let us in.  Once in we traveled up the road and stopped near a small house and their pet buffalo.  Note the Great Myna sitting on the nose of the beast in the second picture: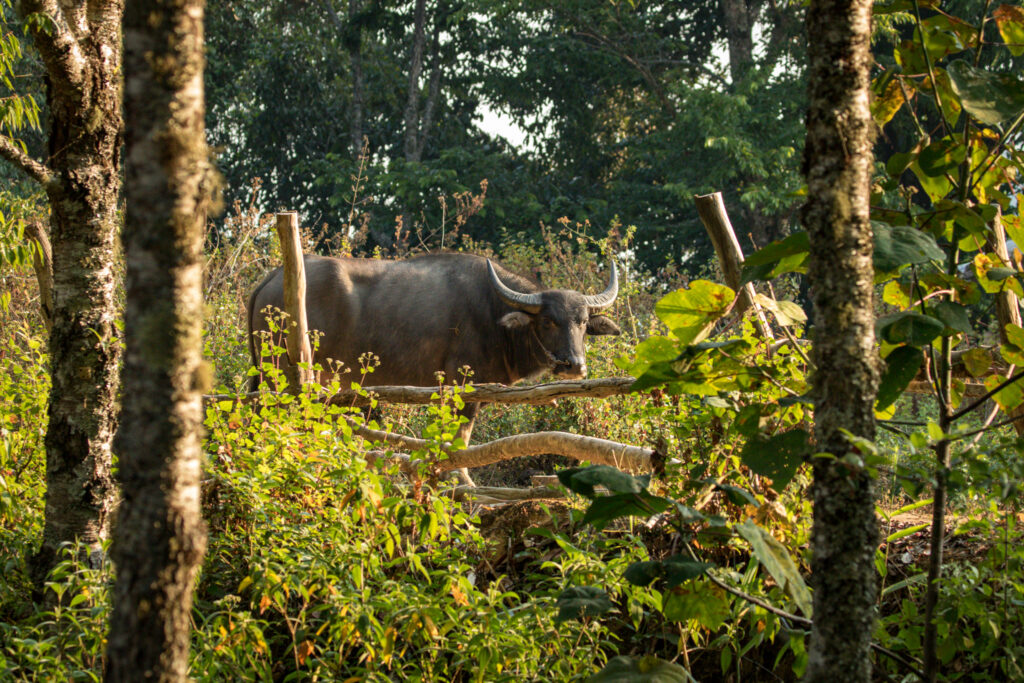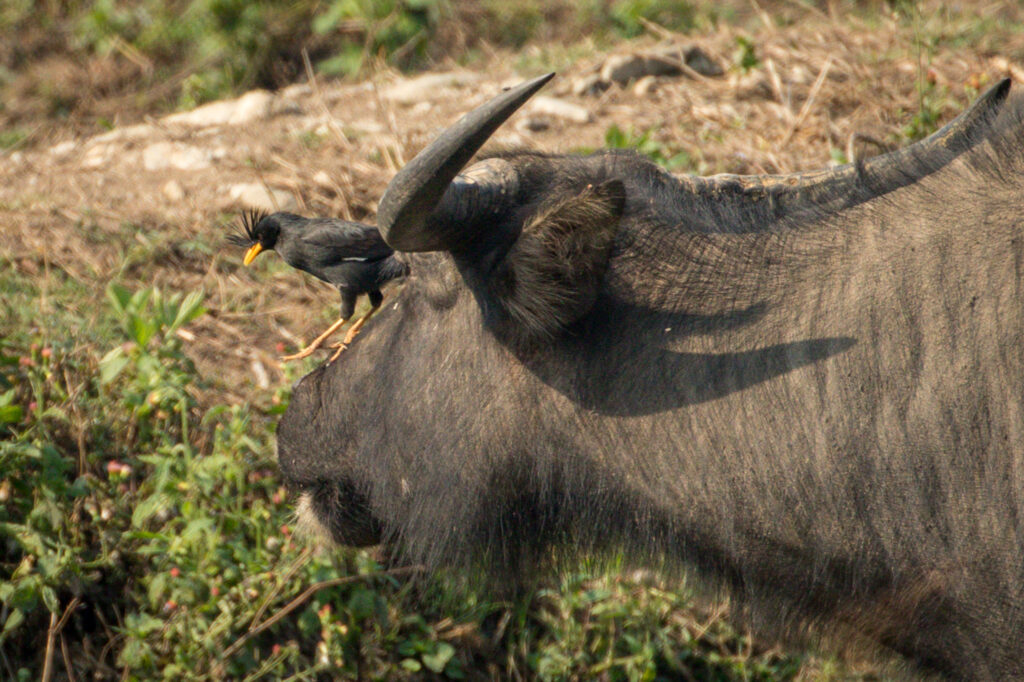 We got off to a good start for the morning with a good view of an Orange-bellied Leafbird up in the trees: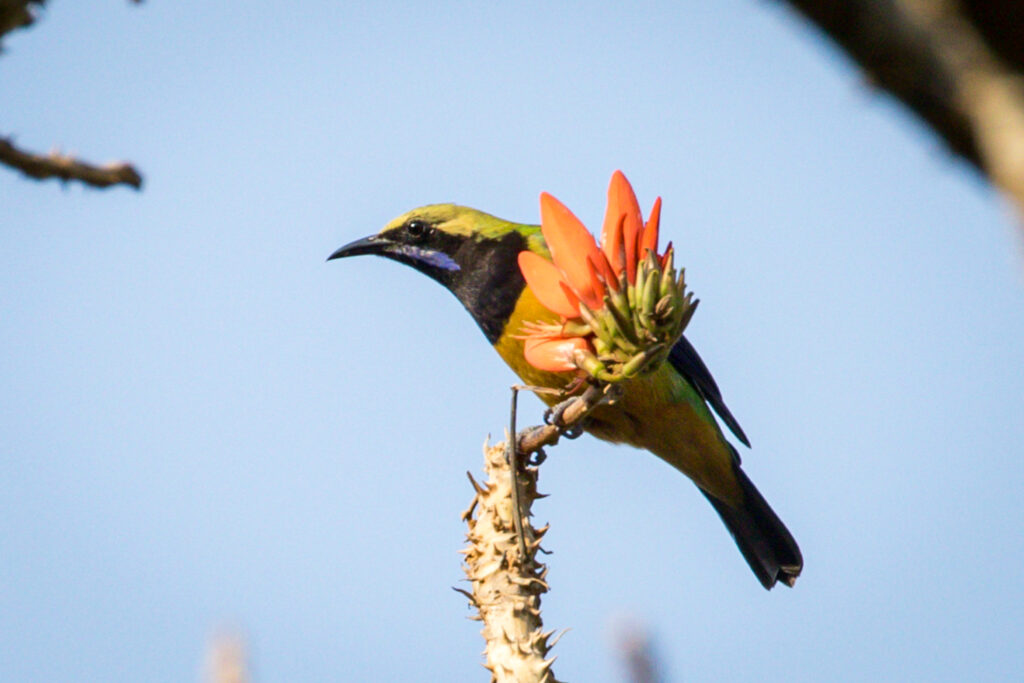 We stayed a long time in this spot because our guide Dave heard a bird he wanted us to see.  I swear he tried for 30 minutes to get this bird to show itself; I got bored and wandered about and started thinking about getting back home.  The bird never did show itself so we hopped back into the vans and took off for higher elevations.  On our way we had a good look at the ridge we were birding yesterday: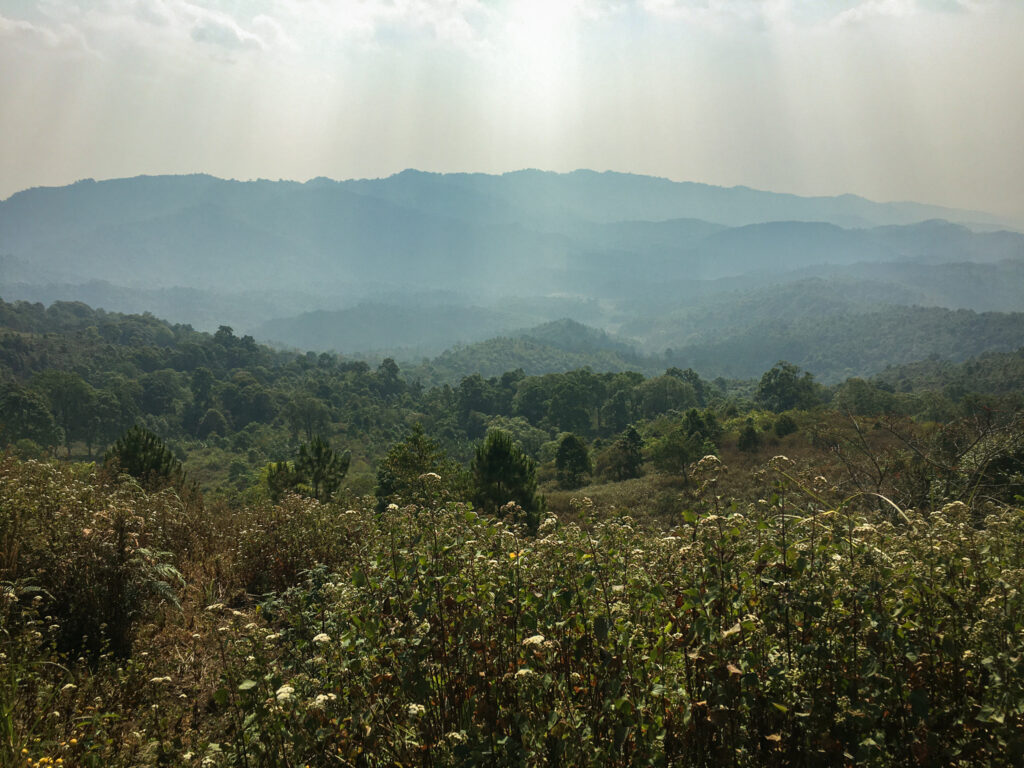 We passed through a little farming valley on the way and stopped to scan the fields.  I finally saw a Paddyfield Pipit there; our guide Dave called this species out several times during our trip and I never saw one – until today.  Not a spectacular bird but after missing so often I was glad to finally spot one.  As we stood there in the fields a Gray-faced Buzzard flew overhead.  The term "buzzard" is used in the U.S. to refer to a vulture but in many other areas (particularly those influenced by the English) a "buzzard" is a type of hawk.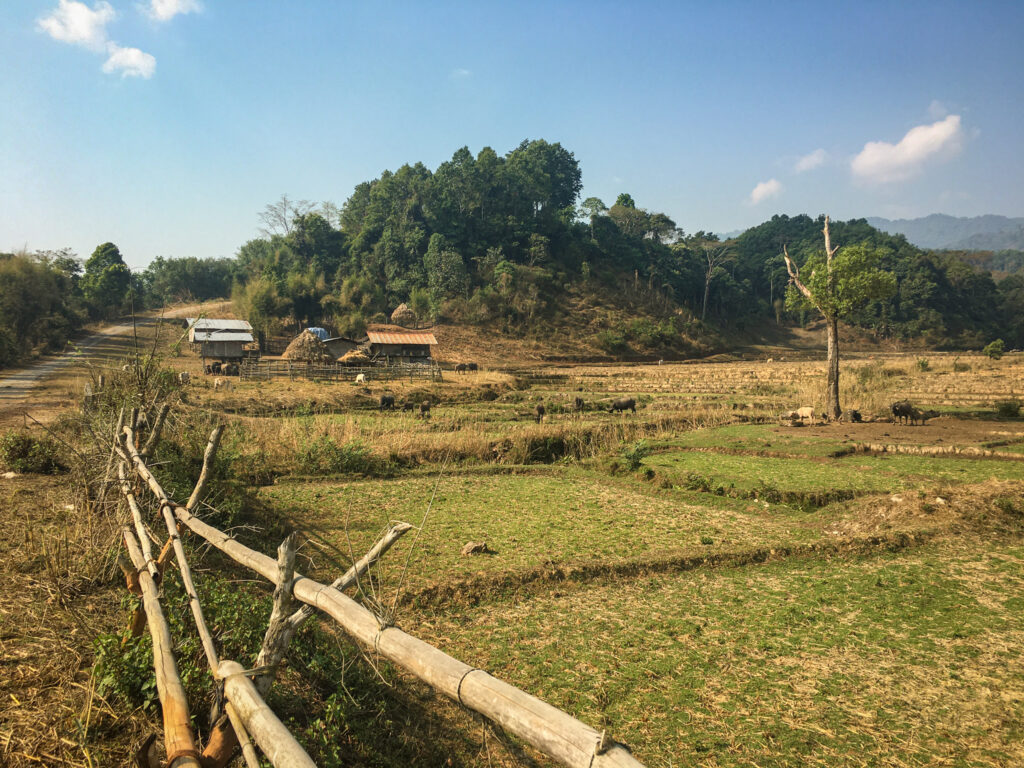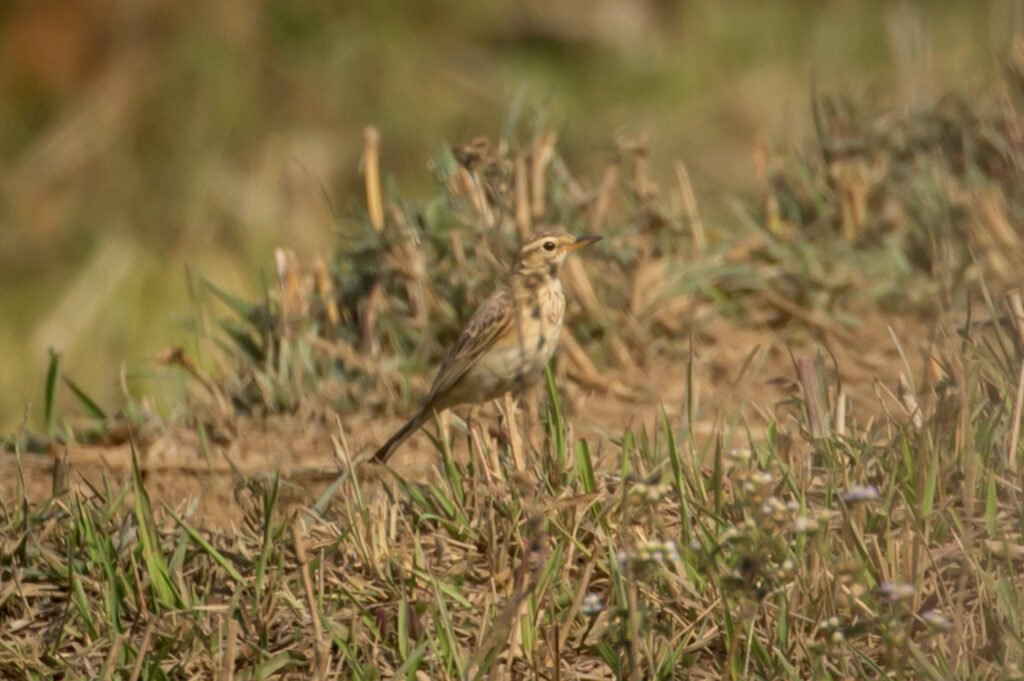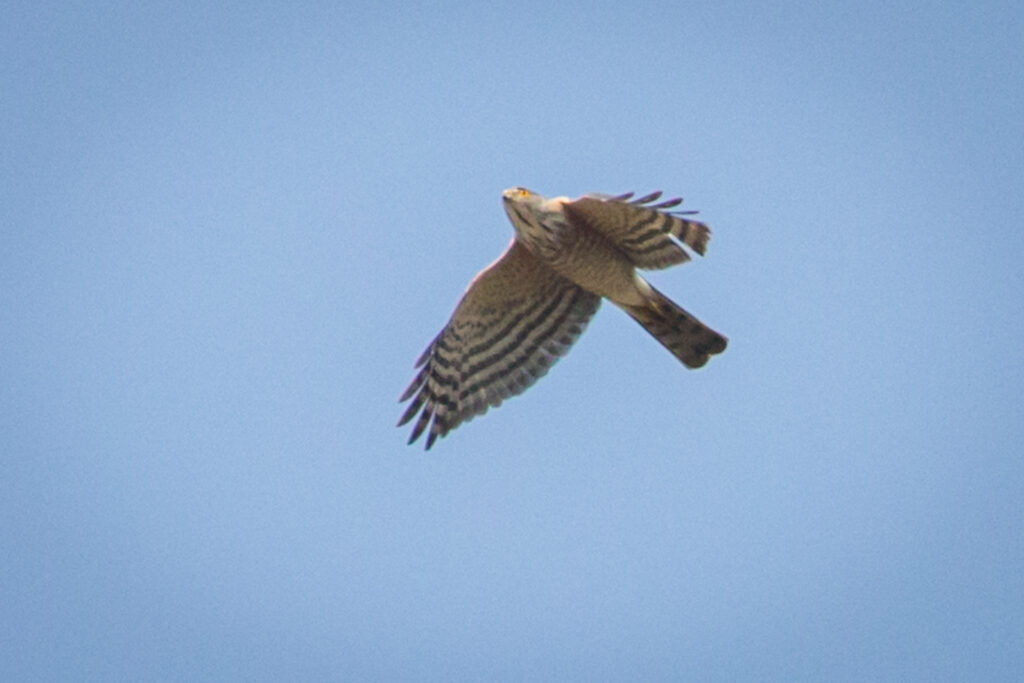 We loaded up the vans and met up with Wat and Chaing alongside the dirt road about 10AM for a break.  While we sat around enjoying a light snack (and a Diet Coke!) Chaing and Bong went around the periphery and set out fresh fruit on some logs.  This was different than our previous experiences in blinds, where we sat behind a black plastic mesh with mealworms sprinkled about on the other side.  There was no barrier between us and birds, but the birds came.  We had great looks at some of the most beautiful species we had seen yet.  First to arrive was the Black-backed Sibia, which was attracted to a banana left out for the birds: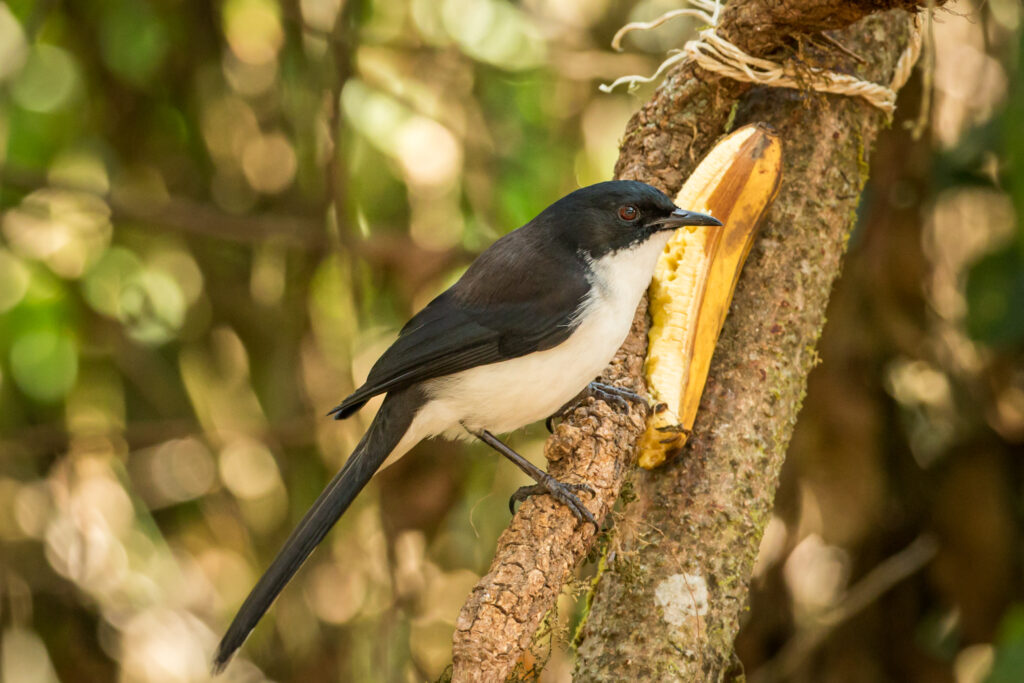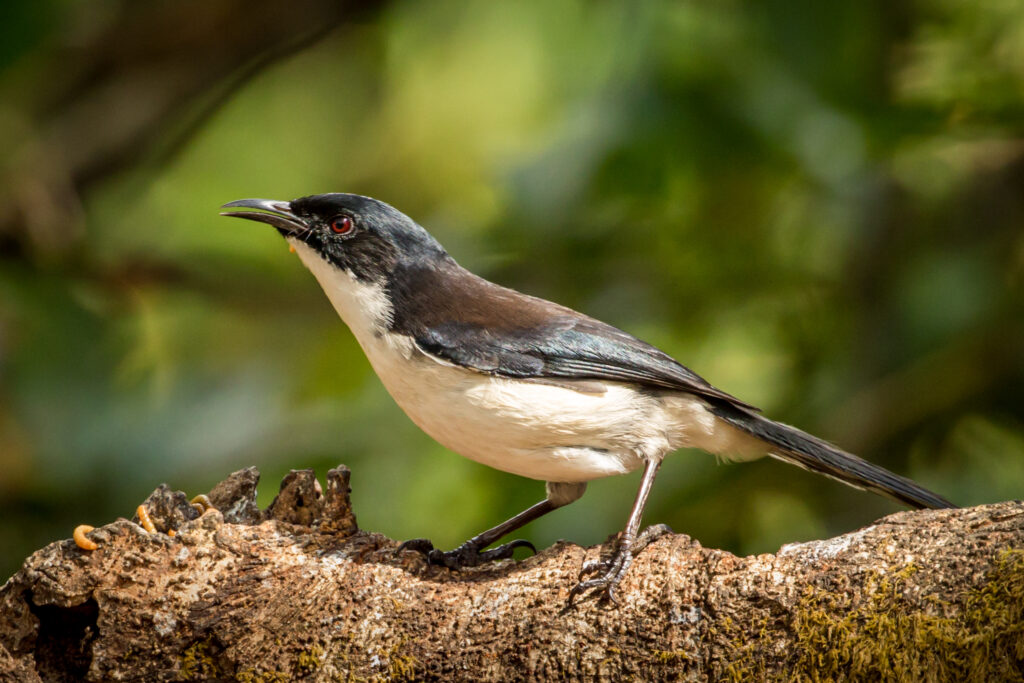 The next bird to arrive was a beautiful Large Niltava.  The rufous color of its body is set off by the striking blue collar: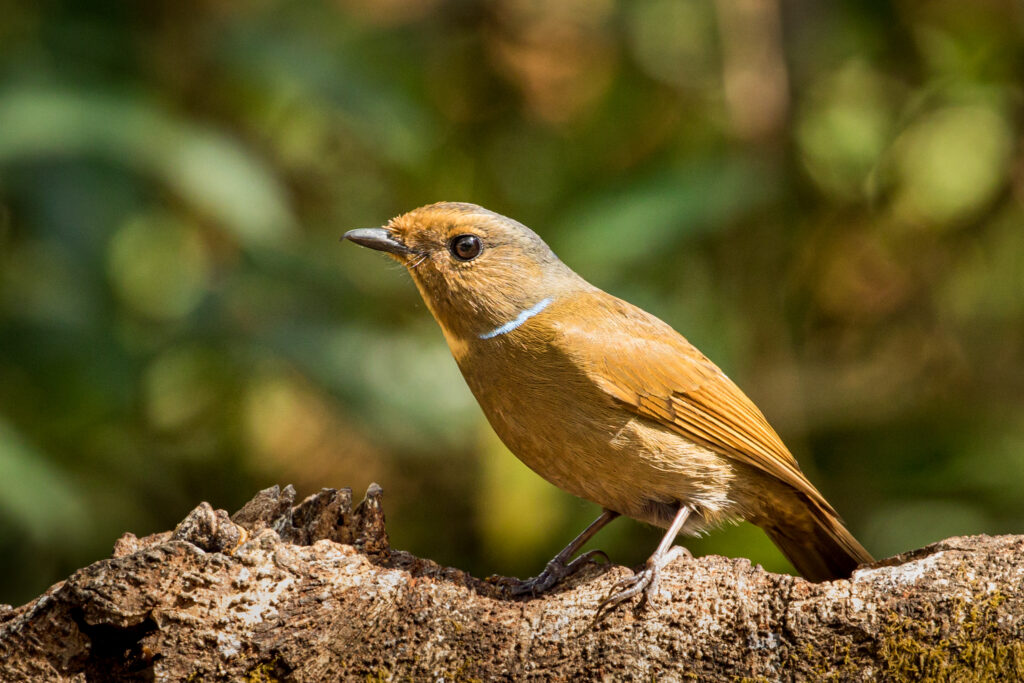 The birds kept on coming!  The Silver-eared Laughingthrush came in to enjoy the fruit.  It paid no attention to us as we "Ohh'd and Ahh'd" and clicked our cameras.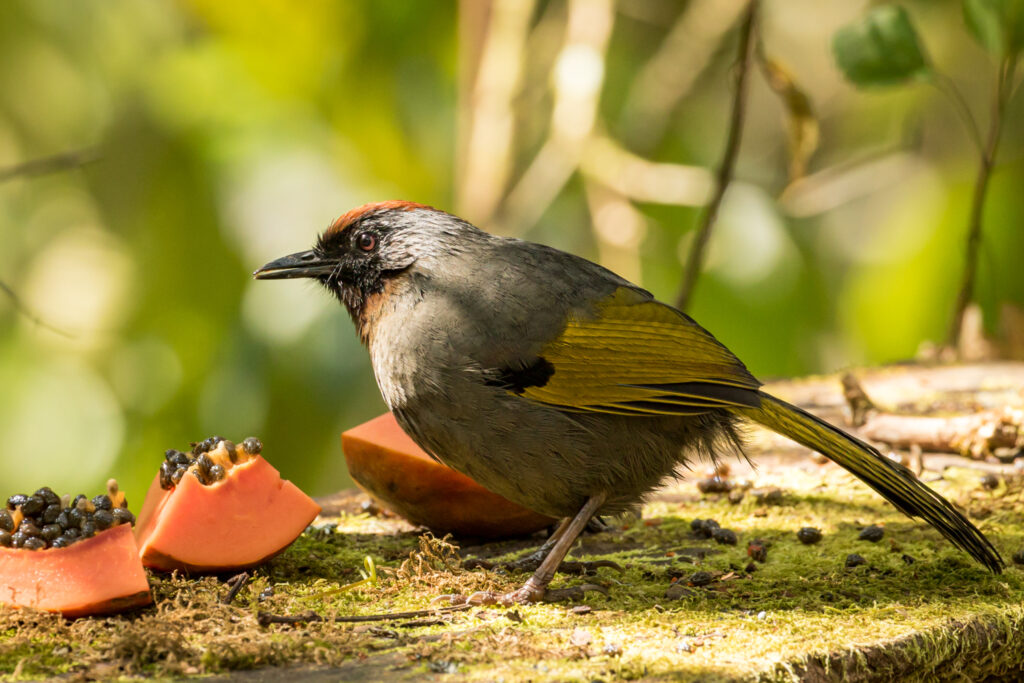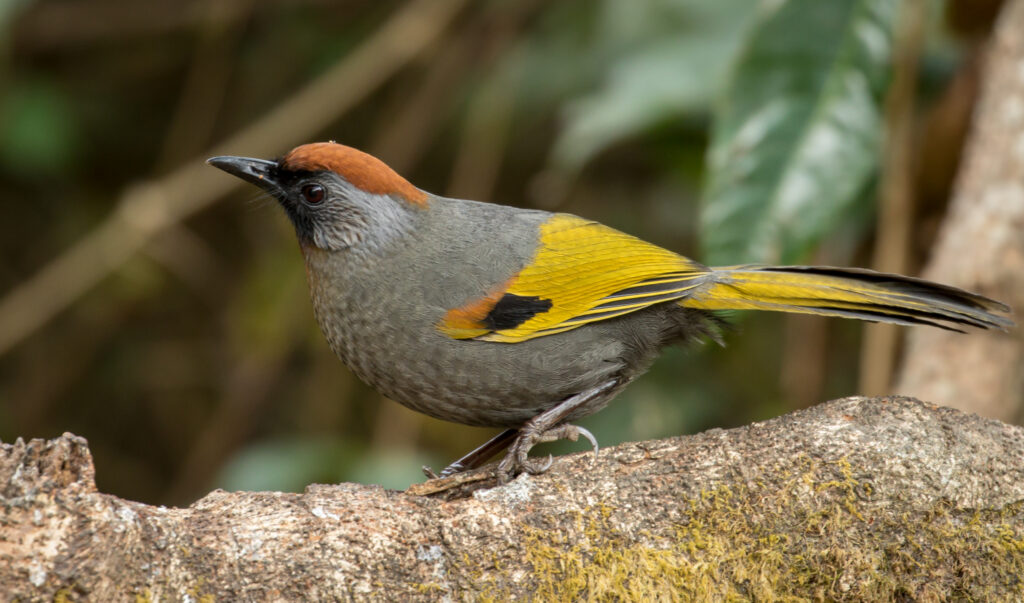 Saving the best for last, the star of the show according to everyone was the Scarlet-Faced Lilochicla.  A striking bird with bright red on its face and wings.  I couldn't get enough of this interesting bird: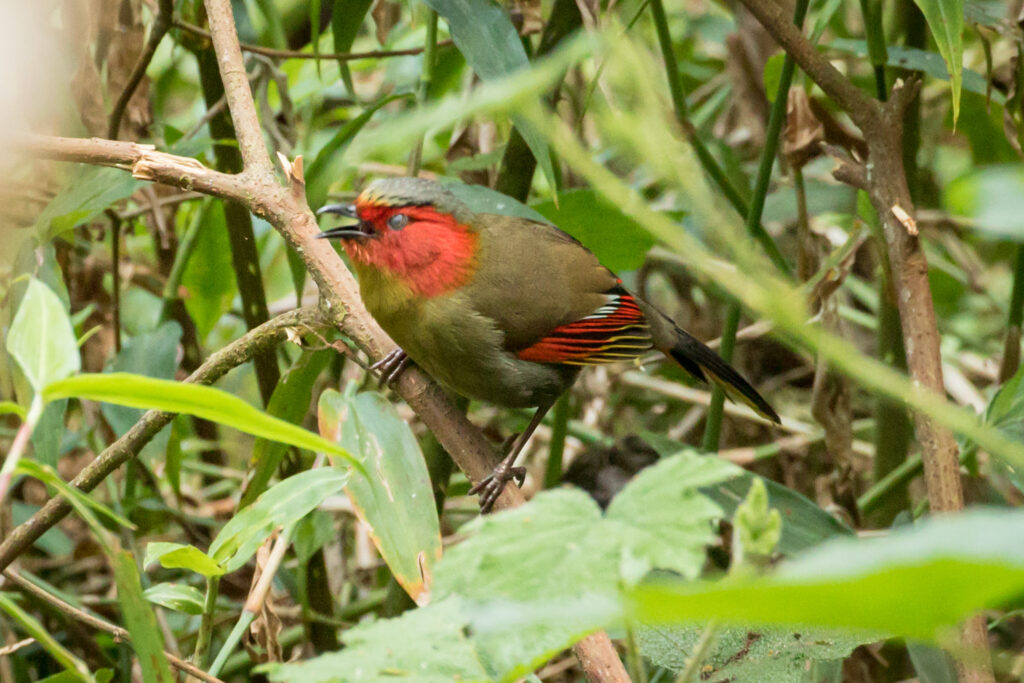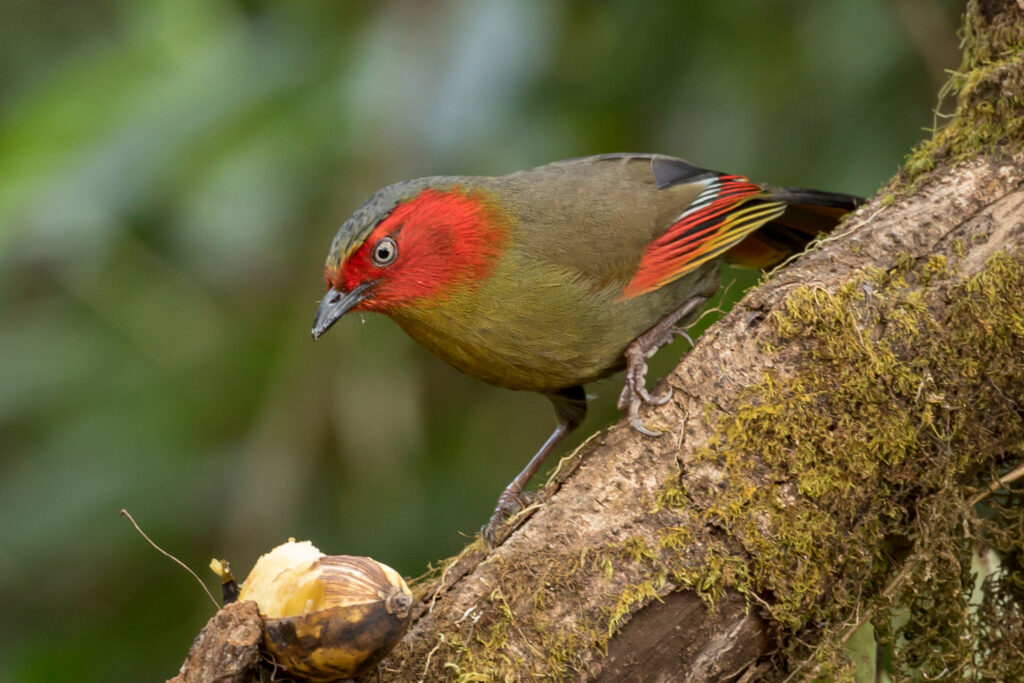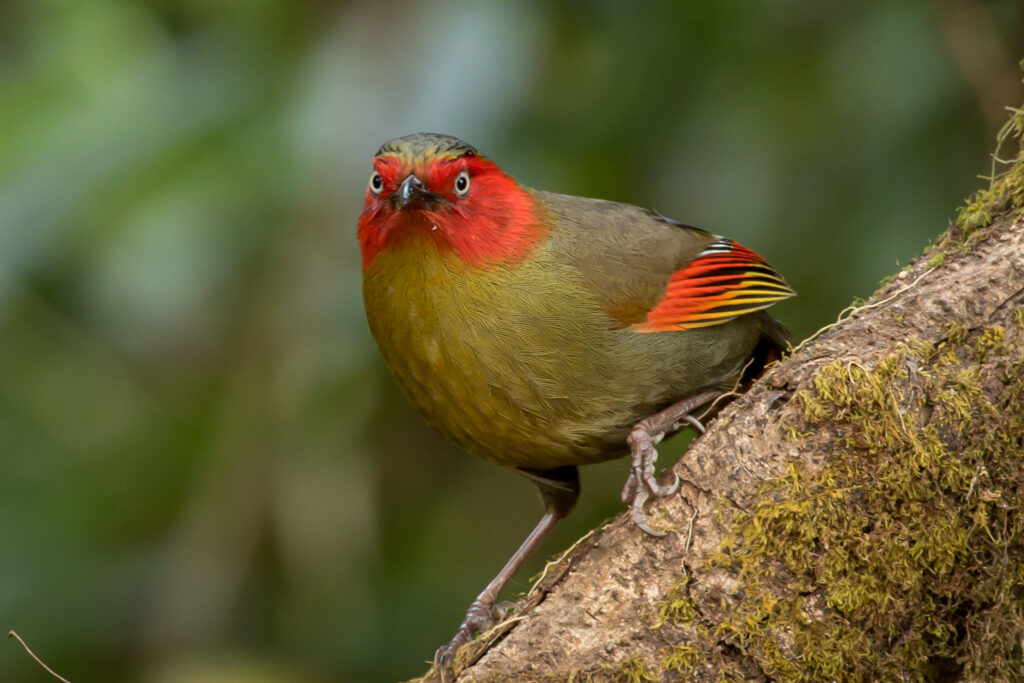 After lunch we set out walking down an old service road and did see a couple of birds but what caught my eye were the wild orchids growing the forest.  Here's a bloom just off the path: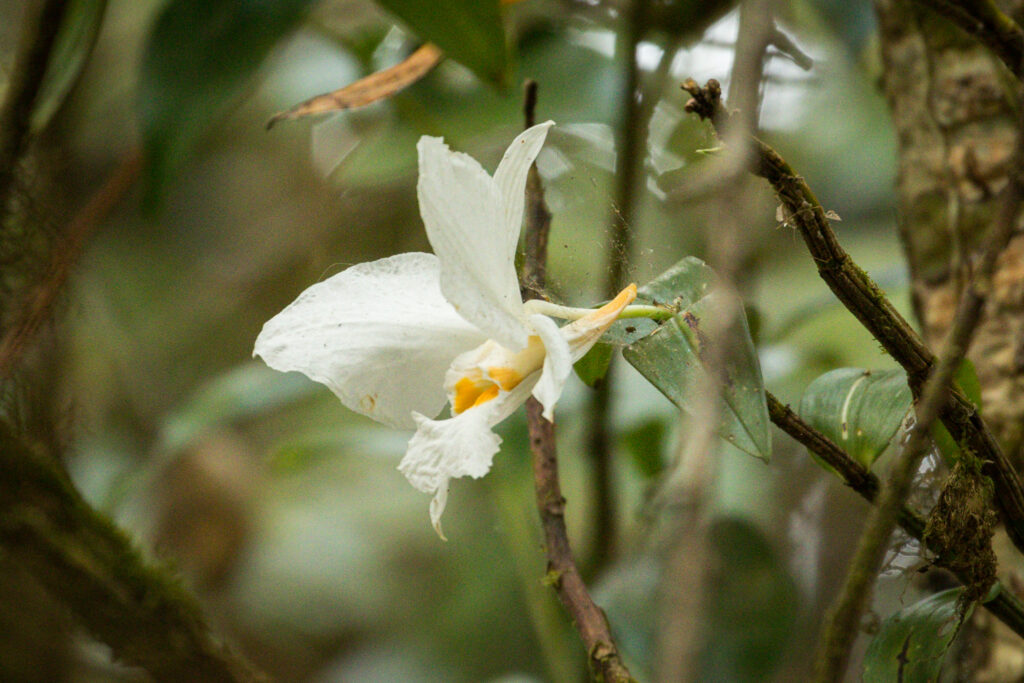 We had one more stop for the day as we headed back to our lodging.  A group of rare Sykes's Short-toed Larks had been reported out in the rice paddies just outside of the park.  When we arrived on site another birding group (on the left) was already there in search of this rarity: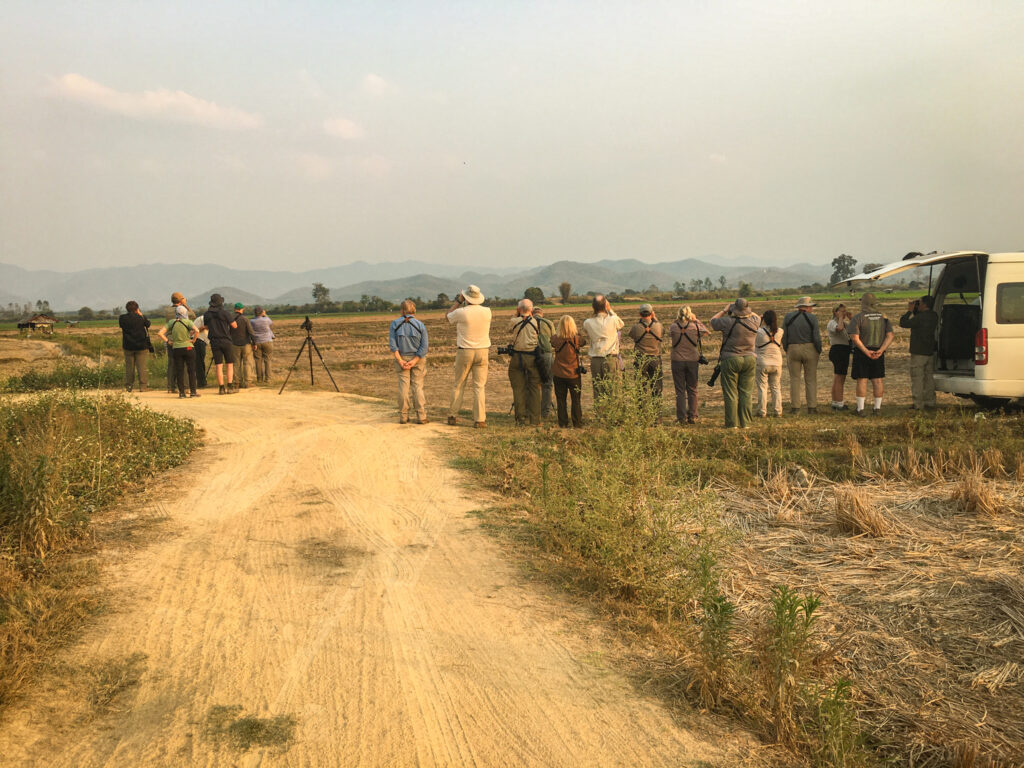 As the sun sank lower in the paddies we did see some other birds foraging on the ground, including an Oriental Pratincole and a Red-throated Pipit: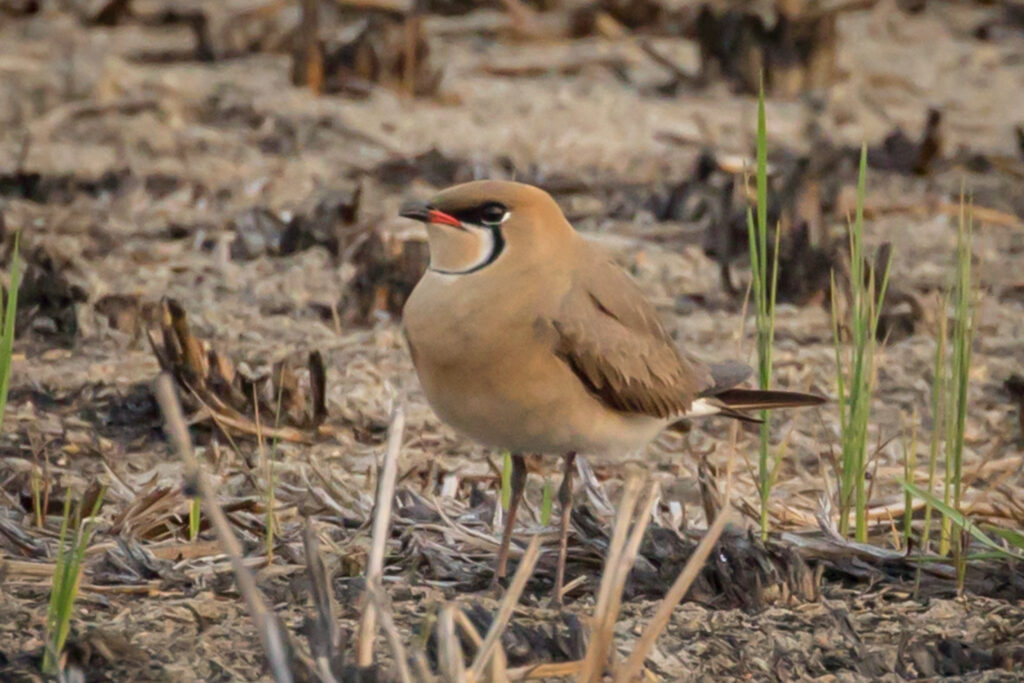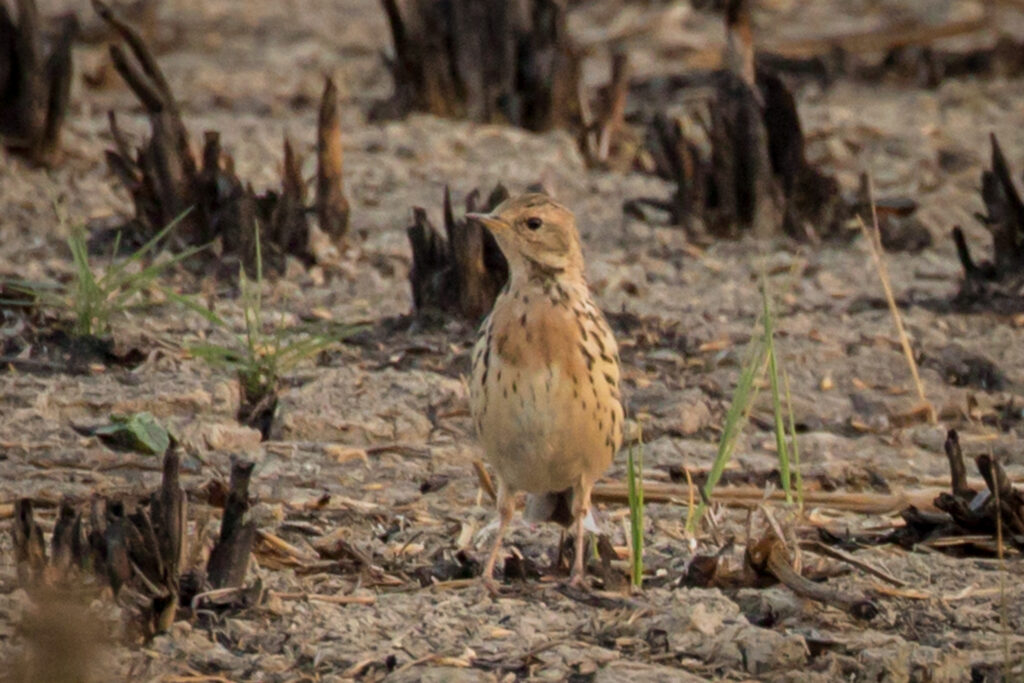 The sun continued to descend and the other group gave up looking for the Lark, but we persevered on.  Every bit of the area was scanned using binoculars and scopes.  Below, my roommate Joe takes his turn: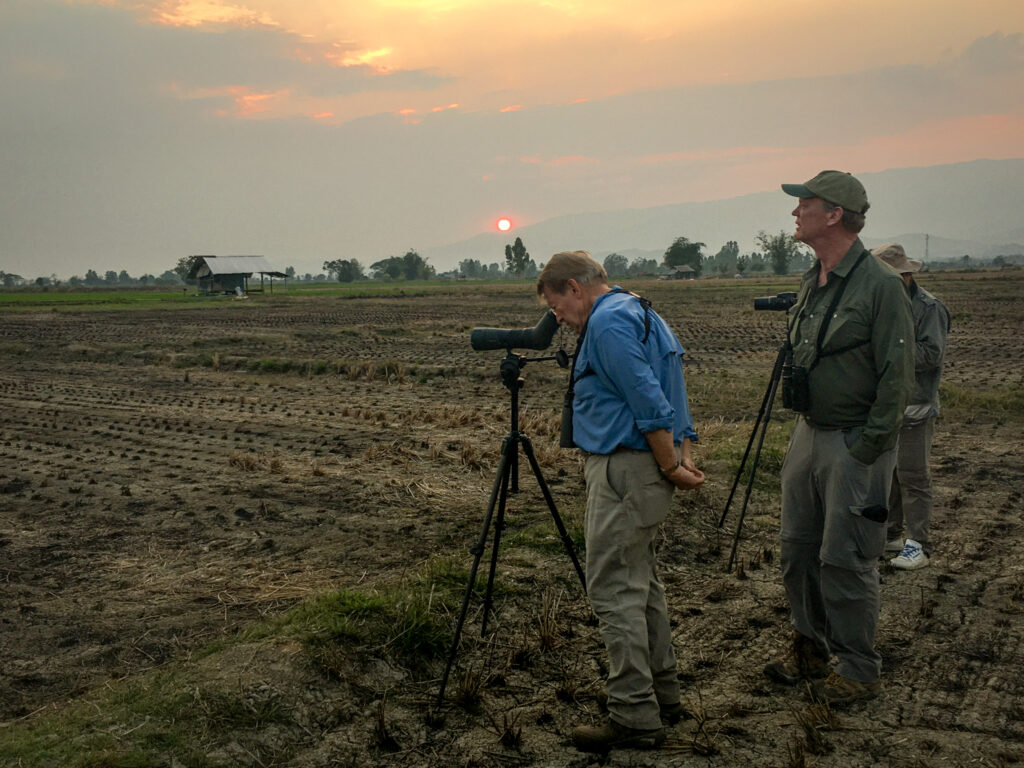 Finally we spotted a small flock (8) of Sykes's Short-toed Lark!  They were so far off that we could only see them with a scope and, not wanting to scare them off, did not approach them.  No photos of this rare bird to share.  As the sun set we climbed back into our vans and headed home.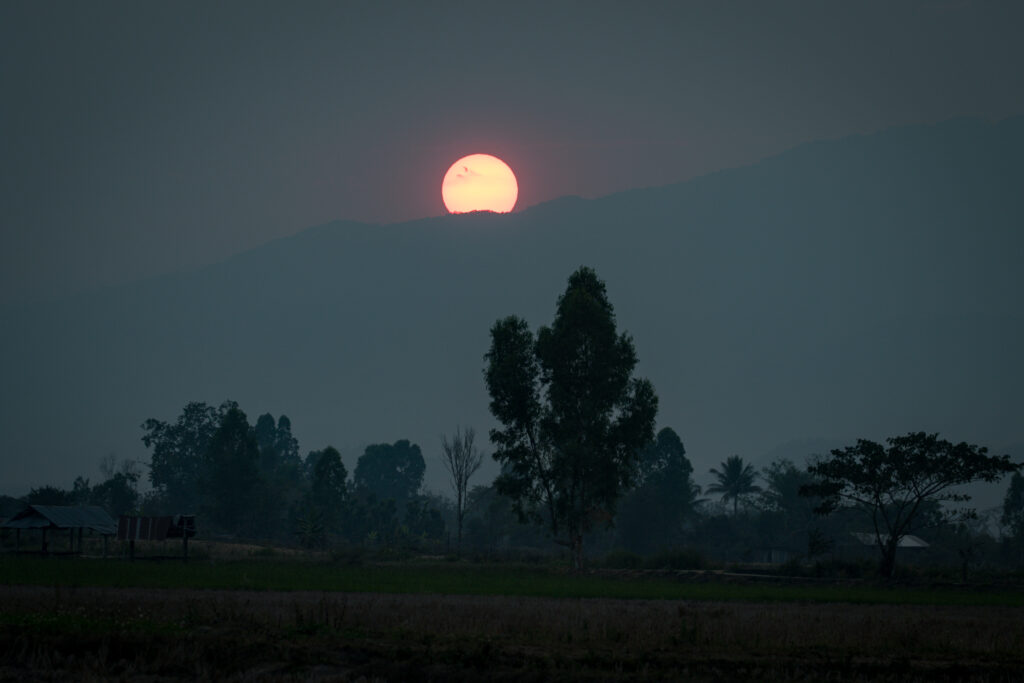 Time in Thailand was running out for us but we still had a full day of birding scheduled for the next day, which you can read about HERE.
•••••••••••••••••••••••••••••••••••••••
For you overachievers here are the Ebird checklists for that portion of our trip:
https://ebird.org/checklist/S65437093
https://ebird.org/checklist/S65437096
https://ebird.org/checklist/S65437103
https://ebird.org/checklist/S65446543
https://ebird.org/checklist/S65420679
•••••••••••••••••••••••••••••••••••••••
Glad you found GreatBirdPics.com.  Check out the site before you leave: see the Latest Pics uploaded by our members or read the About GPB to find out more about the site.  You are welcome to join if you enjoy bird photography.