GBP Notes 11/18/20
Good Morning GreatBirdPics members!
One of the most known birding hotspots on Merritt Island National Wildlife Refuge is the 7 mile Black Point Drive.  Black Point Drive is a one lane, one-way limestone road built through the middle of Merritt Island which features a lot of different birds and animals (alligators are frequently seen along the way).  There is a self-pay station at the entrance and once on the road you can travel a your own pace (pulling off to one shoulder of the road to let others pass on the other).
To be honest, we saw many more birds on the drive five years ago than we did this time – the water level was much higher due to Tropical Storm Eta a week ago.  This time we saw a limited number of birds but one of the best views was of a Green Heron pair.  These two herons were chasing each other in the foliage along the side of the road, then perching before resuming their game.  Interestingly enough, Green Heron are one of a few species that use tools to hunt – they drop a twig or leaf into the water to attract fish then extend their neck to grab their prey (source: allaboutbirds.org).
I parked the car on the shoulder and walked back to the road to find one of them perched right across the ditch from me.  I love the beautiful dark rust color on its breast with buff-colored stripes running through it.  You can click on any image to get more information about the shot.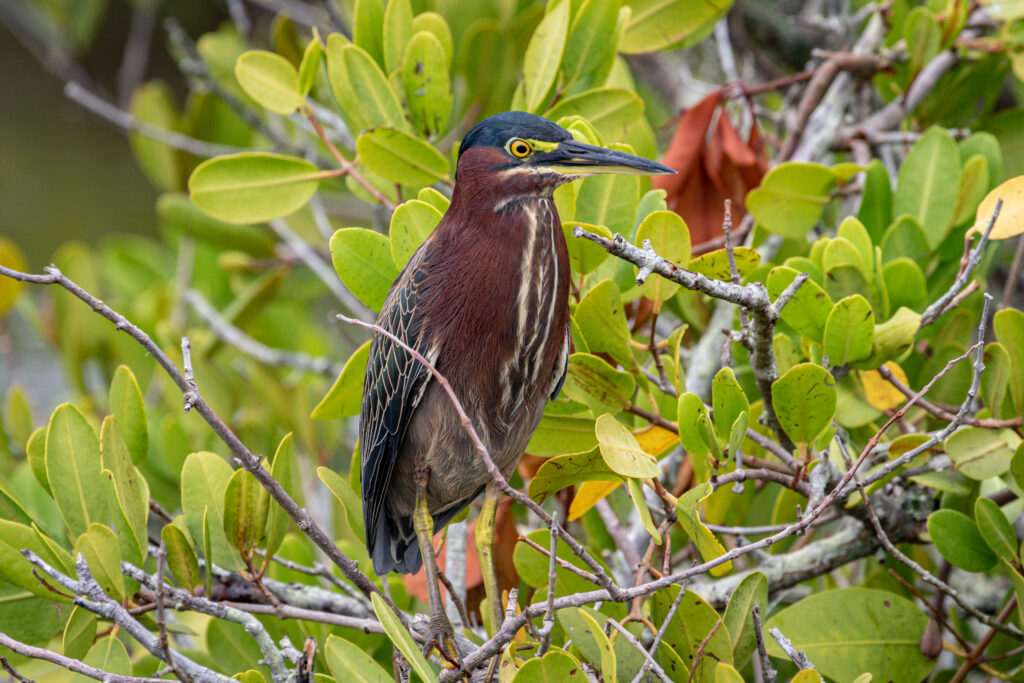 Here's a closeup of the head and breast: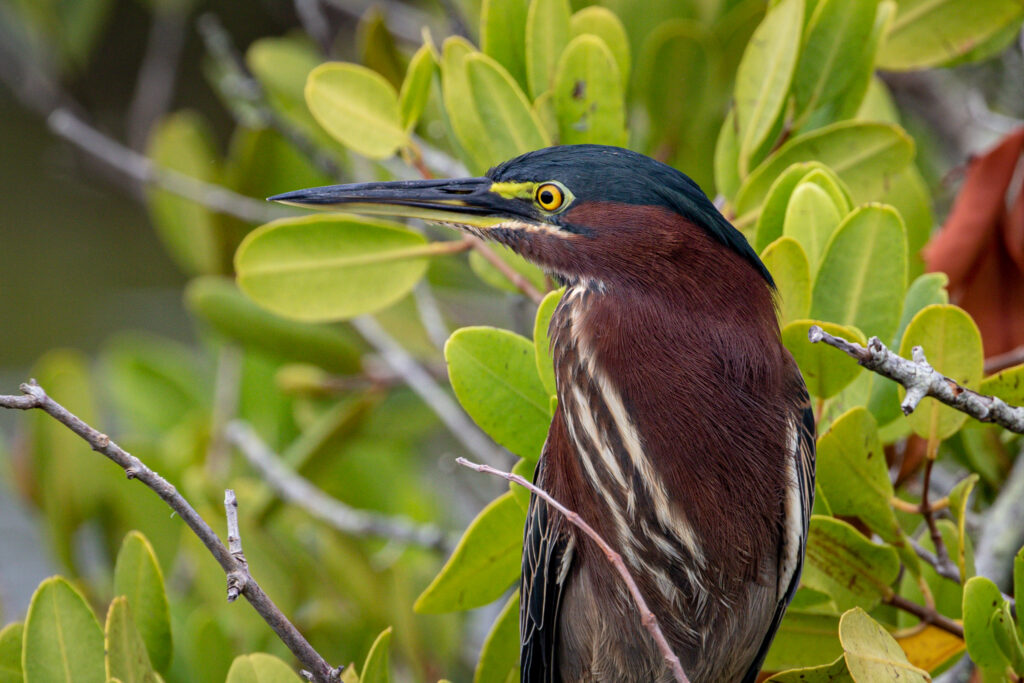 One of the amazing things herons can do is to extend their necks quickly, moving their beak to grab or stab prey in the water.  This Green Heron began to extend its neck even though it wasn't hunting; I suspect it was part of a courtship display for its nearby mate.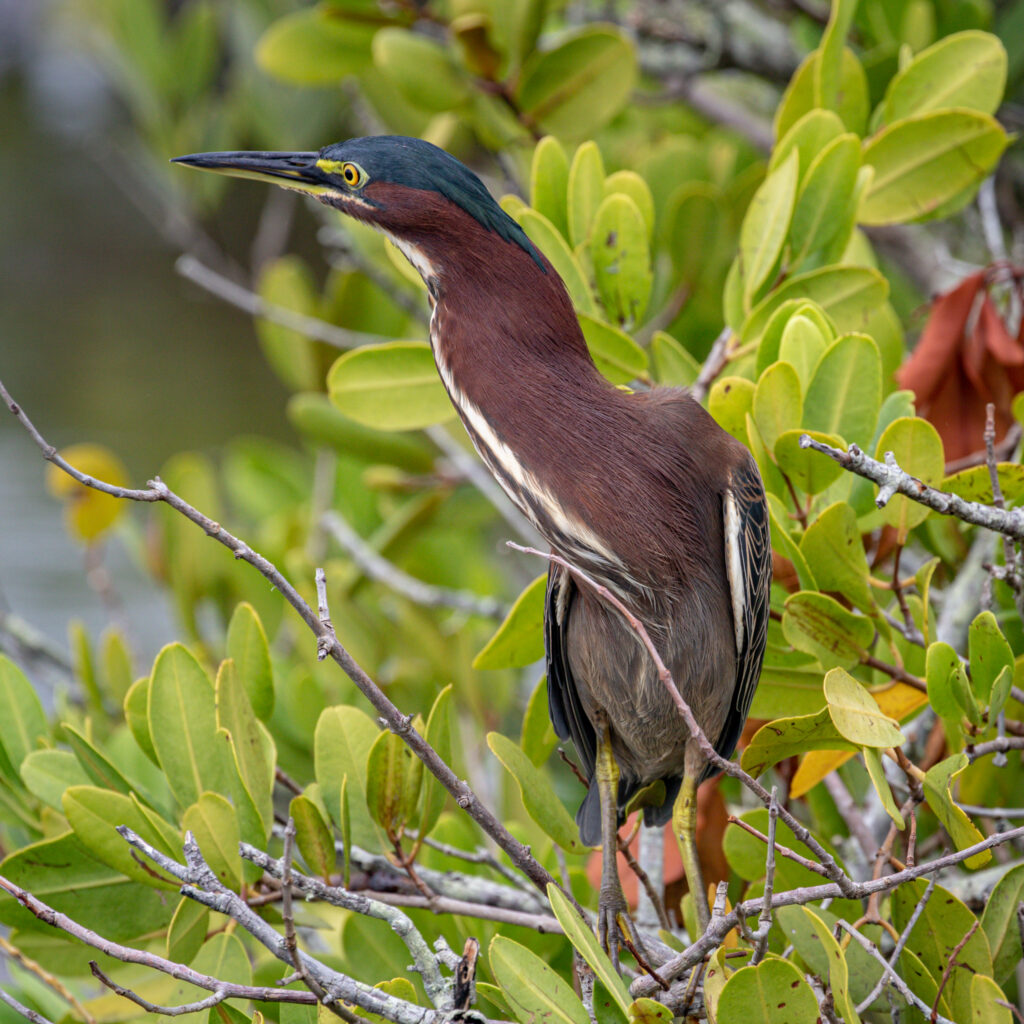 Here's the heron with its neck fully extended.  You would never guess it could get so long when looking at the first couple of pictures.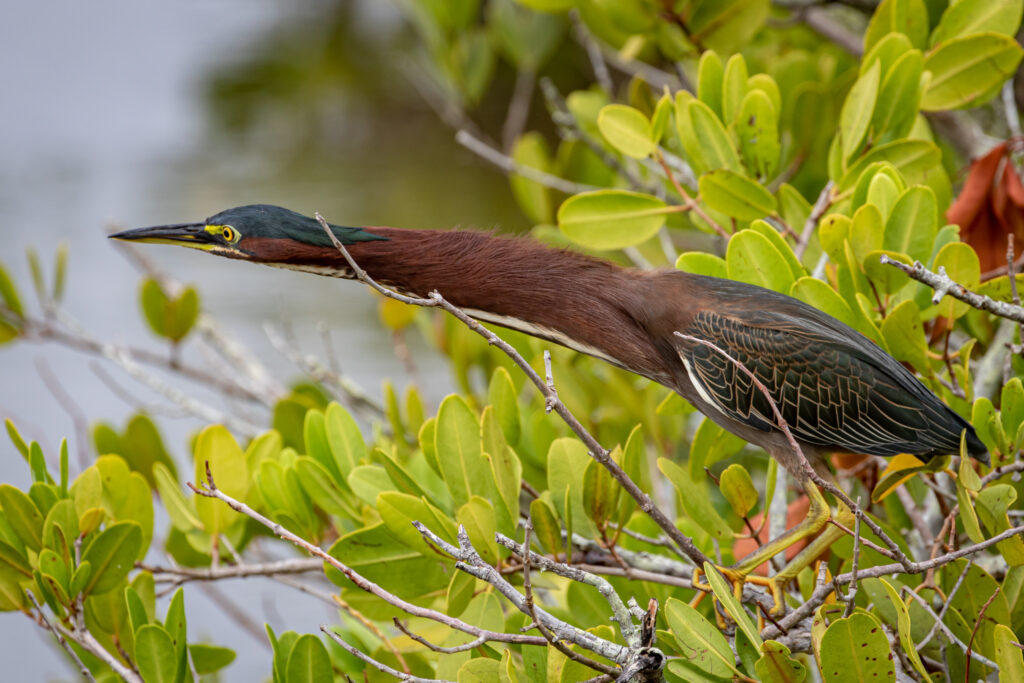 What a treat to see this wonderful bird extend its neck to such long lengths!
Happy Birding!
Mike
PS – If you found this page while search the web and would like learn more about GreatBirdPics.com click HERE.