The Most Geese We've Ever Seen
What's the largest number of geese you've ever seen at one time – 100? 500?  We heard that Snow Geese congregate at Emiquon NWR (National Wildlife Refuge) by the thousands – by the thousands!  We just had to go see for ourselves.  If you would like to learn more about the Snow Goose CLICK HERE.
Chautauqua National Wildlife Reserve
Emiquon is about 3 hours SW of Chicago and is part of the Illinois River Basin.  Snow Geese, Greater White-fronted Geese and Ross's Geese migrate through (as well as many other species of waterfowl), arriving in December and leaving by mid-April.  Before setting out we contacted Master Birder Vicki Sroczynski (who had recently been there) to find out where to go.  Her advice was to first stop at Chautauqua NWR, which was along the way.  Once there we drove down to the Eagle Bluff public viewing area, which sits on a berm that bisects Lake Chautauqua.  It was a beautiful blue-sky morning and the waterfowl on the lake were plentiful.  Perhaps a third of a mile away was a raft of white birds.  We got out the scope and sure enough they were Snow Geese.  We estimated there were two thousand of them, with more flowing down from the sky constantly.  Here's what we saw from our vantage point: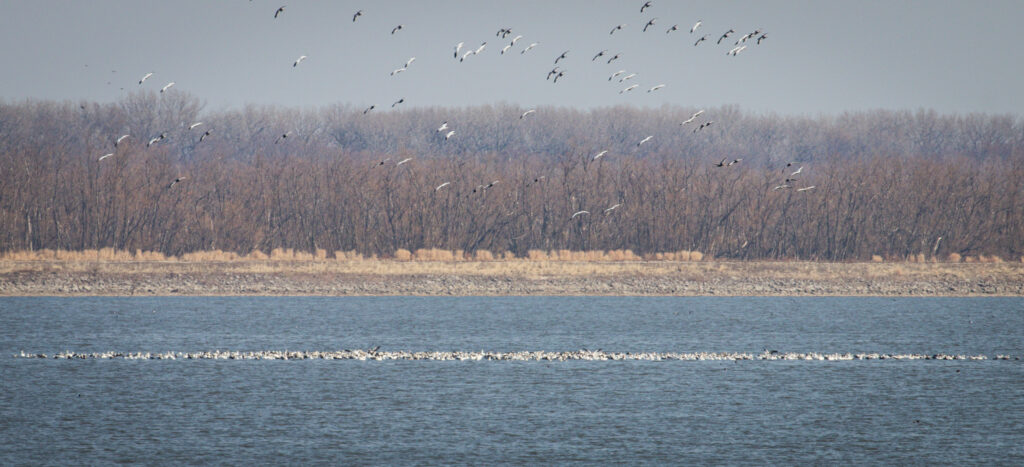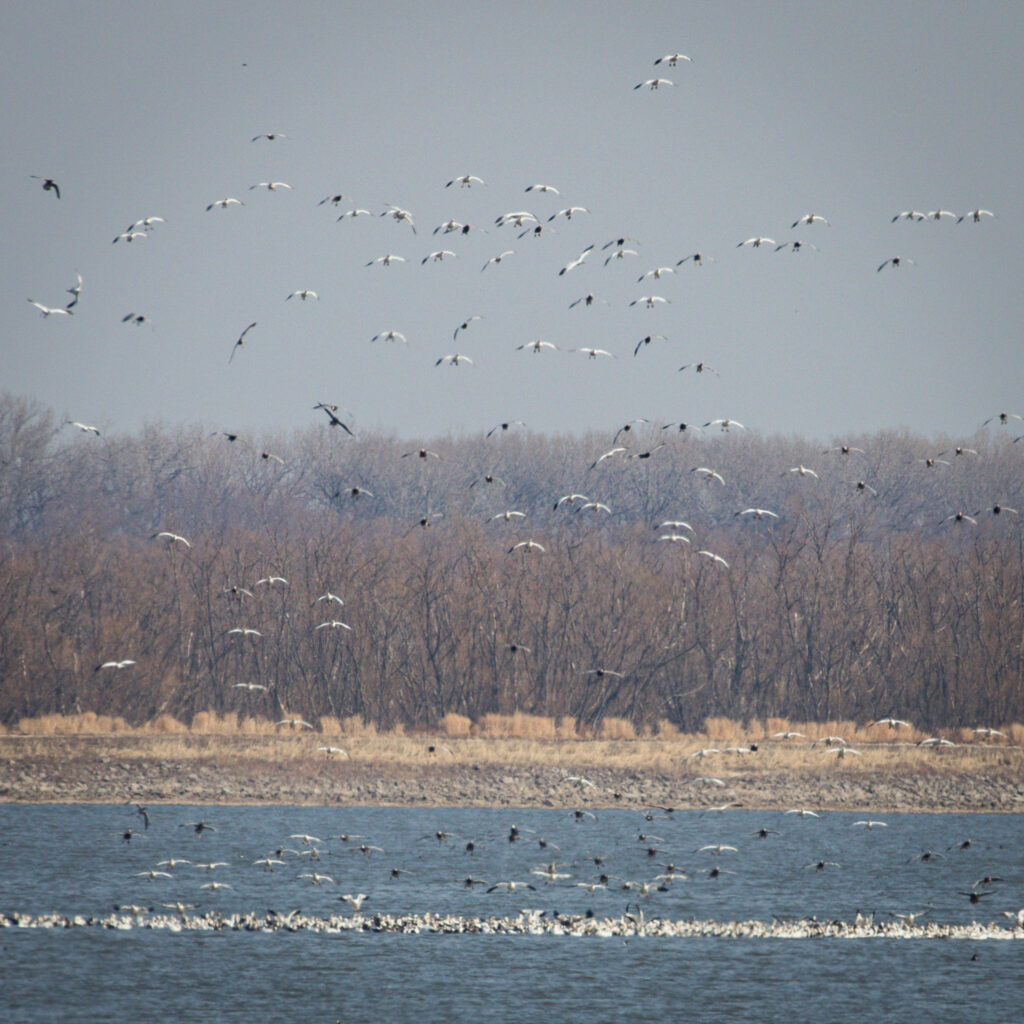 Although we were too far away to see individual birds very well, our distance gave us a perspective of the sheer number of them out on the lake.  Once they all rose up off of the water en mass, somewhat like an elongated Starling murmuration, giving us an even better perspective on the number of Snow Geese.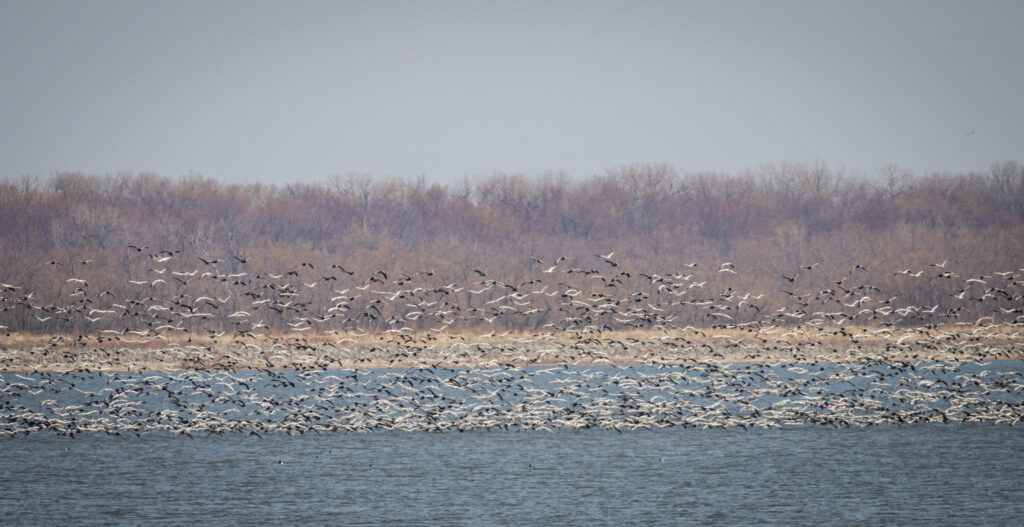 Emiquon National Wildlife Reserve
That was a great start to our trip but we are greedy birders and wanted to see more so we set off for Emiquon NWR, which was another 30 minutes away.  Like Chautauqua, Emiquon is a large wetlands area that parallels the Illinois River.  We drove down Route 78 and used the roadside pull-offs to view another raft of Snow Geese on Lake Emiquon.  We estimated this group to be about the same size (2,000) as in Chautauqua.  We were a little closer this time and again we were impressed when they all rose off the water together.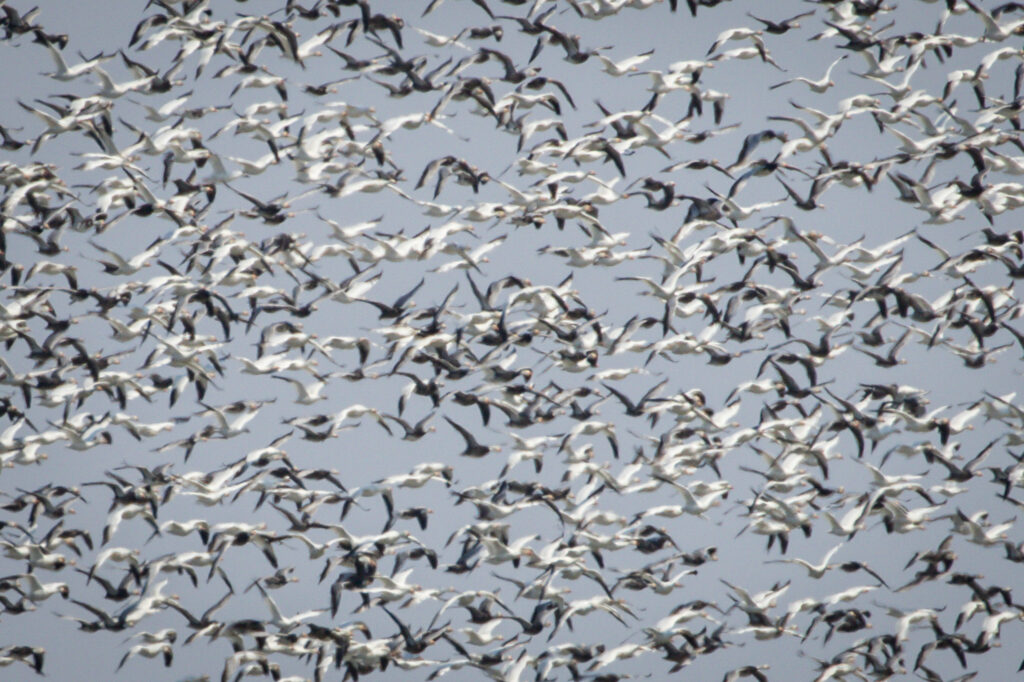 There was a pull-off a bit farther south that brought us down to the water's edge where we had good views of Northern Shovelers, Gadwalls, and Coots.  There were also a group of American White Pelicans farther off.  This area, which had a boat launch, observation deck, and information center was created by The Nature Conservancy.  You might recall The Nature Conservancy had a major role in helping to restore Sax-Zim Bog and now they are helping to do the same at Emiquon by restoring 7,000 acres of wetlands.  I am impressed with this organization and will be supporting them in the future – they take their birding seriously!  It was here at the pull-off that we had a closer look at a Blue-morph Snow Goose: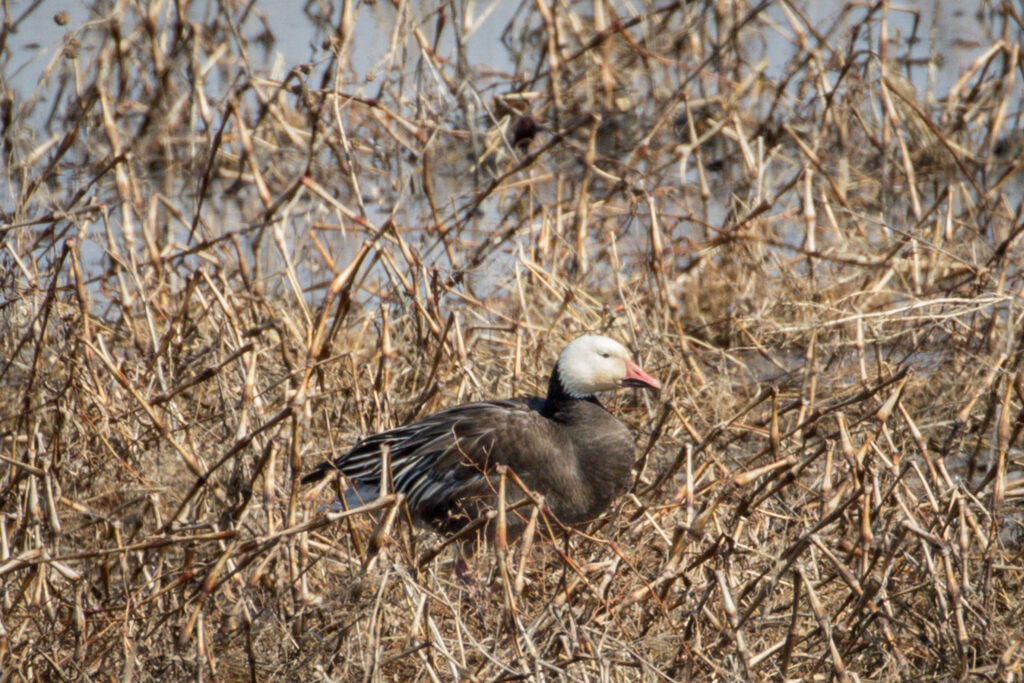 On Vicki's recommendation we made our way to the North and South Globes which are large mudflat/wetland areas just west of Lake Emiquon and Route 78.  Route 9 bisected the two areas and when we arrived the South Globe was empty but the North Globe… was covered in geese.  In fact we estimated that there were 10,000 geese there!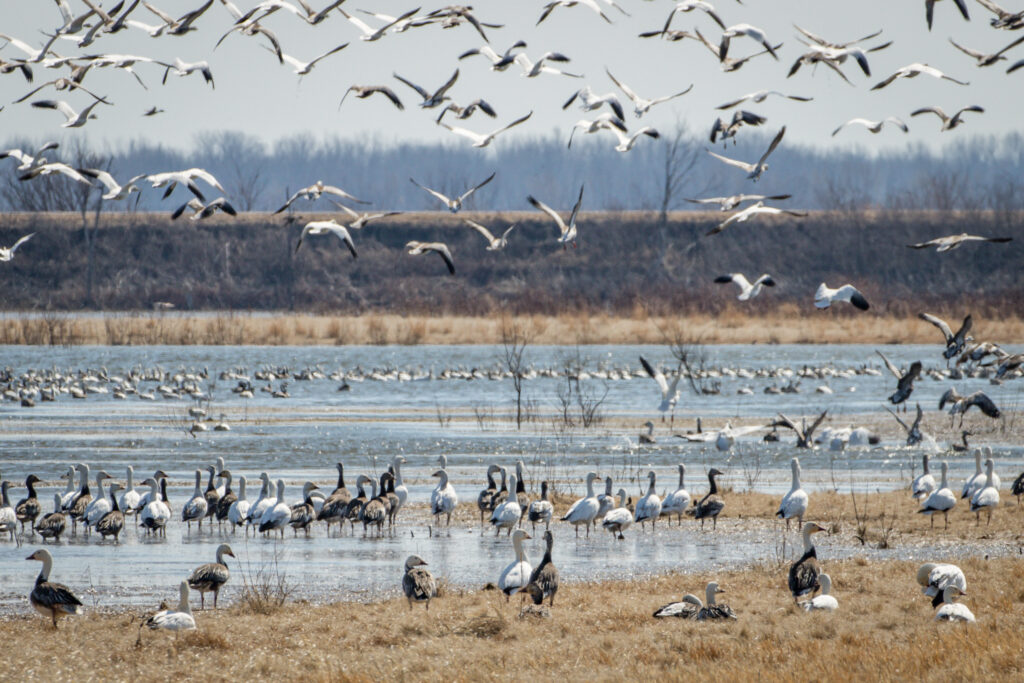 Mostly Snow Geese, but Birding Buddy Mark got a Lifer there – Greater White-Fronted Goose (dark brown with pink bill and white at base of bill).  In fact he saw 500 of them for his Lifer; what a way to get a Lifer!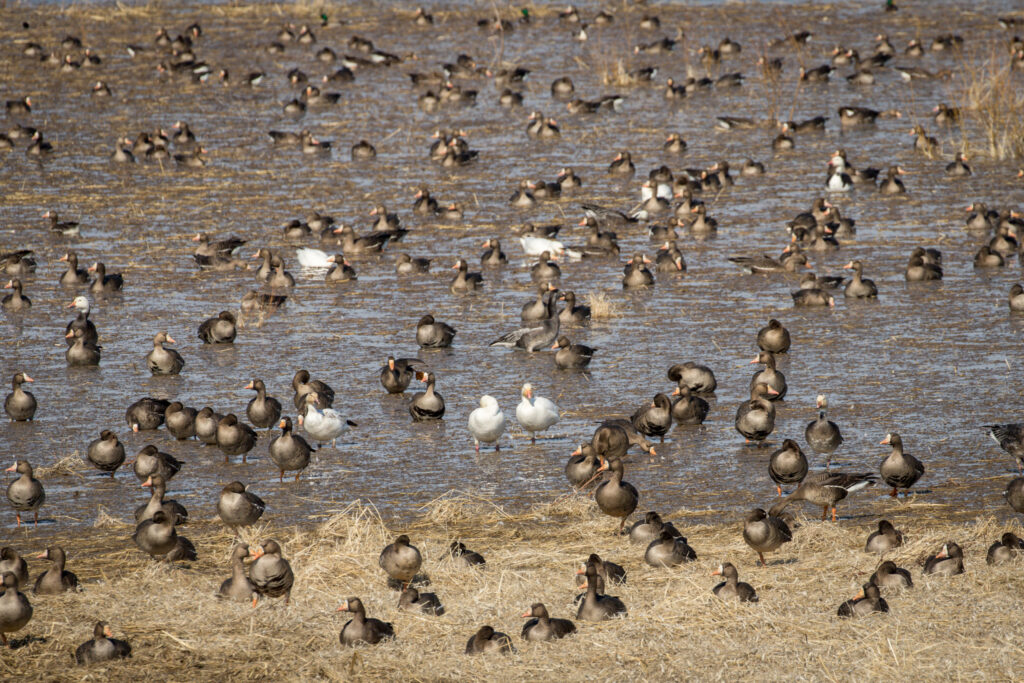 Also mixed in were some Ross's Geese (which I didn't find until I was looking at the pictures back home).  Here you see all three types of geese – Snow (white on the right), Greater White-fronted (dark surrounding), and Ross's (white on the left):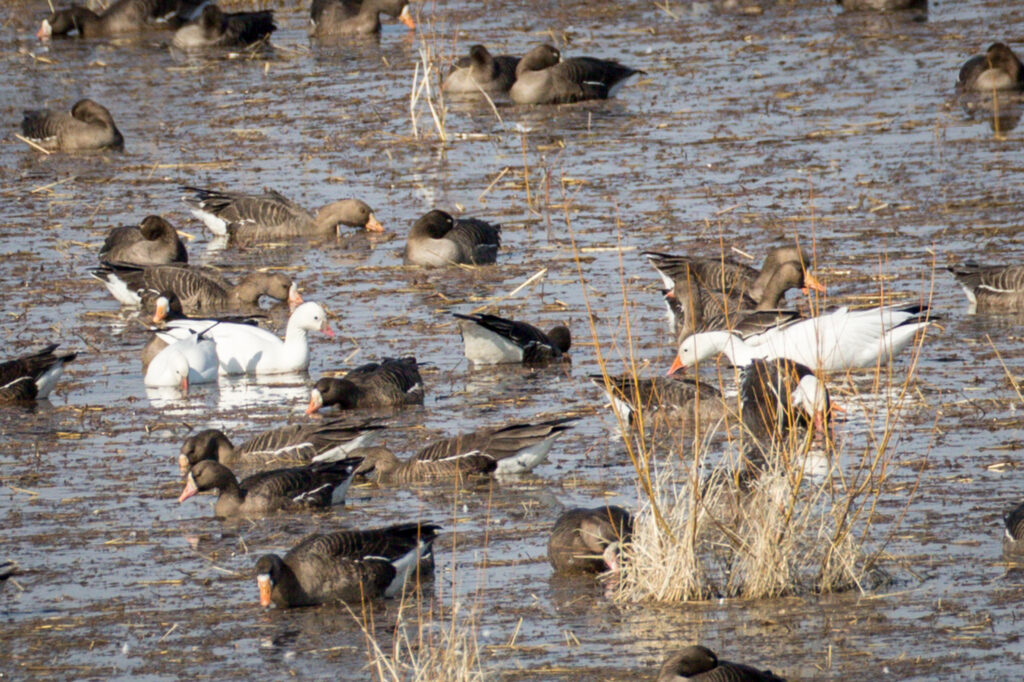 All in all we had a great time.  We probably saw over 14,000 Snow Geese!  The sheer number is hard to convey, even with pictures, so I would recommend everyone to make their way to Chautauqua and Emiquon National Wildlife Reserves when you get a chance.  Like us, you will be impressed.
If you would like to learn more about the Snow Goose CLICK HERE.
Stay Safe.  Go Birding.  Take Pics.  Share Here. Repeat.
Mike
---
If you would like to learn more about GreatBirdPics.com CLICK HERE.  Members can post their own GreatBirdPics, make comments, and receive regular emails about bird photography and birding.