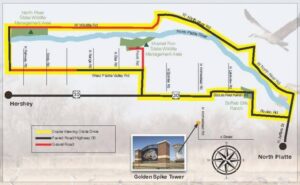 Note:  This is one of three articles in a series about our bird watching experiences in the Nebraska Platte River basin.  Links to all of the articles are at the bottom of the page.  Click on any bird picture and see additional information about the shot.
We had a day to explore the area during our mid-March visit to the Platte River basin.  We stayed in North Platte, NE and had easy access to North River Road, which took us west along the river.  To the left is the route we traveled (courtesy of VisitNorthPlatte.com):
Even though we had a spectacular sunset viewing of the roosting Sandhill Cranes from a blind (see links below) the previous evening, the weather had turned cold, rainy, and windy.  Very windy.  We set off to do our birding from the shelter of the car.  As we drove around we had the roads to ourselves; the country roads were a combination of  paved and dirt/gravel (which were well maintained).  Along the way we passed a variety of agricultural fields.  Nothing had been planted yet so it was difficult to discern what would sprout up in the spring, except for the corn fields.  After the harvest last fall each field was left with thousands of 8″ cornstalks sticking out of the ground – Sandhill Cranes love them.  There were Sandhill Cranes in every corn field we passed; none were seen in other fields.  Sometimes there were just a couple of cranes in a corn field, other times there were hundreds or thousands of them.  They tended to stay about 100 yards from the roads and if any were closer they would start walking away from us as soon as we pulled up .  Here's a picture* of a group of Sandhill Cranes taken from the car: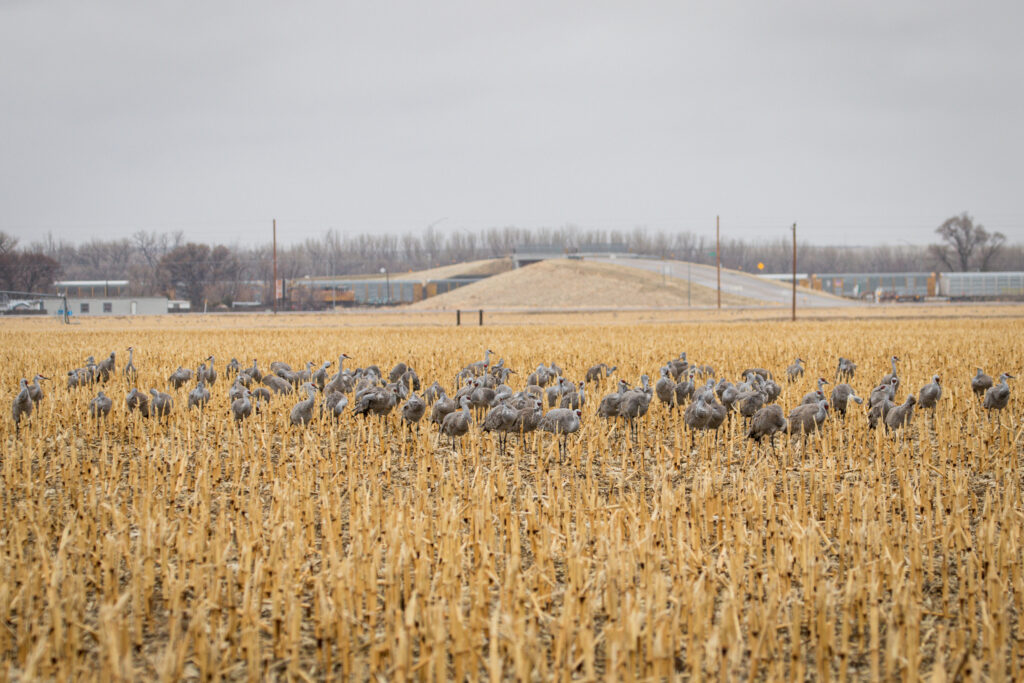 The cranes stop in the Platte River basin by the hundreds of thousands each year (CLICK HERE for why).  This is a major stop on their way to their breeding grounds up in Canada, Alaska, and Siberia.  Some of the Sandhill Cranes begin their courtship "dances" in the Platte River basin fields – in the pictures below even though it looks like they are taking off they are actually hopping up and down in their efforts to impress a future mate.  Observers have identified at least 20 different movements Sandhill Cranes make during their courtship dances – if you would like to learn more about each movement CLICK HERE to go to Dance Displays on the AlaskaSandhillCrane.com website.  Look at the last picture below carefully (click on it for a larger image) – you'll see the flying Sandhill has dropped an object from its mouth (part of a courtship routine).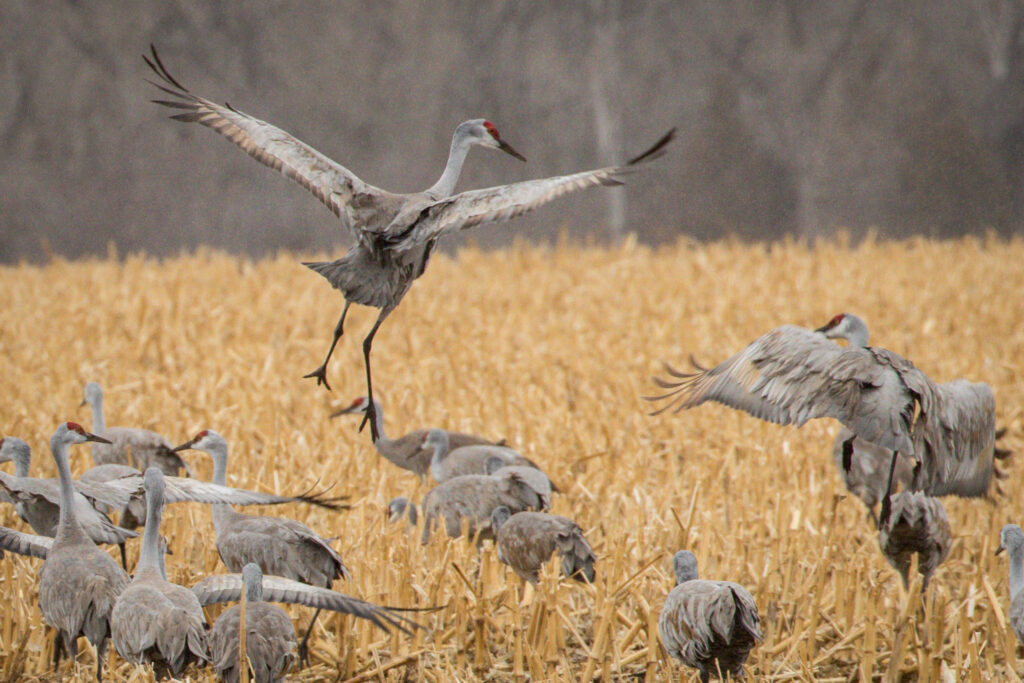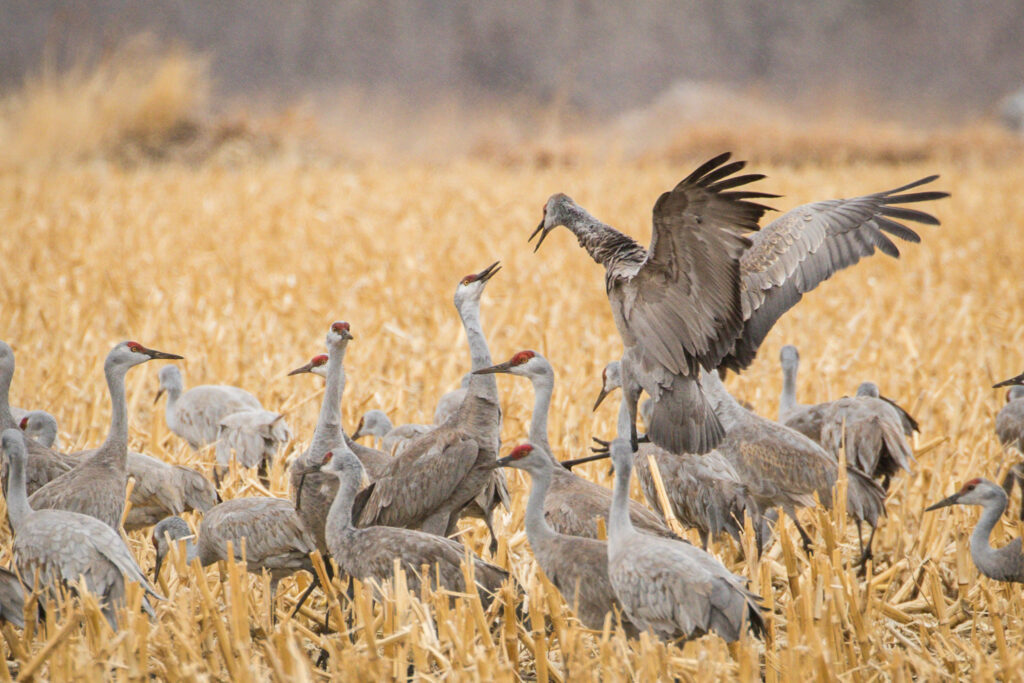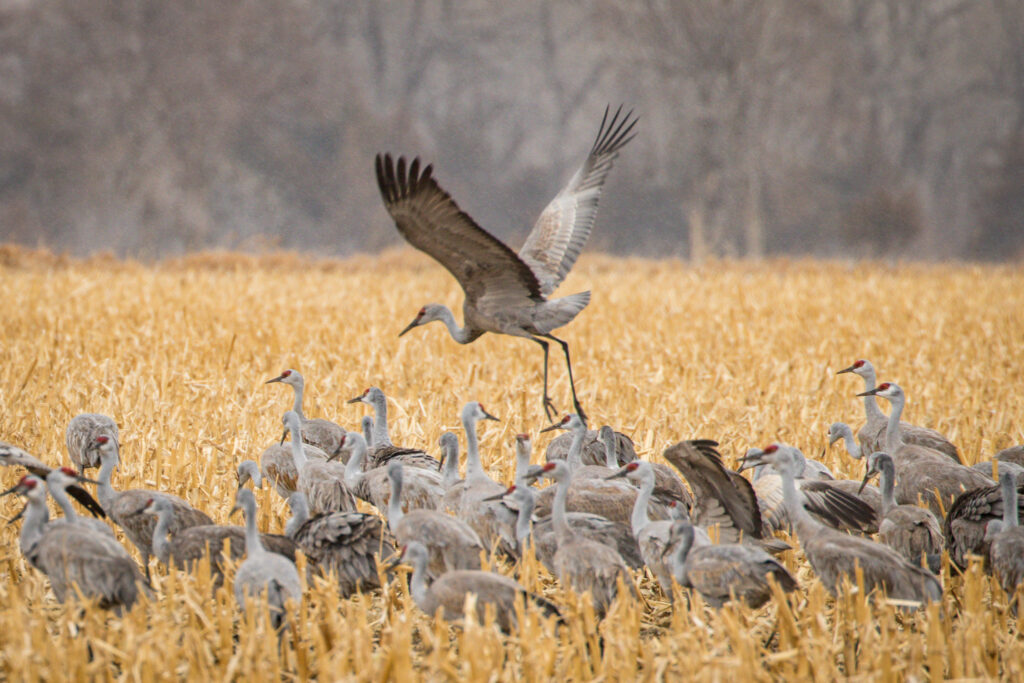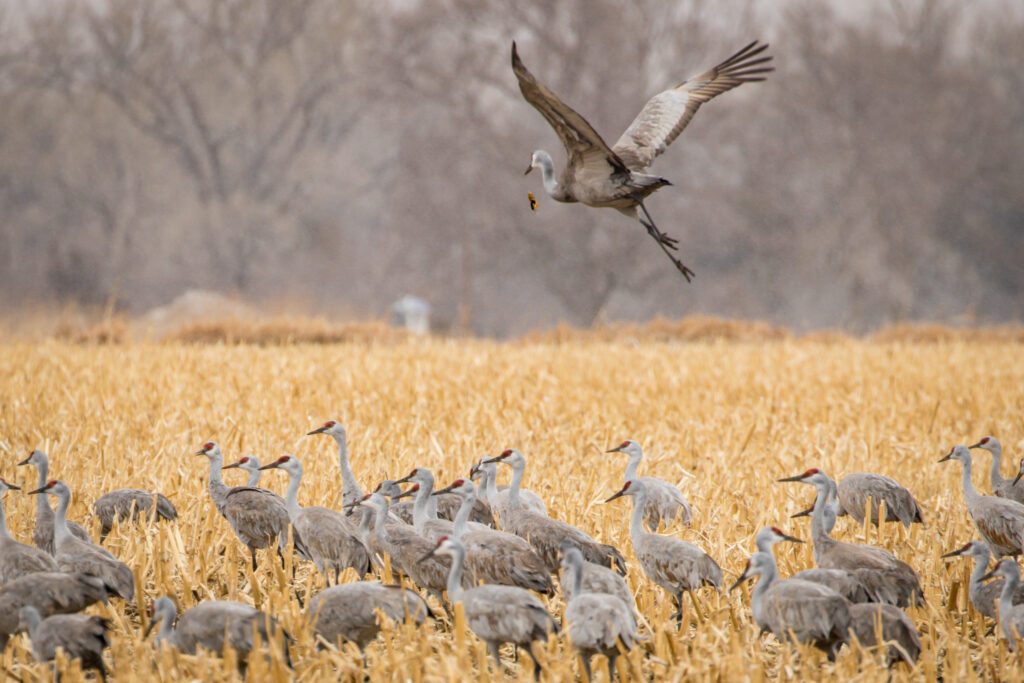 As we continued to drive around we saw flocks of other migrating birds in the fields.  In one field I swear we saw one Robin on every square foot of it.  Really!  In other fields we saw hundreds of black birds.  Usually we associate flocks of black birds with Starlings, but in this case they were Red-winged Blackbirds.  The flocks were foraging on the ground: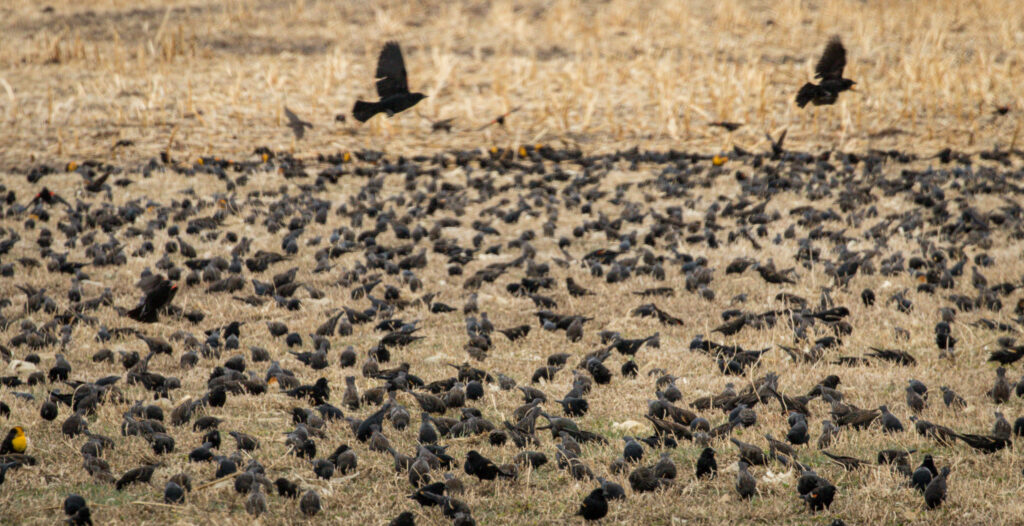 If you look closely at the image above you'll notice that there are some splotches of yellow mixed in.  We were pleased and surprised to find that they weren't dandelions but Yellow-headed blackbirds!  There were usually a handful of Yellow-headed blackbirds in every flock of Red-winged Blackbirds.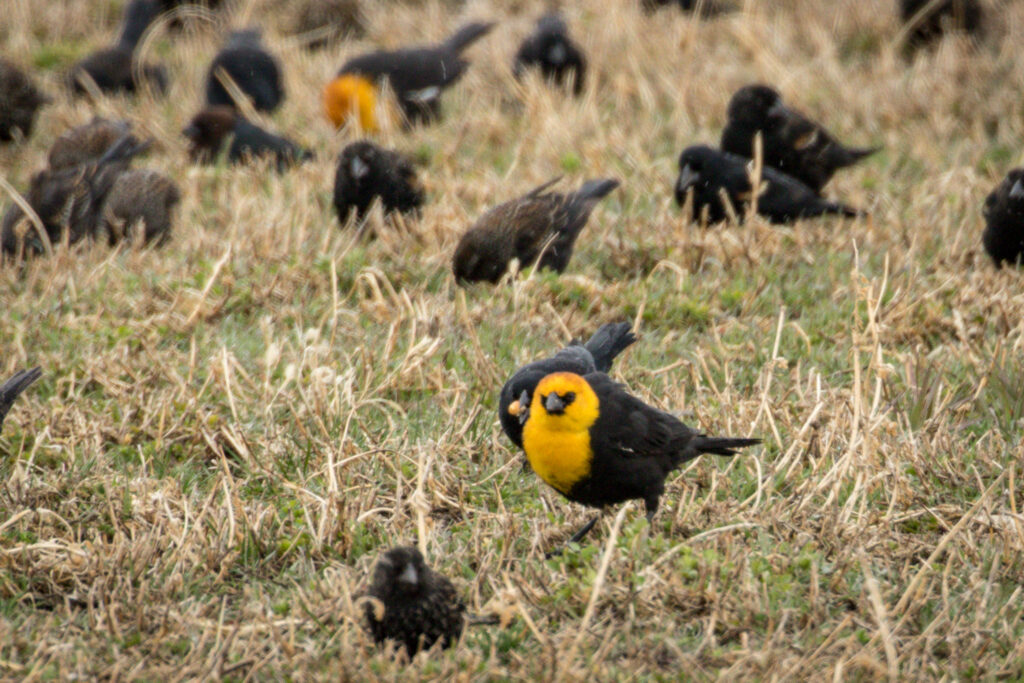 As we drove around the dirt roads we would flush small flocks (6-8) of Western Meadowlarks.  They would keep flying off 30 yards ahead of our slowly moving car and land in the grasses along the shoulder: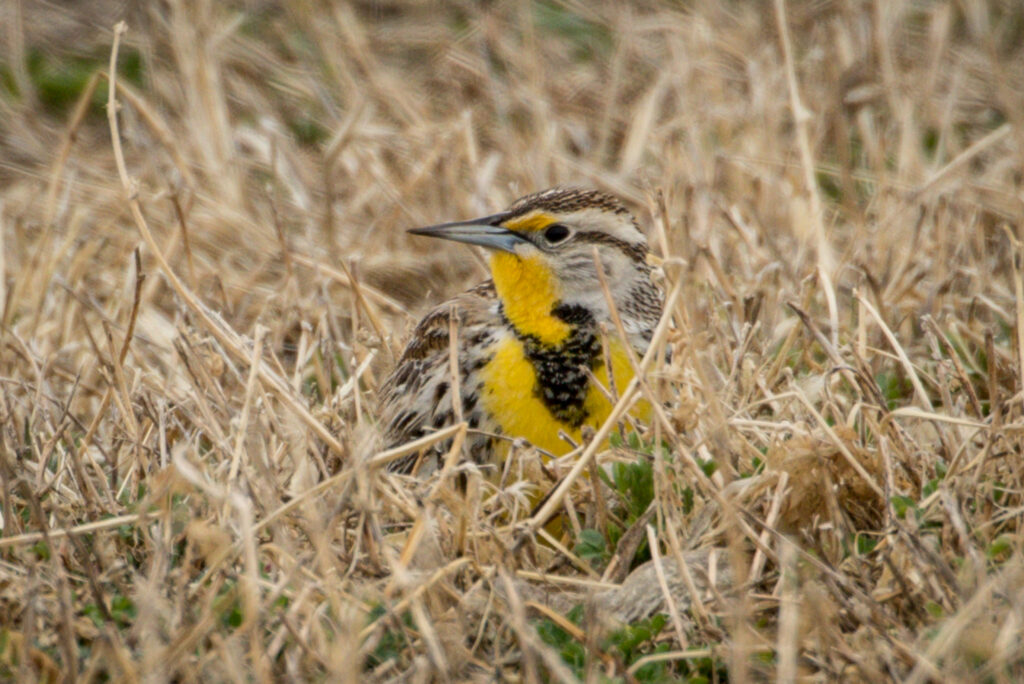 Occasionally we would find a fluddle (see a definition in the Birder's Illustrated Dictionary) out in the fields filled with with waterfowl.  There were a mix of Northern Shovelers, Gadwalls, Wigeons, Pintails, Canvasbacks, Hooded Mergansers, Redheads, and Mallards (the weather was so nasty it wasn't worth getting out of the car to try and get any shots of them).  As we drove by a barnyard we watched a calf come down for a drink from a pond full of waterfowl; it bellowed at the birds, which didn't seem to faze them in the least*: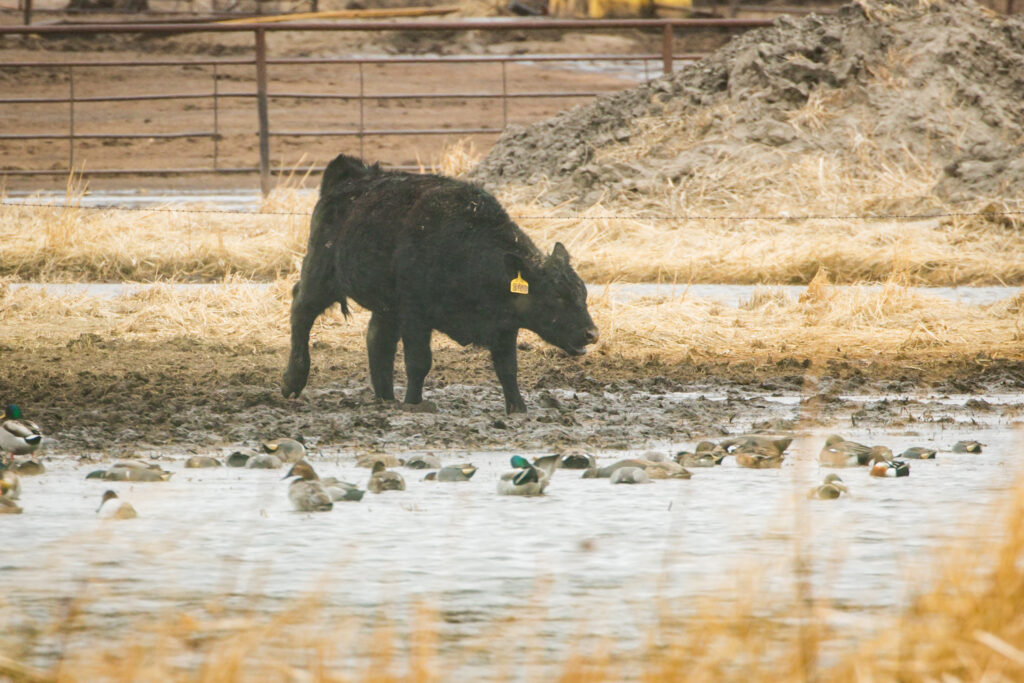 Our last bird stop of the day was at the Sutherland Reservoir.  This large lake includes cooling ponds for the coal-fired generators which produce electricity for the region and the warmer water in the ponds attract American White Pelicans: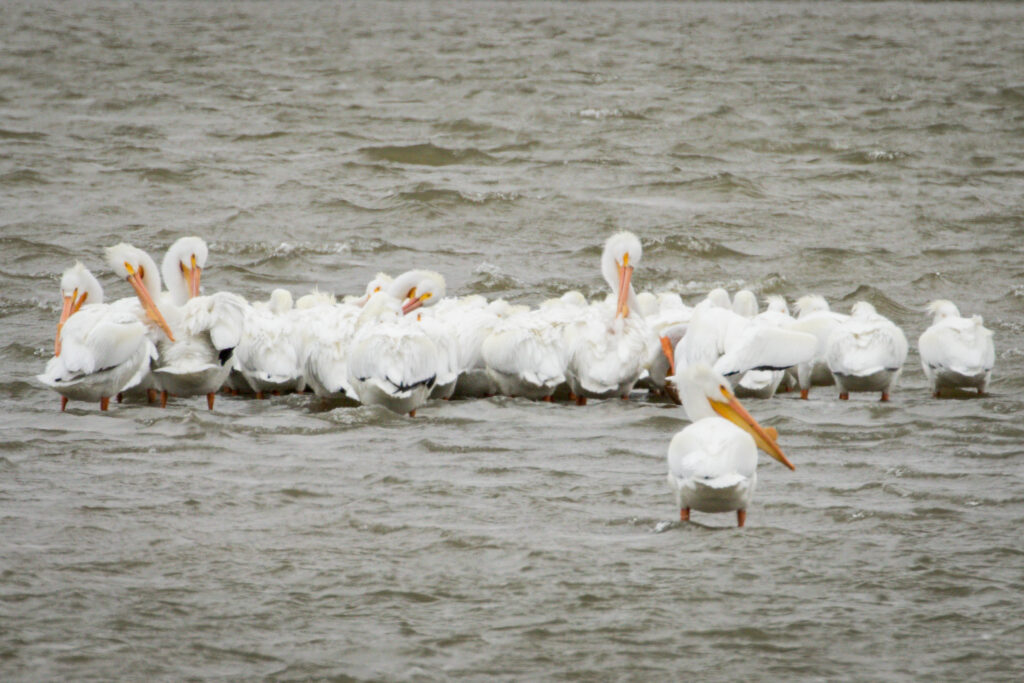 Our final stop of the day was the Golden Spike Tower overlooking the Union Pacific Railroad's property.  The tower extends up eight stories and gives a panoramic view of the world's largest rail yard.  No birds, but expansive views of the region, informative exhibits, and a great gift shop.  An interesting place to visit even if you're not a train nut!
In spite of the weather we had a good day birding from the car.  As we went to bed we were hoping that it would clear up overnight so we would have good weather in the morning for our Prairie Chicken tour.
Articles about Birding the Platte River Basin:
North Platte Nebraska Road Trip – Sandhill Crane Migration
Sandhill Migration On The Platte River – Night Time Viewing From A Blind
Prairie Chickens in the Platte River Basin
* Usually, clicking on any picture in these posts will open a link to an Image Post just for that pic. The Image Post includes data about the shot and a larger image.  Due to the poor weather conditions some of the images in this post were not good enough to be included in the GreatBirdPics database – clicking on them does not link to an Image Post.
Stay Safe. Go Birding. Take Pics. Post Here. Repeat
Mike
---
If you would like to learn more about GreatBirdPics.com CLICK HERE.  Members can post their own GreatBirdPics, comment on other's pics, and receive regular emails about bird photography.